Urban sprawl
A GROWING URBAN-RURAL CONVERSATION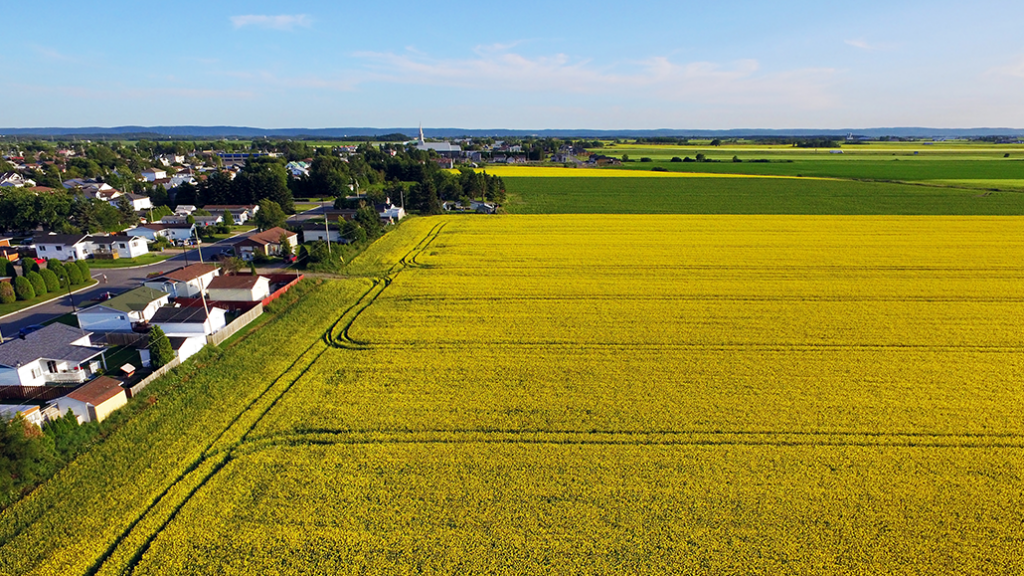 DREW SPOELSTRA IS a dairy and grain farmer operating just outside of Binbrook, Ontario. Being located so close to the Hamilton border, his land has been threatened by urban sprawl for many years.
"We've got land we used to work that is now a soccer park, movie theatres, Home Depots, and road extensions," says Spoelstra.
And it's a familiar experience for him.
"My parents actually started out their career on the Stoney Creek Mountain, and we were forced out of there fairly early on by the pressures of development, and we ended up moving out to Binbrook," he says. "But we're now seeing those pressures all over again."
Spoelstra has lost an estimated 300 acres of land to urbanization in recent years, and he stands to lose another 500 acres in the Elfrida area to urbanization in coming years. Most of this land he rents from land speculators, which means the fate of his land is largely in their hands.
"It's not a good feeling. We're trying to maintain and grow our business, and it's difficult to do on the back of rented land, but you certainly can't afford to buy land anymore," he says.
Spoelstra's story is a familiar one in the agricultural community. Conversations about urban sprawl and advocacy for the protection of farmland are often predominantly led by those impacted the most — the farmers who stand to lose their land.
But that may be changing. The fight to protect farmland is spreading into urban communities. The main driver of this change? The affordability crisis being felt by all Ontarians.
FOOD INSECURITY AND URBAN SPRAWL
As grocery prices rise amidst supply chain issues and natural disasters caused by climate change, many urban residents are starting to have conversations about how preserving Ontario farmland and supporting local producers is vital to food security.
In May 2021, the Ontario Federation of Agriculture (OFA) launched its Home Grown campaign to spread awareness about the effects of urban sprawl on food security. The focus of the campaign is spreading awareness of how important it is to preserve farmland to support the production of local foods, fibres, fuels, and flowers.
According to the 2021 Census of Agriculture, Ontario loses 319 acres of farmland every day.
"When cities sprawl and that farmland is lost, we lose some of that [connection] to local producers," says Peggy Brekveld, president of OFA.
The campaign has received over 37,000 signatures in support of the campaign, and a large portion of the supporters come from urban communities, according to Brekveld.
"It's been fascinating to connect with all Ontarians on this issue," she says. "The number of signatures is staggering for this kind of online signup… and many of them are not our traditional farm members. They are people who live in cities who are concerned about food security."
THE AFFORDABLE HOUSING CRISIS AND URBAN SPRAWL
While food security concerns have encouraged urban residents to join the urban sprawl conversation, the affordable housing crisis has pushed them to start a whole movement.
In just the last year, Stop Sprawl groups have popped up all around the Greater Toronto Area, including Hamilton, York, Peel, Halton, Orillia and Durham. These groups are run by urban residents who are pressuring municipal and provincial governments to offer housing development options that don't expand existing city boundaries.
Alexis Whalen and Helen Brenner are the co-leads and co-founders of Stop Sprawl Durham. Neither of them are a part of the agricultural community, but they created the group in Durham six months ago after several protests had erupted across the region in opposition to multiple Ministers' Zoning Orders (MZO) on the outskirts of Ajax and Pickering.
"We had identified that there were multiple protest battles going on over specific land use parcels, but the synthesis and overarching theme was it was provincial and regional decision making that was driving the tension in certain geographic areas," says Whalen. "We came into this thinking there's really good policy work already established here. How can we amplify it, educate our neighbours about it, and make sure that our municipal leaders are adhering to it?"
For Stop Sprawl Durham, urban sprawl means a lot of single-family homes in car-reliant subdivisions that aren't affordable. Instead, they are advocating for development plans for complete communities with "missing middle housing" that is more affordable.
Missing middle housing is smaller housing units ranging from studios to three-bedroom apartments that can be built in basement apartments, old warehouses, low-rise apartment buildings etc., according to Missing Middle Housing. This type of housing is currently in the most demand amidst the affordable housing crisis but is largely missing from city development plans.
"We go into inclusionary zoning where more neighbourhoods can have basement apartments, granny flats, and the 4-story walk-up apartments," says Brenner. "The idea is that you create these 15-minute communities where you can walk or cycle to get your groceries and essentials."
The benefits of building complete communities are many. It encourages people to be more active, it encourages the use of public transit, it's more accessible for people with disabilities, and they provide a reliable customer base for local businesses.
"We also have the positive benefits of saving our rare agricultural land," says Brenner. "It becomes a win-win for everybody, and it shows a way to manage the affordability issue."
So even though the motivators may differ, it seems that both rural and urban communities have a vested interest in preventing urban sprawl.
And Brekveld hopes that by continuing to spread awareness, farmers can feel like they are not alone in the fight against urban sprawl.
"It's about showing that there is more interest; It's bigger and broader than just the farming community that cares about farmland preservation." •