Drought conditions
IMPACT ON CORN AND SOYBEANS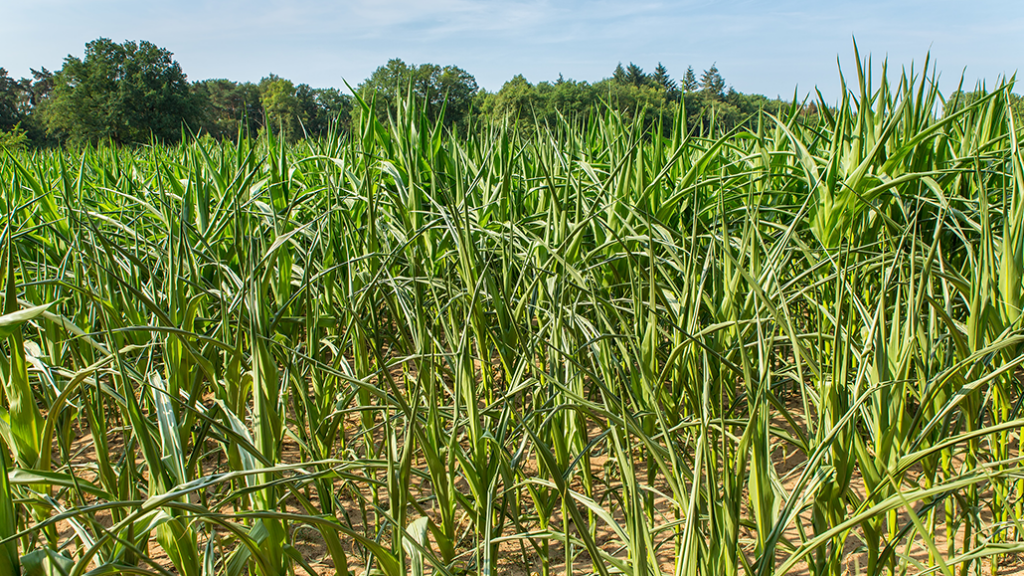 THERE WAS LITTLE moisture to spare through June and the first half of July. How prolonged dry conditions will affect corn and soybean yields this fall will vary based on drought tolerance, the severity of drought conditions at specific planting stages, soil type — and, as always, a little luck.
THE BROADER PICTURE
Providing an overall assessment of Ontario's corn and soybean crop is often fraught with exceptions and contradictions. For Ben Rosser, corn specialist with the Ontario Ministry of Agriculture, Food and Rural Affairs, province-wide statements are even more difficult this year since what rain has fallen has been fairly sporadic.
Painting very broadly, though, reports to mid-July (the time this article was penned) suggest eastern Ontario has been comparatively lucky in terms of moisture accumulation. The southwest has experienced many rain pockets but nothing of wider significance.
Rosser says conventional extension indicates early drought stress such as that experienced in June results in a fairly minimal negative impact on corn. Similarly, yield impacts again drop off around the grain fill period. Dry soil at tasselling is the real problem.
"We're in the rapid growth phase now. If you've got evidence of drought stress, it's becoming more of an impact on yield," Rosser says, speaking on July 14.
Soybeans are a different situation. Adequate moisture is most critical during the pod fill period and to a lesser extent during earlier R stages, making dry conditions in June and the first half of July less concerning. Moisture accumulation after mid-July will have the biggest impact.
Less concerning doesn't mean no concern, though. According to Iowa State University, early season drought can affect growth by causing leaf trifoliates to close.
"Under severe drought stress, soybean flowering may occur earlier than normal in an effort to produce seed before premature death… Drought can reduce pod number by up to 20 per cent as a result of flower and pod abortion. Seeds per pod and seed size can also be affected by drought stress but to a lesser extent than the number of pods."
GENETICS AND SOIL QUALITY
Soils with higher moisture holding capability are of particular value in parched conditions, says Rosser. He cites the similarly dry conditions experienced in 2016 and 2020 as recent examples where crops growing in lighter or less healthy soil were visibly more stressed.
"In those years, we started to get some rainfall over [the second half of July], and things had replenished by tassel time…we had really strong yields in both those years," he says, adding a lack of rainfall has likely contributed to lower disease progression this year.
Drought tolerant crop varieties have also had an enormous impact. Russ Barker, Pioneer Hybrid sales representative and certified crop adviser based near St. Marys uses the drought of 1988 to illustrate how far modern corn hybrids have come.
"A good crop in those days would run 150 bushels. Yields in that drought environment then were half that, even on good soils," says Barker. "Today, our top-drawer fields put 200 or 250. If you gave genetics the same kind of stress, in severe drought, they would likely go in the 150-160 range."
MAKING POSITIVE CHANGE
A Field Crop News crop report from July 6, 2022, argues that more varied and extreme seasonal weather appears to be the new norm in Ontario and that adding complexity to crop rotations and diversity to tillage practices will have long-term benefits, including overall yield increases.
Results of a University of Guelph project analyzing 31 years of weather, cropping, and tillage data indicate yield boosts associated with positive changes in both management areas. More specifically, the findings showed moving from a corn-soybean rotation to a corn-soybean-wheat rotation increased the following average soybean yields by 13 per cent. The more crops in a rotation and the more times the complex rotation is repeated, the better the long-term effects.
Boosting soil organic matter — such as through the use of organic amendments and additional crops — also raises water holding capacity, providing more of a cushion in dry times.
"Adding small grain cereals, forage legumes and other niche crops can add some costs and can complicate management practices," reads the article. "The more complex the rotation and the more diverse the tillage practices, the higher the potential to reduce crop stresses. Add in the potential benefits for weed, pest and disease control, and the value may soon dramatically outweigh the cost for your farming operation."
REDUCING NITROGEN IN DRY CONDITIONS
Soil nitrogen supply and crop nitrogen demand are both influenced by the weather. This makes the maximum economic rate for nitrogen — that is, what's required to achieve the highest yield — hard to predict. Further University of Guelph research conducted by Caleb Niemeyer, a former University of Guelph student and current agronomist and precision agriculture specialist with Woodrill Ltd., shows measuring moisture accumulation can help growers reduce their fertilizer bill.
Optimal nitrogen rates vary between 140 and 260 kilograms of nitrogen per hectare, says Niemeyer. Rainfall has been shown to predict approximately 70 per cent of that variation, the amount of nitrogen required increasing with moisture level.
"It means to look at rain this time of year, maybe back off some. Put 140 down at planting, then if it's really dry, we don't need to go back," Niemeyer says, adding nitrogen losses are typically quite low in the mid-season, but excessive loading can cause problems later in the year.
"If we want to manage nitrogen to capture that huge variability in optimal rates, we have to adapt this split approach. When we're putting on 190 kilograms of nitrogen and only need 140, that's a huge loss to the environment." •