Achieving #AndyClean
HOW FARMERS, TWITTER, AND JOHN DEERE BUILT A BRAND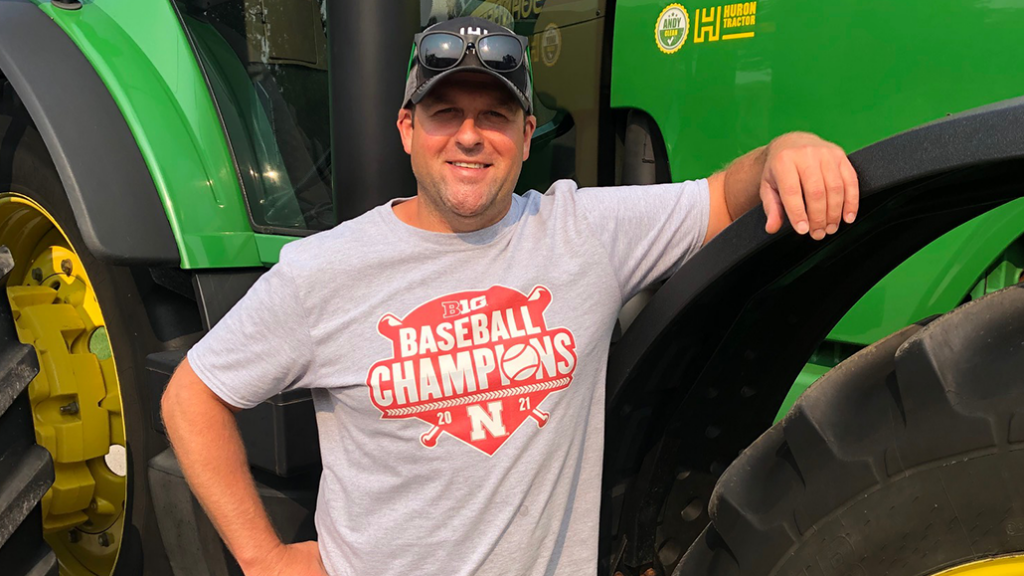 WHEN ANDY PASZTOR started posting pictures of his squeaky-clean farm equipment on Twitter, he had no idea that it would spark worldwide camaraderie, leading to over 31,000 followers and making him the proud owner of a fast-growing soap business.
That's right — the #AndyClean online community and Andy Clean High Performance Foam Cleaner were "developed totally by accident," he says.
Pasztor, who grows corn, soybeans, cucumbers, and peppers with his dad and brother near Tillsonburg, has always been a stickler for clean equipment.
"I'm the guy who services and cleans the equipment in the wintertime, and I'm super fussy about keeping stuff clean," he says.
Pasztor started using Twitter to share before and after photos of his clean equipment about seven years ago. Soon after, a Michigan farmer named Robert Reese commented using the hashtag #AndyClean.
From there, the hashtag grew in popularity and farmers with a mutual passion for meticulously maintained equipment bonded over pictures of clean tractors.
"Farmers are pretty humble people," Pasztor says. "They don't want to post a photo and tell people to look at how awesome and clean their equipment is, so instead, they just add the hashtag #AndyClean."
BRAND CREATION
In 2018 Pasztor and his family visited the John Deere Tractor & Engine Museum in Waterloo, Iowa, and of course, he tweeted about how clean the equipment was. John Deere's marketing team took notice and shipped him a box of wax, polish, towels, and other cleaning supplies.
He thought it was pretty cool to have had that interaction with John Deere. But then the manufacturing giant went a step further to make Pasztor's brand official.
"I was combining when I got an email to confirm my address because there was something coming from John Deere," he says. "I had no idea what it was, but the next thing I knew, I opened a box of probably 1,000 stickers with an Andy Clean logo that they had developed."
Pasztor, who is also a Grain Farmers of Ontario District 5 delegate, started reaching out to farmers on Twitter who shared his love for clean equipment and mailed them stickers. That's when the brand really started to take off.
More and more farmers from all over the world were posting photos using the hashtag #AndyClean and asking if their clean tractors, combines and other equipment qualified for a sticker.
Pasztor was sending the stickers out for free, but as the volume of international requests grew, postage fees started to add up. He did not ask for help, but some people realized the expense he was going to and started donating stamps so he could keep the momentum going.
Perhaps the most notable — or for Pasztor, unbelievable — sticker tweet came from John Deere in June 2020. On the night before the launch of the X9 series, a teaser photo was posted, and an Andy Clean sticker could be seen on the combine.
PRODUCT DEVELOPMENT
As his brand continued to grow in popularity, he was repeatedly asked what kind of soap he uses and what cleaning products he recommends. In time, he decided to make his own.
Pasztor connected with a Guelph-based manufacturer last year and explained his vision. He spent months fine-tuning the product and testing it with a group of "super particular" Ontario farmers.
"We had some big players in the soap business sending us samples, but nothing was as good as the stuff the manufacturer developed for us," he says.
The product launched this past March, about the same time he made an appearance on the U.S. Farm Report recorded at Grain Farmers of Ontario's March Classic.
The soap is retailed strictly through John Deere dealers across North America. It is currently available in over 300 locations (through 23 different dealerships), and Pasztor is still receiving requests from additional states and provinces.
SUCCESS ACHIEVED
Six months in, he says the business has already grown bigger than he ever imagined. "It's something I never thought I'd be doing in a million years."
Although the sticker craze has slowed, Pasztor still receives requests and mails them out to those who post pictures on Twitter. Now, he's working on launching an online merchandise store for his customer base.
Pasztor credits the members of the farm equipment community who he has met online and in person over the past few years for inspiring his business.
"I never would have done anything with the soap if #AndyClean didn't build such a big community of people," he says. "They are the ones I have to thank because without knowing it, they encouraged me to develop this product."
Pasztor can be followed on Twitter @apasztor82 and Instagram @iamandyclean. •