Leadership generation
ASA CORTEVA AGRISCIENCE YOUNG LEADER PROGRAM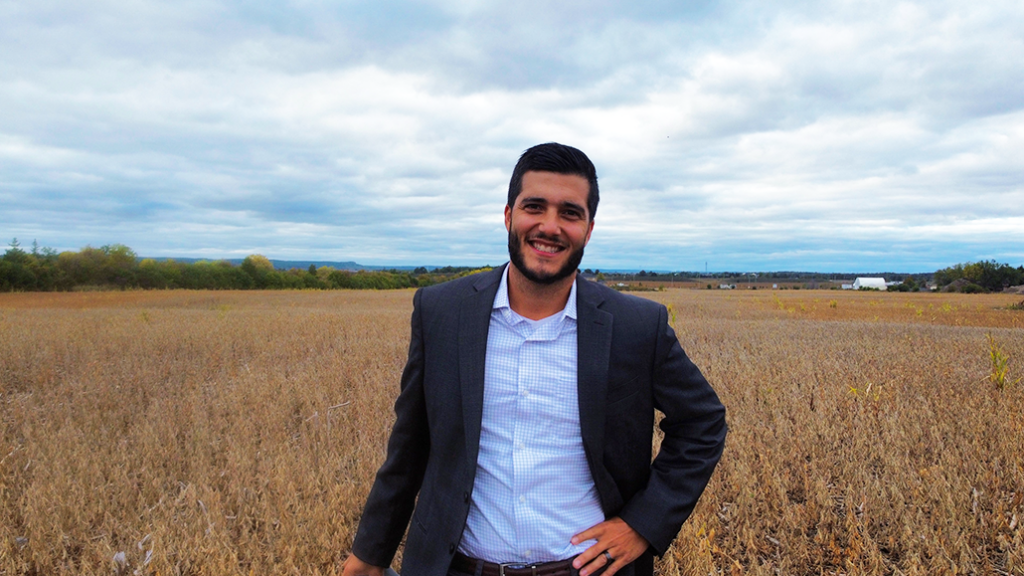 AFTER NEARLY A decade of farming on rented land, Daniel Chiappetta is excited to see winter wheat growing on his own land. He purchased his first farm this spring — one more step toward reaching his goal of becoming a full-time farmer.
Chiappetta, 29, didn't grow up on a farm. In fact, until university, his only hands-on experience with agriculture was working part-time at a pumpkin patch. But that exposure sparked an interest that led him to combine his long-held plans to pursue a business degree with agriculture.
"Once I got into the ag business program at the University of Guelph, my exposure to agriculture dramatically increased because all of my classmates were from farms," said Chiappetta. "They were looking to run their family farms or wanted to become involved in ag business."
Chiappetta knew that with the high cost of land and equipment, it wasn't realistic to expect to make a living farming full-time right out of school. But he couldn't pass up the opportunity that presented itself in 2013 during his fourth year of university.
"I rented 40 acres of land, and on the advice of some older farmers I spoke to, I grew my first crop of soybeans. It was a good crop, and after that, I was heavily invested in continuing to grow my business."
A GROWING BUSINESS
Those first acres were formerly the pumpkin patch he worked in high school.
Chiappetta continued to add additional leased acres over the next few years, navigating relationships with custom operators and researching crop production practices while working full-time for a bank specializing in agricultural lending. He now farms 300 acres between Guelph and Toronto, utilizing a rotation of corn, soybeans, and wheat, and continues his off-farm job at TD Bank.
But Chiappetta's interest in agriculture has grown beyond the farm — he also wants to serve as an industry leader. He feels his experience gives him a unique perspective, and his young age gives him a long future to contribute to agriculture.
He currently serves as a delegate for Grain Farmers of Ontario's District 10 (Grey, Bruce, Wellington), and he has been selected to represent Grain Farmers of Ontario in the 2022 – 23 American Soybean Association (ASA) Corteva Agriscience Young Leader Program.
Chiappetta and his wife, Andrea Gregoris, joined other young leaders from across the U.S. for the program's first phase at the Corteva Global Business Center in Johnston, Iowa, at the end of November. They will complete phase two in early March when additional leadership training is provided in conjunction with activities at the Commodity Classic in Orlando, Florida.
Gregoris also has an off-farm job in the hydro industry. Chiappetta felt it was important for her to join in the Young Leader program, which encourages the participation of spouses, because of her support in making the decisions to grow his farm business.
The Young Leader program includes communication and issues-based training and builds a strong peer network amongst participants. The networking opportunity is what drew Chiappetta's interest in the program.
"I am looking forward to having conversations with farmers who are in my demographic, looking forward to the future, and interested in trying new things," he said before flying out to Iowa.
TRYING SOMETHING NEW
Chiappetta is keen to try new things every year just to see what works. "You can't say it doesn't work unless you try." He has been experimenting with cover crops, planting dates, and no-till. On his heavy clay soybean fields, he has found the longer he leaves the ground alone, the better off he is. The first two years he tried no-till he did not see a net benefit, but since then, he has found a higher return and a heartier crop.
"The no-till soybean fields look rough in May and June because they can take longer to germinate. But once we get into the hot, dry summer, the no-till fields look a lot better than those heavily worked," he noted.
Chiappetta has also learned to track the markets to decide which soybeans to grow and keeps an eye on trade issues. This global view of the soybean industry, and the farmer's place within it, is encouraged within the Young Leaders program.
"Soybeans are the plant of the future," said Chiappetta. "With global trade, there is a high demand for this oilseed. It is a profitable crop to grow, and soybeans are the one crop that usually evens out when it comes to harvest time, even in a rough year."
Grain Farmers of Ontario is an affiliate member of the American Soybean Association. Each year one representative from Ontario joins the representatives of the ASA's 26 state affiliates in the Young Leader program.
Rachel Telford is the manager of member-relations at Grain Farmers of Ontario. •