GrainTALK for April/May 2023
AN UPDATE ON GRAIN FARMERS OF ONTARIO NEWS AND EVENTS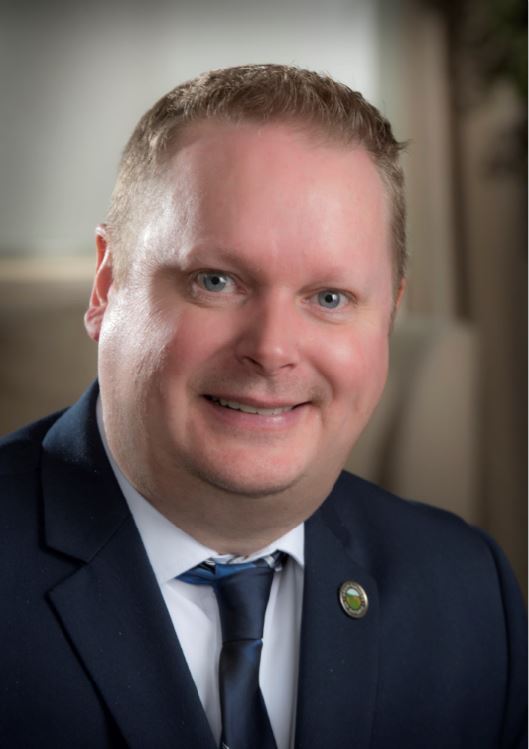 FROM THE CHAIR
You recently represented Grain Farmers of Ontario during a trade mission to the Asia-Pacific region. What did you learn from that experience?

Crosby (Devitt, CEO) and I were invited by the Ontario Ministry for Agriculture, Food and Rural Affairs to accompany them on trade missions to Japan and Vietnam. It is vitally important that Grain Farmers of Ontario be part of trade missions like this. Areas and markets around the world are looking for grains that we can provide. The trade missions allowed us to showcase our willingness to help and be part of their success.
I also came to quickly realize how good it was to be back in person and how much deeper relationship-building can be with other nations when it is face-to-face.
One of the really positive aspects was hearing how well respected our farmers and farms are in other areas, and that high quality was synonymous with Ontario grain. I also found that working with other groups can help amplify our voice, and theirs, to these markets and customers. For example, being there when the Ontario Corn Fed Beef program was signing an MOU with the Vietnam Chef Association helped me give voice to the Ontario corn part of the story, which was incredibly important to the discussion. •
---
EXECUTIVE COMMITTEE ELECTED
At the Grain Farmers of Ontario inaugural board meeting, held in February, the Executive Committee was voted into office for the year. Brendan Byrne, director for District 1 (Essex), has been re-elected as chair for a third term. Jeff Harrison, director for District 12 (Durham, Northumberland, Kawartha, Peterborough, Hastings), and Josh Boersen, director for District 9 (Perth), will serve as vice-chairs. Scott Persall, director for District 5 (Elgin, Norfolk), will hold the position of executive member.
A complete listing of the 2023 Board of Directors and district delegates can be found at www.gfo.ca/about/districts. •
UPDATE: LAMBDA-CYHALOTHRIN
Grain Farmers of Ontario, the Ontario Agri Business Association, Ontario Bean Growers, and Ontario Canola Growers Association continue to monitor Health Canada's Pest Management Regulatory Agency (PMRA) and its reviewed use of lambda-cyhalothrin.
This active ingredient, commonly sold under the tradenames Matador, Silencer and others, is a broad-spectrum insecticide used by dry edible bean, grain, and oilseed producers to protect crops against insect pests.
As a result of the review by the PMRA, the use of this pesticide on crops destined for livestock feed is not permitted. It is also recommended that Ontario dry edible bean, grain, and oilseed producers not use any product containing lambda-cyhalothrin in the 2023 season.
For more information on alternative products, Ontario Ministry of Agriculture, Food and Rural Affairs (OMAFRA) entomologist Tracey Baute has prepared a summary that can be found on OMAFRA's Field Crop News website, www.fieldcropnews.com. •
NEW FACILITIES BRING OPPORTUNITY FOR ONTARIO'S GRAIN FARMERS
In February, Italian gluten-free pasta maker Andriani S.P.A. announced plans to develop a 50,000 sq foot production facility in London, Ontario. In the future, this facility may have the potential to utilize non-traditional pasta grain ingredients, such as corn and oats. This announcement follows a series of engagements with Andriani S.P.A. highlighting Ontario's value chain and providing insight into the availability and quality of Ontario-sourced grains, delivered by Grain Farmers of Ontario's Market Development team in collaboration with value chain stakeholders, including the Ontario Agri Business Association and the Ontario Ministry of Agriculture, Food and Rural Affairs.
Additionally, Ontario biofuels producer Greenfield Global Inc. announced progress on a $2 million agricultural waste-to-clean fuel project funded by Agriculture and Agri-Food Canada under the Agricultural Clean Technology Program, Research and Innovation stream. Their press release acknowledged the support of Grain Farmers of Ontario, who helped bring this project to fruition through engagement and advocacy during the funding application process. The project has the potential to create new, regionalized value-added processing opportunities for Ontario agricultural residues like corn stover to be transformed into low-carbon renewable diesel fuel, which could be used on-farm and elsewhere in the transportation sector. •
FARM SHOWS
Staff, directors, and farmer-member volunteers have taken part in a number of winter and spring farm shows, including the Chatham-Kent Farm Show, the London Farm Show, the East Central Farm Show in Lindsay, and the Ottawa Valley Farm Show. Join us in Northern Ontario at the Earlton Farm Show April 14-15. •
NEW WINTER WHEAT RESOURCE
Grain Farmers of Ontario and the Ontario Ministry of Agriculture, Food and Rural Affairs have produced a visual guide to winter wheat staging that is now available for download in PDF on the Grain Farmers of Ontario website.
The guide will help farmer members understand the growth stages of winter wheat while sharing scouting tips and information about key yield components to make informed and profitable management decisions. •
GRAINS ON THE GO
The Grains on the Go trailer has been making its way to schools across Ontario. Doug Wagter, Grain Farmers of Ontario's grains educator, has been test-piloting educational programs for Ontario students in grades 2 – 6. For more information on Grain Farmers of Ontario's education and outreach program or to find out how to get the Grains on the Go trailer to visit your local school(s), please contact dwagter@gfo.ca. •
GRAINS IN ACTION
After a 3-year hiatus, the Grain Farmers of Ontario Grains in Action program returned in February. During the three-day tour across southern Ontario, 30 young farmers got an opportunity to learn more about the grain and oilseed industry as they toured facilities such as Pride Seeds, Cargill in Sarnia, Harrow Research facility, Hiram Walker distillery, the Arva Flour Mill, and Wallenstein Feed. The program also featured presentations by some of our government partners and Grain Farmers of Ontario staff. •
FIELD OBSERVATIONS FROM THE GRAIN FARMERS OF ONTARIO AGRONOMY TEAM
With the spring planting season underway, be sure to check out the weekly field observations report from Marty Vermey, senior agronomist, and Laura Ferrier, agronomist. The agronomy team brings you weekly updates about field conditions across the province, tips and advice relevant to the season's conditions, and updates from agronomy partners. The field updates can be found at www.ontariograinfarmer.ca or in the weekly GrainTalk e-newsletter delivered to your inbox on Thursdays. To subscribe to the GrainTalk e-newsletter, visit www.gfo.ca/GrainTalk. •
INDOOR RECESS KITS
When rain or extreme cold disrupts recess, Ontario's teachers have to figure out how to keep their students entertained and engaged during indoor recess. Good in Every Grain has come to the rescue by delivering fun and engaging Indoor Recess Kits to 130 schools across the province in February. Filled with crafts, games, puzzles, activity kits, play dough, crayons, and more, these kits will provide endless hours of enjoyment for more than 2800 elementary-aged students — and help them learn about grains, oilseeds, and the farmers who grow them.
This is the second year that Good in Every Grain has run the Indoor Recess Kit program, with positive reviews from teachers and students alike. •
MARKET COMMENTARY
by Philip Shaw
In the last week of February, nearby corn futures lost about 50 cents per bushel, and nearby soybean futures lost 55 cents. It is always hard to know exactly why, but harvest pressure and Safrinha corn planting progress in Brazil is weighing on the market. Futures started a rebound in the first week of March. Before that in the February United States Department of Agriculture (USDA) report, U.S. domestic corn yield was dropped 200 million bushels down to 13.730 billion bushels, the lowest in 3 years. U.S. corn yield was revised to 173.3 bushel/acre. U.S. soybean production was revised to 4.276 billion bushels based on lower harvested acreage and a lower yield of 49.5 bushel per acre.
As of March 3, the Canadian dollar sat at 0.7348 U.S., which is adding stimulus to Ontario cash grain prices and mitigating futures price drops. •