A new chapter for Thompsons
THE ANDERSONS AND LANSING TRADE GROUP
the new head of Thompsons Ltd. is impressed by what she has seen so far. Dawn Betancourt, a 27-year veteran of the grain business, was named Interim President of the company after The Andersons Inc. and Lansing Trade Group acquired Thompsons in June.
"The people are great here, great to work with," said Betancourt, in an interview a few days into her new job. "I've had nothing but good experiences and I think we can provide a lot of opportunity down the road. I'm pretty excited about it."
PHOTO: dawn betancourt, interim president of thompsons ltd.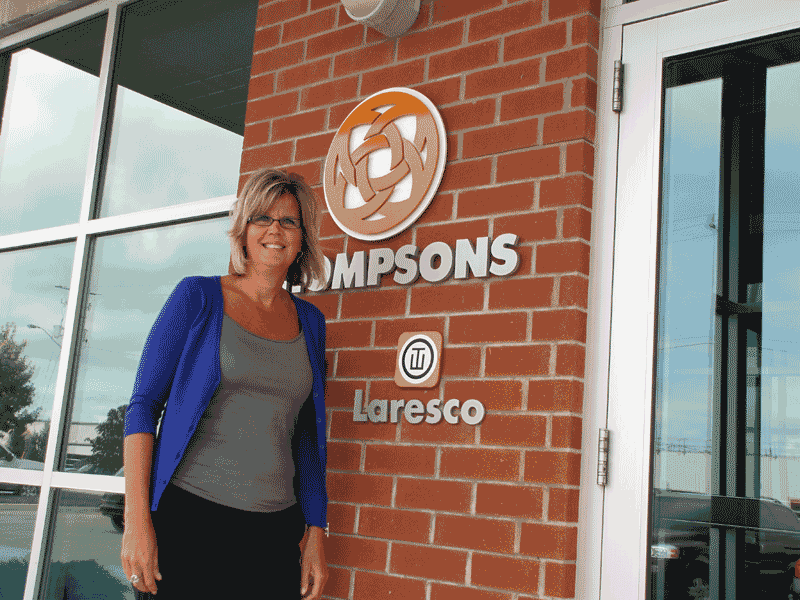 The deal to acquire the company, headquartered in Blenheim, Ontario, closed on July 31.
Started in 1924, Thompsons supplies value-added farm products and services to growers in Ontario, Minnesota and North Dakota and to food processing customers around the world. It owns and operates 12 elevators and 11 retail farm centres. The business also includes two seed processing plants, five processing plants and a wheat processing plant.
planning for the future
The Andersons, based in Maumee, Ohio, and the Kansas-based Lansing Trade Group will equally own Thompsons and continue to operate it as Thompsons Limited. While saying it is premature to discuss specifics, Betancourt believes the new ownership will help expand the market for Ontario farmers and give them more and different options to manage their risk.
On grain marketing, she hopes Thompsons can leverage its relationship with Andersons and Lansing to sell to a broader spectrum of customers. "More opportunities to sell give you more opportunities to buy (from farmers)," says Betancourt.
The former Lansing office in Chatham has been moved into the Blenheim office, in what Betancourt describes as a "mostly additive" move because Lansing deals with a different set of customers than Thompsons.
"Lansing really brings a plethora of sell-side opportunities; they trade all over the world in a bigger way than Andersons does as a trading company, and that will allow us to have more opportunities on the buy-side for producers," she adds.
Noting that she is not certain about how The Andersons' risk management programs will work with Ontario's tools, Betancourt says they develop grain marketing plans that are based on a farmer's crop insurance and cost of production.
"We put together a risk management portfolio for the farmer/customer so they're managing their risk as they sell the crop," explains Betancourt. "From that perspective, I think there are some real growth opportunities here."
As for other areas of the company, the new ownership plans to continue to operate the grain elevators, the processing plants and the retail sides of the business. On the possibility of expanding Thompson's value-added business and Identity Preserved programs, Betancourt says it is too early to say. While noting she does not have expertise in that area, she speculates that a return of lower corn and soybean prices could spark more farmer interest in growing crops for the IP market.
"Based on what I've heard and seen, we are a provider of choice in that respect, so we should be able to grow that business, dependent on how much a navy bean is worth or a specialty bean is worth versus what soybeans and corn are worth," she says.
Betancourt, who was born and raised in Toledo, Ohio, took a job at Andersons after graduating from Michigan State University. She has since moved through the ranks, working in most of the states where the company has owned facilities. Two of her sisters work in the grain business and her father worked for The Andersons for 45 years before retiring.
The deal gives The Andersons a foothold in Ontario with a company that has similar roots in the eastern corn-belt but offers a new business area, especially in the white bean market.
"It's a growth business for us being that we don't do it in the states, so it will give us new avenues of customers and networks to get involved in," notes Betancourt. "This gets us into what I would call an adjacent space; it's very similar to what we do but not exactly the same. It feels like a good fit."
Being complementary was an important factor for the Thompson family when it sought a buyer for the business. Former president Wes Thompson says the family reached the conclusion that it was not feasible to pass the business onto the fourth generation.
"We looked for someone who was going to take an interest in all the stakeholders," notes Thompson. "At some point, it's not about money; it's about employees, the customers and the communities we work in. We made the decision based on those things and we found a nice match."
a long history
Started 80 years ago by Wesley G. Thompson in Blenheim, the company initially handled a variety of products from wool and coal to grains and white beans. The company expanded over the years to provide agricultural services to farmers and added 11 elevator retail locations. Thompsons also exports food products to more than 30 countries around the world. The key markets include exporting white pea beans to Europe and special quality white hilum soybeans to Southeast Asia and Europe.
Closer to home, the company also packages dry beans and popcorn for domestic markets under the Thompson label, in addition to a variety of store brand labels.
As he looks back at the company's growth, Thompson says it mirrored how Ontario's cash crop area developed, moving north and east from Blenheim. Thompson vividly remembers a time when soybeans were only grown within 100 miles of the company's headquarters.
"We got into canola because (farmers) wanted to participate in the oilseed market but they couldn't grow soybeans," recalls Thompson. "So we got into canola. Now we can't get them to grow canola because the soybeans have been so successful."
Viewing the new ownership as the next chapter in the company's evolution, Thompson is confident that more success stories will be written in the future.    
"I think it is going to continue," says Thompson. "The family is trying to bow out gracefully and hand it to somebody that is better equipped to take it to the next level." •