FIND OUT WHAT'S NEW IN THE WORLD OF RESEARCH
UAVs offer new perspective on plant health
Allison Sears
Unmanned aerial vehicles (UAVs)—remote controlled aircraft with cameras mounted on them—are helping farmers and researchers detect early warning signs of crop damage caused by disease, moisture stress, and pests.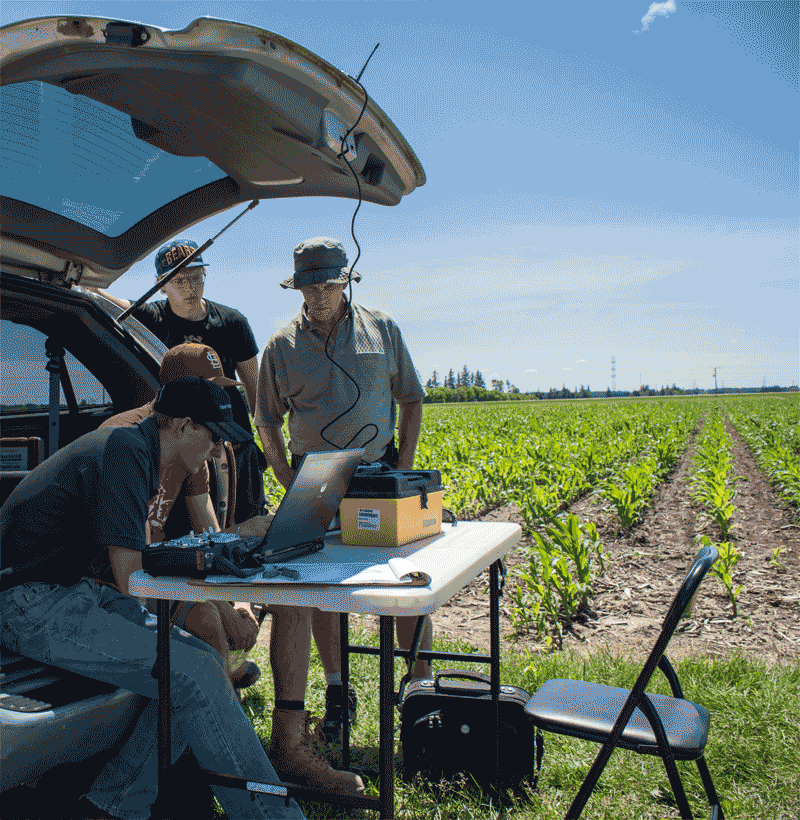 Professor Mary Ruth McDonald, from the Department of Plant Agriculture, is using UAVs, also known as drones, to help integrate a more efficient and objective assessment of crops.
"Drones are an exciting new technology and many researchers are interested in their compatibility with research projects," says McDonald.
To control and program the UAV, two workers are needed. One is stationed with a laptop directing all movements, the other flies the UAV using a remote control. Photographs of the crops captured by the UAV are then sent back to the laptop.
These high definition images allow researchers and farmers to assess the condition of crops earlier than scouting on foot.
This is because plants demonstrate early signs of sickness and stress through changes in chlorophyll, a green pigmentation responsible for light absorption, in their leaves.
Chlorophyll in healthy plants absorbs red light and reflects infrared (IR) light. Damaged chlorophyll reflects both red and IR light. Photographs taken by the UAVs pick up these subtle light signals that are invisible to the human eye and offer an objective insight into the plant's health.
McDonald is collaborating with High Eye Aerial Imaging Inc., a company that specializes in aerial imaging and operates an octocopter.
The octocopter, powered by batteries, is able to hover at different heights over research plots, which allows for closer images.
Bradford Co-Operative Storage Ltd. is the industry sponsor of this project and is funded in part by Growing Forward 2 (GF2), a federal-provincial-territorial initiative. The Agricultural Adaptation Council assists in the delivery of GF2 in Ontario.
The Fresh Vegetable Growers of Ontario are also providing financial support. •
Research Roundup is provided by members of SPARK (Students Promoting Awareness of Research Knowledge) at the University of Guelph's Office of Research. For more information, contact a SPARK writer at 519-824-4120, ext. 52667.