PRODUCING VODKA FROM NORTHERN ONTARIO WHEAT
MANY HARD RED spring wheat buyers clamour for Ontario's protein-rich Grade #1 — but not artisan spirits distiller Marcel Rheault.
PHOTO: THE RHEAULT DISTILLERY ALPHA-VODKA IS DISTILLED FOUR TIMES IN A SINGLE BATCH STEEL COPPER POT WITH A REFLECTING COLUMN, CREATING A VODKA THAT CONTAINS ALMOST 0% METHANOL — THE ONLY OF ITS KIND BEING SOLD IN CANADA.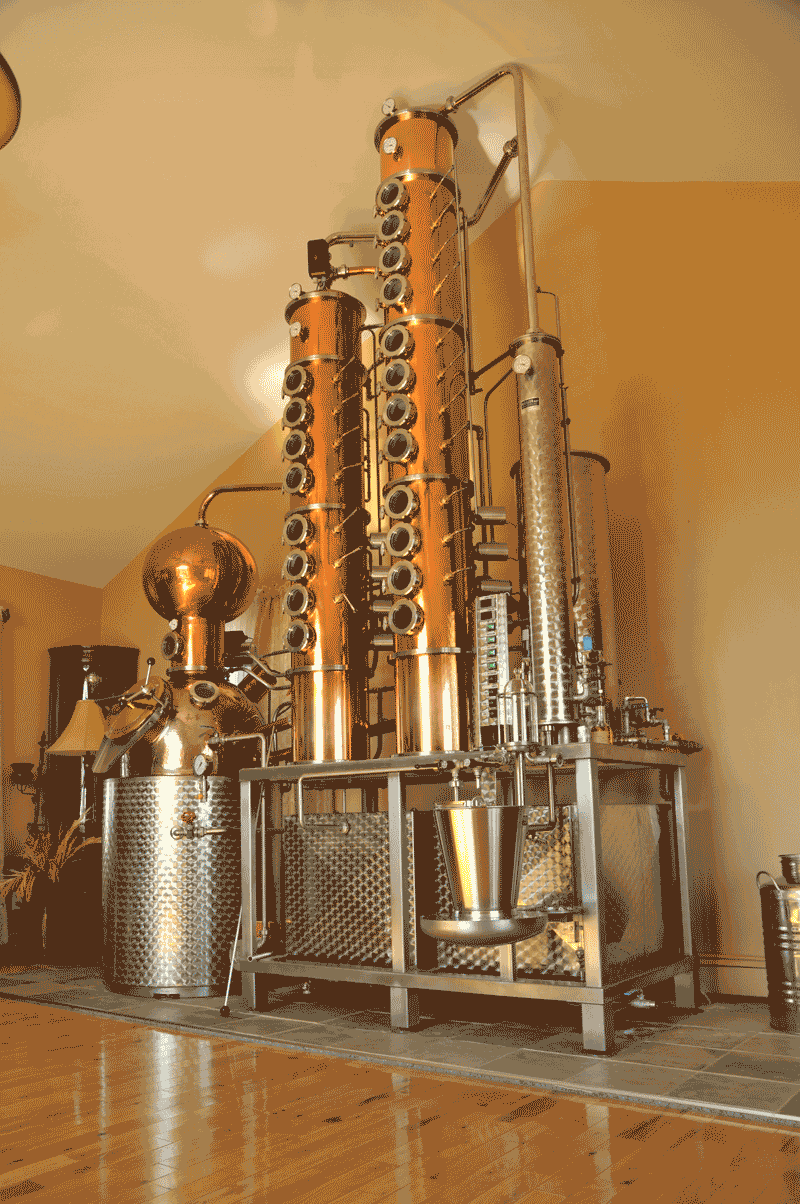 These days, Rheault is wholly focused on Ontario Grade #3 wheat, secured from local farmers near his home in Hearst, Ontario, in the district's fertile clay belt. This grade's higher starch content makes it ideal for distilling one of the most unique alcoholic beverages to emerge from the province since Prohibition: Loon vodka.
LOCAL FLAVOUR
Loon vodka, produced in micro batches by Rheault, his wife, Mireille Morin, and their family in their 4,000-square-foot distillery, is what's called alpha wheat vodka. It's distinguished by exacting standards established in Russia some 400 years ago — but today, practiced by just six distilleries in the world. Rheault Distillery is the only one outside of Russia and Poland.
At the Rheault facility, alpha vodka production consists of a six-day-long, quadruple distilling process, which includes a feature that stops almost everyone in their tracks – that is, the addition of 30 litres of milk to the final mash. Rheault says the milk forms a sediment with whatever impurities remain. They can then be removed, leaving a highly purified product with an almost zero per cent methanol count. Methanol, or methyl alcohol, is the nasty component in spirits often associated with hangovers. Comparatively speaking, in moderation, Loon is said to leave you feeling more chipper the next day.
The distilling process is rigorous. Rheault starts with 1,000 litres of water drawn from a single 30-foot sand well, fed by three underground veins. He credits the natural filtering ability of the sand for the water's distinctive clean taste, which gives it a firm foundation (called "the house taste") and is likewise reflected in the finished product.
To the initial batch of water, Rheault and his son Samuel, 19, who does most of the distilling, adds 250 kilograms of wheat. It cooks at 85°C for two hours, until it's a mash, to which he adds enzymes that convert the wheat's starch to sugar. When it cools to 25°C, it goes in a holding tank for six days. Then over the next week it's distilled four times, with milk comprising about 15 per cent of the final distillation.
The Rheault family hand-bottles the product themselves. The distinctive bottle design, featuring a loon drawn by Canadian aboriginal artist Stephen Peltonen, highlights the features Rheault considers unique about the product — particularly the pristine, cold water represented by the frosting on the clear bottle's lower portion. As well, moose prints track across the bottleneck top, a tribute to the distillers' hometown, the self-acclaimed Moose Capital of Canada, Hearst.
INDUSTRY ACCOLADES
Loon vodka was introduced in 2013, with Marcel and Mireille doing all the marketing themselves. Since then, this signature drink has rolled up win after win in prestigious tasting competitions. Most recently, and perhaps most significantly, in late August Loon vodka won double gold medals at the China Wine and Spirits Award. "This was an important win for us," says Marcel. "They really understand alpha vodka in China."
Just prior to that, in May, the LCBO bestowed an Elsie award on Loon vodka as the Best Made In Ontario product in its entire catalogue. Elsie Awards are the LCBO's way of, in the words of its marketing leaders, "recognizing those who have distinguished themselves by going above and beyond, to deliver excellence." In other words, people like the Rheault family.
Rheault Distillery was also presented with an Ontario Agri-Food Innovation Award last year, one of just five such awards presented in the entire sector. The citation noted how Rheault believes northern wheat is particularly well suited to vodka production, and that the long hours of summer daylight create a grain with higher sugar content. In accepting the award, Mireille chimed in with her own version of the Foodland Ontario motto: Good spirits grow in Ontario.
Next on the horizon for Rheault Distillery is a cherry-flavoured vodka aperitif called Sinful Cherry. Ontario grain is being used for this product as well.
"We source our grain from Ontario," says Marcel. "We're proud of that and we think it's a good selling feature for our vodka."
REVIEWS FOR LOON VODKA
Marcel Rheault calls quadruple-distilled Loon vodka a sipping vodka. It's meant to be consumed on its own, served without conventional vodka partners such as orange juice, cola, and olives.
It's sipped best when it's ice cold, after at least 24 hours in the freezer. After that, it pours like light syrup. Sip it gingerly or you may miss this vodka's many subtleties, Rheault says some people call the finish meringue-like. You should finish your drink before it warms up.
Loon vodka has been reviewed in several publications.
The LCBO's product listing calls it "clear, water- white; intense earthy and leafy aromas reminiscent of grappa; full and flavourful with a long earthy/briney finish."
Under The Label, the self-proclaimed "Drinking Enthusiasts' Guide to the Universe," calls Loon "a sweet nectar from Canada's north." It describes Loon as having a "crystalline lustre, a sweet odor, goes down very softly, with a velvety taste and silky finish."
Sharp Magazine advises its readers to "expect a uniquely earthy and ridiculously smooth palate with a mildly sweet finish, for an overall profile you'll be proud to call Canadian." Impress your Russians friends, it says, with Ontario's artisanal Loon vodka.
And even the website myfitnesspal.com chimes in, noting a one ounce shot of Loon has just 50 calories. That's the same as a miniature box of raisins. But better. •