Resources for plant health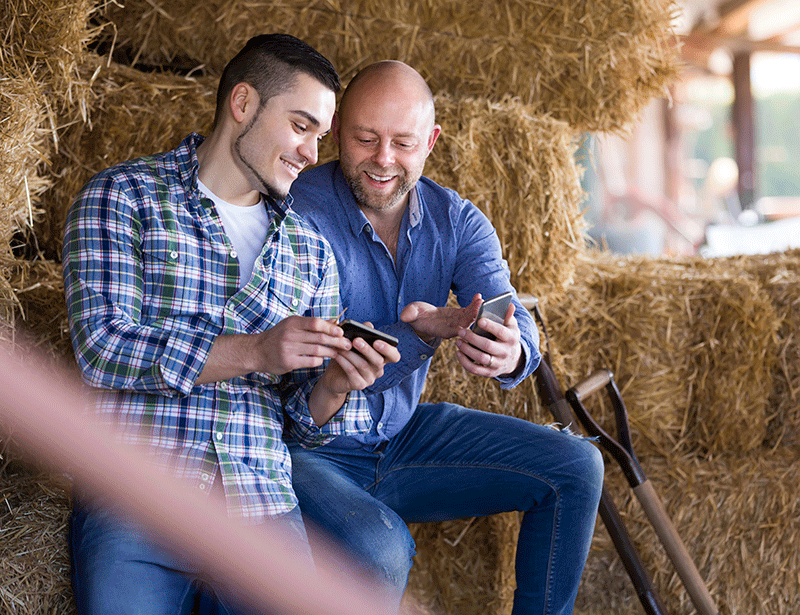 NEW APPS AND E-BOOKS AVAILABLE FOR FARMERS
ONTARIO GRAIN FARMER readers will be familiar with the recently-released Pest Manager app. Launched for iOS in May 2015 (Android and BB10 versions to be released this month), Pest Manager is an identification and treatment tool that can be used to manage weeds, insects, and diseases in corn, soybeans, or cereals.
Pest Manager is part of a much more comprehensive plant health resources project. Mike Cowbrough, weed specialist with the Ontario Ministry of Agriculture, Food and Rural Affairs and frequent Ontario Grain Farmer contributor, is part of a team (see note at end of story) of researchers who are working to make public research in the area of plant health more accessible to primary producers in Ontario.
In 2014, Cowbrough and the team completed an informal review of Ontario public research reports in the area of plant health — a comprehensive look at new research pertaining to how insects, diseases, and weeds can affect crop yield and quality. The team identified a problematic trend: primary producers tend to have inconsistent access to new findings, affecting their ability to integrate new research into their farming practices.
Better access to current information could lead to significant changes in the way producers do business, with the potential for big changes in how production, marketing, and environmental issues are addressed at the producer level.
APPS AND ONLINE RESOURCES
Identifying a clear need for easier access to information, the team opted in March 2014 to prioritize the placement of clear, actionable plant health management information in the hands of producers. They already had a built-in distribution system; the project would be a collaboration with Grain Farmers of Ontario, which has since 2010 invested heavily in mobile apps and electronic and print media, including Ontario Grain Farmer magazine.
The first publication released by the plant health resources team was the Early Season Guide to Field Crop Pests, which was first made available to farmers in October, 2014. The early responses were extremely positive; available in both French and English, the original print run of 5,000 copies disappeared practically overnight. The guide has seen a second run and is widely available as a free, downloadable e-book.
A follow-up of sorts is the upcoming Field Guide to Ontario Weeds. Soon to be released (it is currently being translated into French), this field guide will primarily be available to producers as a downloadable e-book. Meant to be a practical field reference guide, it features large, detailed colour pictures of Ontario weed varieties, and notes on how to best manage each weed variety in corn, soybean, and cereal crops. The guide also prescribes best herbicide options for specific weed varieties in each type of crop, including a recommended product rate/acre and control results from research data.
The Field Guide to Ontario Weeds, when available, will become as ubiquitous a resource as the already popular Early Season Guide to Field Crop Pests.
IN THE PIPELINE
Further down the pipeline is the Ontario Corn Field Guide, a wide-ranging document co-ordinated by field crop plant pathologist and crop disease specialist Albert Tenuta, with Ontario Ministry of Agriculture, Food and Rural Affairs. Still in production, the team is planning a 3,000 copy print run and broader e-book distribution to farmers across the province.
"The Ontario Corn Field Guide is a pocket-sized resource for farmers and agronomists to use in the identification of corn developmental stages, pests, diseases, and disorders," says Tenuta. The new corn guide builds on the very successful Ontario Soybean Field Guide which Grain Farmers of Ontario and OMAFRA partnered with Iowa State University to produce.
The next manual Ontario producers may see from the project is a set of Pesticide Application Best Management Practices. Drawing on new research in pesticide application and effectiveness, the team hopes that producers will be able to immediately apply lessons from the farmer-focused guide to their pest management practices.
"This is a very impressive resource with many pictures and diagrams to simplify complex troubleshooting," says Cowbrough. "Although it's geared towards orchard spraying there are several parts of this book that grain farmers would benefit from."
The Pesticide Application Best Management Practices book is available in both English and French, and both in print and e-book versions. Anyone can request a copy by going to sprayers101.com
Ontario producers have been fortunate to benefit from the work done by the researchers in the province, and stand to benefit even more now that the streamlined distribution of understandable and actionable data has emerged as a significant priority.
"The approach has already given us valuable resources like the Early Season Guide to Field Crop Pests and the innovative Pest Manager app, and even more is coming between now and the project's end in September 2016," says Cowbrough. Farmers can look forward to more apps and more insect, disease, and pest management publications and manuals. Soon, Ontario grain producers will be more empowered than ever to identify and record pest problems, make data-driven management decisions, and contribute their own notes for better future growing seasons for everyone.
This project was driven by OMAFRA's plant health team. In addition to Mike Cowbrough and Albert Tenuta, the team includes Tracey Baute, Denise Beaton, Hannah Fraser, Michael Celetti, Hugh Berges, Melanie Filotas, Michael Richardson, and Jessica MacKinnon. •