Cropside: Have you forgotten about SCN?
AGRONOMIC INFORMATION FROM ONTARIO'S CROP SPECIALISTS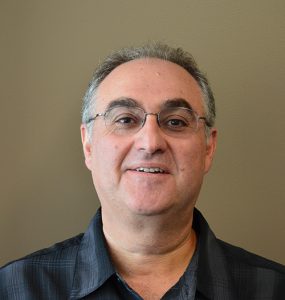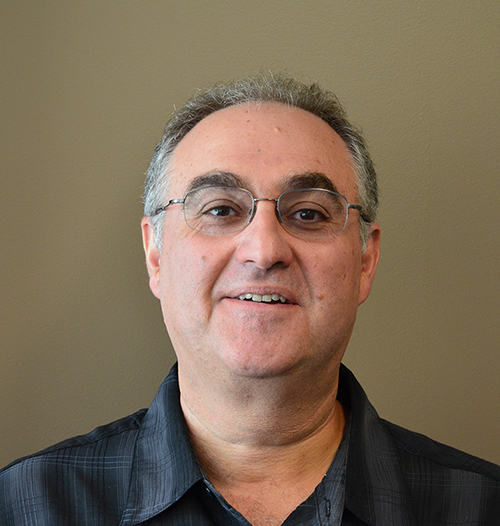 AGRONOMIC INFORMATION FROM ONTARIO'S CROP SPECIALISTS
THE RELATIVELY DRY conditions over most of the province early this summer made for a quick start for Soybean Cyst Nematode (SCN). The most obvious sign of SCN infection is the presence of the adult female "cysts" on the roots — white to yellow-brown cysts less than one millimetre  in diameter (the size of the period at the end of this sentence). In many cases, SCN symptoms may not be obvious in a field until populations build significantly and may go unnoticed.  For this reason, it is important to examine roots for SCN cysts (Figure 1).
FIGURE 1. NEVER PULL UP A PLANT TO CHECK FOR SCN SINCE TOO MUCH ROOT WILL BE LOST, AND THE NEMATODES WILL BE STRIPPED OFF.  INSTEAD, USE A SHOVEL AND DIG UP THE PLANT ALONG WITH THE SOIL SURROUNDING THE ROOTS.


SCN damage often occurs in circles and is often confused or misdiagnosed as nutrient deficiency, flooding, herbicide injury, compaction, drought, or root rot damage. Yellowing of the leaf margins can resemble potassium deficiency symptoms. However, the addition of potassium will not reduce the damage from SCN or eliminate symptoms (Figure 2).
FIGURE 2. SCN SYMPTOMS INCLUDE, IN MANY CASES, NO YELLOWING OF THE LEAVES, STUNTING OF PLANTS AND EARLY MATURITY, PARTICULARLY ON LIGHTER SOILS UNDER DRY CONDITIONS OR STRESSED AREAS IN THE FIELD.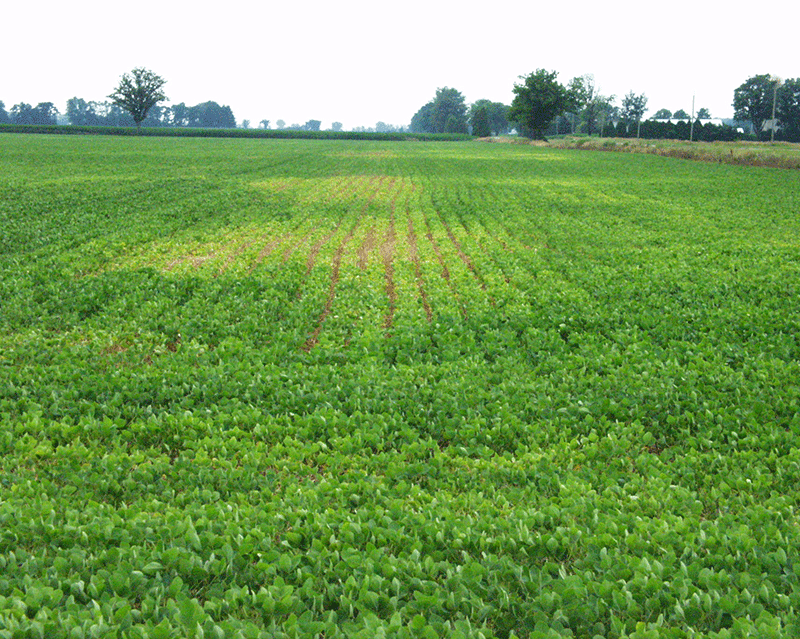 Areas of the field where above-ground SCN symptoms will most often occur include entrance points for equipment into the field, equipment and vehicle storage areas, tops of knolls, compacted headlands, and along the fencerow where wind-blown soil tends to accumulate (Figure 3).
FIGURE 3. AREAS OF THE FIELD WHERE ABOVE-GROUND SCN SYMPTOMS MOST OFTEN OCCUR.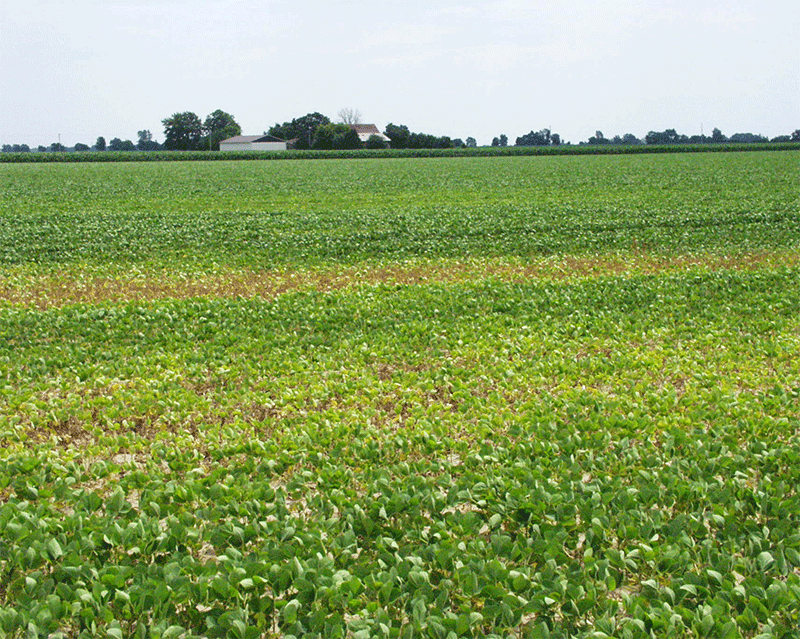 If you suspect SCN, call your local OMAFRA office, or contact Albert Tenuta at albert.tenuta @ontario.ca.  SCN soil tests can be sent to the following labs:
Pest Diagnostic Clinic
Laboratory Services Division
University of Guelph
95 Stone Rd West, Guelph, ON N1H 8J7
Tel 519-767-6256
SGS – Agri-Food Laboratories
503 Imperial Rd, Unit #1, Guelph, ON N1H 6T9
Tel 519-837-1600 or 1-800-265-7175
A & L Labs Canada East Inc.
2136 Jetstream Rd, London, ON N5V 3P5
Tel 519-457-2575
Contact these labs for current prices and nematode handling and shipping procedures. •