SHOWCASING MODERN FARMING AT THE IPM
THE INTERNATIONAL PLOWING Match (IPM) and Rural Expo bills itself as an event that provides the "opportunity for students and urban Ontarians to explore rural lifestyles and learn about the importance of agriculture in the local, provincial, and Canadian economies". Even though a mix of old and new agricultural technology can be found at the IPM, heritage tractor equipment, like that used in the VIP plowing event, often steals the show. That's become a concern as the event is a big draw for provincial politicians of all parties who attend the IPM to connect with a rural audience.
"We talk about the need to promote modern day farming and the only time we get our elected officials outside of the legislature and into an agricultural setting, we are showing them 70-year-old farming practices," says Barry Senft, CEO of Grain Farmers of Ontario. "Politicians are excited that they get the chance to drive an old tractor, but we want them to be just as, or more, excited about the new technology being used in agriculture today."
ADVANCEMENTS IN AGRICULTURE
That's why Grain Farmers of Ontario developed the Tech Park — a place where visitors can learn about advances in agriculture by checking out some of the latest equipment, watching videos of modern farming, and interacting with a small scale grain farm display that showcases even more of the equipment and technology required to produce a safe, high quality crop, from tillage, to planting, to harvest.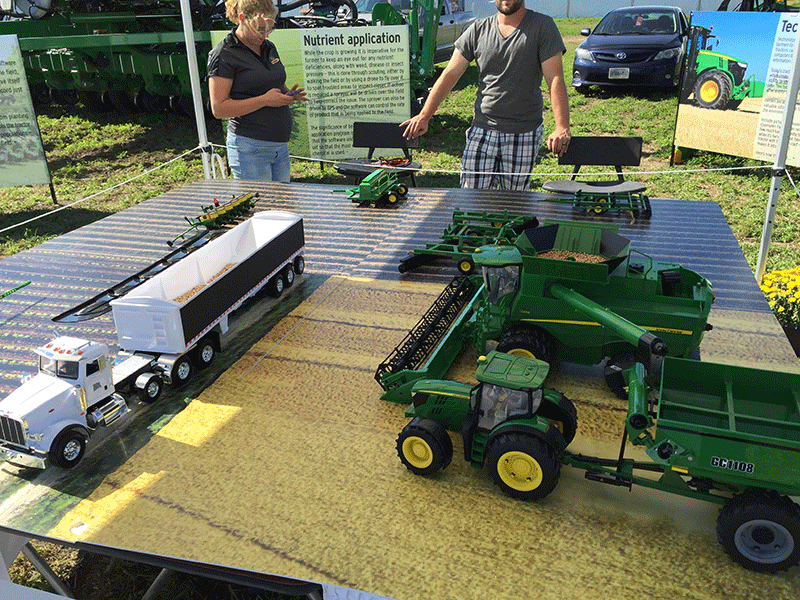 "The concept was to showcase as much of the technology used in a year of farming as we could in the space given to us," says Laura Ferrier, communications coordinator for Grain Farmers of Ontario, who was in charge of organizing the Tech Park. "We particularly wanted to target school children with our smaller scale display and show them how all of the different pieces of equipment interact together."
"It's a way to showcase what is new and how we are using advancements in technology to farm more sustainably," adds Senft.
The Tech Park had the full support of IPM organizers who provided the space for the display.
"I thought it was forward thinking and just a given we participate," says Cathy Lasby, executive director of the Ontario Plowmen's Association (OPA). "I think it allowed our event to show both ends of the spectrum — have our historical display but also show the public and politicians where ag is and will be."
Lasby says it was a natural fit to partner with Grain Farmers of Ontario because many of the OPA's members are grain farmers and they respect the leadership provided by Grain Farmers of Ontario with their outreach and communication efforts to the public and politicians.
PARTNERSHIP
Premier Equipment was a supporter and partner of the new initiative, helping to bring the initial vision of the Tech Park to fruition. They provided a John Deere 8R tractor with a 1795 planter and an S680 combine with a 45 foot flex draper head. The equipment also featured the JD command centre with the 2630 display and GPS technology.
"Public awareness of sustainable agriculture in Ontario and Canada is important and we wanted to support Grain Farmers of Ontario's outreach effort," says Ryan Hicks, marketing manager for Premier Equipment. "It was a great conversation starter to have this equipment at the IPM. Non-farmers normally only see this equipment in the field as they drive past and don't get an appreciation for how big it is until they see it up close."
Hicks says the people he spoke with were also unaware of how large a role data capture and integration plays in modern farming.
"We want people to appreciate that farming isn't 'by guess and by golly' — there is a science behind it. Not only are there new techniques or practices in growing a crop, but with the technology available today we can now record information on how those practices effect production. With the use of coverage maps, producers can record their activities — from tillage, planting, and crop care — then compare them to how the yield measured up in the same area of the field. It used to be just about completing a task, now it's also learning about how we did the task to improve on future production and proper care of the land."
ANSWERING QUESTIONS
Grain Farmers of Ontario communications team members staffed the Tech Park during the IPM and fielded questions from the public about the equipment, GPS, and other technologies such as auto steer. They also demonstrated how an unmanned aerial vehicle (UAV), also known as a drone, is used to take images of a field.
"People were drawn to the drone. They didn't realize at first that it was a serious agricultural tool. The demonstrations we did showed them that it was," says Mark Carter, web coordinator for Grain Farmers of Ontario, and one of the staff on hand. "It also raised the question as to why farmers need tools like this. Many of them had an outdated perception of agriculture and thought farmers only had 50 acres to take care of, not the hundreds to thousands of acres that is common for one farmer to work today."
"We also had a lot of questions about the cost of farming," says Maegan Mackimmie, communications coordinator for Grain Farmers of Ontario. "With the cost of the equipment, inputs, and land values, they didn't realize how large of an investment farmers have to make."
According to IPM organizers, they received positive feedback about the new addition to this traditional event.
"It was definitely a wow factor for everyone," says Lasby. "The non-farm visitors had no idea as to the size and scope and abilities of today's machinery, and from the farmers' standpoint, a lot of them thanked us for doing this. We want to do this again next year and would love for it to become a regular feature."
Ferrier says she is already in the early planning stages to bring the Tech Park to the 2017 IPM in Walton. •