Island farming
PLANNING AND FORWARD THINKING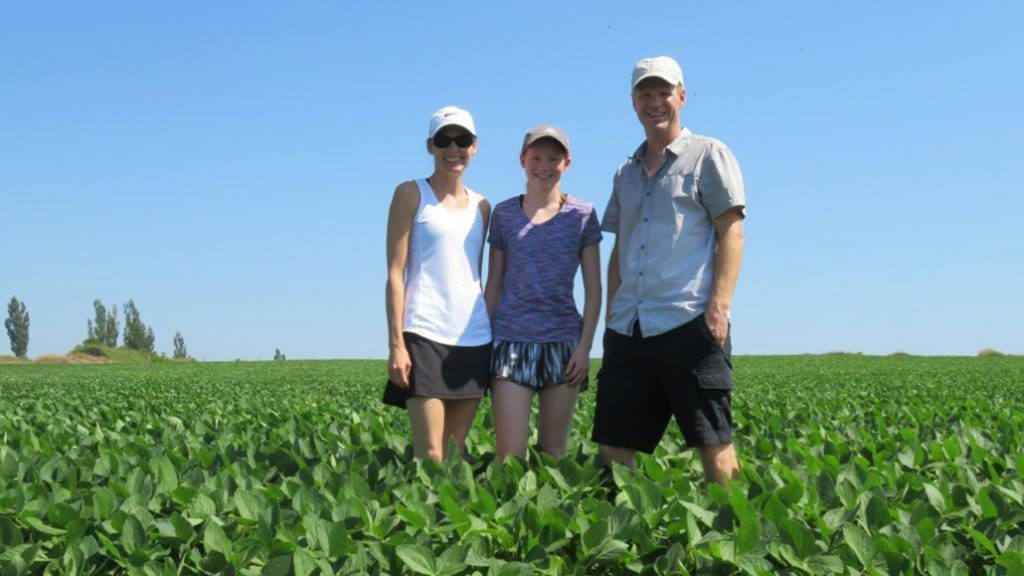 WOLFE ISLAND FARMER Jason Pyke laughs when asked if there was ever a question about choosing to farm on an island versus the mainland.
"For me, it wasn't really a question because I grew up with it," says Pyke. "Living on the island becomes just a way of life so you don't think about it as more challenging — at least not until you get into business for yourself and start organizing inputs and that sort of thing."
Pyke and his wife, Christina, and their two children, Jack and Chloe, run Pykeview Meadows on a piece of the 124 km2 island located just outside of Kingston.
FARM EVOLUTION
Pyke and his wife both grew up on dairy farms, he on the island and her on the mainland. When they both graduated from the University of Guelph in 1995 with a two-year diploma in agriculture, they knew they wanted to operate the family farm on Wolfe Island but wanted to investigate new opportunities for the business.
The Pykes took a massive road-trip to explore their options, driving through the northern United States to Vancouver Island, and then returning back to eastern Ontario through Canada, all the while looking at different livestock and other farming options.
They eventually settled on bison and started their operation in 1996 at the farm on Wolfe Island (which they purchased outright from Pyke's parents in 2001). As they expanded their operation, the Pykes also started to venture into cash crops, primarily corn, soybeans, and wheat. Through the years, the bison meat had proved to be a great market, but in 2012, the Pykes decided to sell the bison side of their business in favour of expanding their cash crops.
"Bison meat was a good, growing market, but we felt the need to back off with the livestock and concentrate on the cash crops because we had a young family and were always running to a bunch of different markets," explains Pyke.
It was a big decision, especially from a financial point of view, but it was one that was well-planned for years in advance. To add more income, the Pykes entered the green energy market: in 2009 they signed an agreement to lease some of their land to a wind farm developer, and four 2.3 mega-watt turbines were built on the property. Then, in 2010, they joined Ontario's MicroFit program and invested in four 10 kilo-watt solar systems on their farm.
Today, they crop approximately 1,000 acres of corn, soybeans, and wheat.
FERRY IN – FERRY OUT
Without a doubt, farming on an island presents a unique set of challenges not faced by mainland farmers. As Pyke says, the biggest one is that everything that comes to or leaves the island needs to be ferried: fuel, feed, fertilizer, parts, service contractors, product – literally everything.
The ferry that runs back and forth between Wolfe Island and mainland Kingston is run by the Ontario government. The 55-car/294-passenger ferry is free, and runs on the hour, every day, year-round, between 5:45 a.m. and 2 a.m. on a first-come, first-served basis.
Aside from these logistical constraints, Pyke says there are many other things that need to be factored in when dealing with the ferry. For example, he says the ferry is becoming busier, especially in the summer months when tourist season is in full swing. Since the ferry service is first-come, first-serve, Pyke says when he has someone coming over from the mainland to do specialized service, he'll often put a vehicle over in the ferry line to hold a spot for them.
Over the last year, Pyke says the rules around fuel delivery have been relaxed to allow fuel to cross every day of the week (it used to be allowed only twice a week — another obstacle.) Still, there is only one fuel vehicle allowed per sailing, which can potentially add delays.
Although the ferry ride is only a 20-minute sailing, when you factor in the wait times, it also adds more distance and time to market for Pyke.
"It's about a five hour round trip for a truck to deliver our grain," says Pyke. "Unlike us, a friend of mine on the mainland can actually see a few grain elevators from where he is, and he can just drive up to them, which saves him a fair bit of time and trucking expense."
For agricultural products leaving the island at harvest time, Pyke says trucks have a certain amount of priority at specific, off-peak times throughout the day, which helps. Still, between all the growers on the island, he estimates there are approximately 2,000 acres of corn and 5,000 acres of soybeans, as well as some smaller productions of hay, wheat, and other crops. Depending on the year, he figures that translates to about 160 truckloads of corn, and 120 truckloads of soybeans over the harvest period.
OTHER CHALLENGES
Storage is another big issue for Pyke, who says he has only a small amount on-farm.
"I can only store about 500 tonnes here, which is just enough to keep the combine going while I'm waiting for trucks," explains Pyke, adding that more storage is one of his next investments so he doesn't have to be so dependent on trucks right at harvest time. "You're always sort of thinking between a few hours ahead and a few days ahead as to what crop you're going to be into, where it's going to go, and how it's going to move off of the field."
Pyke says another challenge is the very heavy clay soil on the island. Tile drainage is very important, especially with a wet year like the area experienced this year. Even with adequate drainage, the high water on Lake Ontario this year backed water up onto a couple of fields that Pyke had to work around. Protecting shoreline along the fields, as well as in front of his house was a challenge.
Pyke says being at the mouth of the St. Lawrence River produces a lot of wind coming off of Lake Ontario, so dealing with the high wave action has also been problematic.
Still, Pyke says he doesn't expect the delayed planting from all of the water to affect him too much, adding that he shortened up some of his hybrids to compensate.
The biggest piece of advice he can share for those looking to farm on an island is to always be forward thinking — always planning.
"Planning and forward thinking — that's the biggest lesson-learned I can share," says Pyke. "You need to always be asking yourself what your needs are going to be for the next several days and not just what you need today or tomorrow."
Despite the challenges, Pyke loves farming on his native Wolfe Island. But he says overcoming the challenges is a team effort.
"It's not just a one-man show here — it truly is a family operation," says Pyke. "There were a lot of days this spring you could have found my father, my son, my brother, and two uncles all pitching in to help seed this spring's crop while my daughter, wife, and mother were all keeping the crew fed. It truly required a team effort." •