Keep it clean
ENSURE MARKET ACCESS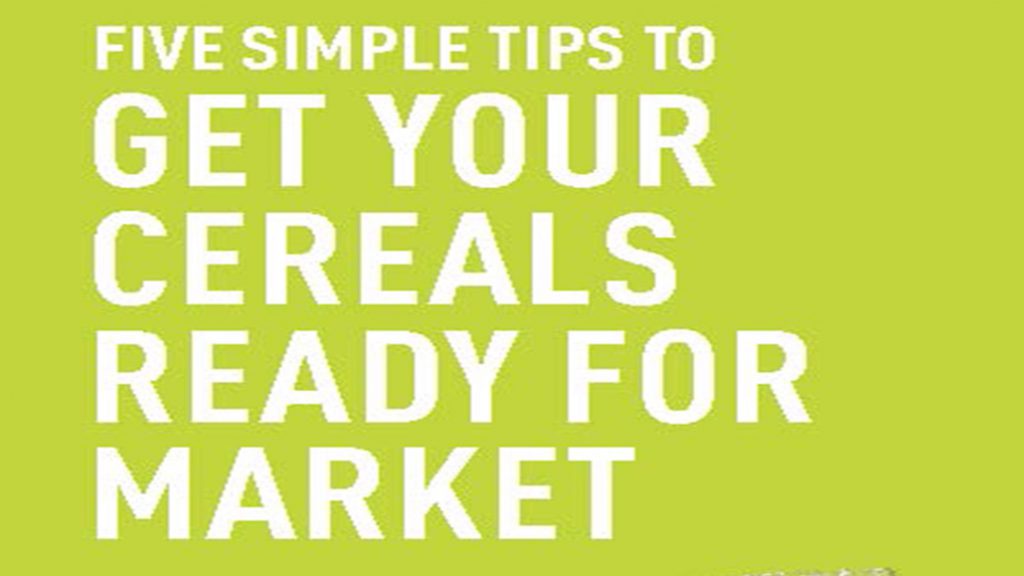 KEEPING IT CLEAN on your farm is an important part of keeping our markets open. Harvest time is no exception. Fall application of glyphosate and grain storage are two critical issues that are in your hands and impact your customers.
The fall application of glyphosate is of special interest to your customers for two key reasons:
• Glyphosate has come under increased scrutiny, when compared to other pesticides, due to recent media attention generated by those who do not support the use of pesticides for any reason;
• Unlike many products applied in fall, applying glyphosate when kernels are too green (30% moisture or above) can result in residues that are greater than the maximum allowable limit.
WHAT CAN YOU DO?
• Always follow the label. Labels on crop protection products have been developed through Canada's science-based regulatory process. The labels ensure safe use of crop protection products and help ensure that residues do not become a marketing concern.
• Do not apply glyphosate to cereals when kernels are 30% moisture or greater in the least mature areas of the field.
• Abide by the pre-harvest interval.
• Some customers have contract limitations on fall application of glyphosate. Talk to your grain buyers to ensure they know what crop protection products you intend to use, and to confirm that none of these products will cause concern for export or domestic customers.
Your rigorous adherence to these guidelines, including the science-based label, will keep this important product in your toolbox for years to come.
Grain storage is another key aspect of keeping it clean on your farm. Countries have strict regulations for residues in food and feed. Proper storage will help prevent downgrading of your grain due to cross contamination, chemical residues, or the formation of harmful mycotoxins, such as Ochratoxin A (OTA), a potent toxin that forms in high moisture.
• Make sure your storage bins are free of treated seed (which contains pesticides) and animal protein like blood meal and bone meal.
• Clean bins thoroughly prior to storing grain using only approved bin treatments (e.g. diatomaceous earth).
• Ensure that crops are harvested or dried to a level safe for storage.
• Store grain in cool, dry and well-ventilated bins to avoid spoilage and insect issues, and check their condition regularly.
You may not be able to control everything when it comes to Canada and its reputation, but following the Keep It Clean guidelines will help keep your markets open, your farm profitable, and protect the Canadian grain industry.
For more information please visit: www.keepingitclean.ca or call 204-942-2166.
Brenna Mahoney is the director of communications and stakeholder relations for Cereals Canada.
CEREALS CANADA
Cereals Canada is a national, not-for-profit organization, that represents a broad and diverse collaboration of partners from all sectors of the cereals value chain. Producers play a critical role at Cereals Canada, both around our Board table as well as in our technical and working groups. Our producer membership includes Atlantic Grains Council, Producteurs De Grains Quebec, Grain Farmers of Ontario, Manitoba Wheat and Barley Growers Association, Alberta Wheat Commission, and B.C. Grain Producers Association.
Producers make up 39% of the Board of Directors of Cereals Canada. The grain handling, export and processing firms also have 39% of the Board while the crop development and seed companies comprise 22%.
Representation from all our member groups is both deliberate and important. All stakeholders involved in growing, marketing or processing cereal grains are better off when the industry works together toward common goals. This is best accomplished if all links in the value chain have opportunity for input.
Our cereals sector business environment in Canada is complex, made up of thousands of growers across the country facing many similar production challenges. Cereal grain production will be more profitable for farmers if every link in the value chain is healthy. Profitability will mean greater investment in research and development. Profitability will result in new infrastructure to process and handle our crops.
The industry benefits when all members of the value chain are engaged. Cereals Canada provides a forum for the industry to work out any differences and gives the industry the ability to speak to our governments and customers with a common voice. We are a stronger industry when the pillars work together.
Our overarching goal is to ensure that all links in the Canadian cereals value chain are profitable because our industry is meeting the demands of our customers for consistent, high-valued quality and end use functionality characteristics. •