Uncertainty
U.S. AGRICULTURE IN 2018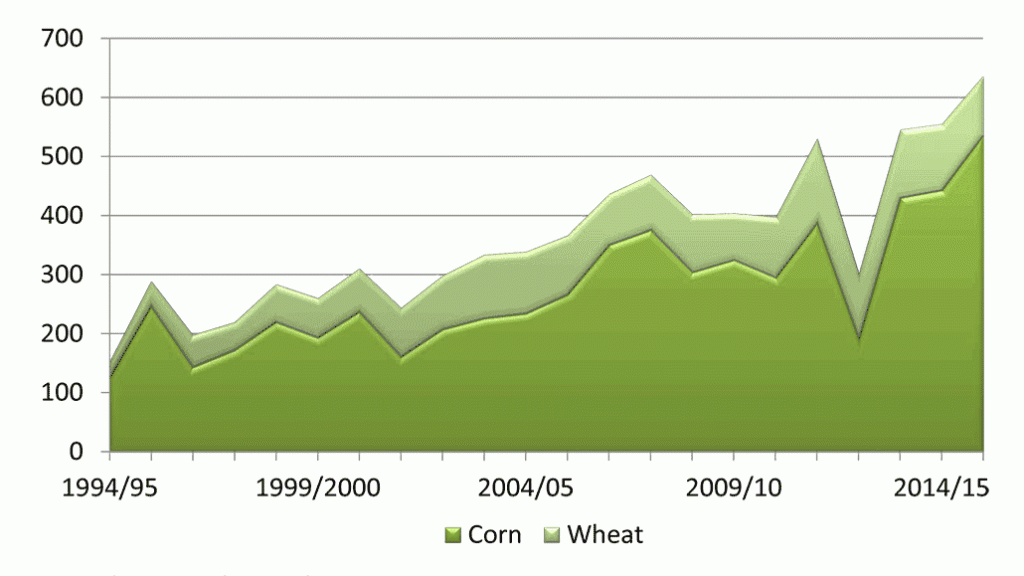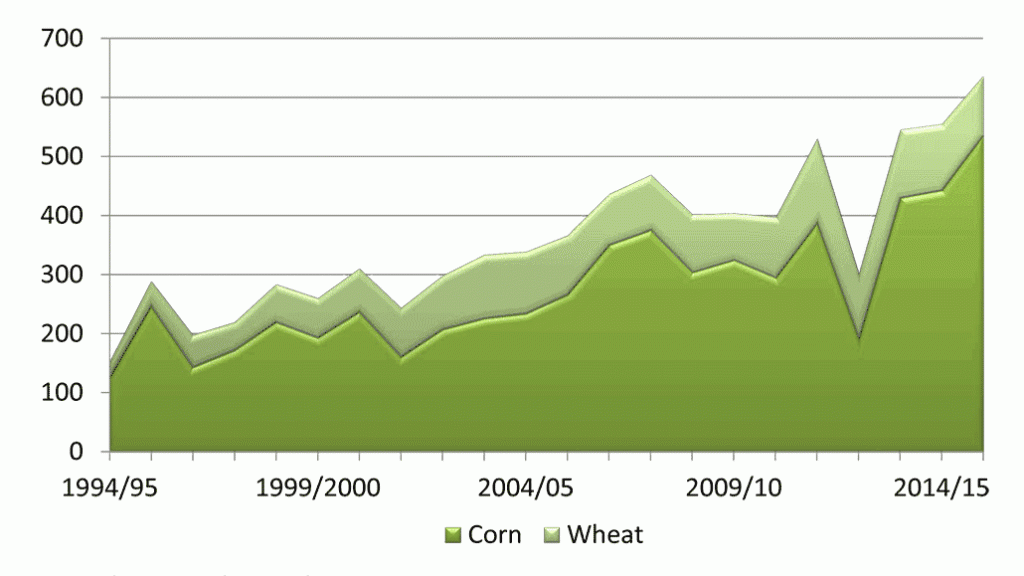 A NEW PRESIDENTIAL administration always means adjustments for U.S. agriculture, but the first year of the Trump presidency has been uniquely unsettling. The resulting uncertainty may produce exceptional challenges in 2018 affecting infrastructure, trade, and farm policy.
Nowhere is that more evident than in the conflict over the North American Free Trade Agreement (NAFTA).
Since NAFTA's inception in 1994, Mexico has become the number one export market for U.S. corn and wheat growers, the number two market for U.S. soybean exports, and a major market for U.S. distillers' dried grains.
That puts much of U.S. agriculture at odds with President Donald Trump, who has repeatedly and aggressively attacked NAFTA, promising to cancel or at least renegotiate it. U.S. farm groups are mounting a sustained effort to avoid a NAFTA pull-out. Some 85 major farm and food groups have written the administration to warn of the devastation such a pull-out would create in a farm economy already facing a fourth year of depressed commodity prices.
Craig Hill, president of the Iowa Farm Bureau Federation, worries that withdrawal from NAFTA could spark a farm crisis similar to the one triggered by the 1980 U.S. grain embargo against Russia, saying it would "devastate the marketplace."
At Iowa State University, agricultural economist Dermot Hayes believes that a pull-out could drag Iowa's agricultural economy into another depression, affecting not just farmers but related industries.
Political dynamics complicate the issue: repealing NAFTA is deeply popular with many of Trump's blue-collar supporters in states like Ohio and Michigan, while preserving NAFTA is critically important to agricultural and rural interests in those same states.
INFRASTRUCTURE INVESTMENT
In contrast, a Trump initiative that could benefit U.S. grain sectors — and especially corn and soybean exports — is his infrastructure proposal. Farm groups have campaigned for years for major repairs and upgrades to the nation's waterways, especially the Mississippi-Missouri-Ohio system that hauls the bulk of U.S. corn and soybean exports south to Gulf ports, then brings fertilizer shipments north for spring planting.
At the Soy Transportation Coalition, executive director Mike Steenhoek is encouraged by the administration's interest in infrastructure, noting Trump's comments on the importance of inland waterways to U.S. agriculture at an Ohio infrastructure event in June.
"That was encouraging compared to what other recent presidents have done," he says, but the administration's plan is still "long on ambition but short of specifics."
Some D.C. sources suggest that once tax reform (at the top of the agenda in November) clears the deck, there could be a concerted effort to move an infrastructure bill.
Steenhoek believes infrastructure may be the one issue that could garner bipartisan support in Congress, but there is still a lot of uncertainty about what such a bill might look like, including the degree to which it might tackle inland waterways' needs.
Meanwhile Steenhoek is all too aware of the barriers such a bill would face, including the congressional calendar and the issue of funding. For example, some provisions in the House tax reform bill could end tax-privileged status of private activity bonds used to invest in infrastructure. The further congressional action is pushed into the 2018 election year, the harder it will be to pass an infrastructure bill. That timetable applies equally to the 2018 Farm Bill.
WHO'S WHO AT TRUMP'S USDA
Two key appointees at the United States Department of Agriculture (USDA) come from the corn and soybean sectors: Stephen Censky, the long-time chief executive officer of the American Soybean Association, has been confirmed as deputy secretary, the agency's number two position; and Bill Northey, a past president of the National Corn Growers Association and Iowa secretary of agriculture, has been named undersecretary for farm and foreign agricultural services.
A NEW FARM BILL
"Listening sessions" for a new Farm Bill are already under way, but the U.S. Department of Agriculture's (USDA) capacity to contribute to the debate is being impaired by the Trump administration's efforts to reorganize the massive bureaucracy and by delays in filling top leadership positions in the agency.
As of mid-November, only four of the top 13 positions at USDA had been confirmed, and the White House had not yet nominated candidates for six positions, including the assistant secretary for congressional relations who would normally manage the administration's interaction with the congressional committees that will write the Farm Bill.
The reorganization effort is further complicating the situation, as new appointees, some with minimal agricultural experience, step into reconfigured jobs, some of which are politically controversial.
The result: impaired communications between the Congress, the White House, and the USDA.
The USDA normally plays a crucial role in advising Hill staff on how to shape the Farm Bill. Now, "when the Hill goes to the USDA for technical assistance, they're getting the runaround," says Barbara Patterson, director of government relations for the National Farmers Union. •