Heed the hazards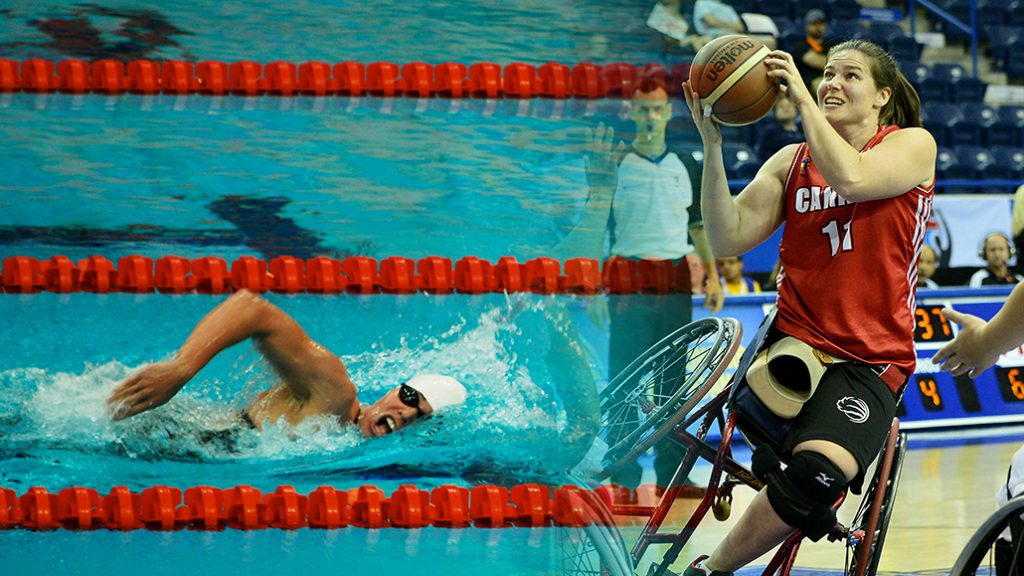 DARDA SALES WAS just shy of her third birthday on July 29, 1985 when she was playing in the family farm yard near Zurich, Ont., with her five-year-old brother.
It was harvest season, and the grain auger was running. The children wandered over and Sales' brother put his foot up beside the unguarded rotating blades without incident.
"Being curious and wanting to be like my brother, I tried too, but my little leg didn't reach and got caught in the auger," Sales recalls.
An older brother heard the screaming, shut down the auger and jumped on the tractor to retrieve his dad who was in the field. A 14-year-old farm hand called 911, listened to the emergency instructions, and was able to make a tourniquet to stop the bleeding.
Three and a half months and five surgeries later, Sales was released from hospital, and by January 1986, she had a prosthetic leg. It was the beginning of a lifetime of overcoming adversity, taking on tougher and tougher challenges, and showing the world her determination and drive to succeed.
Sales is one of the lucky ones. Every year, and especially at harvest time, farmers and their families across Ontario and the country are devastated by injuries and fatalities that happen, sometimes in the blink of an eye.
STOP. THINK. ACT.
One really important piece of advice Rob Gobeil gives to farmers is to stop, think about what they're doing, assess the potential hazards (such as kids playing close to equipment), and then proceed with the task. Gobeil is the agriculture health and safety specialist with the Canadian Agricultural Safety Association (CASA).
"Doing things methodically not only decreases your likelihood of injury, it also increases your efficiency and profitability," he says. "How profitable are you if you're injured?"
This approach is much like the Stop. Think. Act. program that the Workplace Safety & Prevention Services (WSPS) runs in co-operation with Imperial Oil. It asks farmers to think about what they're going to do, and stop if it can't be done safely. The organization has a network of volunteers who are being trained as rural ambassadors for the program, and there are a series of videos posted on the WSPS website (www.wsps.ca).
CASA also has a number of resources, including customized training, workshops and materials to help farm owners, their families, and workers stay safe around equipment. The group is constantly adding to the roster of services and programs it provides.
BE GRAIN SAFE
Last year, CASA introduced the BeGrainSafe program because of a spike in the number of grain entrapment incidents. Training is available for firefighters and producers and a mobile demonstration trailer is available for booking at agricultural trade shows.
During the demonstration, a mannequin is lowered into the bin, the auger is turned on, and within 10 seconds, it sinks from ankle to chest in the grain. During the simulated rescue, the auger is switched off first.
"The number one thing to remember is to shut off the flow," says Gobeil. "Grain that is moving will make you sink."
He said sometimes, well-meaning bystanders will panic and get themselves into trouble by trying to pull the victim out before the grain stops flowing. That is when they get drawn into the bin, and there are then two or more victims to deal with.
Back at the demonstration, a coffer dam (metal tubing) is assembled around the mannequin so it can be isolated and safely extracted.
Grain Farmers of Ontario has partnered with CASA to bring the BeGrainSafe trailer to Canada's Outdoor Farm Show in Woodstock September 11 – 13, 2018.
TAKE MICRO-BREAKS
Gobeil said that another huge hazard during harvest is fatigue. While he understands the pressures of getting the crop off, there is also a need to rest once in a while.
"The odds of something terrible happening increase exponentially if you're working while tired," he says, adding that not only do producers have to be alert for 14 or 15 hours or sometimes more on the tractor, but also for the drive home from the field.
He suggests taking micro-breaks during the day — whether it's five minutes to stop, get off the tractor and stretch, or 20 minutes for some shut-eye.
"Almost all farmers now have smartphones — they just need to set it for the amount of time they want to rest," he says, emphasizing that the small breaks really help improve mental acuity.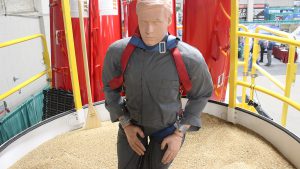 EQUIPMENT SAFETY
For more than 20 years, CASA has also worked with the Canadian Standards Association to make sure agricultural machinery standards are relevant and up-to-date.
Under the Speak Up for Safer Equipment program, farmers are encouraged to report concerns about defective equipment they have bought in the last five years through an online tool.
The organization delivers Canadian Agricultural Safety Week each March. CASA partners with organizations and agricultural businesses across Canada to bring awareness, resources, and education to farmers, farm workers, and farm families.
MOVING ON
Darda Sales sums it up well when she says, "Never get too busy for safety — taking that extra five minutes could save a life."
She also says it's important to make farm kids aware of the dangers at a young age, to set boundaries, and to teach them where it's safe to play and where it's not.
Today, Sales is an accomplished four-time Paralympian, having played wheelchair basketball for Canada in the 2016 games, and competed in swimming during the 2000, 2004, and 2008 games. She is a gold and silver medalist and helped the nation's women's wheelchair basketball team win the 2014 world championship. She lives with her husband, son, and twin girls in London, Ontario. Sales is also a motivational speaker who presents to corporations, government organizations, community groups and schools.
FARM FATALITIES BY THE NUMBERS
A report produced by Canadian Agricultural Injury Reporting (CAIR), which is supported by the Canadian Agricultural Safety Association (CASA), documented fatalities that occurred between 2003 and 2012. Here is what they found:
A total of 843 agriculture-related fatalities occurred across the country.
Most fatalities happened between May and October (66 per cent)
The vast majority of the victims were male (91 per cent) and most were the farm operators (55 per cent), with children of the operator coming second at 13 per cent.
Machine-related deaths accounted for a full 70 per cent of these fatalities.
Runovers (18 per cent) and rollovers (17 per cent) were the most common causes.
Half the runover fatalities happened because the victim left the vehicle (61 per cent of the time tractors) running or unblocked on a slope.
21 per cent were bystanders (a third of whom were children between one and nine) and 11 per cent were extra rider/ passenger runovers.
More than half the rollover fatalities were sideways (running too close to the edge of a ditch or other steep slope bordering a road or field) and 22 per cent were backwards.
Most (69 per cent) involved tractors and another 16 per cent involved off-road vehicles.
Machinery entanglements accounted for 61 fatalities, with half of them due to loose clothing or hair. In 20 per cent of these, the victim was doing something else near the machine and in 18 per cent they had been cleaning or repairing the machine without turning it off.  •