Even your gas is local
HONDA INDY TORONTO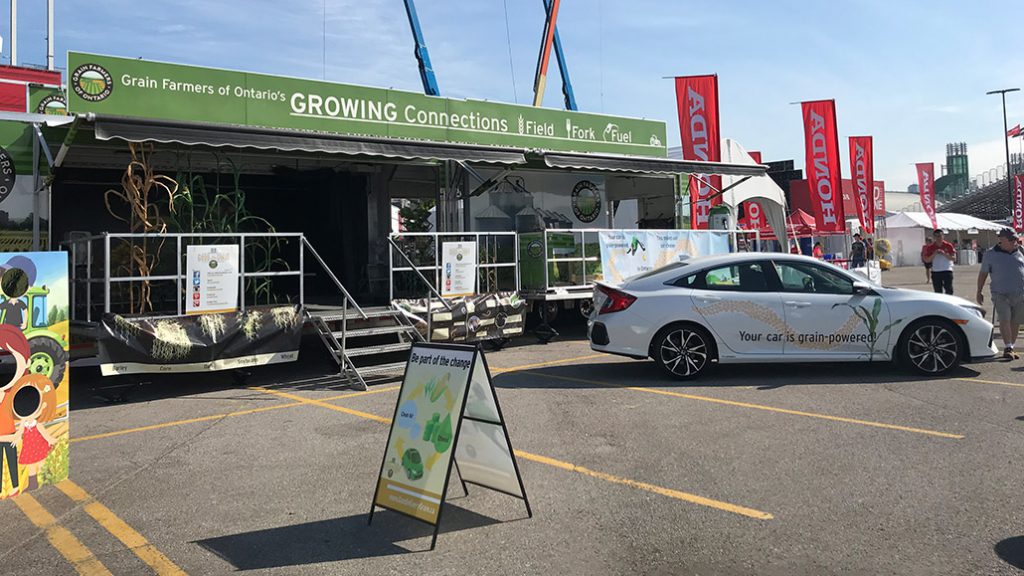 AT THE HONDA Indy Toronto, Grain Farmers of Ontario brought modern farming and racing together.
Honda Indy Toronto took place under sweltering heat and to a crowd at capacity. The packed event saw two Canadians make the top five, with one on the podium. Robert Wickens of Guelph, Ont., came in second and James Hinchcliffe of Oakville, Ont., ended in fourth with the top spot taken by American Scott Dixon.
Hinchcliffe attended the Honda Indy Toronto after a win at the Iowa Corn 300 in Newton, Iowa. The Iowa Corn Promotion Board (ICPB) and Iowa Corn Growers Association (ICGA) sponsor the Iowa Corn 300, and this corn themed race highlights ties to the ethanol industry. This important connection is one that Grain Farmers of Ontario also made at the Honda Indy Toronto.
"With Indy cars running on an E85 blend it was a great tie-in to discuss how ethanol is produced within Ontario using Ontario corn and the benefits it provides to farmers, the environment and consumers," says Nicole MacKellar, manager of Market Development at Grain Farmers of Ontario.
WHY THE HONDA INDY?
Honda Indy Toronto is an IndyCar series race that happens annually in Toronto at Exhibition Place. The race draws huge crowds with 67 per cent between the ages of 18 to 44. This young, urban-based audience is a target demographic of Grain Farmers of Ontario's outreach efforts that include educating consumers on agriculture and Ontario grains.
"The Honda Indy presented a great opportunity for Grain Farmers of Ontario to connect with an urban audience to discuss the importance and benefits of renewable fuels and specifically of ethanol," says MacKellar on the significance of the organization being involved with Honda Indy Toronto. "Fewer and fewer Canadians have a direct tie to the agriculture industry, so it is our job as Grain Farmers of Ontario to help educate them on Ontario grain production and the markets our grain goes into."
For Grain Farmers of Ontario, the Honda Indy Toronto is a chance for consumers to learn about renewable fuels, while seeing ethanol in action on the racetrack. The organization made the connection between farmers, grain, and the benefit of ethanol to race car drivers. Ethanol has a number of benefits from a performance and sustainability perspective.
"Indy cars use a blend called E85, or 85 per cent ethanol mixed with 15 per cent racing gasoline. Using ethanol helps the cars burn fuel cleaner with lower emissions relative to fossil fuels," explains Justin Shepherd, market development coordinator at Grain Farmers of Ontario. "The increased performance by ethanol fuels has also allowed Indy Car to develop smaller engines with higher power than previous due to the high octane value ethanol provides."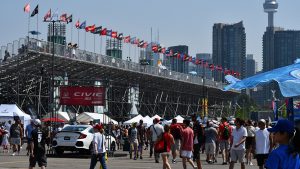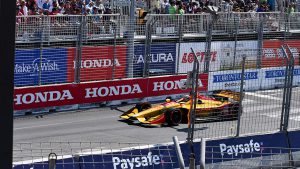 PARTNERSHIP
This is the second year that Grain Farmers of Ontario has sponsored Honda Indy Toronto. The organization brought in the Growing Connections trailer to educate consumers, which is a 53' exhibit with crop models, videos, outreach materials, and a grain-wall with consumer products. A Honda Civic Si was outside the trailer branded with ethanol facts to educate and draw in crowds.
The sponsorship also covered the Rookie Racers program and educational programming that was displayed throughout the Honda Indy Toronto.
"Our sponsorship included signage around the facilities, including trackside and in the Paddock area," says Brianne Curtis, communications coordinator at Grain Farmers of Ontario, who organized participation in the Honda Indy event. "We also displayed a video of Ontario grains and biofuels, to show how Ontario corn and soybeans are used to make ethanol and bio-diesel respectively, on the large screens. This played in between the races and practise laps to spectators and VIP's visiting the Indy."
CONVERSATIONS
Grain Farmers of Ontario staff from the communications and market development departments, including MacKellar, Shepherd, and Curtis, were at the Growing Connections Exhibit to answer questions about ethanol, grain farming, pesticides, and GMOs.
The messaging for this event focused on biofuels and how Ontario grain farmers contribute to the industry. Grain Farmers of Ontario staff helped bust myths around the food versus fuel debate. They discussed the full process of ethanol including the use of by-products like dried distillers' grains for animal feed and CO2 in greenhouses.
"We received lots of questions on the process of turning grain corn into ethanol and many were surprised that this was occurring right in the province and not imported," described Curtis of what conversations she had over the three days of the event. "We had car enthusiasts asking about the availability of E85 ethanol in Ontario and how much ethanol is actually being used in our cars."
A new ethanol mandate puts Ontario on track as the first province to require fuel suppliers to have at least 10 per cent ethanol in regular gasoline starting in 2020. This is part of an effort to cut greenhouse gas emissions from fuel. The current mandate in place requires a minimum of five per cent ethanol.
Other discussions at the Honda Indy Toronto included the sustainable practices farmers are using to produce grain and how ethanol use reduces carbon monoxide emissions from vehicles. Many visitors left on a positive note and were supportive of ethanol and biodiesel production.
"More than one person actually wanted to know where they could buy higher levels of ethanol for their vehicles, says Shepherd."
Although Indy Cars use E85 fuel, there is currently no availability for E85 at pumps across Ontario. E85 was offered at a gas station in Ottawa, Ont. for five years, but it was discontinued after a lack of market access. E85 is more widely available in the U.S. and can be found across the Midwest at more than 3,000 pumps according to the last data collection in 2013.
"They were interested in learning more about the ethanol mandates within the province and our thoughts on them increasing," says MacKellar of one particular discussion she had at the Growing Connections trailer with a younger group of visitors. "They were big supporters of E85 pumps and wondered what needed to occur to have these in Canada. They really liked the messaging around "Even Your Gas Is Local" and thought what we were doing was great to help educate people further on the importance of renewable fuels in our society."
Grain Farmers of Ontario will exhibit at the Automobile Journalists Association of Canada's (AJAC) AGM in October to discuss biofuels with automotive media. •