Field work
MAKING POLITICAL CONNECTIONS AT THE 2018 IPM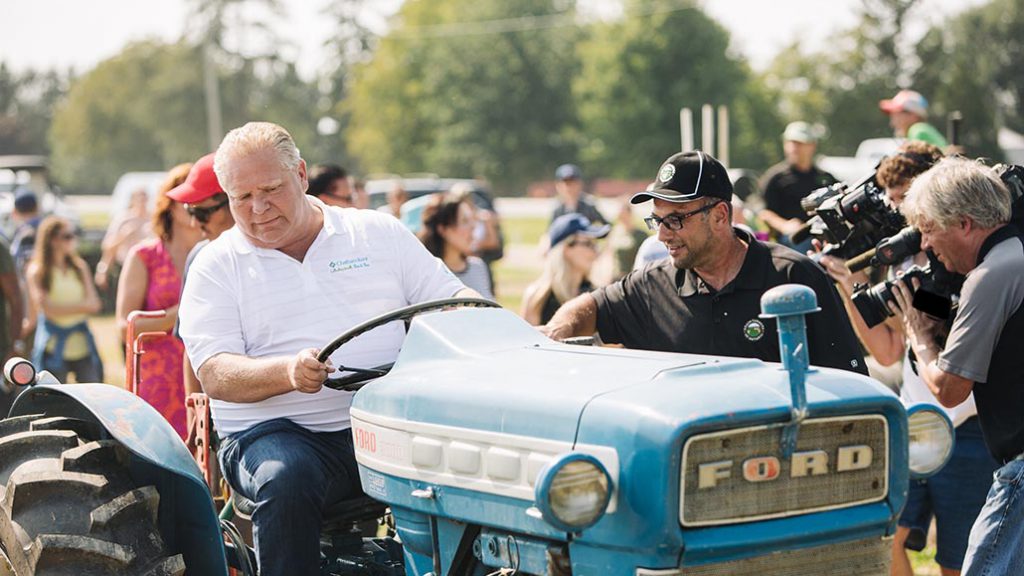 MEMBERS OF PROVINCIAL Parliament of all stripes left the "Toronto bubble" (as Premier Doug Ford called it) to attend the 2018 International Plowing Match and Rural Expo in Pain Court in September. They offered their support for farmers and the agriculture industry and acknowledged the challenges faced by those living and working in rural Ontario, including the need for increased access to natural gas and broadband internet service.
"If you want to see the lifeblood of Ontario's economy, all you have to do is drive through southwestern Ontario," noted Ford during the opening ceremonies of the IPM. "You can see it for yourself, the farmers, the factory towns, the small business owners, local workers working hard to pay the bills, to create jobs, and to make ends meet. These are the industries, these are the businesses, the farmers, and the workers who put Ontario on the map."
Ford took advantage of the rural audience at the IPM to make an infrastructure announcement about the expansion of natural gas. He plans to introduce a new program, led by the private sector, which would provide natural gas to as many as 78 communities and 33,000 new households.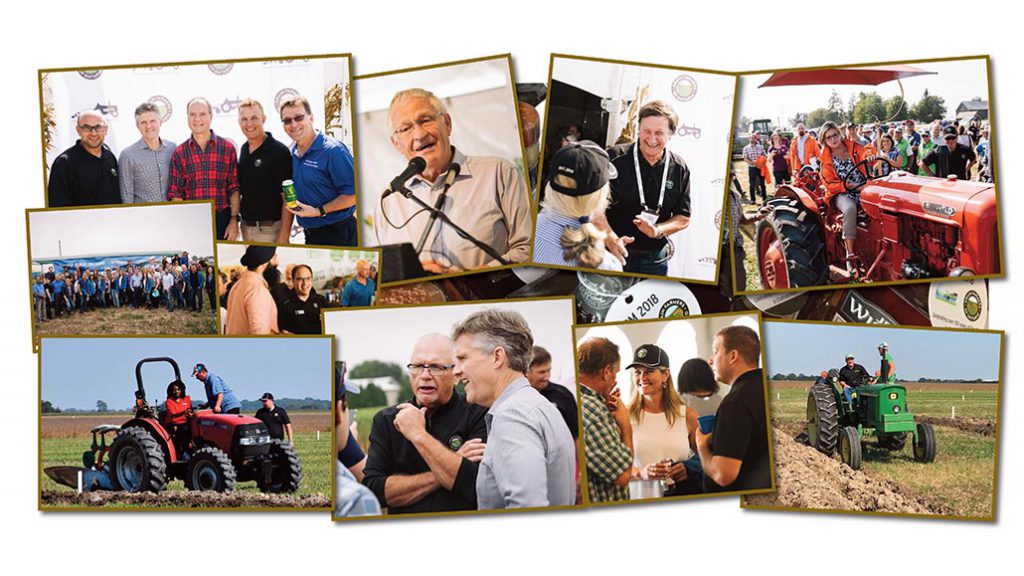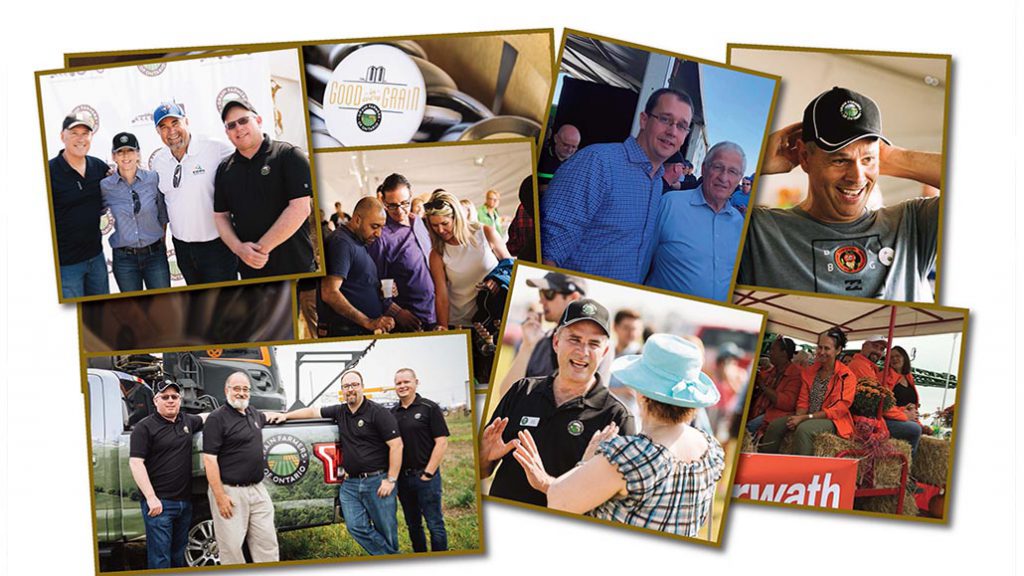 NDP leader Andrea Horwath promised to support this expansion during her address to the IPM crowd, but she also acknowledged several other issues of concern to rural Ontario that she feels deserves the attention of the government as well.
"We all know that life in rural Ontario has never been easy, but today I think that it is fair to say that some things are actually getting harder. Many of the services you count on most are being squeezed and the cost of doing business and raising your family just seems to keep going up," said Horwath, promising to work for lower hydro rates, help farmers adapt to climate change, increase access to broadband internet services, and address unfair regulations.
"We will do all that we can to make sure that your families have the community resources and programs you need to live a great life in beautiful rural Ontario — including rural hospitals and local schools that are in good repair, and highways that are upgraded, that are maintained, and that are safe for your families and your goods as they travel to market," Horwath added.
SUPPORT
After participating in the opening day parade, opening ceremonies, and VIP lunch, MPPs watched their party leaders try their hand at plowing. While the VIP plowing event isn't a showcase of the reality of modern farming, it does give agricultural organizations, such as Grain Farmers of Ontario, a chance to discuss important issues in a different environment.
"It's a chance to speak with them on our ground, literally and figuratively. Instead of us going in and meeting them in their offices or in their constituency offices, we are meeting them out in the field and there is a whole different feel when we are doing that," noted Barry Senft, CEO of Grain Farmers of Ontario.
The spotlight on agriculture gives MPPs a chance to reflect on the importance of agriculture within their own riding, whether urban or rural. Ontario Grain Farmer asked some of those in attendance to share their thoughts on this.
"I'm blessed to represent Haldiman Norfolk … we can grow just about anything. It's so important to support agriculture — no farms no food. We have to continue to reach out to urban people, because there are so many people that are non-farm, to explain to them we are the answer in terms of providing them the best, safest food in the world in a very efficient, technologically sophisticated, cost-effective way."
— Toby Barrett, Haldimand Norfolk (PC)
"Being from the city, you don't think about where your food comes from all the time. And then you come out here and you get to appreciate all the hard work that goes into farming, and that gets taken for granted sometimes. I wish people from Toronto would think about it a lot more because it's so important what's done out here. All this talk about organic and where your food comes from — buy local. Its so nice to see hard working people who work so hard to make sure we are all fed and they often aren't appreciated enough."
— Stan Cho, Willowdale (PC)
"Agriculture is important because we all need to eat. A community like Orleans which includes area which is very rural, we have milk farmers, we have grain farmers, we have beef farmers, so for us it's all important for us to recognize and say thank you. Thank you for those individuals who every single day work for us to ensure that we have the very best on our plates but also to support our economy."
— Marie-France Lalonde, Orleans (Liberal)
"I'm so excited to take my passion for food and farming to the Ontario legislature and to work hard to promote farming and Ontario food and agriculture products to the world. Almost 800 thousand Ontarians work in the food and farming sector and contribute over 40 billion dollars to Ontario's economy. So I'm here to say that we have to support the people and the land that sustains that. I'm especially excited about all the innovation that is taking place, particularly in the bio economy the work that Guelph is doing to commercialize and scale bio businesses and the work that is being done at the bio innovation centre in Sarnia. Creating new revenue streams to increase profitability on farms is something I will continue to support in the Ontario legislature."
— Mike Schreiner, Guelph (Green)
"Agriculture feeds cities. What I think people need to understand is how important agriculture is to our economy. In Hamilton West — Ancaster — Dundas, we have the Hamilton Port Authority. Our harbour is the biggest and busiest port on the lake, we are exporting grain that comes from farms all around here so we understand not only the supply side but the demand side for grain."
— Sandy Shaw, Hamilton West – Ancaster – Dundas (NDP)
"Agriculture is so important for our GDP overall and I'm so excited that we have the opportunity to come together at an event that celebrates not only the best of the host county but we are celebrating what is driving the economy in rural Ontario. We have to support our farmers so that businesses thrive, and that economic ripple is felt throughout the communities."
— Lisa Thompson, Minister of Education, Huron – Bruce (PC)
PLOWING AHEAD
The 2019 IPM is set to take place in Verner, a northern Ontario community between Sudbury and North Bay. The continuation of the event is in question after that — no location has been found for 2020. However, David Murray, president of the Ontario Plowmen's Association, says they remain optimistic about the future. "This is the 101st year of the event — we want it to go on for another 100 years."
LESSONS IN THE FIELD
Grain Farmers of Ontario was a silver sponsor of the 2018 International Plowing Match (IPM) and Rural Expo in Pain Court. This event allows the organization to connect with farmer-members, political officials, and the general public. We sponsored the VIP tent and plowing match on opening day, hosted a Tech Park, and participated in the education centre with our Growing Connections trailer.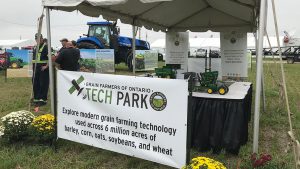 The Tech Park featured a sprayer, two tractors, and a cultivator provided by our partners at Delta Power Equipment. This highlighted the size and technology being used on modern farming equipment. Drone demonstrations were also provided by Grain Farmers of Ontario staff, when weather permitted, to showcase how aerial scouting helps farmers make crop management decisions.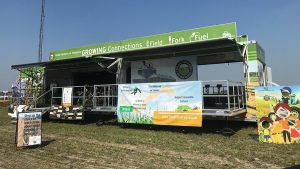 The Growing Connections trailer was a highlight for local school groups visiting the IPM. This year the trailer featured a new cover crops display to help students understand the importance of soil conservation. The crop displays and wall of grain products helped students make the connection between what is in the field and the products they see in the grocery store. Between 1,500 and 2,000 students visited the IPM each weekday. •
WHAT YOU NEED TO KNOW
• Grain Farmers of Ontario is a silver sponsor of the IPM.
• Premier Ford announced plans to expand natural gas distribution in rural and northern Ontario.
• Ontario has 124 Members of Provincial Parliament.
• MPPs from both urban and rural ridings expressed their support for agriculture during the IPM.
• The 2018 IPM was held in Pain Court on farmland owned by Lucille and Jean-Marie Laprise.
• The 2019 IPM is set to take place in Verner, but after that the future of the event is in question. The Ontario Plowmen's Association is still looking for a location to host in 2020 (as of press time).