IPM connections
FOCUSING ON OUR PRIORITIES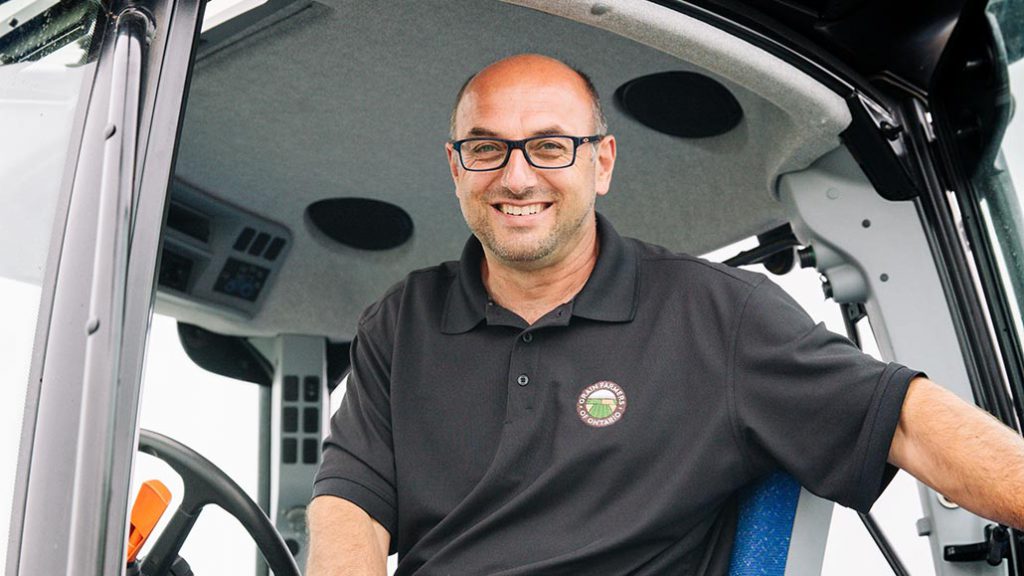 THE INTERNATIONAL PLOWING MATCH (IPM) is an Ontario tradition. Did you know that the legislature shuts down only one day of the year to allow all members to attend the IPM? Grain Farmers of Ontario is a long-time supporter of the Match. It is an event that is important to rural communities across Ontario which takes years to plan and multiple volunteers to pull-off. It's a great opportunity to reach the public and spend the day with every member of provincial parliament.
This year was no exception. Starting out with the IPM parade, Grain Farmers of Ontario directors were out promoting grain farmers in our branded truck and I had the great honour of riding along side Premier Doug Ford in a New Holland tractor donated by Delta Power Equipment. The IPM opening ceremonies showcased the local community talent and community leaders, and provided a platform for all political party leaders to speak to their rural and agriculture priorities. After the opening ceremonies, we hosted a lunch in the Grain Farmers of Ontario VIP tent with a guest list of Ontario cabinet ministers, caucus members, MPPs and MPs, and IPM dignitaries. The day closed with Grain Farmers of Ontario directors coaching leaders of the four provincial parties in their effort to plow the perfect furrow during the VIP plowing match (a winner was never really determined).
The weather was beautiful that day and it was a great way to hear directly about the government's priorities in a relaxed atmosphere, showcase modern grain farming, and have in-depth discussions about Grain Famers of Ontario's strategic policy objectives.
Grain Farmers of Ontario has four policy objectives for the Ontario government.
Number one on our list is to support a science-based regulatory system by removing the neonicotinoid regulations in Ontario. This is in line with the Ontario government's commitment to reducing the burden on businesses and cutting red tape by eliminating regulations that duplicate federal authorities.
We also want this government to support the continuation of the Federal-Provincial-Territorial Agriculture Ministers National Business Risk Management Review and to run a pilot simulation of Grain Farmers of Ontario's Margin Insurance to address revenue risks. We were encouraged to see Minister Ernie Hardeman show his support for the review this summer at the FPT meetings and he has also committed to support our efforts to run a pilot simulation of our margin insurance.
Trade is something we are always raising with political decision makers. We need new markets opened up with free trade agreements. We also need the provincial government to support our ask to the federal government for the implementation of contingency planning to avert a crisis in the grain and oilseed sector created by the impacts of the global trade war.
For some time now, we have identified the need for a grain and oilseed growth roundtable to create a strategic plan for growth in our sector that ensures policy and programming are aligned with this vision.
We look forward to next year's IPM where hopefully we can talk about the progress on these priorities.
Markus Haerle is the chair of Grain Farmers of Ontario. •