Trends in Ontario farmland values
STRONG PROFITS WILL CONTINUE TO DRIVE FUTURE PRICE INCREASES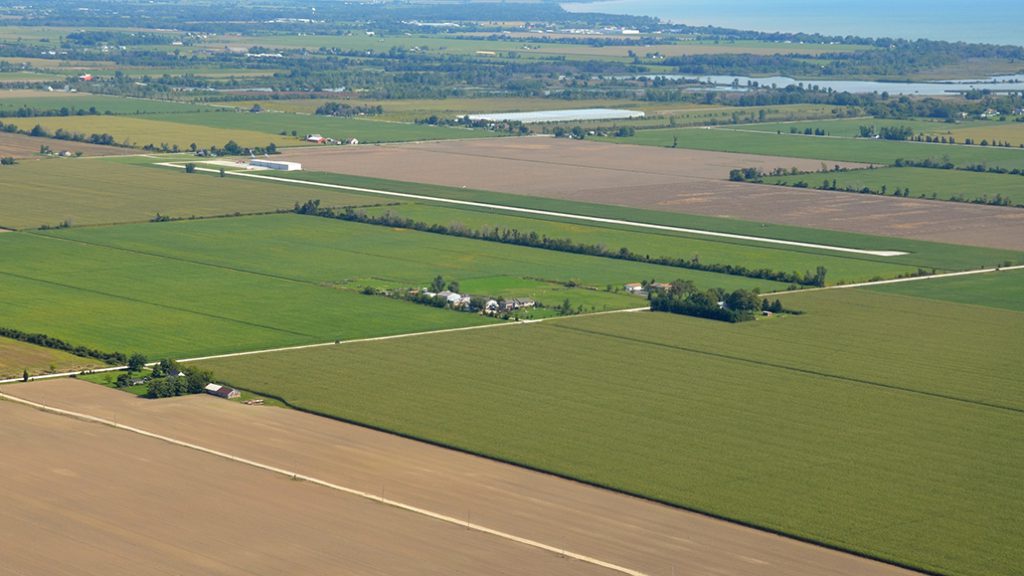 IT'S WIDELY KNOWN that Ontario farmland values, and values across Canada, have seen strong increases in recent years, but the situation cooled to some extent this year compared to 2017. "It is safe to say, however, that farmland values will continue to increase, as they have every year since 1993," notes Farm Credit Canada (FCC) senior appraiser for Ontario Dale Litt. "It's just the rate of that increase might change."
Before we look into what's happened in 2018 and where 2019 will take us, let's first look at farmland values across the country. In its most recent Farmland Values report, FCC economists explain that average values in Canada increased last year by 8.4 per cent, a little higher than the gain of almost eight per cent in 2016. In comparison, average values in Ontario increased more than that national average (9.4 per cent) in 2017, following a much lower average gain (4.4 per cent) than the national gain the year before.
"Most of the province continued with a stable upward trend, reflected by a mix of single and double-digit percentage increases in all regions," state the report's authors. "Increases continued to be fuelled by the strong demand from supply-managed farm operations and cash crop producers competing for a limited amount of available land. Growth in the dairy sector motivated some producers to expand their land base, while favourable growing conditions and crop yields fuelled demand from cash crop operations throughout Ontario."
Litt notes that farmland values in Ontario spiked in 2012 for some of the same reasons, namely strong demand for land from dairy producers and cash crop producers. There was also an increase in demand for farmland that year, he says, from large intensive livestock enterprises needing to meet manure management and cropping requirements, favourable interest rates, and increased demand from non-farmers investing in farmland.
It's stated in the FCC report that the north-central region led the province with the most significant farmland value increase last year, a whopping 24 per cent.
"This was followed by southeastern, south-central, and northwestern regions with increases of 15.6 per cent, 15.1 per cent, and 11 per cent, respectively. The remaining regions in Ontario posted single-digit increases with the exception of the northern region, which was unchanged. Demand remained strong for farmland in southeastern and southwestern Ontario, where favourable soil types allow for a variety of specialty crops to be grown, thus creating potentially higher returns."
Indeed, Ryan Parker, partner at southwestern Ontario-based real estate appraisal firm Valco Consultants, says that area of the province saw increases in farmland values last year that were higher than during the four years previous.
"It was the first year in the last five years where there wasn't a decrease in any one county," he says. "Many of those decreases, although small, were the result of massive increases in the prior years which couldn't be sustained in the short term. In 2017, it seemed that producers in all counties were prepared to buy more land."
LOOKING AHEAD
Parker notes that corn and especially soybean prices have "not been great" in 2018, with most of that a result of U.S. trade complications, but he adds that "yields look like they will be great this year, which will help to offset the prices."
For 2019, Parker notes that, based on commentary from the Bank of Canada, interest rates will likely rise. If they do, "it is fair to say that increased borrowing costs will eventually put negative pressure on land purchases," he explains. "However, there is bound to be a substantial lag between the Bank of Canada's increase in rates and the producer's inability to buy land. Many producers locked in rates in 2016 and 2017, allowing them some flexibility moving forward if rates go up."
Tom Eisenhauer, president at Bonnefield, is a strong believer that farm profits will remain the main driver of farmland price increases going forward. Bonnefield is a finance company that creates long-term financial partnerships with Canadian farmers to help them grow, reduce debt and plan retirement and succession. "Continuing strong profits in the ag sector in Ontario and elsewhere can be expected to support farmland value growth in line with long-term historic norms," Eisenhauer says, "which is five to eight per cent per year on average."
RECOMMENDATIONS FROM SENATE COMMITTEE
In spring 2018, the Standing Senate Committee on Agriculture and Forestry released a report called 'A Growing Concern: How to Keep Farmland in the Hands of Canadian Farmers.' It states that "rising farmland prices threaten the viability of the family farm, the future of Canada's agriculture sector, and a traditional way of life for thousands of Canadian families."
The Committee heard from Canadian stakeholders such as Eisenhauer, and to gain an international perspective on increases in farmland values, it heard from representatives from Australia, Argentina, and the U.S.
Among its five recommendations, the committee suggests that the Department of Finance explore whether the lifetime capital gains exemption for qualified farm property could be increased to make it easier for new farmers to buy farmland.
 For more information: 2017 Farm Credit Canada Farmland Values Report  https://www.fcc-fac.ca/fcc/about-fcc/reports/2017-farmland-values-report-e.pdf
2018 Standing Senate Committee on Agriculture & Forestry report: 'A Growing Concern: How to Keep Farmland in the Hands of Canadian Farmers.' https://sencanada.ca/content/sen/committee/421/AGFO/reports/Farmland-final_e.pdf  •