Taking root
THE ADVANTAGES OF PLANTING TREES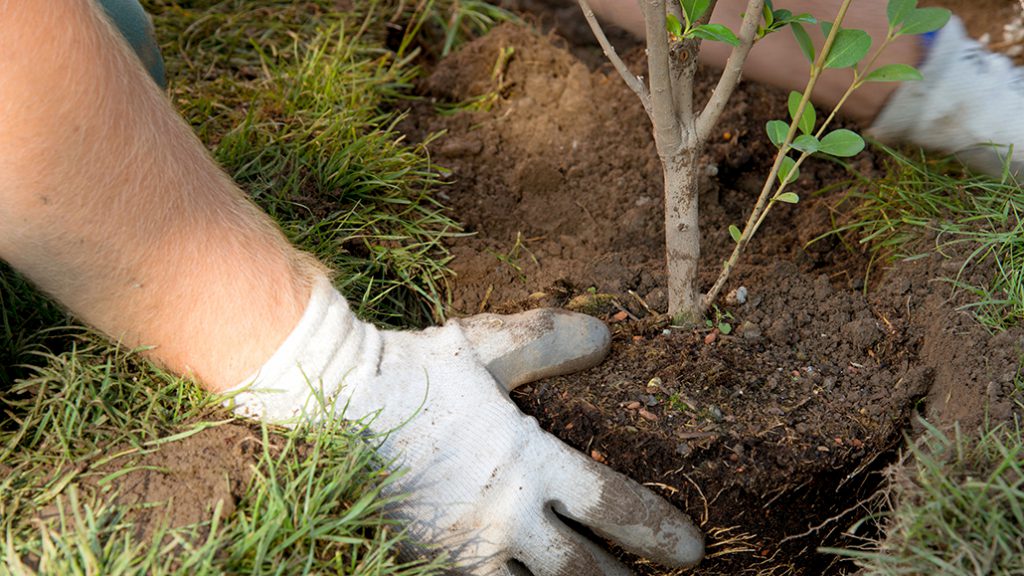 PLANTING TREES ON farmland has multiple benefits, including increasing crop yields by as much as 15 to 20 per cent.
"There are many studies in Canada and the U.S. that show yields are higher in fields with windbreaks," says Todd Leuty, agroforestry specialist with the Ontario Ministry of Agriculture, Food and Rural Affairs (OMAFRA).
Windbreaks are usually one to three rows of trees planted along the side of a field. While yields in rows immediately adjacent to them may suffer, Leuty says increases further into the field more than make up for the losses. While planting only one species of tree is acceptable, using three to five different kinds of both coniferous and deciduous trees offer the most potential in terms of future harvests, wildlife habitat, and protection against wind erosion.
TIPS FOR PLANTING TREES

Plan it out. Determine what you have and what you need.
Choose native plants and trees that grow in your area, when possible.
Decide on a location and design.
Prepare the site.
Plant the trees.
Water and fertilize if necessary.
Control weeds to give the windbreak or shelterbelt a chance to mature.
(Source: Agriculture and Agri-Food Canada)
Trees protect valuable soil from blowing away, provide habitat for pollinators and other wildlife, and contribute to the oxygen we all breathe. They retain moisture in the soil, reduce spray drift, and prevent early frost damage. As they mature, the wood harvested from them can be a source of revenue.
"Trees can also help reduce phosphorus runoff by taking it up before it gets into the lakes," Leuty says, adding that, while they take quite a bit of upfront work in terms of planting and controlling weeds in the first few years, the long-term benefits far outweigh the effort.
TREES ARE CATCHING ON
More and more farmers and landowners across the province are learning the benefits of planting trees, even deep in the heart of grain country, where tree cover is often below six per cent. From 2016 to 2018, more than 167,000 tree seedlings were planted on 278 acres in Chatham-Kent.
"We have a large program selling between 60,000 and 80,000 trees every year," says Amanda Blain, the Lower Thames Valley Conservation Authority's (LTVCA) forestry technician, adding that projects can be as small as one acre, but farmers usually take on much larger areas.
Under the LTVCA's program, cost-share starts at 40 per cent for planting projects involving more than 600 trees. This goes up to 75 per cent for orders of more than 1,500 seedlings. There are also financing options for certain windbreak projects and conservation staff will plant the trees either manually or by machine for a fee.
Blain also says that the Ontario Soil and Crop Improvement Association offers cost-share options for tree planting through the Environmental Farm Plan program and through the federal-provincial-territorial Canadian Agricultural Partnership initiative.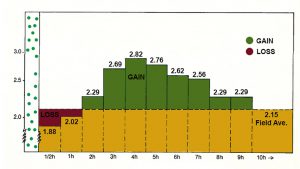 The LTVCA is just one of many conservation authorities across the province that are dedicated to helping farmers increase Ontario's forest canopy. Many sell trees annually, and most also offer advisory and planting services.
At the Maitland Valley Conservation Authority (MVCA), landowners gather at the Auburn municipal yard every April to pick up their tree orders. Between 5,000 and 10,000 are sold every year, and cost-share funding is available for farmers under the Huron Clean Water project.
"Wind breaks do double duty — they protect the crops and they also act as a buffer for municipal drains," says Trent Meyer, MVCA's forestry technician. This year, the authority is reaching out to more farmers at industry meetings and through advertising to encourage more tree planting.
The MCVA is also working with the Ministry of Transportation to plant windbreaks at the side of provincial highways to reduce the hazards of drifting snow and road closures. Farmers in the area are very familiar with how disruptive drifting snow can be — Highway 21 shut down numerous times this winter.
SAVE MONEY WITH SHELTERBELTS
Putting shelterbelts around your house, barn, and other outbuildings, which consist of three to six rows of trees, also saves heating and snow removal costs.
Research has shown that energy costs in homes can be reduced by as much as 17 to 25 per cent with a shelterbelt. When properly situated, these treed areas can also be very effective at reducing snow drift on laneways and in the barnyard, and act to prevent hazards when farmers are working around the property.
NEW ONLINE TOOL TO HELP FARMERS
A new 'Tree Planting on Farms Design tool' is now available as part of OMAFRA's AgMaps portal. Once at the site, users need to go to the "Markup Tool" and "Printing Tab" and "Create a Map" for tree planting. The tool was developed by ministry geographic information systems (GIS) and environmental staff in consultation with conservation authority foresters.
The tool can be used for many purposes, including windbreaks, noise, odour and snow reduction, and to attract pollinators.
Additional videos, fact sheets and farmer testimonials are available on the OMAFRA website at www.omafra.gov.on.ca/english/ environment/facts/windbreaks.htm and www.omafra.gov.on.ca/english/environment/bmp/series.htm#19. •