Open market access
A CRUCIAL NEED FOR ONTARIO GRAIN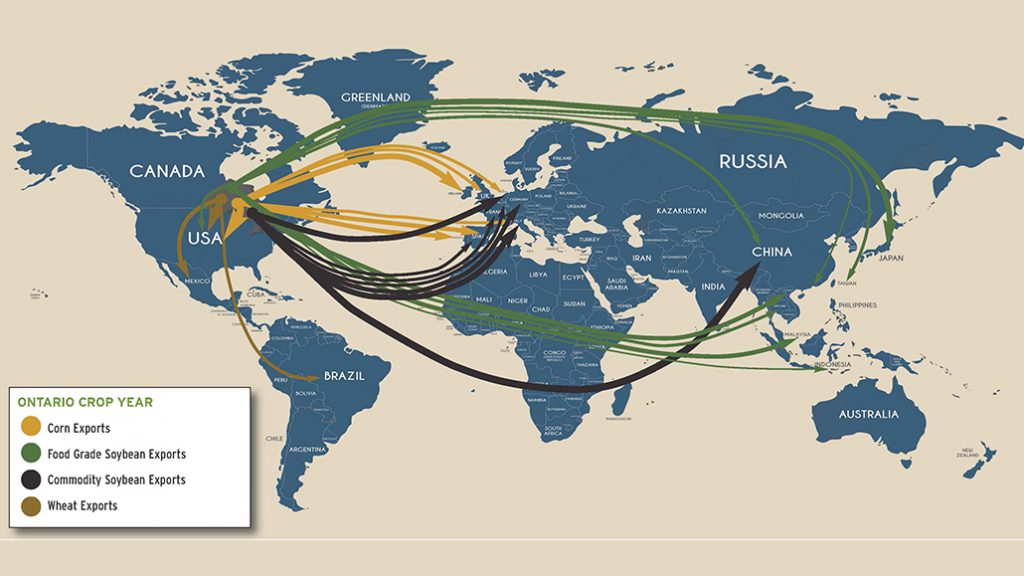 ONTARIO GRAIN FARMERS rely on various international markets to sell grain that isn't used domestically. Trade agreements such as the Canada-U.S.-Mexico Agreement (CUSMA) that will replace the North America Free Trade Agreement (NAFTA), the Comprehensive Economic and Trade Agreement (CETA) with Europe, and the Comprehensive and Progressive Agreement for Trans-Pacific Partnership (CPTPP) provide Ontario grains and oilseeds an avenue to access markets with reduced tariffs.
ONTARIO GRAIN FLOWS
Ontario grain farmers benefit from having multiple transportation options for exporting surplus grain from the province. For domestic consumption and to the United States, the majority of grain is moved by trucks as the distance is relatively short to major end users. Rail is used predominantly to ship containers to the west coast ports of Canada or east to Montreal. For bulk loading vessels, there are multiple ports within Ontario for loading vessels up to 25,000 metric tonnes. Vessels are able to access the ports in Ontario due to the St. Lawrence Seaway and the Welland Canal. Being located on the eastern coast of Canada means a relatively short distance to major markets in Europe.
Each commodity has its own unique trade flow pattern due to their harvest timing and the amount of grain moved at once. Truck freight happens throughout the year, however, it is not efficient to move large volumes a great distance. Prior to the Seaway freezing in December, the majority of that season's commodity soybeans are exported by lakers or ocean vessels. Once the seaway opens up in spring, corn becomes the focus for bulk vessel exports until wheat takes over that capacity in August and September. Since rail freight is able to operate all year, food grade soybeans normally see a similar amount exported each month as 20 tonne containers get moved to the west coast or all year open water ports such as Montreal to be loaded.
CORN
Exporters shipped 1.5 million tonnes of Ontario corn during the 2017/2018 crop year and have moved over one million tonnes so far from the 2018 crop. Thanks in part to CETA and our geographic location, Ontario has seen a doubling of corn exports to Europe over the last four years. Ireland has become the single largest country our corn is exported to, with over 500,000 tonnes flowing in each of the last two years. Spain, Portugal, and the United Kingdom are also critical markets in Europe. As more corn is shipped to Europe, shipments to the U.S. have declined significantly in the past few years.
FOOD GRADE SOYBEANS
Ontario exporters ship an average of 700,000 tonnes each year to numerous countries including Japan, China, Malaysia, Vietnam, and Taiwan. From the 2018 crop, food grade soybean exports are running at an average pace relative to the last three years with 523,000 tonnes shipped to date. Markets such as Japan, where long-term relationships are crucial, have been carefully curated by exporters and they have been a focus of the Grain Farmers of Ontario market development department. During fall 2018, China received more food grade soybeans from Ontario than normal due to their trade war with the U.S., however, that has slowed down since January. Maintaining long term relationships in various markets in Asia is crucial to ensure Ontario food grade soybeans always have a home.
COMMODITY SOYBEANS
Ontario normally exports 1.37 million tonnes of crushing soybeans immediately following harvest, with the European Union historically being a consistent market. Due to the U.S.-China trade conflict, China applied tariffs to U.S. soybeans which resulted in significant changes in traditional trade flows. Consequently, Chinese soybean importers looked to other markets and with Ontario harvest occurring at a similar time as the U.S., they sourced all the soybeans that they could. As a result, Ontario sent nearly 1.5 million tonnes of soybeans in fall 2018 to China, setting an annual record for exports. Looking forward to the new crop, Ontario's high-quality commodity soybeans will remain in demand and will find a home.
WHEAT
Exports of Ontario soft red winter (SRW) wheat vary significantly from year to year depending on each year's respective crop size and quality. This is the only class with significant exports from Ontario. In the last three years, annual exports have ranged from 250,000 tonnes to more than 700,000. Wheat in Ontario runs on a June/May marketing year, so 2018/2019 exports finished up at 408,000 tonnes.
Mexico has been increasing its importance as a destination for Ontario wheat exports each year and became the biggest single market over the last year replacing the U.S. Access to the St. Lawrence Seaway allows Ontario wheat to be a cost competitive replacement with good quality specifications. The U.S. remains a major market for Ontario SRW although total shipments to the U.S. are now the lowest since 2011/12.
MARKET SHIFTS
There have been a lot of changes over the last year regarding trade. The ongoing trade war between the U.S. and China has led to significant trade flow disruptions, especially in the global soybean market. As a result, it is more important than ever to have market access to different countries for each commodity. This ensures sales continue during interruptions with certain countries.
Justin Shepherd is the market development coordinator for Grain Farmers of Ontario. •