GrainTALK for October 2019
GET THE LATEST NEWS FROM GRAIN FARMERS OF ONTARIO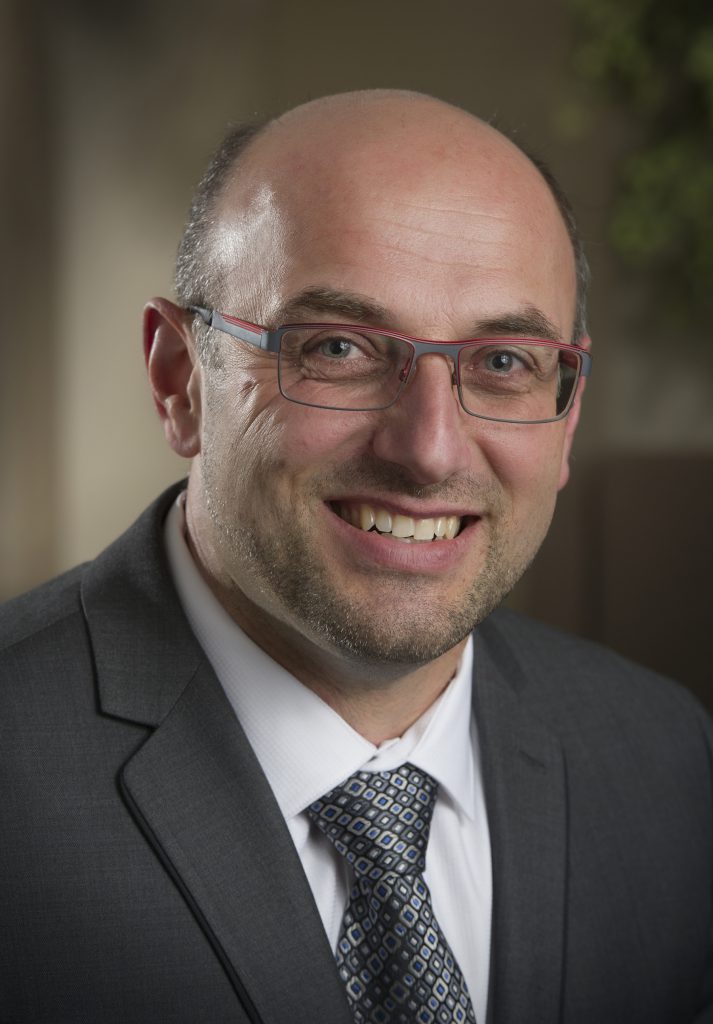 FROM THE CHAIR
A Q&A with Grain Farmers of Ontario chair, Markus Haerle.
Q. What should we as grain farmers expect from the upcoming election?
A. It's difficult to predict what the outcome will be. I think we can all agree that no matter what our new federal government looks like, we will continue to have an uphill battle to keep agriculture and grain farming front and centre on the agendas of our leaders. We have been running election ads for the last month, and we are one of the first agriculture organizations in Canada to specifically run election advertising. Our hope with these ads is that they will draw attention to grain farming, but in a positive light — without us resorting to any mudslinging. We focused on the impacts of trade because we do know that trade will continue to be an issue for us for quite some time as political decisions are made without our input, and we feel the most impact from those decisions.
In the run up to this election, we continue to push candidates on the issues of Business Risk Management programs and trade — both the need for more focus on expanding existing markets and finding new ones, and the need for a fund that will help our farmer-members recoup the costs that are a result of trade disputes. I encourage you to ask your local candidates their feelings about agriculture and how they are committing to help our industry if they are elected. •
Do you have a question for our chair? Email GrainTALK@gfo.ca.
---
GRAINS INNOVATION FUND
The 2020 Grains Innovation Fund is now open for submissions, with more information and application forms available at https://gfo.ca/ market-development/. Under this Market Development initiative, funding is available to support the development of new and reformulated products and processes which have the potential to expand the market for Ontario barley, corn, oat, soybean, and wheat crops or crop residues. Projects which satisfy the eligibility criteria established for this fund can receive up to 60% of the cost of the project up to a maximum of $50,000. Applications will be accepted until 1 p.m. Friday, November 1, 2019.
Interested companies are encouraged to contact Grain Farmers of Ontario before preparing and submitting an application to discuss your project idea. Grain Farmers of Ontario can provide feedback on whether your project meets the program criteria. Contact Justin Shepherd at jshepherd@gfo.ca or (519) 837-2285. •
GOVERNMENT FIELD DAY
On August 22, the Association of Equipment Manufacturers hosted a "Field Day" for government staff to learn more about precision agriculture. Grain Farmers of Ontario was a lead sponsor for the event, which welcomed more than 60 people from the Pest Management Regulatory Agency, Industry Canada, Environment Canada, Agriculture and Agri-Food Canada, and others. Chair Markus Haerle spoke to attendees about how the advances in precision agriculture are helping farmers and how important it is to farmers to have a deep understanding of all areas of their operations.
Markus was joined by Grain Farmers of Ontario staff members Barry Senft, Deb Conlon, and Victoria Berry. Case IH, New Holland, John Deere, Canadian Seed Trade Association, and Trimble all showcased the latest in precision agriculture technology to attendees. •
ANNUAL DISTRICT MEETINGS
Grain Farmers of Ontario is beginning to plan for the 2020 January District Grain Committee Meetings. Be sure to check our website, www.gfo.ca, for updates to the date and location of your district's meeting. Details will also be published in the GrainTALK  Newsletter in upcoming issues of the Ontario Grain Farmer magazine as they are finalized.
The Annual District Meetings are called to elect voting delegates and directors for the coming year. Updates on the organization and grain industry issues are also provided at these meetings. All barley, corn, oat, soybean, and wheat farmers are welcome and encouraged to attend. •
GRAIN FARMERS OF ONTARIO ANNUAL REPORT
If you were unable to make it to Grain Farmers of Ontario's Annual General Meeting in September, the Annual Report is available online at www.gfo.ca or by calling the office at 1-800-265-0550 and requesting a copy be mailed to you. The financial statements are included within the following pages of this GrainTALK  Newsletter for your convenience. •
REMINDER: SOYBEAN DRYING CHARGES
Soybean producers are reminded about the need to confirm drying charges which are now calculated under the Agreement for Marketing the Ontario Soybean Crop made under the Farm Products Marketing Act (O.Reg 485/09).
Soybean drying charges are no longer tied to the price of soybeans. Cleaning and handling charges, as well as soybean drying charges/moisture discounts, are agreed upon by the dealer and the producer through competitive market forces, similar to the corn and wheat markets.
Producers should confirm all terms and conditions with their buyer before making their deliveries. •
PROVINCIAL PREMISES REGISTRY
Premises identification is the first step in establishing a traceability system that can lead to business advantages, including improved operational efficiencies and increased market access. Outbreaks, recalls, or other agri-food incidents can be time consuming and costly. With the Provincial Premises Registry (PPR), the government can notify you about incidents that may impact you and your operation quickly, minimizing the effect on your operation.
The Provincial Premises Registry is a record of individual parcels of land associated with agri-food activities. Governments can use the information to provide swift response to incidents that could impact agri-food businesses, such as weather disasters, animal or plant disease outbreaks, or contaminated food. Agricorp operates the registry on behalf of the Ontario Ministry of Agriculture, Food and Rural Affairs (OMAFRA).
The integrity of the PPR depends on accurate and current premises information. Registrants are encouraged to confirm or update their premises information annually. This creates a competitive market advantage for your product and helps protect your business in the event of an agri-food incident. Confirming your premises information at least every two years also keeps your premises ID active and eligible for government programs, such as Ontario's Risk Management Program.
To update your information or register a new premises, visit www.ontariopid.com or call Agricorp. •
GO WITH THE GRAIN RESEARCHER TOUR
Grain Farmers of Ontario hosted 28 researchers from the University of Guelph and the Government of Canada on the 2019 Researcher Tour at the end of August. The tour is designed to give researchers an understanding of how their work affects farmers and showcase the benefits of research in the field. The tour included stops at Tall Pines Agricultural Research facility, Braelane Farms, and Richardson's International at the Port of Hamilton. At all stops, farmers and others along the grain value-chain highlighted how they have benefited from research advancements. •
MARKET COMMENTARY
by Philip Shaw
On August 12, the United States Department of Agriculture (USDA) pegged U.S. corn production at 13.9 billion bushels planted on 90 million acres. U.S. national corn yield was set at 169.5 bushel per acre. U.S. corn prevent plant acres came in at 11.21 million acres. This was shocking to the market, which sent corn down the 25 cent limit. This created a more bearish direction for corn prices. U.S. national soybean production was pegged at 3.68 billion on 76.7 million acres, based on a U.S. national yield of 48.5 bushel per acre. Grain prices swooned into September.
Higher basis levels have been maintained for both corn and soybeans into September. Depending on how the crop matures, new marketing opportunities for early corn harvest may appear. The Canadian dollar on September 9 was 0.7599 U.S. •