Traceability through blockchain
IMPROVING THE GRAINS VALUE CHAIN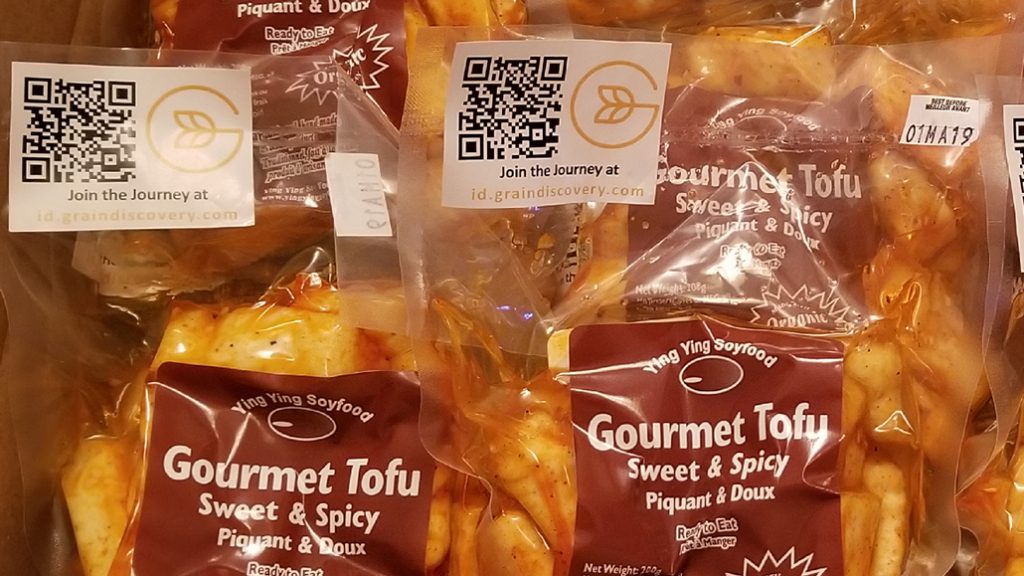 BLOCKCHAIN CAN BE described as a secure electronic ledger for keeping track of goods in a given supply chain. A recent pilot project explored the potential of this technology to improve traceability within the grain sector. Identity Preserved (IP) soybeans were tracked from the breeding institution (University of Guelph) to final product (tofu) for sale in Ontario stores.
PEDIGREED SOYBEAN SEED
The blockchain pilot project of the Canadian Seed Growers' Association (CSGA) and Grain Discovery involved a pedigreed soybean seed developed by Dr. Istvan Rajcan at the University of Guelph called OAC Kent. It was produced by Szentimrey Seeds, planted and harvested at Minten Farms, stored at Beechwood Agri Services, processed at Ying Ying Soy Food in Mississauga, and distributed by FreshSpoke to retail stores. See more details at www.graindiscovery.com.
Grain Farmers of Ontario and Agriculture and Agri-Food Canada (AAFC) supported the Canadian Seed Growers' Association (CSGA) and tech start-up Grain Discovery with the project.
With blockchain, blocks of information are added at each step with a timestamp. In the case of a rare input error, an amendment is added, but no data can be deleted or changed. While there are 'public' blockchains with all information visible, Grain Discovery CEO Rory O'Sullivan explains that it is private blockchains that are generally used in agriculture supply chains.
"These are permissioned networks where every user is identified, verified, and receives access to data according to their defined permissions," he says.
For example, a certain party may just need permission to accept or reject at one stage of the supply chain.
"How can blockchain be used to enhance traceability? Answering that question was our main goal," says Doug Miller, managing director of Certification and Technology Services for CSGA. Miller recently finished an MBA focused on the use of blockchain in the seed industry.
"CSGA has been doing traceability since 1904, but we need to know how we can take the traceability and transparency that we already have and enhance it using this new technology."
OTHER VALUE
Beyond traceability, Miller notes that as agriculture is increasingly viewed as an ingredients industry, the personal relationship is growing between consumers and the crops or livestock used to make food products. Blockchain, he says, is a way to develop that relationship positively from both sides.
In the pilot project for example, consumers could use their smart phones to scan the QR code on the package of tofu to see the entire journey of the soybeans.
"The biggest short-term benefit of blockchain, in my view, is that it can connect agriculture with consumers in a new way that really resonates with them," says Miller. "I go to a lot of conferences and the question is always 'how does ag connect with urban consumers?' and here is the answer. With blockchain, we are able to weave together traceability with helping consumers understand where their food comes from."
At the same time, Miller acknowledges that new technology can be intimidating or even frightening, and he hopes this pilot project has also helped to break through that, making grain farmers and others comfortable and able to see the opportunities blockchain provides.
Blockchain can also provide cost savings through enabling easier and more-useful recordkeeping – similarly, in Miller's view, to the way moving from paper files to computerized/digitized systems provides so many benefits.
The pilot project also enabled the team to see where checks and balances are present in order to detect any potential fraud, he notes, for example verifying the amount of certified seed used.
NEXT STEPS
Going forward, Miller believes that for the entire Canadian grain industry, an overall governance structure around blockchain will need to be created.
Industry groups, including Grain Farmers of Ontario, want to focus on where the best opportunities are to create value for farmers and the grain industry.
"Our premium markets place a high value on traceability, food safety, and quality of grain, and blockchain can connect those aspects together," notes Crosby Devitt, vice president of strategic development at Grain Farmers of Ontario. "Setting up a system for grain traceability using blockchain is new for everyone and there are costs involved, so we're also exploring the setup and operating costs of such a system to ensure the net value is positive to those participating."
Grain Discovery is currently working with staff at Olds College in Alberta along with a firm called Decisive Farming to trace barley used in beer. O'Sullivan says it will link precision ag and other agronomic data directly to blockchain. In 2020, among other projects, Grain Discovery will be tracing Canadian soybeans to Japan.
CSGA will soon be starting another blockchain project called SeedCert2.0, which sets the stage for CSGA to further participate in blockchain networks. The project will explore how trade can be made as smooth as possible; for example, enabling more efficient checking that all the traits of a particular Canadian grain variety are approved in the intended export market.
Blockchain isn't expected to replace any existing record-keeping systems, but is rather viewed as way to enhance and accomplish more with existing data and systems.
"It's not a magic bullet, it's a new fundamental technology," Miller says. "Blockchain provides a backbone to start further realizing the benefits of different technologies over time. An IP farmer could have the data from their tractor's seeding system directly go into the blockchain. The data from the optical seed sorter at the cleaning plant could be added as well. It all gives everyone a more complete picture of how we are producing food, and it may enable us to see how we might do it better."
O'Sullivan sees blockchain as a way to give farmers in North America a competitive edge. They're finding it more difficult to compete with South America and the Black Sea Region on volume or price, he explains, but what they can compete on is quality and showing the customer where and how grain was produced.
"We believe this trend of source verification is set to reshape the industry," O'Sullivan says. "Blockchain technology may keep Canada ahead of the technology curve and maintaining its reputation as one of the world's safest providers of ag food stuffs." •