Ontario Corn Fed Beef
NEW EXPORT MARKETS DRIVE DEMAND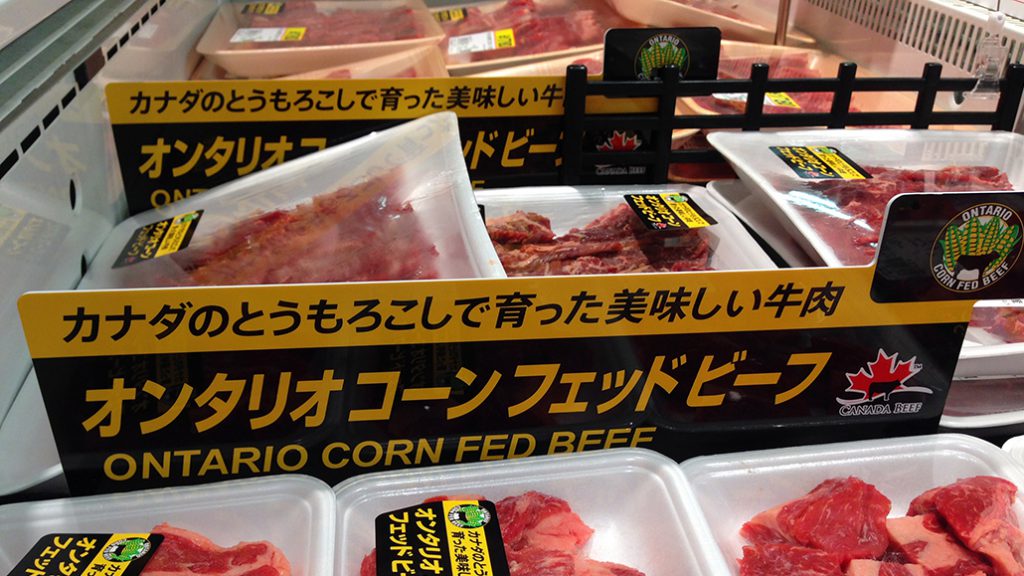 HOW DO YOU like your corn? Well-done, medium, or rare? That's the question Asian consumers are answering as they enjoy Ontario Corn Fed Beef (OCFB). New doors are opening for the export of this premium branded beef.
The program has seen significant export growth since OCFB entered the Japanese market in 2015, and additional growth with the Comprehensive and Progressive Agreement for Trans-Pacific Partnership (CPTPP) which came into effect in late December 2018. Export values have increased by 70% since 2015.
"Last year the export value of OCFB to Japan was more than $40 million and in 2019 we are expecting $60 million," says John Baker, OCFB director of brand management and business development. "Some of that increase is a result of the CPTPP and tariff rate advantages over competitors such as the U.S. But with that gain in market share, comes brand growth opportunities because this is such a unique product in the Japanese market."
Baker recently added a new, on the ground OCFB staff position in Japan to provide in-market representation and assist with market growth opportunities throughout Asia. This new position will assist the Ontario-based organization in understanding the broader beef import markets in Asia and identify strategic relationships with buyers.
"Now that the new trade agreement has opened opportunities, we're focused on entering markets in Korea, Taiwan, and Vietnam," says Baker, noting they are also hoping for gains in European Union markets in the future.
Growth in Asian markets will offer OCFB a boost in sales volume and overall carcass value. Baker explains that these markets utilize all beef cuts across a carcass more efficiently than traditional North American markets.
"This represents a $600 per head of premium in carcass value above domestic markets," he says.
"Our goal is to increase the number of fed cattle in Ontario by driving demand for our premium branded beef," says Baker. "In turn, the more cattle on feed will drive demand for inputs, such as corn and grain."
DOMESTIC GROWTH
While OCFB is one of the largest brands of Canadian beef marketed in the world, here in Canada, it is available exclusively in Ontario.
The only beef program in Canada with a defined feeding protocol, OCFB requires an 80% corn-based ration on a dry matter basis for a minimum of the last 100 days of cattle on feed, although most cattle are fed for an average of 150 days to ensure they hit the AAA grade mark. It's also the only beef program in Canada that requires a mandatory Quality Assurance program focusing on record keeping, nutrition, and animal health and welfare.
Developed to help sustain Ontario's cattle feeding industry, the program was launched in 2001 with less than 500 cattle. Today, OCFB is the largest farmer-owned beef brand program in Canada, managed by the Ontario Cattle Feeders' Association. More than 300,000 finishing cattle move through the program annually, with over 500 registered feedlots across the province.
"Our growth is 100% market driven," explains Baker. "We started our focus on the Ontario market, working with distribution and packer partners. Loblaws began to market OCFB in 2010, and that's when we saw demand take off. Now we're in 600 stores across all five Loblaws store banners."
That domestic market share translates into demand for an estimated 1.5 million tonnes of Ontario corn, with a value of approximately $280 million, that is moving through the program on an annual basis.
"OCFB has created a significant customer base for Ontario-grown corn," says Baker. "And that's not including the high volumes of other feed grains and ethanol byproducts also being fed through the program."
MARKET CHALLENGES
"Like any brand, we have a story to tell," says Baker. "Our growth opportunity, here in Ontario and in global markets, is our unique product offering and story of our farmers, land, feed, and animals."
He's working to align the OCBF brand and story with what consumers are looking for. Here in Ontario, consumers want to know who is raising the animals, what they are eating, and how they are cared for. The quality assurance program enables Baker to confidently answer all those questions.
"Our story starts at the local level, but global buyers want to know the same information too, so we're taking it around the world, talking about how our premium beef is raised."
The global goal is to differentiate the OCFB brand, positioning it as the premium, quality product it is with consumers in export markets.
"While we've seen growth in Japan and Asian markets, we can't always rely on trade negotiations to establish markets or open the doors," says Baker.
Recent trade disruptions and political issues have eliminated significant export markets for OCFB — $26 million in Saudi Arabia and more than $10 million in China in the past year. These recent losses serve as a harsh reminder that despite even the best branding initiatives and quality products, guaranteed market access is out of anyone's control.
"We're doing our best despite the challenges in global trade right now," says Baker. "Hopefully we'll be able to re-establish those lost markets at some point, in the meantime we're working hard to find new markets to replace those that are lost."
Despite recent export setbacks, the OCFB program continues to gain ground. The new market opportunities in Asia and growing demand in Ontario could soon see farmers crediting cattle for a growing demand in Ontario corn.
"We've developed a unique and highly desired brand that's in demand. And when we see success with OCFB, everyone along the value chain wins," says Baker. •