In high spirits
CRAFT DISTILLERy BOOM IN ONTARIO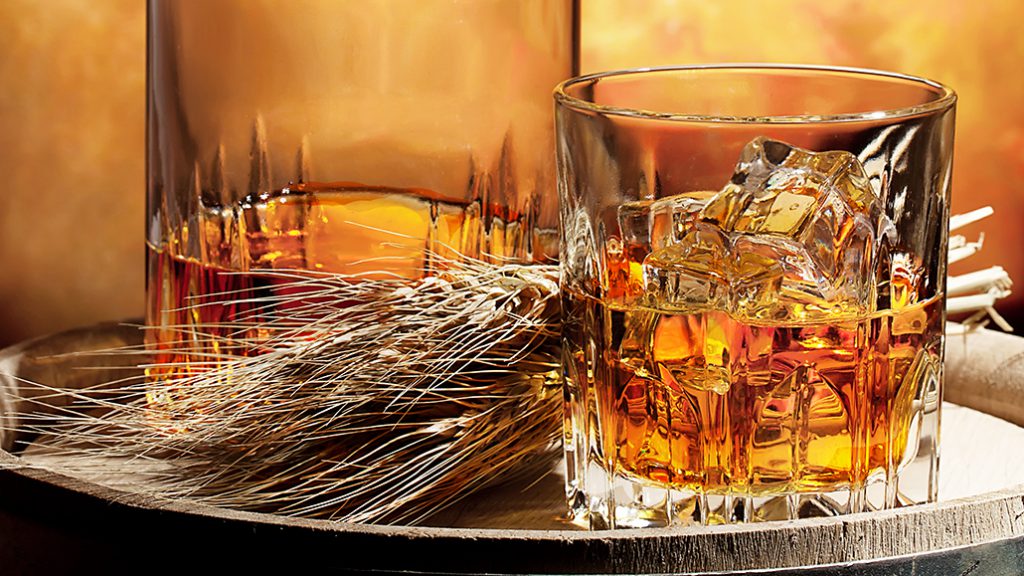 FARMERS AND DISTILLERS have a long history in Ontario — as everyone knows, corn makes whisky. But more than just whisky is being produced by today's Ontario craft distillers. From vodka, to gin and moonshine, a wide variety of spirits are being produced from grains such as barley, wheat, and rye. And with the boom that has been seen in the industry over the past couple of years, Ontario farmers have an expanding niche market to sell their grains into.
WHAT YOU NEED TO KNOW
320,000 metric tons of corn are used by distillers annually.
In 2018, Statistics Canada recorded the export value of Canadian spirits at $650.5 million.
Ontario Distillers receive national and international recognition at spirits competitions every year.
Niagara College offers Canada's first Artisan Distilling graduate certificate program.
Grain farmers already have an established market with major large-volume distillers. According to Spirits Canada, 320,000 metric tons of corn are used by Canadian distillers annually, making them the fourth largest buyer of Ontario corn. One of the largest users is Hiram Walker, based in Windsor, Ontario, which makes 45 million litres of alcohol every year. The spirits industry also generates the highest value-add on goods made from Canadian agriculture. In 2018, Statistics Canada recorded the export value of Canadian spirits at $650.5 million.
Smaller players, known as craft or artisan distillers, account for only a small percentage of Ontario grain usage. But they are tapping into the consumer demand for local products made from local ingredients.
The distillery industry has garnered so much interest that Niagara College offered Canada's first Artisan Distilling graduate certificate program in fall 2018. The college's Teaching Distillery has five stills, four mash tuns, and 10 fermenters which are being used to produce vodka, gin, whisky, brandy, and rum.
In a press release issued by Niagara College, grand opening ceremony remarks made by Dr. Don Livermore, master blender at Hiram Walker & Sons Limited, highlighted the growing need for skilled workers by both small- and large-volume distillers.
"Hiram Walker & Sons is a strong supporter of this state-of-the-art program and facility. In addition, I am personally very proud to see the continued growth in education under the disciplines of distilling and fermentation in Ontario," said Livermore. "Niagara College graduates will be the next generation of leaders and innovators in this industry, and we are excited about the potential for future collaborations with students, and also the possibility of providing fulfilling careers for some of them."
The Niagara College Teaching Distillery is being run by David Dickson, former head distiller at Dillon's Small Batch Distillers in Beamsville. Dillon's has built their distillery around a reputation for sourcing local ingredients for their spirits, which include not only grains but fruits and botanicals from the Niagara Region.
They aren't alone. Dixon's Distilled Spirits in Guelph, highlights "the raw material was in our backyard", referencing the grain corn they use to make their spirits. King's Lock Craft Distillery in Johnstown pairs their historic connection to the St. Lawrence River with a commitment to the environment, sourcing green energy, recycling water, and making sure their grain mash, which is high in protein, is utilized by other markets such as feed, fertilizers, and pet treats. In July, Last Straw Distillery in Vaughan sold its first bottles of whisky (in Canada, whisky must be aged three years before it can be sold) which boasted their local connection. "This whisky is made from 100% Ontario rye, which we've sourced from family owned and operated mills, who in turn source from small family farms across Central Ontario," the company promoted in an announcement about the release.
Craft distillers focus on their small batch and hand-crafted offerings which are allowing them to compete with the major players for space on shelves at the LCBO, at local bars and restaurants, and in people's homes. On the following pages, we've highlighted a few distillers who are crafting their own success.
BLACK'S DISTILLERY
Lois Harris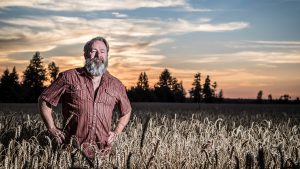 When Robert Black and his brother took a whisky tour of Islay, Scotland, it triggered a dream to set up his own distillery; and in 2018, the Peterborough native made it a reality.
"We buy all our grains locally from Merrylynd Farms in Douro," he says. "Peter Leahy not only grows the crops, but also mills the wheat, barley, and rye for us."
The crops are grown organically and Black currently uses about 450 kilograms of grain a week, a figure that can as much as double, depending on demand for his products.
"The amount is going up all the time," he says, adding that he's making mostly vodka and gin these days, but he also makes a white rye and is experimenting with a 'bourbon-like' whisky made from blue corn. He is also trying his hand at making a cassis and is sourcing black currants from Prince Edward County to make the sweet liqueur.
The gin is good — so good it won a gold medal at the World Spirits Competition in San Francisco where 3,000 products were vying for top prizes this year. It was the highest number of entrants in 19 years.
Black is very proud of the fact that he uses red fife wheat in his vodka and gin — a heritage grain that was originally developed right in the local area. In fact, Leahy leases the plot of land on which David Fife grew the grain back in the 1840s.
He has a powerful connection to the history of the grain and remembers learning about it, and Fife, at the Lang Pioneer Village Museum as a kid.
The milled grain is made into a mash that's steam-injected. Then it is crash-cooled and transferred to fermenting tanks. Distillation follows and finally the spirit is bottled.
"We produce in excess of 10,000 litres a year and it's always growing," he says. Black's products are available at 35 LCBO stores from Toronto to Ottawa, as well as at the outlet in his distillery on Hunter Street
in Peterborough.
Black was a tool and die maker for 35 years before getting seriously into the distilling business. His Scottish ancestry, coupled with a fascination for the alchemy of alcohol and a strong connection to his roots in the Peterborough area prompted the leap and he spent two and a half years working at it steadily.
"It takes a long time to get off the ground, but we now have a following, with repeat customers," he says.
Black's planning on growing his business and is looking to export into the U.S. and Europe.
MURPHY'S LAW MOONSHINE
Lois Harris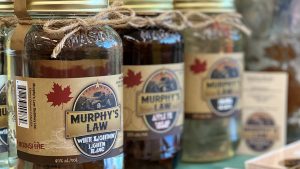 What started out as a still in a college student's apartment in West Virginia is now a thriving Canadian business that sells craft moonshine in 150 LCBO outlets across Ontario, Alberta, and British Columbia, and will soon be available in 13 European countries.
"One hundred per cent of our products are made from locally-sourced corn," says Murphy's Law Distillery owner Ben Murphy, adding that his supplier is Floradale Feed Mill, which mostly caters to the livestock feed industry.
Opened in February 2015, the Elmira distillery is only five minutes away from its supplier.
Currently, the distillery produces almost 1,500 gallons of moonshine every four days — or 3,000 to 4,000 of their distinctive mason jars.
Murphy got the idea for the business while going to college in the southern U.S. where he picked up a recipe that he — and the many students he sold to — really liked.
While pursuing his studies, Murphy researched all the requirements, licensing, and forms he would need to fulfill to get a legitimate distillery up and running in Canada.
Back in this country, Murphy worked with Floradale to figure out the kind of corn that would make the best moonshine — which ended up being a steamed flake corn that has a higher moisture content than cracked or whole kernels.
Until recently, Murphy was using a ton of corn every one and a half to two weeks. Since upgrading to a closed loop system — in which the moonshine is never exposed to the environment, progressing through a series of tanks and tubing — the need is lower but more frequent.
"We bring in about 100 kilograms of corn every three to four days," Murphy says.
The corn deteriorates well when it is cooked in water, making a mash. Husks rise to the surface, are skimmed off, and the liquid is moved on to fermentation.
Different flavours are added to make the end products. To make his Apple Pie moonshine, Murphy uses apples from the local Martin's Family Fruit Farm. Other beverages on offer include Cherry Bomb, Blue Raspberry, Caramel, Lady Maple, Maple Cream, Peach Pie, Root Beer, Sweet Tea, and the classic — White Lightnin'.
Murphy has worked a deal out with a local Mennonite farmer in which his neighbour takes the spent mash as a feed supplement for his livestock, and Murphy uses his maple syrup in his moonshine products.
Murphy has two 735 gallon tanks and two more 10,000 litre tanks on order to accommodate his burgeoning business.
Since opening, Murphy's Law Moonshine has doubled in floor size and tripled its volume of production.
"I like to say we are five times bigger than when we started," he says.
SPRING MILL DISTILLERY
Rachel Telford
Spring Mill Distillery in Guelph is one of the newest distilleries to open its doors in Ontario. They started their first batch of spirits in January 2019.
Vodka and gin have been on sale since April — but it will be at least three years before they can officially sell the whisky that is already aging in barrels in their upper floor storeroom. They plan to offer malt whisky, Canadian rye, bourbon, and an Irish-style whisky.
"We don't know what the whisky will taste like yet, but we are confident in the process," says Doan Bellman, master distiller at Spring Mill.
The rye, wheat, and corn used in the distilling process are sourced from a local supplier. Spring Mill vodka is made from soft red winter wheat because it is so readily available in Ontario. The malted barley is sourced from Canada Malting in Montreal. Another local advantage is the water. Bellman notes that the city's hard water, which is good for brewing, is also good for distilling.
Three silos stand outside the building to store incoming grain and a fourth is used for spent grain. Each bin holds 20 tonnes of grains, which means they need regular weekly deliveries of grains to meet their production demands. One tonne of grain is used in each brew with six to eight brews being made per day. One tonne of corn creates about 400 litres of alcohol. Bellman notes they would have liked to have more grain storage on site, but they were restricted by the space they had around the building.
They are also restricted in the amount of barrel storage on-site. They have room for 250 barrels (about one year of production) and will need to find a storage space to hold their barrels long-term.
Spring Mill was built in a four-storey building that originally housed a distillery in the 1830s before being converted into a grist mill and then utilized by different manufacturers. The building was gutted to reveal some of the original stone and millwork which was preserved during the renovations. The property currently has a bar on-site and there are plans to have a restaurant in operation soon. The goal is to make the distillery a showcase that highlights the heritage of the building and make it a draw for visitors in the city.
Spring Mill is owned by the Sleeman family, known in Guelph and Ontario for their brewing history. However, the family's ancestors also originally opened a distillery in the Niagara Region in 1836. Although it was only open for a short time, it created a lasting legacy.
RHEAULT DISTILLERY
Owen Roberts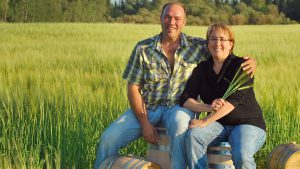 Even though Rheault Distillery's Loon vodka has gained global acclaim – particularly after winning the 2017 World Vodka Award in the best taste category – year-round walk-in traffic and retail sales are still essential for profitability. And in the company's northern Ontario hometown of Hearst (pop. 5,000), where the family-owned business began nine years ago, walk-ins are mostly limited to the summer tourist season.
So, husband-and-wife co-owners, Marcel Rheault and Mireille Morin, are switching gears.
This fall, they're pulling up stakes, adding two business partners to their operation, and augmenting their spirits distillery with a storefront and cidery, 500 kilometres west in Thunder Bay.
There, they'll have access to the city's 100,000 inhabitants, along with the thousands more who regularly come to the bustling city for regional services.
Plus, they'll have port traffic on which they can capitalize, as well as proximity to new markets in nearby Manitoba.
They've already taken part in craft beer and spirits shows there. They were enthused about the reaction they received, as well as residents' support of farming.
"Agriculture is very present in Thunder Bay," says Marcel. "The city has an active local food culture and being kind of isolated, prides itself in being self-sufficient. People are willing to pay a bit more so farmers in their area can survive. We've already started to source grain from there for our spirits, and apples for our cidery."
He feels the move will also lessen the company's uncomfortable dependence on the LCBO, and the problems they, as craft distillers, say they've encountered with the organization's warehousing and distribution over the past five years.
"The LCBO is structured to handle volume rather than specialized products like Ontario craft spirits," says Marcel. "Our business just can't rely on LCBO sales."
The relocation begins this fall. Rheault and Morin expect the distillery to be fully operational next spring, with the cidery to follow in 2021. •