Ontario Members of Parliament
HOW WILL THEY SUPPORT ONTARIO GRAIN FARMERS?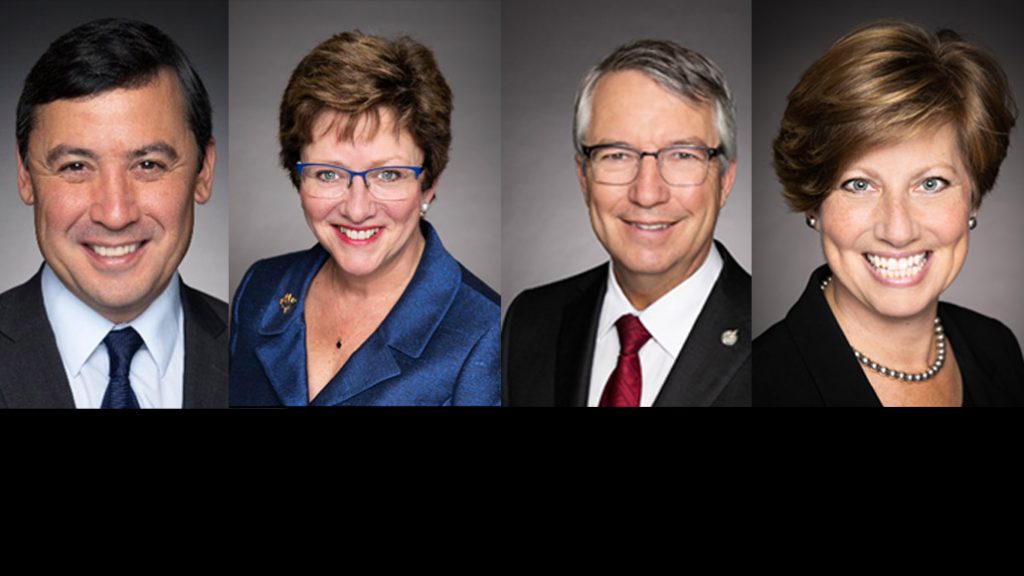 ONTARIO GRAIN FARMER invited all 121 Ontario Members of Parliament to share their vision for the Ontario grain and oilseed sector. Thank you to those who took the time to respond.
Grain Farmers of Ontario has asked for government support for the following priorities:
Business Risk Management programming that works.
Compensation for soybean farmers who have been impacted by the ongoing trade wars.
Relief from the carbon tax on fuel used for drying grain.
AS A MEMBER OF PARLIAMENT, HOW WILL YOU ADVOCATE FOR ONTARIO'S 28,000 BARLEY, CORN, OAT, SOYBEAN, AND WHEAT PRODUCERS TO ADDRESS THESE PRIORITIES?
Michael Chong, Wellington-Halton Hills
Wellington County and Halton Hills are home to many grain farmers. I've heard from many of those farmers in recent months. My position is based on what I've heard from them.
I support the recommendations of Grain Farmers of Ontario to the federal government. The Liberal government needs to take action to assist local grain farmers, who've been affected by events beyond their control. First, the government needs a concrete plan to respond to China's decision to ban Canadian canola and soy products. Second, they need to address price and supply concerns about farm fuel used for grain drying and barn heating. Finally, they need to expedite the Business Risk Management review and make immediate adjustments to the AgriStability program to ensure losses are covered in time for the 2020 harvest.
I'll continue to work closely with local grain farmers to ensure that their concerns are heard on Parliament Hill.
Diane Finley, Haldimand-Norfolk
In Haldimand-Norfolk, farming isn't just a job, it's a way of life that drives our local economy. My Conservative colleagues and I know what farming families risk in order to grow their crop, get it to market and make a living. That's why we have always worked hard to make sure that our agricultural sector thrives. This starts with helping farmers manage the instability that comes with farming.
Conservatives will support a review of the Business Risk Management program to better protect our farmers. We also know that farmers need good trade relationships to get their product to market. We will continue to call out the Liberals when they fail to make trade a priority. And, we will continue fighting against the Liberal carbon tax that unfairly targets farmers, and takes their hard-earned money for simply getting their crop ready to sell. Conservatives will always be here to support you.
Lloyd Longfield, Guelph
As a member of the AGRI Standing Committee last parliament, we reviewed in detail the current five year agricultural policy framework (2018-2023), including BRM programming. Since that time, particularly in 2019, many farmers have faced increased risks including a wet planting and harvest season, trade disruptions, and the CN rail strike. As events occur we continue to work with organizations representing farmers, as well as our provincial and territorial partners.
Following a recent meeting, provincial and federal Ministers agreed to change the AgriStability program to ensure farmers who experience significant year-over-year income declines won't have private insurance payments count against their AgriStability payments. Ministers also launched a pilot program to make it easier for farmers to apply to AgriStability. But there is still more work to do, and we will continue exploring improvements in the New Year to the business risk management programs that would further help farmers.
We will continue to stand up for our robust grain inspection system and rules-based trade, while promoting the top quality of our goods through trade missions like the one former Minister Jim Carr led with provincial counterparts to Japan and South Korea last spring. Trade with China in soy beans continues to be a challenge both from Canada and from the U.S. and the Government of Canada continues to work with farmers, associations, and provinces and territories to find resolutions to a complex problem. While soybean shippers have felt a decline in Chinese trade, some of which is related to African Swine Fever and the loss of the Chinese pig herd, it should be pointed out that there have been no technical barriers placed on Canadian soybean trade to China.
We recognize that this harvest season has been challenging for farmers and we are working with partners to find practical solutions. Our pollution pricing policy exempts many fuels used in the agriculture industry- including gasoline, diesel fuels for on-farm use, and fuels obtained from card lock facilities.
The federal system also includes support for small and medium-sized businesses, including farms, which helps farmers make investments to become more energy efficient, saving them money while cutting pollution. We have committed to do an early review of our pollution pricing system in 2020 focused on competitiveness issues in trade exposed industries, such as agriculture. We will continue to discuss this issue with colleagues to ensure we further help farmers.
Since 2016, Canadian grain exports to the world increased in value by almost 25 per cent, with the biggest gains in Asia and the United States. Last summer, Minister Bibeau announced an investment of more than $13 million for a variety of projects that will help to strengthen, diversify and grow Canada's grains and oilseeds exports. By helping our grain and oilseed industries increase international demand for our high quality products, we are creating opportunities for our hardworking producers to take full advantage of new trade agreements with key markets.
For example, thanks to the new Accelerated Investment Incentive, farmers can now generally write off three times the deductible amount on their taxes for new purchases of machinery, buildings, or equipment. We are also working on farm succession and transition planning, mental health, start-up assistance, broadband access and assistance in research for crop development.
The mandate letter to Minister Bibeau also provides a clear reminder of our Government's ambitious agenda to support and grow the Canadian agriculture and agri-food sector. We are aggressively diversifying our trade, with a target of growing agri-food exports to $75B by 2025. In 2018, we reached a record of over $66B. By securing trade deals with our largest trading partners, in North America, Europe, and the Pacific, we have given our grain farmers preferential access to two thirds of the global market.
I'm proud to represent a community that has a rich agricultural history.
Guelph and Wellington County is home to several leading agri-research centres of excellence and commodity organizations such as the University of Guelph, the Livestock Research Innovation Centre, the Agricultural Research Institute of Ontario and of course, the Grain Farmers of Ontario!
As the Member of Parliament for Guelph, I will continue to both bring forward concerns, but also work with producers and processors to provide connections to the opportunities we are working on together to address global market challenges, climate change, and how to ensure farmers have the tools they need from the federal government to feed Canadians, and people around the world. I look forward to welcoming Minister Bibeau and provincial and territorial agriculture ministers to Guelph later this year for the annual mid-summer policy conference.
Karen Vecchio, Elgin-Middlesex-London
We strongly advocate for a fulsome review of the current suite of BRM programs. In consultation with stakeholders, we want to develop BRM programs which are accessible, timely, bankable, efficient and meet the needs of modern Canadian agriculture. Variables have changed substantially since the programs were adjusted including the ag sector facing a carbon tax, rail backlogs and the loss of vital trade markets for our commodities. In 2015, the Liberals promised to review the current Agri-Stability and Agri-invest programs but it is another broken promise.
Political blunders by the Liberals have eroded critical relationships with some of our most trusted — and important — trade partners. Our focus is to restore relationships with those partners to regain vital trade markets and eliminating non-tariff trade barriers including India, Vietnam, Saudi Arabia, Italy, and China. The Conservative Party of Canada negotiated free trade agreements with more than 40 countries while in government, which clearly shows our track record in building relationships within a global economy.
The Conservative Party of Canada does not support the carbon tax, period. It is a tax plan, a revenue generator for government, not an environment plan. Although we want the carbon tax scrapped altogether, we have pushed the Liberal government to at least exempt agriculture from the carbon tax. Paying the carbon tax for drying grain, heating barns or hauling cattle is crippling this industry. In addition, agriculture sequesters carbon and should be given credit for its environmental stewardship not punished.
As a Member of Parliament, I would advocate for Ontario's grain and oilseed farmers by reaching across party lines and inviting Government MPs to visit local farms in my riding to understand how farming operations function in our region. Stakeholders have been clear that educating politicians and the general public is crucial to move the industry forward. I will continue to advocate for farmers by demanding that the BRM programs are reviewed to better suit farmers and by ensuring that the government does not create barriers for market access. I believe that through this minority Parliament, Opposition members will be dedicated to representing agricultural producers and rural Canada. l