Safe operations
MANAGING ON THE FARM DURING COVID-19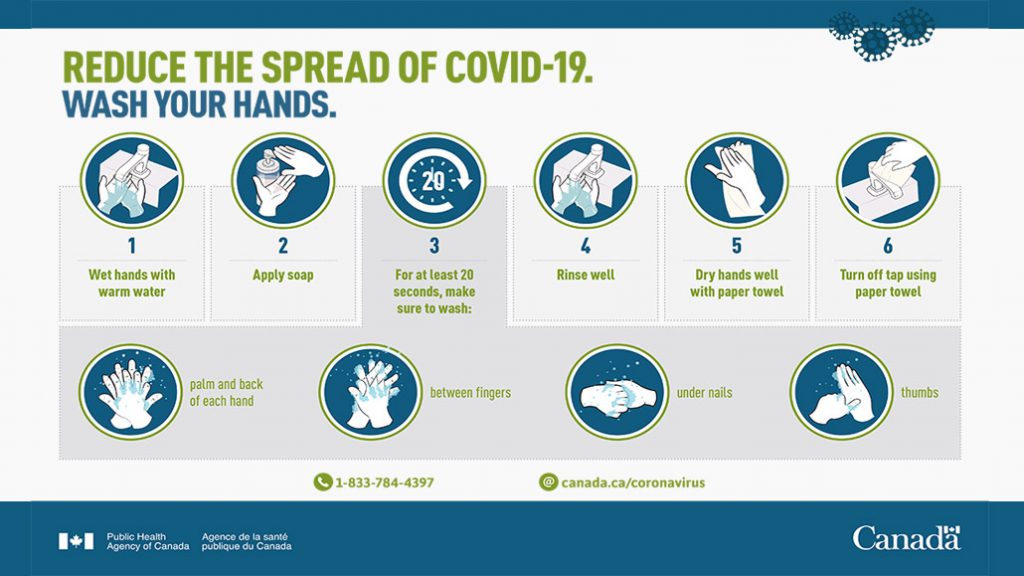 THE COVID-19 PANDEMIC has had a significant impact on all aspects of our lives. Physical distancing and staying home from work are easy to understand for office jobs. On the farm, regular work needs to continue. But how does it continue safely?
Keeping up to date with COVID-19 details and recommended protocols is challenging for everyone. The Canadian Agricultural Human Resource Council (CAHRC) has created a dedicated COVID-19 information page with the latest information, recommendations, employee management tips, tools (posters, policies) and links to federal and provincial/ territorial authorities. These details will help you respond to the pandemic and limit the impact and spread of COVID-19 within your operation. To help support your operations from a human resource (HR) point of view, CAHRC also provides free access to Grain Farmer of Ontario farmer-members to the AgriHR Toolkit, which has resources to on-farm HR tools such as employee policies, guides, how-tos, and templates.
As a grain farmer in Ontario, it is also recommended that you regularly check that you are operating in compliance with requirements under the Occupational Health and Safety Act, Emergency Orders made under the Emergency Management and Civil Protection Act (EMCPA), and public health directives and guidance issued by Ontario's chief medical officer of health and the Ministry of Health.
KEEPING EMPLOYEES SAFE
According to the Government of Ontario Occupational Health and Safety Act, employers must:
Ensure employees know about hazards and dangers by providing information, instruction, and supervision on how to work safely.
Ensure supervisors know what is required to protect employees' health and safety on the job.
Create workplace health and safety policies and procedures.
Ensure everyone follows the law and the workplace health and safety policies and procedures. Ensure employees wear and use the right protective equipment.
Do everything reasonable in the circumstances to protect employees.
What does that look like? To start with, ensure employees understand how to keep themselves safe at work and at home. This includes:
Following all protocols and recommendations provided by federal, provincial and local public health authorities.
Reviewing hand washing protocols with employees and posting information in the work environment as reminders. Posters and fact sheets are available for download and printing from the Public Health Agency of Canada and can be accessed in English, French, and other languages.
Ensuring your employees are aware of their responsibility to properly notify you if they are feeling unwell or of any risk of exposure to COVID-19 they may have encountered.
Communicating clearly with your employees about your expectations regarding sick leave.
Reminding employees of your HR policies during this pandemic, specifically around sick leave. If you do not have formal policies in place, templates are available in the AgriHR Toolkit.
Depending on the existing policy, it may be required to extend sick leave beyond the current policy to ensure employees with symptoms of or exposure to COVID-19 are not stressed by a financial burden when needing to self-isolate.
Follow all public health authority recommendations to support employees with symptoms of or exposure to COVID-19.
Do not provide information regarding the name, date of birth, or other identifiers of any employees diagnosed with the COVID-19 virus — even in casual conversation. Your employees are entitled to privacy under Canadian privacy legislation. There are special circumstances when you may have to have to share this information (e.g. life threatening reasons). Consult with legal counsel before sharing any personal medical information of your employees.
Note that the Ministry of Labour, Training and Skills Development requires that "If an employer is advised that an employee has tested positive for COVID-19 due to exposure at the workplace, or that a claim has been filed with the Workplace Safety and Insurance Board (WSIB), the employer is required to notify: the Ministry of Labour, Training and Skills Development in writing within four days; the workplace joint health and safety committee or a health and safety representative (if applicable) and a trade union (if applicable)".
MANAGING THE RISK
The key to keeping employees safe at work is to manage the risk to the work environment.
Implement active screening of employees and visitors. The Ontario Ministry of Health outlines how to do this through their COVID-19 Guidance for Industry Operators.
Limit or restrict visitors to the farm or business operation.
Implement a hand-washing regime and physical distancing protocols for all employees and visitors.
Clean frequently-used surfaces with hospital-grade disinfectant.
Ensure employees are informed of the risks, symptoms, and steps to self-isolate.
Implement a cashless system for any sales or bill payments.
Consider restricting travel (business or leisure) and ensure employees follow self-isolation requirements upon returning home from travel.
Businesses that are receiving foreign employees should monitor advisories from the government departments responsible for the Temporary Foreign Worker Program.
Continue to follow recommendations provided around maintaining biosecurity and food safety standards.
CREATE A PANDEMIC PLAN
If COVID-19 has taught us anything so far, it is that it is not overkill to have an up-to-date pandemic or emergency plan as part of operational risk management, even if you are a small operation that may only involve yourself or a few family members. The plan needs to consider not just logistics, but also HR management. Having a plan in place for dealing with any crisis that may cause a staff shortage, among other operational impacts, will ensure that when/if that happens there is a structured, controlled response to it.
These plans should identify decision makers, roles, and responsibilities, access to medical care, and plans for both quarantine or transportation to medical facilities. They should also include communications planning such as who is the point of contact, medical contacts, internal and external communication plans, contact information for all staff, suppliers, and community services. From an operational point of view, the plan should also identify what to do to conduct time-sensitive work (such as planting, fertilizing, harvesting) when not enough employees are available to do the work because of sickness.
Farmers that provide housing for their employees will need to ensure their plan considers large numbers of employees being quarantined or requiring health care.
Smaller operations where you are the sole worker or have immediate family as your support need to ensure they have concrete plans established with their neighbours. Rural communities are known to step up and help each other in a time of need but when it comes to pandemic planning, what this help looks like and how to most effectively mobilize it needs to be documented in advance. •
ONLINE RESOURCES