COVID-19
THE IMPACT ON OUR ORGANIZATION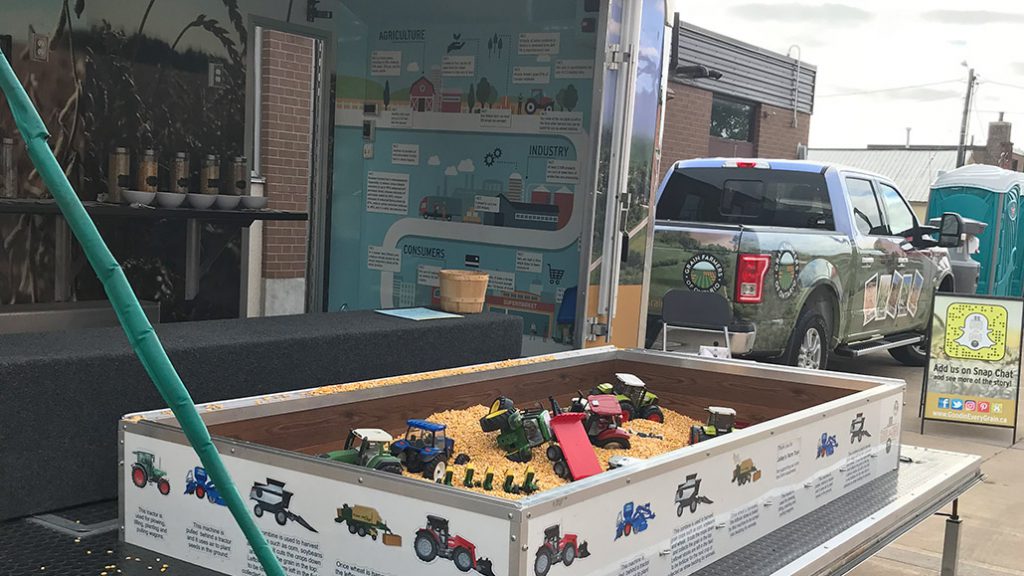 EARLY SPRING 2020 the world shifted as COVID-19 was declared a pandemic. By the end of April, more than three million people had been infected by the virus and more than 215,000 people had died worldwide. Governments from every corner of the world started to shut down countries to help stop the spread and prevent deaths among the most susceptible communities — particularly the elderly and those who are immune-compromised.
Companies started to follow suit — staying open where and how they could and shutting down services where maintaining them would not be in the best interest of public health. Grain Farmers of Ontario followed public health and government advice and moved to a remote office model for its staff. Some programs were cancelled or postponed, and others were able to operate in a business-as-usual fashion.
The Ontario Grain Farmer connected with managers from each department to understand the impacts COVID-19 is having on current and future programs. (NOTE: This article is current as of press time, for additional updates, please go to www.gfo.ca/covid19).
COMMUNICATIONS
Victoria Berry
The greatest impact has been in the event space. Not only did we have to cancel our own March Classic and Semi-Annual Delegates Meeting, we are also seeing a large number of local fair cancellations. This is impacting our Grain Discovery Zone program, where our display trailer heads across Ontario from May to October. We are seeing fairs cancelled throughout the summer and into September, so we are keeping our eye on public events and will look to opportunities in the future once public gatherings are allowed.
One of the opportunities that this new way of working is providing is for the Communications team to dig into our digital analytics and really plan some engaging content for consumers. We are looking at building out deeper education programs for next year and not being "on the road" as much allows us to build some very strong long-term plans.
From a farmer-member communications standpoint, we are more in-touch, more frequently, using email, webinars, virtual meetings, and other digital channels such as social media. We continue to produce the Ontario Grain Farmer, the GrainTALK e-Newsletter every week, the GrainTALK podcast every two weeks, and we are e-mailing farmer-members with updates as needed.
GOVERNMENT RELATIONS
Debra Conlon
The response to COVID-19 has increased the financial difficulties facing our farmer-members. Costs are increasing, prices are low, the supply chain challenges are unpredictable, and the volatility in markets is like nothing we have ever seen. The Government Relations strategy to improve Business Risk Management programming and get rid of the carbon tax is more important than ever. We have made it a daily priority to inform government of supply chain roadblocks that they can help alleviate by relaxing policies.
The measures implemented to combat COVID-19 have created an unprecedented economic situation — from which the government will need a strategy to recover from. We are developing recommendations for government on where and how Canadian Agricultural Partnership funding, and any other additional funding, should be allocated to help grain farmers.
Grain Farmers of Ontario is raising important issues facing the grain sector to make sure our farmer-members get the attention that is needed from all levels of government. The Government of Ontario continued with the approvals required for the Pesticides Act changes to be put in place; but federally, it is too early to tell if the two Bills before the Senate and the House which would result in removing the carbon tax on grain drying will continue through the legislative process.
HUMAN RESOURCE
Sarah Plater-Findlay
From an internal Human Resource perspective, this pandemic changed everything, but only for the short term. We had to set up everyone with remote working capabilities. The entire staff has come together and embraced working this way temporarily and continues to keep a great attitude.
For farmer-member human resources, or HR on the farm, we were able to work fairly quickly with organizations such as the Canadian Agricultural Human Resource Council (CAHRC) to get information in front of our farmer-members to help with their business and employee decisions. This situation has really shown the importance of business continuity planning and using COVID-19 as a starting point for building out those plans will help our farmer-members protect their businesses.
We have found that farmer wellness and farm management are very interconnected. The changes that COVID-19 has created are causing added stress so we have also focused on our farmer wellness programs to address this pandemic. There are a number of resources available and we will continue to highlight those on our farmer wellness page (www.gfo.ca/farmerwellness).
MARKET DEVELOPMENT
Nicole Mackellar
Many of the markets that Ontario grain goes into have been significantly impacted due to COVID-19, specifically ethanol and animal feed for the livestock sector. We are working to address these impacts as well as the short- and long-term implications they are causing and working to develop strategies to address them. We have spearheaded regular meetings with a group of industry partners to gain a better understanding of the challenges currently facing businesses, organizations, and farmers.
Many of the programs Market Development has been working on, including those working with the food sector, have been delayed due to the shift in focus by our partner companies on the continuing operations of their facilities during this time. We continue to work behind the scenes on these programs to ensure they are ready to go as soon as we are able to launch them.
The value-chain is working very closely with one another to ensure there are as few disruptions as possible on getting food on shelves. The most important thing we can do is adapt to changes quickly and find solutions that benefit our farmer-members.
MEMBER RELATIONS
Mel Reekie
For the most part, we are able to continue planning without too many disruptions. We did have to postpone the Thank-A-Farmer program. Normally we would be getting ready to go and connect with people on their farms, but we will have to see what can be done later in the year instead.
I was disappointed not to get out to the Ottawa Valley Farm Show. It's a great event and we are able to see and talk with many of our Eastern Ontario farmer-members, but again, we will look for ways to see people person-to-person once the province opens up again.
We are moving forward with planning the Women's Symposium in November, but we are also preparing for uncertainty. One interesting outcome has been the virtual district committee meetings. Business is carrying on, it's just different.
RESEARCH
Dr. Josh Cowan
We have definitely seen some research projects that are being modified so that they can get off the ground or continue, and we are seeing a few get postponed. Each project is unique in its dimensions and methodology and so each team has to choose the best way forward. However, researchers have been creative, finding ways to factor public health guidelines into their approaches. We are not seeing any real cancellations yet and I think that's a good sign. People are being very realistic about new timeframes.
It's important that our team continue to look for ways to meet our objectives, and in a reasonable timeframe. Things are very much changing from day to day, but we are lucky because research is often subject to different challenges, and because of that there is flexibility already built into our funding program.
Currently, we are prioritizing. We are talking to researchers about priorities and making sure things such as long-term trial sites get planted so we don't lose that research.
It will be interesting to see how the prioritization of food production and food security research changes as a result of COVID-19, given the clear importance of robust food systems during the pandemic.
WHEAT MARKETING
Todd Austin
Wheat Marketing programs have not been impacted at this point. Elevators are still working — they are essential services. Everything is moving forward as normal. The change in workspace is not really an issue in terms of delivery and opportunity for farmers.
A couple of our internal processes have had to shift temporarily. If a farmer-member calls in and asks for Wheat Marketing, they used to be put in a queue. For now, calls direct to our phones, so if we cannot answer, farmer-members will need to leave a voicemail and the team here will return calls as soon as possible.
We are still processing contracts, although with our home office equipment they might take a little longer, there haven't been any issues.
If we are still working remotely at wheat harvest, we encourage farmer-members to set up direct deposit, which allow you to have faster access to payments. •