Scouting for corn rootworm
PREVENT THE SPREAD OF RESISTANCE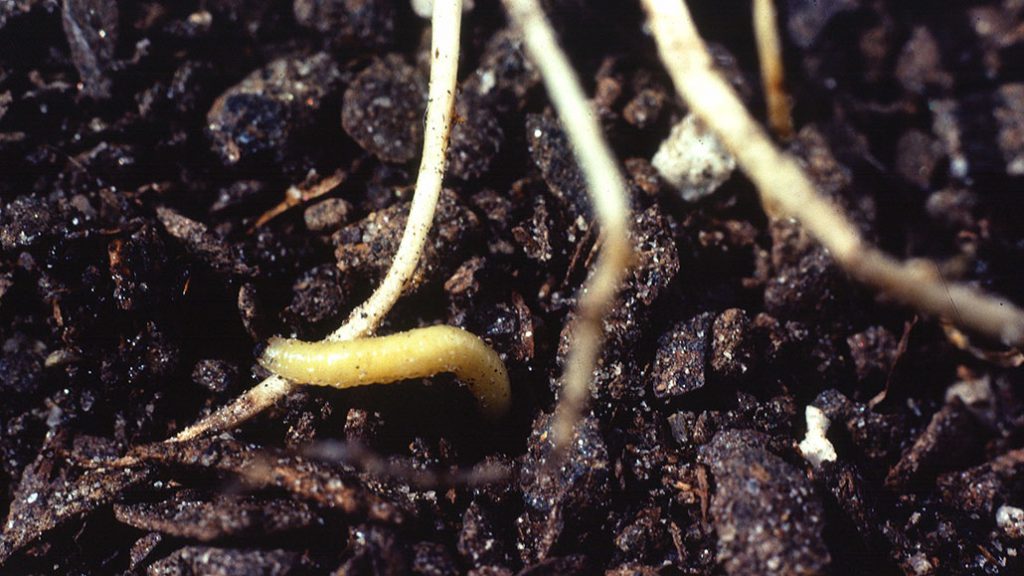 EXTENSIVE INJURY FROM corn rootworm (CRW) was documented in four counties in 2020: Durham, Huron, Perth, and Middlesex. Injury ranged from root injury to goosenecking and lodging. To help prevent CRW damage, Grain Farmers of Ontario and a number of other organizations have encouraged and promoted a number of measures to reduce the spread of resistance including:
The rotation to non-corn crops in order to break up the pest life cycle,
If planting corn on corn to plant a non-rootworm Bt hybrid (above ground Bt hybrid for corn borer or western bean cutworm) with the addition of root protection tools (soil insecticide or seed treatment),
Explore soil applied bio-control nematodes on which research is currently being conducted.
If mitigation measures were all overlooked this spring at planting, it will be imperative to scout for corn rootworm in your corn fields. Scout high priority areas and fields first, which include regions with high concentration of fields that have had repeated use of Bt rootworm hybrids in continuous corn production, for three years or more in a row; those in two years of corn are at moderate risk.
High-risk fields also include those that have higher than expected adult CRW populations and fields where lodging or goosenecking are evident. High populations last year of CRW from one field can move to surrounding fields and cause damage.
Once you have determined which fields are at risk, the ideal time to begin scouting is in July until early August for root injury.
Scout for plants that are showing signs of goosenecking or lodging first, or randomly select plants for a number of areas of the field. Scouting for root clipping can be done by using a shovel to dig up as much of the root ball as possible without cutting the roots with the shovel. Clean the roots by rinsing with a pail of water or rinsing with a hose. Brown scarring, tunneling, and root pruning are what farmers and agronomists should be looking for. Sometimes, entire nodes of roots will have been eaten by larvae below ground. Rootworm larvae feed on corn roots from late May to late July, with adults emerging from below ground from late May to late August.
As the summer progresses, goosenecking and/or lodging may be seen in field, and/or an abundance of rootworm adults may be easily found which indicates that a high population of the insect has emerged in the field. One or more adults per plant during August would be classified as a high population.
Scouting should take place prior to mid-September while adult rootworms are still active. It is imperative if you see damage or high numbers of this pest in your field that you contact your seed provider and Tracey Baute at Ontario Ministry of Agriculture, Food and Rural Affairs at 519-360-7817.
An adult rootworm trapping network is being established for 2021. Using sticky traps monitored over eight weeks, we are hoping to determine the abundance of adults across the province. Interested high risk farmers are encouraged to contact Tracey Baute for more information.
Talk with your seed provider each year about pests that can affect your production, ensuring that you are aware of any possible resistance or disease that could occur in your field, choosing and managing your hybrids for optimum plant health.
More information on this corn pest can be found on the agronomy page at www.gfo.ca and by watching the GrainTALK Farmer Forum on corn rootworm available on our YouTube channel. This summer watch fieldcropnews.com for more information on scouting and the trapping network. •