Lifetime dedication
INTERNATIONAL FARMER PROFILE: BILL CRABTREE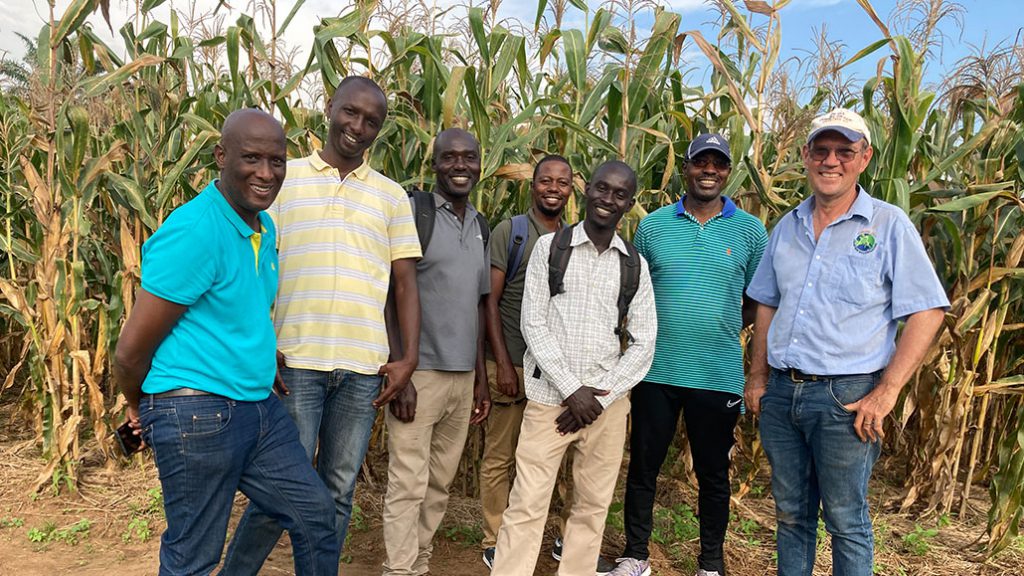 BILL CRABTREE, BETTER known as No-Till Bill, recalls two distinct moments that, for him, marked the beginning of a lifetime dedicated to improving soil health. His journey started on the family farm in southwestern Australia when he was just a boy and has taken him to Canada, Europe, South America, and now, Africa. Along the way, his mission has always been the same: to improve soil health, and to improve the lives of those who rely on soil for food and income.
Crabtree grew up on a 3,000-acre farm in southwestern Australia where his family raised sheep and dairy cows and grew cereals. The family received the land through a special program that granted World War II veterans land. The program was unique in that dissemination was based on land quality. Veterans received 4,000 acres, for instance, if the land was poor, but received 2,200 acres if it was good. In 1960, the Australian government granted Crabtree's father 3,000 acres of average-quality land. Earlier, he had been given a smaller farm at Pemberton, but it was in a region with high rainfall, and the soil was micronutrient deficient. The administration agreed to clear 1,200 acres, and left the family to clear the remaining 1,800 acres.
Like most Australian farming families in the 1960s, the Crabtrees raised sheep. At that time, wool was an economic powerhouse. "That's where the saying 'we rode on the sheep's back' comes from," says Crabtree, colloquially.
His strongest memories of that time are tied, quite literally, to the land. On land where soil ranged from small areas of clay to waxy sand that repelled water it was quite difficult to ignore. Most soils were duplex in nature — being sand at the surface with over 40 per cent clay subsoils.
In one of his earliest farming memories, Crabtree remembers crawling into muddy dams to free sheep that were stuck in heavy clay. The youngest boy of 10, Bill was the smallest and ideal for the task, according to his siblings.
Around the same time, he remembers pulling mallee roots (local slang for the roots of eucalyptus trees) from the paddocks. Mallee roots, he said, can be as big as a football and have 30 centimetre long, fingerlike roots that hold fast to the subsoil, which make them tough to remove from the soil.
In the second memory, Crabtree is 15 years old. He is on his way to school when the school bus cautiously and slowly drives through sand that has swept across the sealed road. He remembers the driver being surprised to see a thick layer of drifted, windblown soil — much like the 1930s dustbowl experience. This is the first time he remembers thinking there must be a better way to farm.
NEW SYSTEMS
Australia's reliance on sheep reshaped the landscape, and so did the wool sector's collapse in 1988. Many farmers practiced a ley pasture system, adopting a three-year cycle that included self-regenerating annual legume pastures based on subterranean clover. The system worked well with sheep grazing the land, but when they were removed from the equation stubborn weeds began to flourish. Farmers relied on tillage to control the weeds, but this tillage exposed the soil to erosion. In the following years, lengthy periods of dry wind and drought caused widespread wind erosion.
At that time, Crabtree had returned home following his agricultural science studies and was employed in a three-year Department of Agriculture project called minimum tillage for wind erodible soils. Interest in the project picked up in 1990, a year marked by terrible winds and little rain. At that time, few Australian farmers practiced no-till. There was some minimum tillage but this was not well understood and gave unreliable results, says Crabtree.
Crabtree was working as a researcher for the Department of Agriculture. The department had tried no-till in the 70s, but they hadn't seen consistent results, but good results were in the mix and Bill was convinced it was the answer if improvements were made.
"It put me at odds with the establishment because senior people within the Department of Agriculture were highly critical of no-tillage," he says.
A little annoyed, Crabtree shifted his focus to pursuing a Master's degree in soil science. Some 20 months later he returned to the Department better equipped to debate his superiors and he joined forces with the Western Australian No-Tillage Farmers Association. The conflict eventually took him to Brandon, Manitoba, where he worked with Canada's foremost soil and no-till specialists for one year.
"That was a tremendous privilege for me," he says. "I got to speak at eight conferences, including help organize the Manitoba-North Dakota Zero-Tillage Conference, which I spoke at as well in Brandon."
PROMOTING NO-TILL
By the time he returned to Australia in 1997, some 70 per cent of farmers were practicing no-till. Bill then took on a job working for the Western Australian No-Till Farmers' Association and travelled around the country, talking about the benefits of no-till and advising farmers on practices that promote soil health. He worked for the association for more than five years before launching his own private consulting business.
In 2008, Crabtree purchased a 7,000-acre farm where he grew mainly wheat and canola. After 10 years, he leased an additional 7,000 acres, doubling the land to 14,000 acres, and continued providing consultation to other farmers. His land was also marginal, bordering on desert, and suffered six droughts in 13 years. Despite that, he was able to improve the soil, considerably increasing the land's value. Bill sold the farm for twice its initial value in 2020, making room for a new adventure.
Crabtree has always been passionate about helping people. Partially, it is his Christian values, and partially it is his passion for soil health. In 2018, he was invited to Des Moines, Iowa as one of 12 international farmers who would speak at the Global Farmers Roundtable at the World Food Prize event. As he listened to his fellow farmers speak, he realized he could help address some of their challenges. He woke early the next morning, his mind working through an idea. That idea would eventually take shape in the form of a newly developed company, Arise African Agriculture.
HELPING OTHERS
Crabtree aims to help Africa's farmers by empowering them to farm at scale themselves. The aim is to create model farms that can be copied across Africa. Crabtree helps farmers reduce topsoil loss from erosion by implementing no-till farming systems that build and protect soil. The company aims to empower African farmers to take pride in ownership, and provide them with the tools they need to succeed, including fertilizers, pesticides, and smart breeding technologies.
While there is no concrete plan as of yet, Bill has visited Tanzania, Kenya, Ethiopia, Rwanda, and Ghana, and plans to visit Zambia. He has already spent time in Burundi, and is currently developing a smart farm in the Democratic Republic of Congo (DRC). The plan is to supervise five farms in five different locations across DRC. The farms will bring value and employment opportunities to the local communities, and provide a blueprint for similar farms. Other farmers are welcome to invest in what he is doing.
The idea, says Crabtree, is not to save African farmers, but to walk alongside them and provide education, practical assistance, and support. He aims to create networks and provide support as the communities learn to farm better. Once the project is stable, Bill plans to walk away. He will continue to provide support via FaceTime and emails.
"The thing is, I'm not going to have equity in these projects," he said. "They've got the equity. So if they fail, they are failing, not me. It's got to be their incentive to succeed, but I will make a judgment call as to when I can be weaned."
"Some have told me that, based on past experiences, it will not work – so time will tell, but I think it worth trying," he adds.
Crabtree plans to remain in Africa for perhaps 10 years, moving from country to country as needed. His wife, Monique, is trained as a pastor who works with troubled young girls in Perth, Australia. She plans to join him in Africa when she can later this year.
Follow Crabtree on Twitter at: @NoTillBill
Learn more about Arise African Agriculture: www.ariseafricanag.com. •