Field observations
SUMMER 2021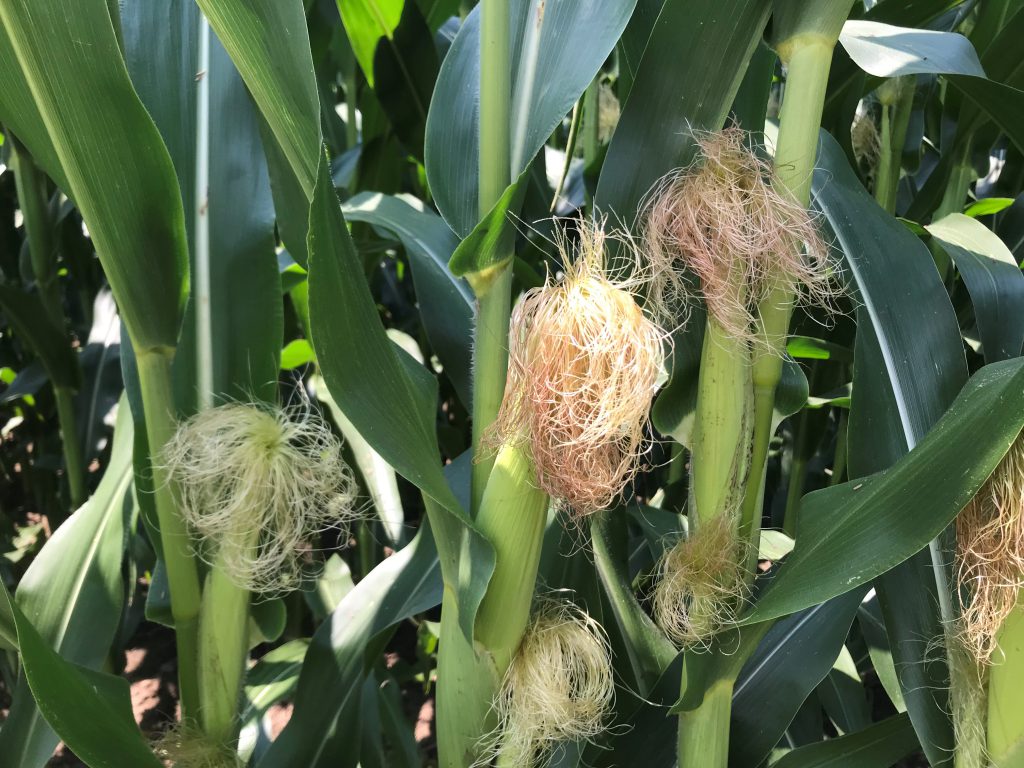 July 30, 2021
Another week of variable weather in Ontario. Warm, wet periods are making ideal conditions for disease development in the crops. Insects have also been causing some trouble in drier regions but can be found in all areas in varying populations. If you had moisture, crops are looking good; if you had too much rain, crops are looking stressed and are impacted by the hot dry periods. If you have not received rain, crops have shriveled up and will not be able to make grain.
There certainly are extremes this year.  Whoever said, it will all even out in the end, wasn't thinking of a specific situation like 2021. If you find yourself in an extreme area, it is tough, and situations seem impossible but please reach out, talk with others. Sometimes help comes from where we would not expect.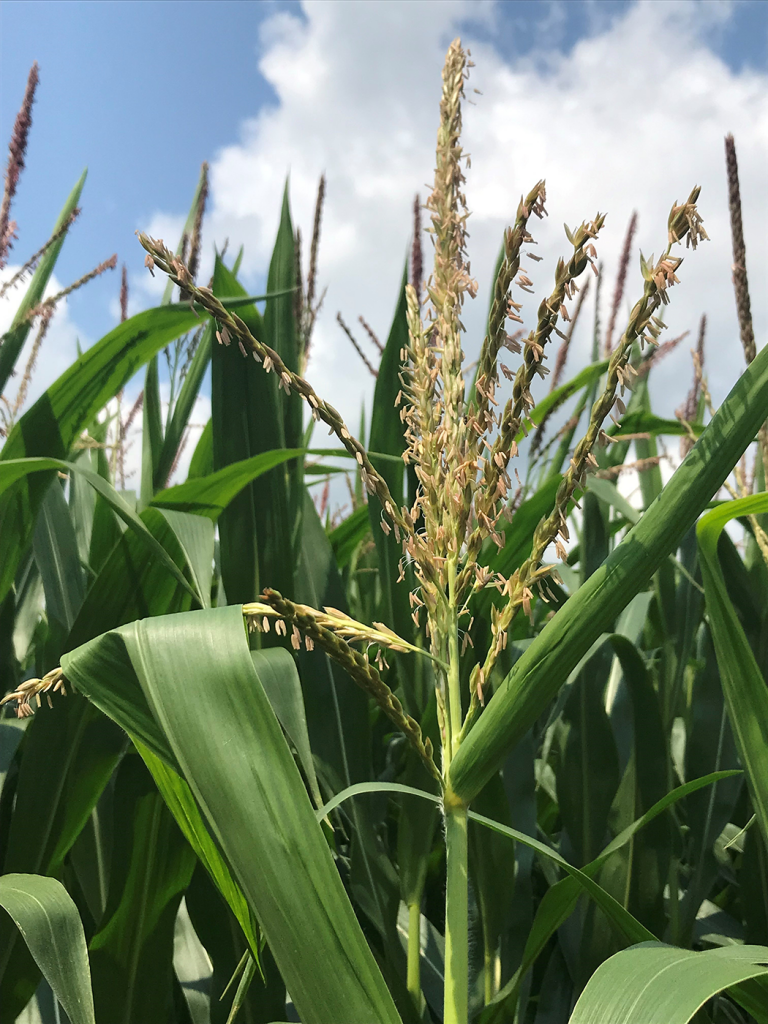 Corn
Corn has been under the sprayer the past few weeks during the period when silks are fresh. Farmers looking to prevent gibberella and fusarium ear rot have been watching the weather and managing their risk when the crop is in the ideal threat of temperature (27°C – 28°C) and humidity (rain, fog, saturated soil). Next week's forecast of cooler and drier weather will reduce the infection potential on the later pollinating corn crop. Grain Farmers of Ontario supports an annual DON survey which takes place in late September. The survey will give a good indication of hot spots for DON accumulation throughout the province.
Western bean cutworm traps have shown an increase in catches this week and will likely see peek flight in the next few days. Insecticide applications should be timed to meet peek flight at the R1 (silking) to R2 (blister stage where kernels look like blisters with clear liquid). Insecticides can often, and should, be tank mixed with a fungicide to control later season diseases. If you have already sprayed a fungicide, be sure to follow the label instructions and limit the amount of a particular class of fungicide and switch groups to manage disease resistance.
Soybeans
Soybeans in general look good, but there is the range this year from too wet to too dry. Most soybeans are in the R3 (beginning pod, 3/16" pod on the four uppermost nodes on the main stem) stage to R4 (pod 3/4 " long on one of the four uppermost nodes on the main stem).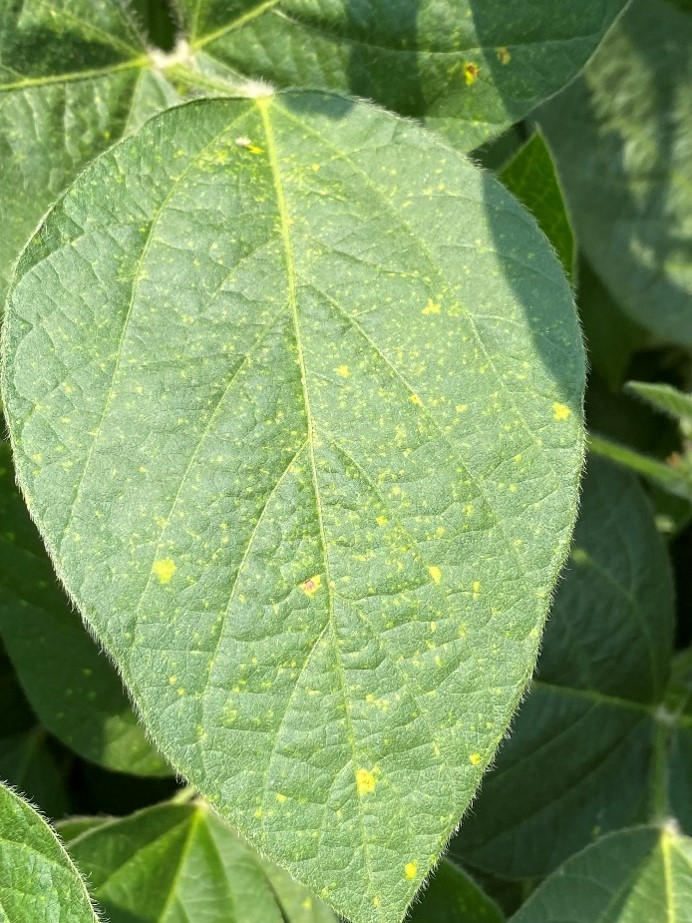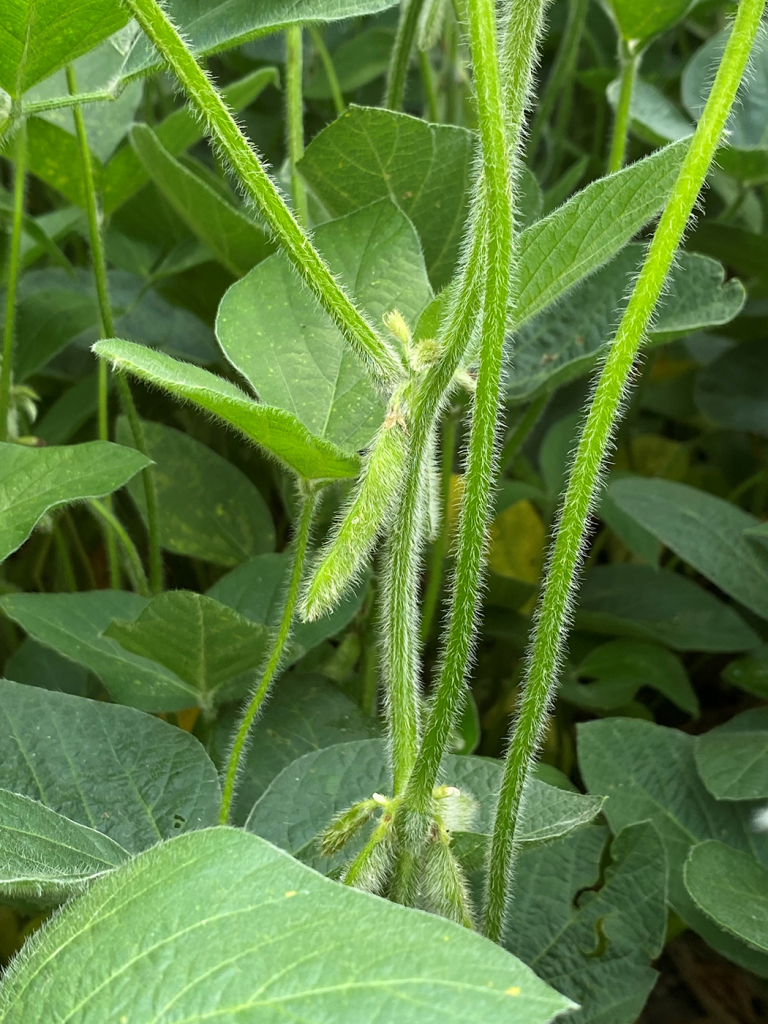 White mould is showing up in soybeans already. White mould is caused by the pathogen Sclerotinia sclerotiorum. Fields with dense canopies that have experienced rain, fog, and dew during the flowering stage may see higher rates of white mould infection. Fields that have been infected with white mould in the past are certainly more prone to infection as the black sclerotia (looks like mouse droppings) overwinters in the soil and produces fungal spores when the temperature and moisture is right for infection. Symptoms from white mould can be seen after flowering by looking into the canopy and looking for the white mycelium on the stem. In the upcoming weeks dead plants will be observed in fields.
Fungicide applications for white mould can be made in soybeans ideally around R1 to R1.5, just before full flower and pod set. Fungicide applications made around the R3 stage are for protecting plants against late season disease. 
Leaf diseases are being found in some fields due to the extreme weather conditions we are seeing. There are lots of different pathogens thriving under cool, humid conditions. Downey mildew is showing up as light green speckling on the leaf, check the underside of the leaf for tufts of spore bearing hyphae (looks like white fuzz). If no spores are present on the underleaf, then the speckle could be environmental – varietal interaction. Sudden death syndrome symptoms usually appear after flowering. Leaves show scattered yellow spots, which grow to large blotches of yellow and dead tissue between the veins, with the midvein and major lateral veins remaining green. If the stem is cut in half, the interior will be discoloured to a light grey/brown. Click here for more information.
Heavy rains during the reproductive stages can favour symptom development. Soybean cyst nematode and soil compaction can increase the incidence of the disease.
This year soybeans seem to be under attack by insects – aphids are spiking threshold in central and eastern Ontario and are needing to be controlled. Stink bugs are showing up in fields. They attack the soybean pod and suck up fluid from the developing seed, causing deformed and discolored seed. Stink bugs can be detrimental from R2 to R6.  Bean leaf beetle and Japanese beetle can be found quite easily.
Cereals
Winter wheat harvest is now 75 to 100 per cent complete in areas. Some regions have experienced wet weather after grain maturity in the field resulting in sprouting in their grain, leading to lower falling numbers. Wheat should be harvested as quickly as possible to maintain quality.
Oats and barley are maturing in fields in southern Ontario, with harvest commencing in the next couple of weeks. In northern Ontario some fields were replanted to oats after late spring frosts, they are headed out but still need some time to mature.
If you are considering a cover crop this year, check out the Midwest Cover Crop Selector Tool that uses Ontario research data to suggest the best cover crops for your operation.
---
July 23, 2021
WHEAT HARVEST ROLLS on across the province while disease, too much moisture, hail, and drought are the topics discussed by farmers this week. Disease is a very real concern in many areas of the province where moisture and humidity are creating the perfect conditions for disease development. It seems to be a year of extremes, as some areas are receiving incredible amounts of moisture and others are in a severe drought situation.
Corn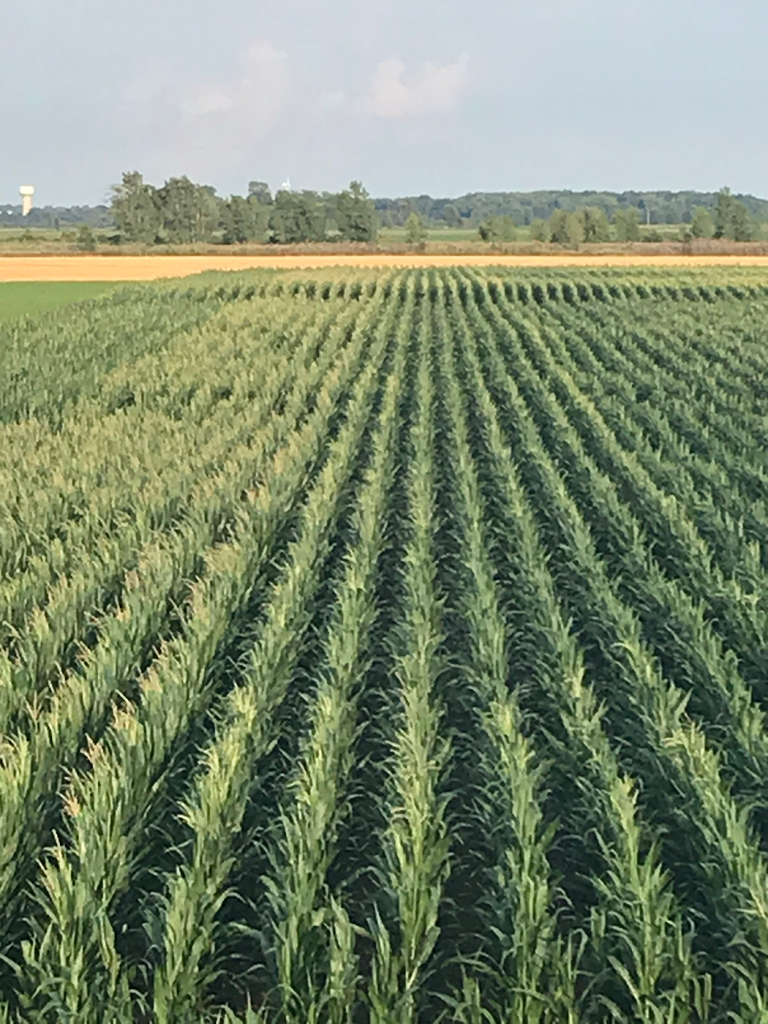 Corn is tasseling now across much of the province (VT stage). Tassel emergence with silks starting to show is ideal. As the tassel emerges the pollen starts to shed. In areas that have received little rain (some regions of eastern Ontario and the far northwest), silk emergence may be delayed as the plant is conserving as much moisture as possible. In certain dire situations, silking may not occur or last very long due to severe drought. If the tassel has emerged with most of the pollen shed occurring before silk emergence, poor pollination may occur resulting – in a poor kernel set on the ear.
Each silk that emerges is connected to a potential kernel within the husk. When one silk is emerged from the corn husk across 50 per cent of the field, the R1 stage has begun. Complete silk emergence can take four to eight days once the first silk appears. If the silk is pollinated, the silk stops growing; if it does not get pollinated, the silk will continue growing for up to 10 days.
Recent weather in the southern region has been ideal for silk channel infection by gibberella, which can cause DON toxin accumulation on the grain. Ideal temperatures for gibberella infection are in the 27° C to 28° C range. For those fields that are susceptible to DON, a fungicide application may be advisable in areas where the weather received during pollination is warm and continual wetness has occurred. Further DON production will also be determined by the environmental weather conditions received during grain fill.
There are a few products currently labelled to suppress gibberella and fusarium ear rot. These are the diseases that are the precursors to the DON toxin. Recommended products from Pub 812 – Field crop protection guide page 41.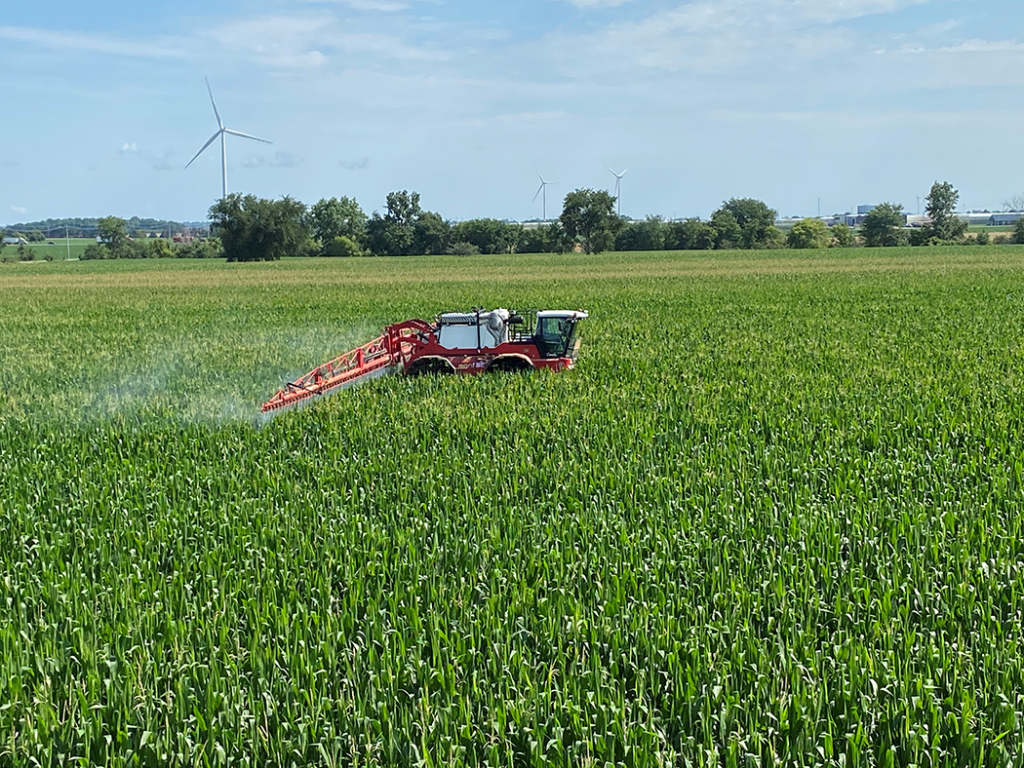 Please read and follow the label for proper timing and application methods. And if you are planning on applying, get your name on the product as quantities are limited. Albert Tenuta, field crop plant pathologist with the Ontario Ministry of Agriculture, Food and Rural Affairs (OMAFRA) is working on trials that look at sprayer systems and nozzle configurations by evaluating both spray coverage and a chemical tracer at the silks, the initial results were highlighted in a recent article in Ontario Grain Farmer.
If you are applying for gibberella/fusarium management please also consider good leaf disease suppression as well in the product applied, as leaf disease can also be a large yield robber.
In some areas it has been so wet, with large amounts of rainfall, fields are too saturated for ground application- aerial application is an option in some cases. Other areas received hail damage in recent storms – a fungicide may be advisable to help suppress leaf and stalk disease.
Western bean cutworm (WBC) adults are being found in traps and eggs masses are being found on leaves. The western bean cutworm factsheet, Scouting and Management in Field Corn, states "when there is an accumulation of five per cent of the plants scouted with fresh egg masses or small larvae over a two to three week scouting period, threshold has been reached. For example, if during the first scouting trip two per cent (two out of 100) of the plants have egg masses on them, then five days later during the second scouting trip there were three per cent (three out of 100) of the plants with fresh egg masses, then threshold has been reached."
Management of WBC should wait until peak flight, which according to the OMAFRA trap networks is yet to come. For more information on the pest, scouting, and control, visit Field Crop News. WBC larva can feed on the corn cob affecting yields, feeding can also increase the risk of DON mycotoxin development, which is a serious concern.
Soybeans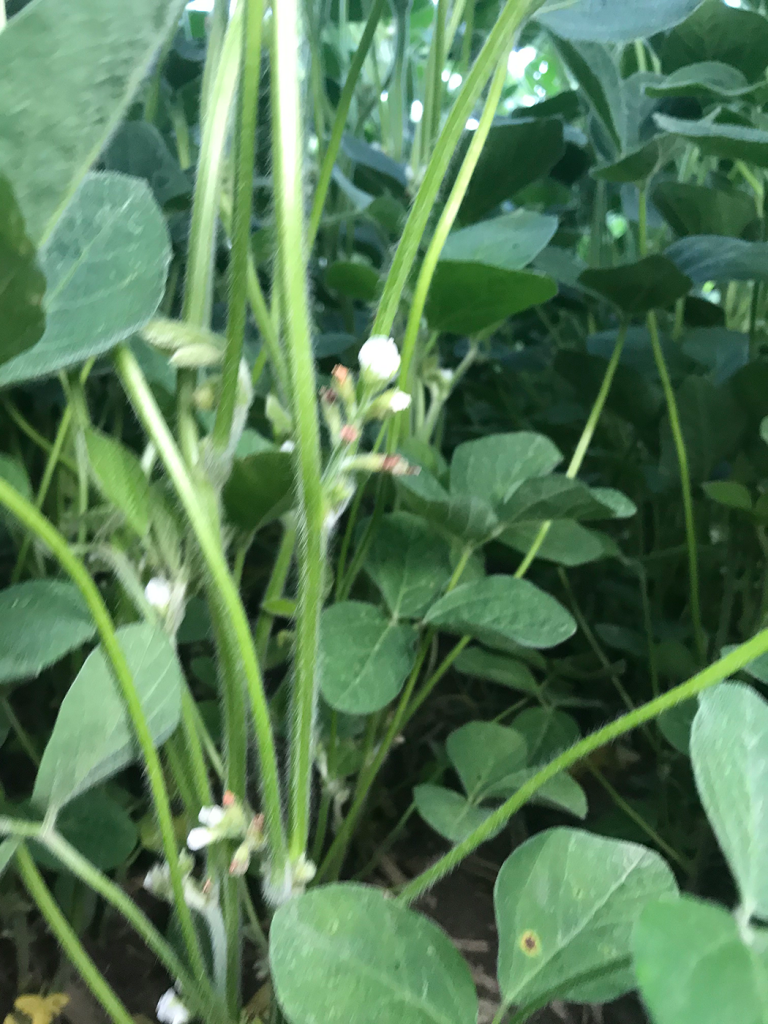 Many fields have reached the R2 (full bloom) to R3 (beginning pod) stage. Diseases are a concern, in areas that have had ample amounts of moisture, as canopies are very lush. The wet, humid days have created the perfect environment for diseases such as white mould. Sporecaster is a great app that you can download and use to assist with making management decisions for white mould in soybeans.
In areas that have received too much moisture, some soybean fields have turned yellow, and plants have died due to not enough available oxygen. In other areas, soybean plants are burning up from drought.
Areas of eastern Ontario have seen high aphid pressure and are taking action when numbers are at threshold and climbing. Look here for more information on threshold levels and when to spray.
There are various diseases and pests to be on the lookout for this summer. Learn more about hot topics this summer in our recent #GrainTalk Farmer Forum.
Wheat
Wheat harvest is at the halfway mark across the province. Moistures range from 14 to 18 per cent. Some fields are being harvested at slightly higher moistures and being dried to limit the chance of sprouts occurring or increasing. It is always a good idea to take a sample into the elevator if there are any questions around quality. Discuss with the potential receiving elevator(s) what options are available if the sample does receive a downgrade.
Click here to review the primary grade determinants table for Eastern Soft Red Wheat.
Some wheat fields around the countryside may appear to have a black, sooty mould on the plant. This is mostly caused by the recent rains and humidity. Fields that were killed by drought or disease may be seeing more of this mould in-field. Generally, this mould should blow out of the combine during harvest although sometimes the mould can infect the grain and cause some quality impacts.
Mildew is also a concern with the weather patterns we have been experiencing. It can develop on mature kernels when there is excess moisture. Mildew damage can, in some cases, warn that sprout damage may be present.
After wheat harvest is a great time to soil sample fields for nutrient content. Soil sampling falls under good 4R nutrient management. View our recent webinar on 4Rs.
If you are struggling with mental health due to the stress brought on by this challenging growing season, please reach out for help.
---
July 16, 2021
TASSEL EMERGENCE IS occurring in the corn crop; if it is not, it will be very shortly in most fields. Pods are forming on soybeans, with fungicide applications occurring in fields that are at risk of white mould. Wheat harvest is underway in some areas across Ontario. Recent weather has certainly thrown a curve ball at harvest for everyone. With delayed harvest through this wet period, farmers are also dealing with lodged wheat slowing down their harvest pace. Continued wet conditions are creating opportune environments for many diseases to take hold in all the crops.
Corn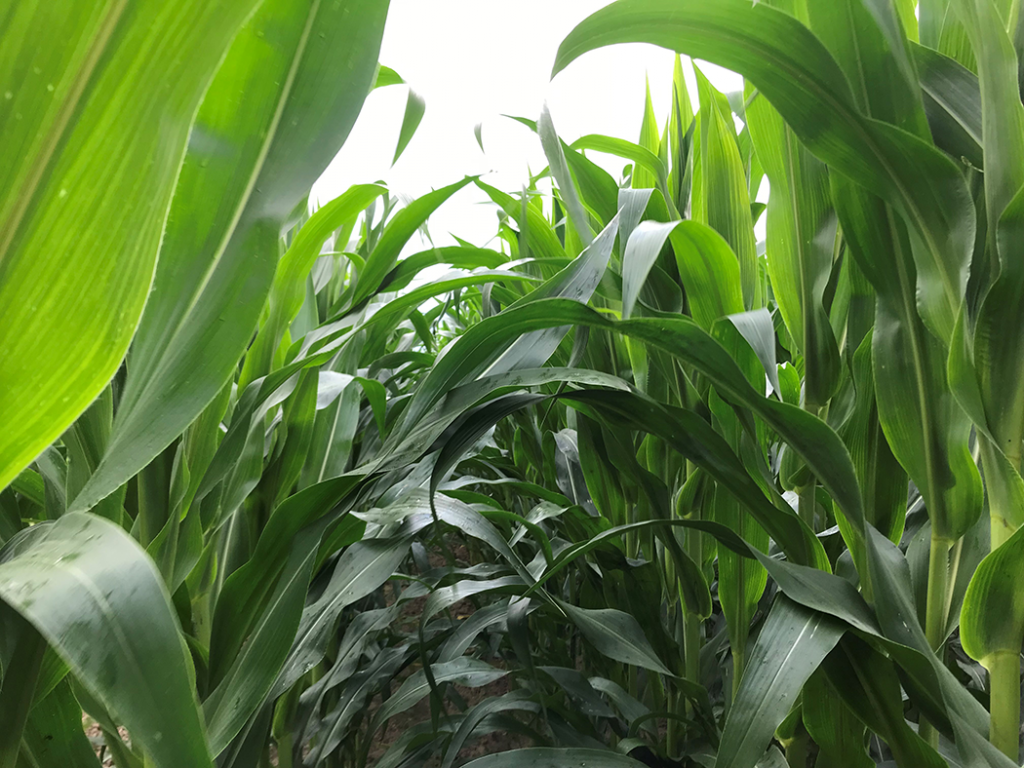 Corn has really jumped in height over the past two weeks. With ample moisture received the corn is stretching out.
Tassel emergence (VT stage) is occurring on the early planted crop, with the majority of acres tasseling over the next week. The silks are emerging a little ahead of pollen shed this year where there is no moisture stress. In drought years, we would see silks emerge just after tasseling as the plant is conserving moisture under stress. This year, we have ample moisture at pollination and will see silks emerge earlier and will be a bit longer as they will keep growing until the pollen grains have made their way down the silk channel to the ovule at which time pollination occurs and silks cease to grow.
Pollen shed from tassels can occur over several days. Pollen shedding is dependent on the environment and the genetics of the corn hybrid. Some plants will shed a little each day for three to five days while other plants (late plants) with smaller tassels may shed quickly in fewer days as they may be under more environmental stress (hotter temperatures and limited water availability, competition).
While you might wish for cool, moist conditions for pollination and grain fill, those same conditions that prolong silk and pollen viability also are the ideal conditions for Gibberella ear rot (aka pink mould) and lead to DON mycotoxin production. Find out more here.
Many different ear disease infections can occur at silking time, as silking is the time when the ear is exposed to pathogens such as Fusarium and Gibberella. Depending on weather conditions and the spores in each field, ear disease development begins at the pollination stage. Infections can also occur from other ear damage from insects, animals, or hail. Which ear disease takes hold will be dependent on what spores are in the field and what weather conditions are ideal for those spores during and after infection. It is all about timing.
Corn, in general is looking exceptional, it is important to keep that potential for high yields high. Fungicides may be applied for plant health and/or for ear health. For the most suspectable situations, farmers will be looking to protect their ears with a fungicide application at the silking time, in an attempt to keep DON levels low. If weather patterns look threatening, or if a highly susceptible variety is being grown, it will be more likely for an application to be made. Refer to label instructions for the best application time to help reduce infection risks.
Along with the heat of the summer comes scouting for corn rootworm. The ideal timing to scout for damage in corn is July until early August. Find out what fields to target first for scouting, what to look for, and what to do if you see damage in this recent Ontario Grain Farmer article.
Soybeans
Soybeans are now in the R2 to R3 stage. The R3 stage is classified as when there is a pod formed that is at least 3/16 inch long (but less than 3/4 inch long) at one of the four uppermost nodes on the main stem with a fully developed leaf. R3 can last anywhere from five to 15 days.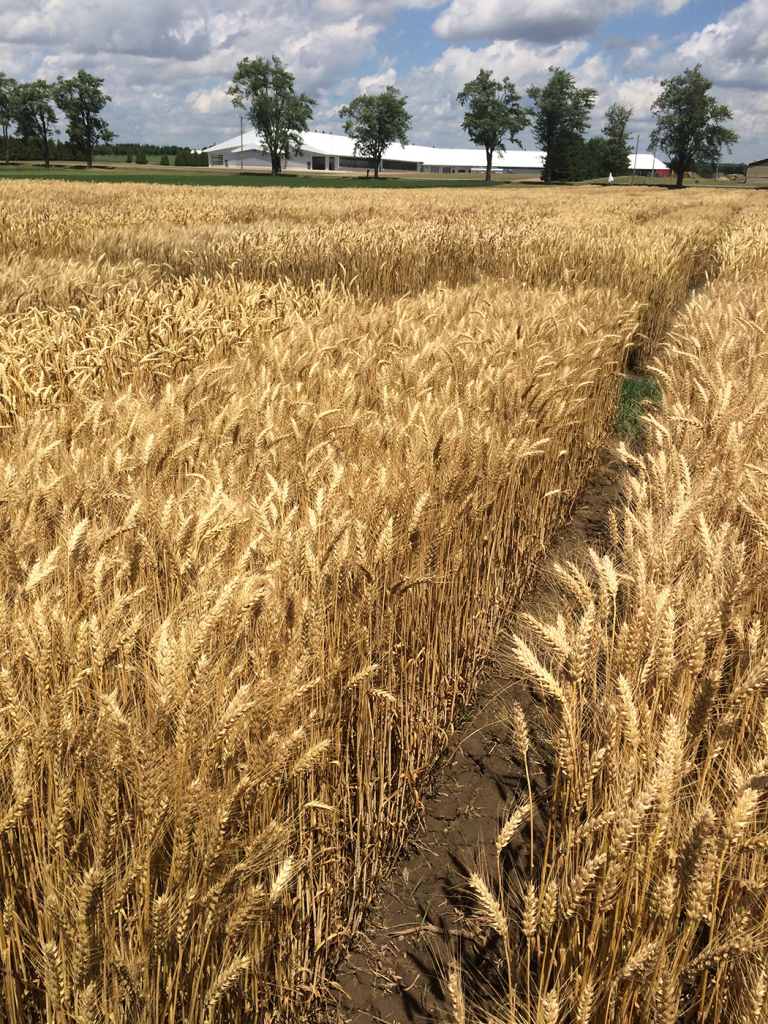 With the heat and moisture, white mould may be forming in some areas. Those who applied a fungicide might see less incidence. Be sure to be on the look out for it in fields, scouting tips can be found here.
Wheat
The end of last week into the beginning of this week saw wheat harvest hit and miss between the rain showers. Moisture levels reported ranged mostly around 15 to 17.5 per cent, with some fields starting around 20 per cent. Yields are good, but there is a threat of test weight losses and yield reduction if this crop sits out in the field too long.
With lots of rain and humidity it is worth taking a walk through your wheat fields that are mature and ready for harvest to look for sprouting and disease pressures and prioritize your harvest to keep the quality good. Separate grain that could lower your wheat grade.
Now is also a great time to be selecting cover crops to plant after wheat harvest is complete. Use the Midwest Cover Crop Selection Tool, which uses research supported by Grain Farmers of Ontario, to help select the best cover crops for your operation.
---
July 9, 2021
WINTER WHEAT HARVEST began in the southwest over the past week. Good yields and quality were reported before the rains started. Lodged wheat will slow down some of the harvest over the coming weeks as it is slower to dry and slower to harvest.
Corn has been growing rapidly with adequate heat and moisture. Early May planted corn at V12 stage has only four more leaves to unroll before the tassel emerges. We will expect to see some tassel emergence and the beginning of pollination within the next two weeks.
Soybeans are at the R1 to R2 stage of flowering with fungicide applications beginning to occur. Crop conditions are variable across the province with some areas looking good and others that received excessive rain.
Corn
Corn will be tasseling over the next couple of weeks. Tasseling marks a shift in the plant from vegetative growth focused on leaf, stalk, and root growth to reproductive growth where the plant focuses on producing grain. Pollen from the tassel will not begin shedding until the tassel is fully emerged, and tassels typically begin releasing pollen roughly two to three days before the silks emerge. The entire tassel does not release pollen all at once, but sheds from different areas of the tassel for several days, ensuring that pollen is available for optimum fertilization via the silks.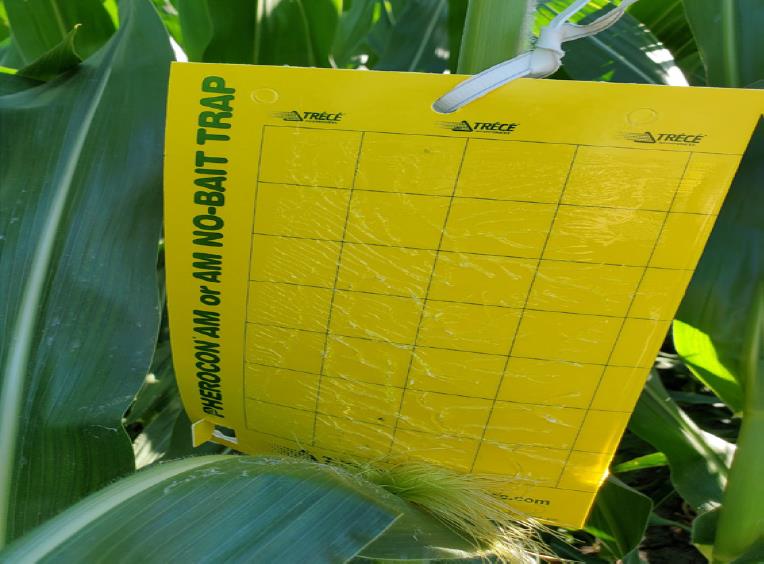 With corn pollination just around the corner, corn rootworm (CRW) traps need to be set out for corn rootworm monitoring. Tracey Baute, field crops entomologist with the Ontario Ministry of Agriculture, Food and Rural Affairs (OMAFRA), is still looking for trap sites, if you are growing corn this year, in particular continuous corn, we are asking that you consider putting up a trap, and monitor that trap, to track potential CRW populations in your fields.
Grain Farmers of Ontario is funding a portion of the traps and traps are free. If you are interested, email tracey.baute@ontario.ca.
For more information on the trapping network and protocols visit here.
For more information on the pest in general, read our Agronomy Alert on corn rootworm Agronomy Alert on Corn rootworm and for a more in depth look at scouting read our recent article.
Tar spot in corn has recently been found in Elgin County. Tar spot is a disease that spreads quickly and can be very detrimental to yields. Farmers need to be vigilant around the discovery and treatment of this disease. In 2020, tar spot was found in Essex, Chatham- Kent, Lambton, and Middlesex. A map with dates of tar spot identification via county is available. These and surrounding counties should be actively scouting for tar spot. For more information on this new to Ontario disease, read our Agronomy Alert.
Soybeans
Soybeans across the province are in the R1 to R2 stage. R2 is full bloom, where there is an open flower on one of the top two nodes on the main stem. Plants will typically stay in the R2 stage for eight to 12 days at which time small pods will begin to form, transitioning the soybean into the R3 stage. In northern Ontario, replanted soybeans are also at the R1-R2 stage but in need of some moisture. In areas that have received excessive rainfall in the past two weeks, signs of wet plant roots are showing as the bottom leaves turn yellow, some areas with newly formed ponds have dead beans. Excessive moisture is creating uneven fields as low areas and compacted areas are not able to achieve proper gas exchange in the root zone. Expect disease pressure to significantly increase in a short time frame.
There are various diseases and pests to be on the lookout for this summer. Learn more about hot topics this summer in our recent GrainTALK Farmer Forum.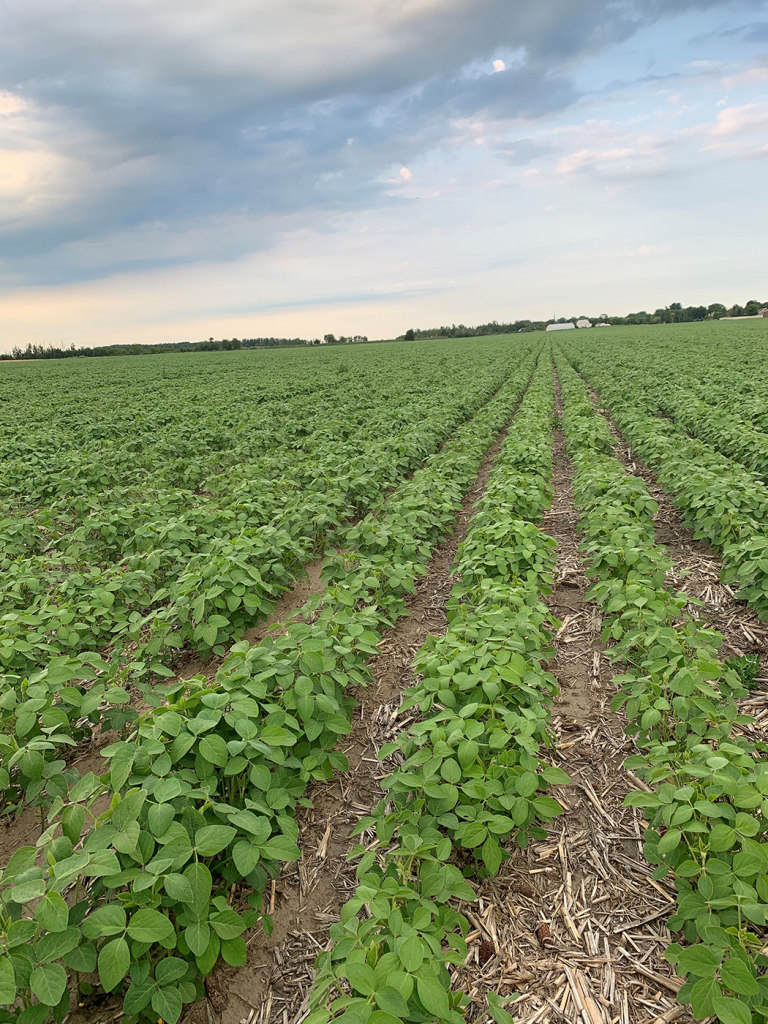 Fungicide applications are occurring or will be shortly if farmers choose to do so. Farmers are applying fungicides to help manage disease and potentially increase crop yield. Many fungicide applications are to help control white mould which can affect the yield of soybeans. Certain varieties are more prone to infection as are fields that were planted early, have a narrow row width, and those that have high plant populations. More information on white mold can be found via the Crop Protection Network, which Grain Farmers of Ontario supports.
Grain Farmers has developed an app with OMAFRA called Pest Manager which allows you to identify, map, and find integrated management options for common weeds, insects, and diseases in corn, soybeans, and cereal crops. Any pesticide use information in the app is specific to Ontario only and users should always read the product label prior to use.
With the early wheat harvest, double crop soybeans are a common conversation in some areas. If aiming for double crop soybeans, seed supply on early season beans will be needed. The date of wheat harvest and the filed location will determine a lot. Aim for seed maturity that is at least one full maturity group shorter but check with your seed dealer on what they suggest and what is available. Seeding rate should be increased to at least a population of 250,000 seeds per acre. Planting date should be considered, looking at frost dates, as the yield potential will drop considerably if soybeans are planted too late; early to mid July planting dates are ideal, be sure that the soybeans are going into good conditions. July 10 is a good date for planting, maybe July 20 in the deep southwest, but it is a large risk at any date; the soybeans might yield, or they might not. The management of straw is critical, be sure to spread straw evenly. If you are considering baling, realize that the time spent baling might keep you out of the field planting for a couple of days. If you do plan on double crop soybeans, plant to moisture- up to 3" in July as they will push through. If there is no moisture at that level aim for 1" planting depth and hope for rain.
The need for weed control in double crop soybeans will be less – in theory one pass would still be needed to control weeds. Most annual weeds emerge during May and June. If double crop soybeans are planted in July, weed pressure should be considerably less. Limit the investment in weed control as the chance for good soybeans is less likely with much relying on the weather cooperating for a good yield and harvest so late in the season.
Cereals
Winter wheat harvest has begun in the southwestern end of the province. In areas that are not quite at harvest, the wheat is still in the grain fill period. Over the past couple of weeks there has been some heavy winds and rains which impacted grain standability, with many wheat fields being impacted in some way, particularly to the north and west of London, either due to the overlap on nitrogen, high fertility fields, or those with varieties with low standability. As harvest approaches, monitor fields closely as the lodged areas are at a greater risk of wet grain and poor grain quality. When harvesting lodged fields, combining in once direction against the wheat can help. It will be time consuming, but worth the commitment. Be sure to adjust combine settings to achieve optimum potential. And make sure bearings are well greased, check bearing temperatures and clean chaff away from moving parts and engines, to limit the chance of combine fires.
If harvest is still awhile away for you, watch this webinar on harvest prep and maximizing your combine's efficiency.
According to the Canadian Drought Monitor as of the end of June, Ontario's main growing regions were rated anywhere from abnormally dry to severe drought. More can be found here.

---
June 25, 2021
IT IS THE tale of two crops in Ontario this week. One region has received timely rains and the crop is looking fantastic, in the other region, missed rains have resulted in the opposite with crops under severe moisture stress. Trouble has been experienced in the dry regions – from wheat fields being burnt off from drought, to limited crop growth as less than one inch of rain has been received in the last seven weeks. The forecasted rain this weekend for these droughted areas will be a welcome relief for the spring seeded crops but a bit late for the winter wheat on porous soils.
Corn
Corn is looking great in areas that received rain. Overall, across the province rain has been very spotty, with some fields showing the imperfections of planting by the lack of rain.
Corn across the province is in the V5-V9 stage. By about the V5/V6 stage (five to six visible leaf collars, or seven to nine full leaves) the tassel is initiated along with the harvestable corn ear. At around the V10 stage, if you remove the leaves from the stalk, including the leaf sheaves, you should be able to see some identifiable ear shoots! Now is the time to not cause any plant stress as it will affect the ear development.
Number of kernel rows are determined on the main ear shortly after V5 to V6. Number of kernel rows is largely driven by plant genetics (maximum row number) but is influenced by the environment.
There have been some reports of sulphur deficiency in corn which are showing up on knolls, etc. A cool spring along with prolonged saturated soils can really slow down the microbial activity and breakdown of soil organic matter which releases sulphur. Sulphur deficiency is characterized by a pale yellowing with veins remaining green on the new leaves on the plant. It might be worth considering future sulphur fertilizer applications on corn fields, similarly to how sulphur is applied to other crops.
Soybeans
Overall, soybean fields are looking good, with some fields canopying. This past week's cooler weather has slowed growth, but soybean plants can be found in the V6 (six trifoliates) to R1 (beginning bloom) stages. Flowering begins on the third to sixth node of the plant and continues up and down the stem, and then to the branches.
Excessive rains in Essex County earlier this week created some water ponding. With excessively wet soils, keep an eye on root diseases, such as rhizoctonia and fusarium, affecting some of these fields. Tolerant varieties should give good defense, but standing water will affect these plants. More information on identifying these two rots can be found here.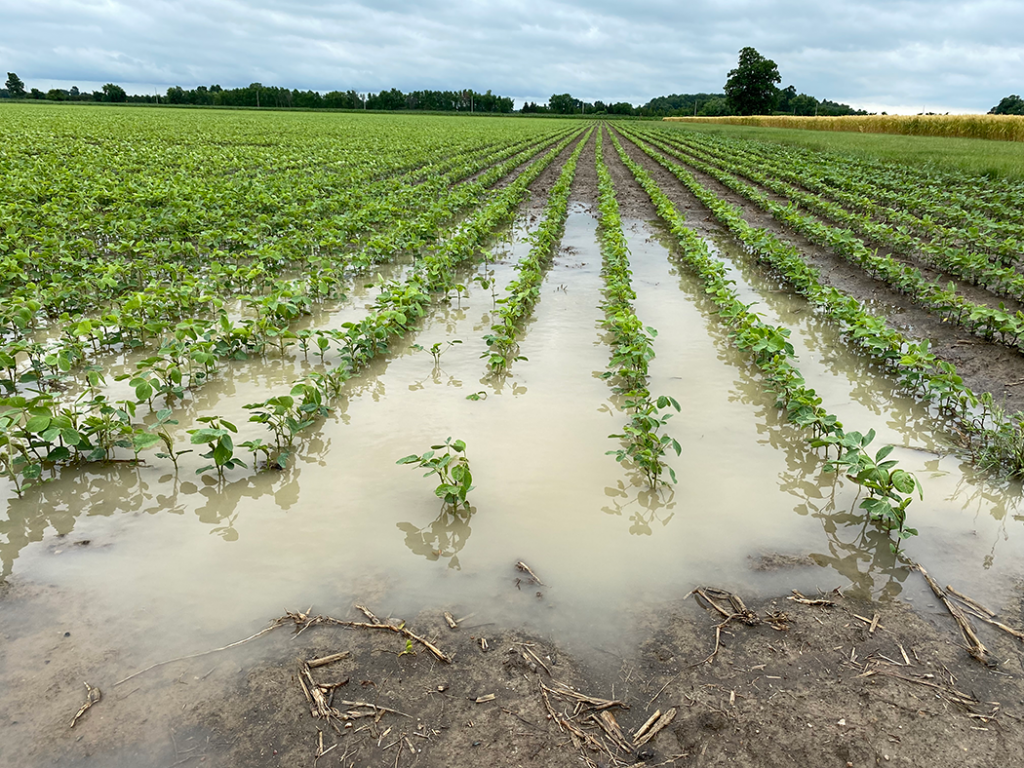 Fungicide timing is approaching for white mould control. The key to getting the most out of fungicide applications is timing. Risks for white mould include the field history, if there is a known history of white mould then the chance of it reoccurring is high.Variety, row spacing, plant density, and how quickly the field will canopy all factor into the likelihood of infection. Weather patterns will also help determine the risk. When it is foggy/humid, and moisture is on the plant most of the day, there will be a higher risk of white mould. The Sporecaster App can help you determine your field's risk level. Fungicides can lower the severity of infection, however timing is critical. Timing of application ranges from R1 (single flower on the main stem) to R3 (pod on the main stem). Be sure to speak with your agronomist for optimum timing and product selection, always follow label recommendations.
Soybean aphids are being found in some areas across the province, currently at low levels. Typically, aphids found earlier in the season will build up populations through the year. Although weather can alter the population, more importantly is the population of beneficial insects such as ladybugs. If you see aphids, also take note of the beneficial insects. The "Aphid Advisor" app is a great resource for identifying if action is needed.
Cereals
Winter barley harvest will begin in the next week or so.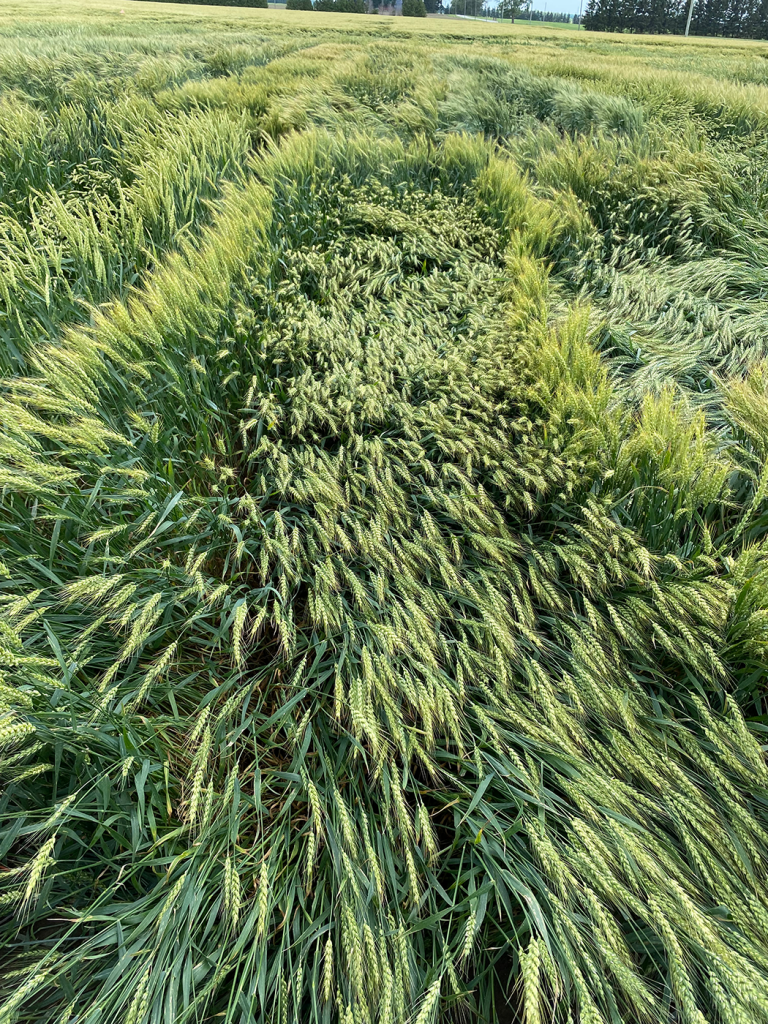 Some lodging in winter wheat fields has been reported this past week due to winds and heavy rain. There are also reports of winter wheat being completely burnt off due to a lack of rain in the Bruce, Grey, and Durham regions. In winter wheat fields that were not sprayed with a T3 fungicide, scouting should be taking place to access levels of fusarium infection in fields. If high rates of infection are noted, harvest those fields first.
Spring cereals are heading out right now. Be sure to scout for stripe rust as it is showing up in some fields. Be sure to keep an eye out for it in your field, be aware of pre-harvest intervals if spraying is warranted.

Cereal leaf beetles are being found in fields. If you do see cereal leaf beetles, the Ontario Ministry of Agriculture, Food, and Rural Affairs (OMAFRA) is asking that you collect them for their survey. More information can be found here.
Cereal aphids are also being found which can cause barley yellow dwarf in wheat. You can use the Cereal Aphid Manage App to help with your decision on whether to take action. Be on the look out for these as you are scouting.
Tours of the Ontario Cereal Crops Committee earlier this week in Zone 1 showed that we have great potential in this year's crop in this region. Learnings from the trials showed that the earlier planted trials show greatest potential. The later planted locations showed less heads and lower overall plant stands. At the Woodslee site, fusarium was noted and we were able to see the difference in genetics as well as the fungicide applied with intensive management compared to the unsprayed. In Zone 1 trials, heavy rains and winds also played with the wheat sending a few varieties closer to the ground. Interesting data will be coming out of the trials this year, with maybe some yield breakers as the rain came just in the nick of time for this zone. •