Cropside: Angled sprays
AGRONOMIC INFORMATION FROM ONTARIO'S CROP SPECIALISTS
WHEN T3 WHEAT rears its head, the first rainy day brings questions about spray angles. Let's begin with a graphic that illustrates how angled sprays cover a vertical target like a wheat head (Figure 1.). Assuming moderate wind and sufficiently large droplets, this is a simplified depiction of what we would expect to see.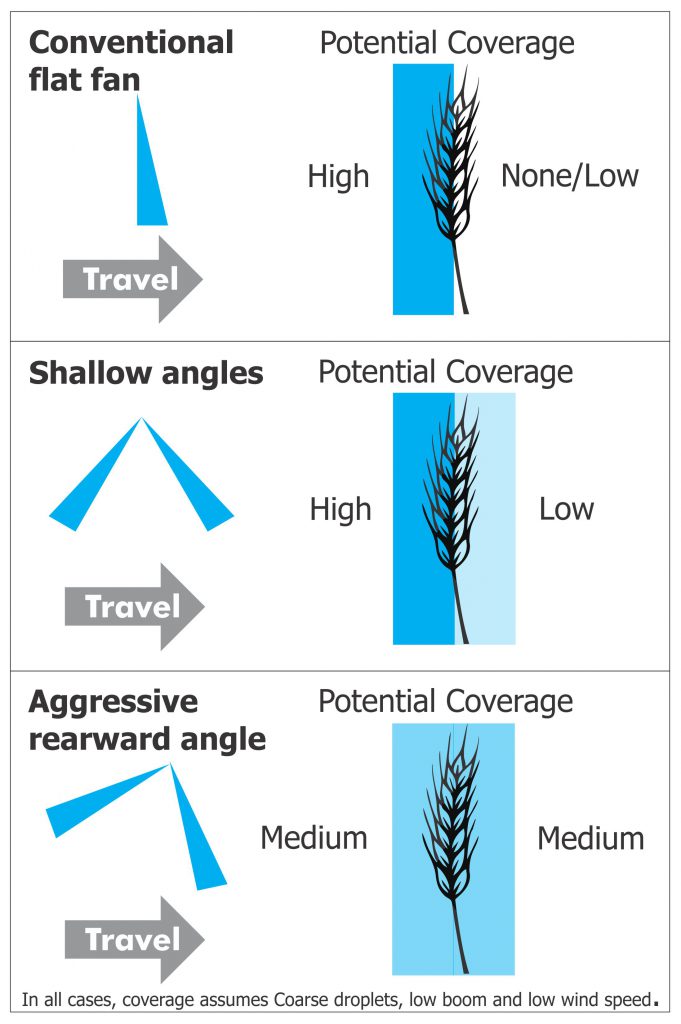 Hitting the sprayer-approach side is pretty easy since spray droplets already move along a forward vector with the direction of travel (Imagine dropping a ball while driving — it travels forward as well as downward). It's the aggressive rear-facing angle that helps hit the sprayer-retreat side.
But what else factors in? Research in Saskatchewan and Ontario have given us some solid guidelines for how to get the most out of angled sprays in wheat.
Higher volumes improve coverage (significantly up to ~200 L/ha or 20 gpa). Can you go to 30 gpa? Yes, and it will likely improve coverage, but it's a diminishing return and at some point you will incur run-off.
When using angled sprays, coarser droplets improve vertical coverage. Compared to finer droplets, they move faster, survive longer (i.e. resist evaporation) and are less likely to be deflected by wind.
Maintaining the lowest operable boom height improves coverage from angled sprays. We want 100 per cent overlap at target height, and with angled sprays that means getting pretty close. Aim for the highest wheat heads and not the tillers. If you're two feet away, you're likely too high.
Symmetrical fans with shallow angles (e.g. 30°) improve coverage uniformity on vertical targets versus single fans, and a steeper backward-facing angle (e.g. 70°) improves coverage even more on the sprayer-retreat side.
Travel speed may or may not affect coverage, but slower speeds do facilitate lower booms, which do improve coverage.
Angled sprays may offer some advantage in other situations, but they are primarily intended for panoramic coverage of vertical targets. •