Creative persuasion
THE NEXT APPROACH FOR PROMOTING FARM SAFETY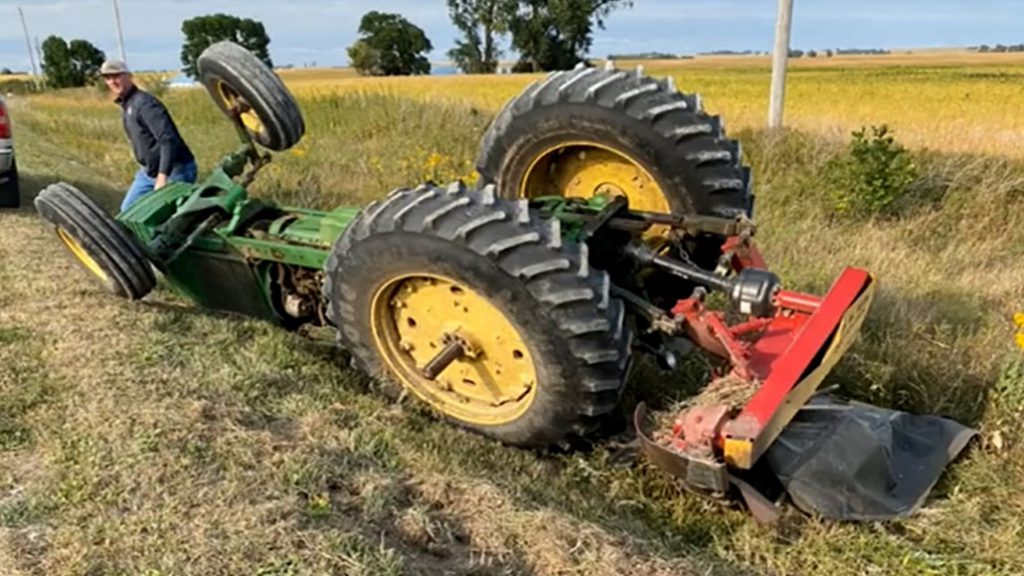 THE MAIN REASON to practice farm safety closely parallels the incentive to get vaccinated against COVID-19… basically, the alternative to either can be deadly. Yet some people's belief that the cure is worse than the condition has slowed the acceptance of both.
But despite initial reluctance, public health policy officials saw a big change this year in vaccine uptake. In the U.S., for example, 23 per cent of people said they wouldn't get vaccinated — but as the year went on, about one-quarter of them changed their minds.
Persuasive approaches such as social marketing and contemporary social media tools, such as TikTok, are being credited for this turnaround. Can the same techniques be used to amplify farm safety messages and decrease farm injuries and fatalities?
Dr. Aaron Yoder, a farm safety expert at the University of Nebraska Medical Center, Central States Center for Agricultural Safety and Health, says changing basic behaviour is where change begins. He notes how social marketing campaigns helped sway the court of public opinion in the past, such as stop smoking and wear seatbelts.
He says for farm safety, behavioural change may actually start with those at arm's length, such as farm families, rather than farmers themselves.
"We see it with children receiving messages at school and elsewhere about problems such as alcohol and drug abuse, and bringing it home to parents," he says. "The kids talk about the perils to their parents and help promote a change in their basic behaviour."
Showing how families are affected by poor farm safety behaviour should be easy.
DEADLY STATISTICS
In the U.S., about 27 out of 100,000 farmers die every year on the job. Farmers are eight times more likely to have an occupational fatality than the average American worker. In any state with an agricultural economy, 20 to 30 deaths can be expected each year.
Most farm deaths are tractor related. In Canada, of the top 10 mechanical-related farm deaths, the top three are tractor related: rollovers, runovers, and being pinned by equipment.
The same goes for the U.S.. There, tractor side and back rollovers account for almost 100 deaths a year. One in seven farmers who survive a tractor rollover will be disabled. Statistics there also show that seven out of 10 farms will go out of business within five years of a tractor overturn fatality.
"Just look at the financial side of a farm injury," says Yoder. "There's the romantic notion of neighbours chipping in at harvest to help get a crop off when a producer is injured, but it doesn't go on forever."
ROLLOVERS
Harvest season is when farm safety advocates on both sides of the border step up farm safety messaging. Farmers are particularly susceptible to harm from rollovers — often caused by underpowered machines towing loads beyond their capacity and tipping front to back — when they are spending so much time on their machinery.
But harvest is only part of the picture. In Canada, 85 per cent of rollovers are sideways rollovers, caused by working on a steep grade or hitting a bump. Both Yoder and Rob Gobeil, agricultural health and safety specialist with the Canadian Agricultural Safety Association, have the same advice for farmers: that is, think before engaging with machinery.
For example, Gobeil urges knowing the tipping point and centre of gravity to discourage front to back tip overs. Avoid unsafe hitching practices, he says. Keep the load as low as possible…and use the right machine for the job.
"Just looking at some of the older tractors, especially the ones with close set front wheels, you can tell they're tippy," he says.
And it's unlikely they are outfitted or retrofitted with modern safety equipment, such as seat belts, seat sensors, safety switches, and rollbars. The National Tractor Safety Coalition says that rollover protection structures (ROPS), in conjunction with seat belts, are 99 per cent effective in preventing injury or death in the event of a rollover (without a seat belt, the effectiveness drops to 70 per cent).
However, half of all U.S. tractors do not have ROPS.
SAFETY MEASURES
That's one reason Yoder and Gobeil are bullish on modern technology that improves safety, or cutting-edge approaches that take farmers out of harm's way, such as autonomous vehicles and drones. For their part, farmers flock to new technology when they can. Equipment sales are strong this year because overall commodity prices are high and machinery replacement is overdue. The Association for Equipment Manufacturers says new equipment is being snapped up with great enthusiasm, and that this trend is likely to continue through 2021.
However, in many cases, old machinery is not being totally withdrawn from service. Instead, says Yoder, it's being relegated to secondary duty, such as maintenance, instead of production. That means instead of performing tasks in broad, flat fields, it is now being used in steep ditches or hills for cutting grass and similar chores.
And typically, those jobs are being done by less experienced or more at-risk operators — the young, or the old.
But what are farmers to do? With staffing being such a huge problem on modern farms, operators tend to spend more time in the driver's seat. And when a crop needs to come off or be significantly downgraded in quality, operating time increases along with stress and other mental health issues.
Gobeil urges farmers to plan ahead for such peak times. Get enough sleep, be aware of what you are eating and drinking and — this is key, he says — stay alert. In the event of a tip over, for example, you only have about five seconds to react. Distractions can be deadly.
And even though labour is hard to come by, perhaps you can enlist someone else's services to spell you off for a while, he suggests. Even then, though, you still need to be aware of potential problems. "You are knowledgeable about operating your own machine," he says, "but the other guy you hire might not know it as well," he says.
Farm machinery isn't the only extra caution at harvest time. Yoder says that as grain operations have grown and on-farm storage has increased, more farmers are handling their grain and experiencing the challenges that come along with it.
Such situations have been accurately and dramatically documented in the movie SILO, about a teenage farm worker who becomes the victim of grain silo entrapment. SILO has become a rallying force for grain handling safety and, with its release in theatres this year — including its IMAX debut in Indianapolis in August, at the world's largest firefighter convention — it has helped advance discussions about a plethora of rural and farm issues, including mental health.
Yoder is hopeful such creative, new approaches such as SILO and TikTok (where a farmer's recent rollover experience was documented by his daughter) will help farm safety messages reach new audiences in new ways. Some persuasion is needed, perhaps in the same way vaccine reluctance turned around. A study released in July by the Kaiser Family Foundation found three factors were key to changing vaccination hesitancy: repeated advice from trusted authorities such as medical professionals, acceptance by peers, and the realization that avoiding vaccination prevented people from doing the things they want to do.
The same goes for farm safety. Professionals preach it, others practice it, and avoiding it can stop farmers from doing most, if not all, of the things they want to do.
BASF SAFETY SCOUTS
Canadian Agricultural Injury Reporting says 84 Canadian children and youth lost their lives due to agriculture-related injuries between 2006 and 2015. To promote greater farm safety with children, in early July BASF Canada Agricultural Solutions, with support from the Canadian Agricultural Safety Association (CASA), launched a program called BASF Safety Scouts.
The program provides participants with a free safety vest and toolkit designed to make them what BASF calls safety scouts. The kit contains safety-themed activity and colouring sheets, a customizable name badge, and a membership certificate declaring them official BASF Safety Scouts.
Nicole McAuley, head of communications and public affairs at BASF Canada Agricultural Solutions, says the company is focused on raising awareness about farm safety "in a fun, educational way, by bringing this program to farming families across Canada…. the BASF Safety Scouts program aims to engage the next generation and ensure a safe, bright future for Canadian agriculture."
Registration is available through the Kid's Safety Hub on CASA's website. Go to the 'For Kids' page under the 'Resources' tab at www.casa-acsa.ca. •