Quality check
A NEW CHIEF GRAIN INSPECTOR FOR CANADA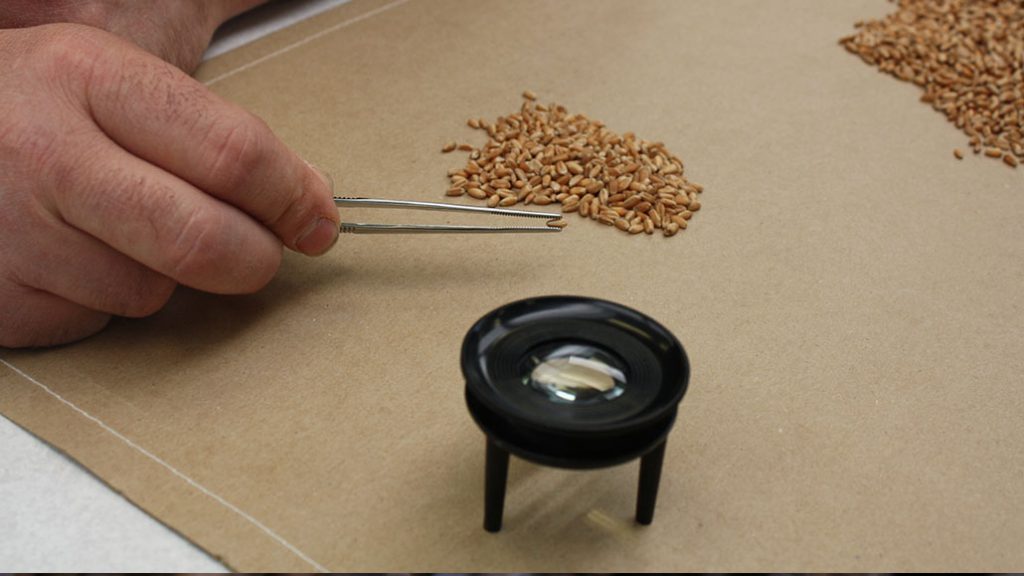 THOSE WHO FOLLOW successive appointments of Chief Grain Inspector for Canada should be well pleased with the recent appointment of Derek Bunkowsky. He was appointed to the position in late June, after Gino Castonguay, who held the post since 2017.
The position of Chief Grain Inspector for Canada is an important one at the Canadian Grain Commission (CGC) and is one of the only positions specified in the Canada Grain Act. In this role, Bunkowsky leads the CGC inspection program efforts to ensure Canada's grain quality assurance system functions effectively for the grain industry in Canada, and for customers of Canadian grain around the world.
Bunkowsky brings with him a broad knowledge of the grain sector, going all the way back to his childhood. "I was raised on a grain farm about 45 kilometres southwest of Winnipeg and was very active from a very young age on the farm for over 35 years," he says. "I attended the University of Manitoba studying agriculture, majored in agronomy, and worked in the private grain trade for seven years after graduation."
It was 2001 that Bunkowsky first started at CGC, at that time as an assistant grain inspector. He then moved up through the various levels of inspector to finally reach the top this year.
"Through all those years, I gained a lot of experience in grain grading and the various industry related issues," he says. "I've developed many collaborative relationships with industry stakeholders which will assist me in managing the various grain quality and market access issues that affect this sector."
CURRENT AND FUTURE GOALS
As Chief Grain Inspector, Bunkowsky is tasked with ensuring all aspects of the national inspection program are running smoothly. For Ontario, one of his highest priorities is to clarify and streamline the dispute resolution process for farmers and grain handlers.
"Ontario is unique in that, depending on the grain, different mechanisms are in place to resolve disputes and I want to clarify what processes are to be used depending on the commodity," he explains. "We receive numerous calls from Ontario producers every year who are unsure what to do in the event of a grade dispute at delivery. I also want to encourage Ontario producers and grain handlers that the CGC should be the entity that grades any disputed grain deliveries in Ontario. I would like to move the industry in that direction."
Bunkowsky notes that CGC grading results are binding in disputed delivery samples in western Canada, they are not in eastern Canada under the current Canada Grain Act. "However, CGC is identified as the grader in some codes of practice in Ontario," he says. "That's a good starting point."
CGC has created a working group to review this matter and implementation.
GROWING THE HARVEST SAMPLE PROGRAM
Bunkowsky also looks forward to working with the Eastern and Western Standards Committee members to ensure Canadian Standards of grain are as relevant as possible for both farmers, handlers, and end users. He will meet with these Committees twice a year as is the norm. The Eastern Committee includes representatives from Grain Farmers of Ontario, the Ontario Agri-business Association, and other eastern Canada producer and handler organizations.
The work of the Standards Committees to adjust grade standards to reflect the needs of buyers and give direction for end-use functionality research is also informed by results of the CGC's Harvest Sample Program. It is a free, voluntary program (see sidebar) that provides farmers with information on the quality of their grain so they can make better marketing decisions — and CGC wants to grow the program in Eastern Canada.
The program now includes DON testing for corn, wheat, and barley. "DON is not a statutory grading factor, it's typically a contract specification, but it's important for producers to know their DON levels for their own farm management purposes," Bunkowsky explains. "We hope that more growers in Ontario, Quebec, and the Maritimes will take part."
OTHER DEVELOPMENTS
Ontario, along with the rest of Eastern Canada, has been exempt from Variety Declarations but that exemption will end in July 2022. The declaration signifies for each grain variety exported that it is a registered variety in Canada, and it is a standard practice around the world that protects quality assurance. It has been in use in Western Canada for some time, notes Bunkowsky, and under the Canada-United States-Mexico Agreement (CUSMA), it now must be used here from coast to coast. CGC has created a working group to ensure the implementation of this requirement goes smoothly in Eastern Canada.
Bunkowsky would also like to remind farmers that as of August 1, 2021, reductions to export inspection and weighing fees will take effect. The CGC fee structure is based on export volumes, and producers pay it indirectly through the company that exports their grain.
Recently, export volumes have been higher than expected and due to the associated higher volumes of fees that have been collected, the CGC is now in a budget surplus. It has therefore moved quickly to reduce fees accordingly.
"Starting in August and for the next three years, the fee will be reduced from $1.48 per tonne to $1.05 per tonne, which will result in a savings of $13.8 million for producers this crop year," says Bunkowsky.
Looking forward, Bunkowsky will support the continued development and potential adoption of new technologies to improve grain grading accuracy for the sector. He notes that in recent years, the development and use of digital image prints of standard samples has been a very effective tool for CGC and industry inspectors.
In addition, Bunkowsky will continue the efficient response to any feedback received from customers about Canadian grain. "We take any concerns from Canada's grain customers to heart," he says, "and will use it to examine how we might change assessment of certain quality parameters so that the industry grows stronger."
PARTICIPATING IN THE HARVEST SAMPLE PROGRAM
Upon signing up, each year farmers will receive a Harvest Sample kit that contains envelopes for sending in crop samples. At no cost, they will receive the following results that can be used in grain marketing:
Unofficial grade (unofficial because samples aren't collected by a Canadian Grain Commission inspector)
Dockage assessment on canola
Protein content on barley, beans, chickpeas, lentils, oats, peas and wheat
Oil, protein and chlorophyll content for canola
Oil and protein content and iodine value for flaxseed
Oil and protein for mustard seed and soybeans
Falling number for wheat and rye
Vomitoxin (deoxynivalenol or DON) levels for wheat, corn, and barley
Samples should be mailed in as soon as you finish harvesting your crop. Samples are accepted until November 30. Results are delivered by email within 20 business days from sample acceptance or they can be accessed through an online CGC account.