The price of corn
HANDLING A YEAR OF MARKET VOLATILITY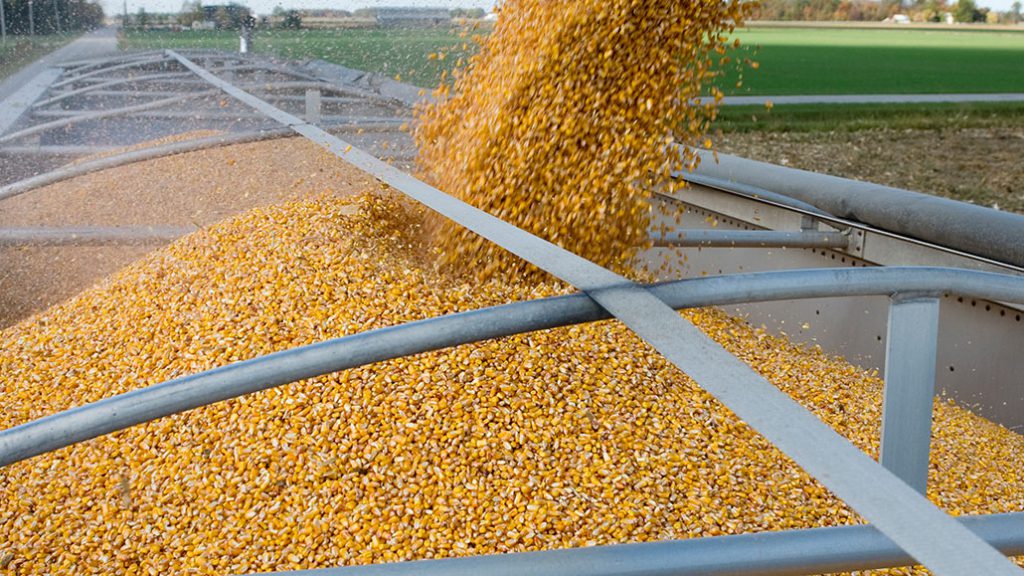 WHEN HIS FAMILY is figuring out how much of their corn crop they are selling and when to sell it, Alain Goubau says their golden rule is to sell in increments.
"We lead with having enough to feed the herd," he says. Generally, they forward sell about 20 to 25 per cent of the crop and let themselves get comfortable with whether they have a good crop, and if all goes well, they may forward sell more and more over the summer.
La Gantoise is a 2,000 acre dairy operation with a 1,000 head herd, 600 of which are milkers. It is located in the Ottawa Valley where Goubau, his brother and sister, and their dad put about 35 to 40 per cent of their land into corn and the rest is mostly soybeans, cereals, and replacement forage crop.
Since they have no on-farm storage for grain corn, they have to be more careful in their planning and timing of deliveries.
"As we roll into harvest period, we're usually at about two-thirds sold," he says. At the beginning of July 2021, they were like a lot of other farmers and had more aggressively forward sold.
BUMPY RIDE FOR CORN PRICES
In 2020, the pandemic threw a bit of a spanner in the system, with supply disruptions and a lot of uncertainty around how the economy was going to react.
"Generally, in June, it's about the best time to price new crop grain," says Philip Shaw, a grain farmer, long-time commodity market commentator, and agricultural economist. "But last year, corn was really low at $3.88 on the futures market."
He said the Chinese incrementally increased their grain purchases over the year, so prices went up pretty much every day until May 2021. This, combined with a short U.S. corn supply drove prices higher, but not to record levels, like they were in 2012 when they hit $8.49.
The March 30 United States Department of Agriculture (USDA) quarterly report on prospective plantings and grain stocks were bullish for corn at 91.1 million acres.
"Expectations for planting were well below market expectations, so from there, we saw prices skyrocket," says Scott Krakar, a grain merchandiser with London Agricultural Commodities Inc.
Krakar also pointed out the decline in ethanol processing early in the pandemic in some regions of North America.
"While it's come back now, ethanol production was definitely down," he says, adding that it was offset by increased Chinese purchases — which he attributed to needing feed for rebuilding their hog herd after being hit by African Swine Fever.
INFLUENCERS
During the spring, corn prices bounced around quite a bit. According to Farm Market News, in early May 2021, the Chatham-Kent new crop price hit a high water mark of $7.37/bushel and the old crop price went over $9/bushel. Within a little more than two weeks, the new crop price had dropped to $6.16 based on better weather in the U.S. and rumours of China cancelling old crop purchases. By June 10, it had recovered to $7.17/bushel with droughty weather predicted for the U.S. midwest. By the end of June, the price was back down to $6.19 based on predictions of rainier weather in the Midwest.
The next USDA report was issued on June 30 and while the acres planted were two per cent higher than last year, they were still lower at 92.7 million acres than the 93.7 million acres the market expected, so corn prices immediately went up by 38 cents/bushel.
Shaw says that the non-commercial side of the market also bumped up this price. Managed funds that invest in commodities drive prices up and down based on computer algorithms that are pre-programmed to react in certain ways based on the news that comes out of reports.
Both Shaw and Krakar note that the Brazilian second corn crop wasn't doing well, because it was held up due to a late, rainy soybean harvest. Dry weather and then frost plagued the corn crop, which helped boost prices as well.
As of the beginning of July, 38 per cent of the U.S. corn crop was in a drought situation. Market watchers began focusing on the weather, what it would do to the crop, and how it would affect ending stocks.
"We're not expecting record yields from the U.S.," says Krakar, who cautions that July is when corn is pollinated, and drought has a much larger effect during this critical stage than later in the season.
Krakar added that most of Ontario's crop looked to be off to a great start, and was optimistic for good yields coupled with decent prices for the harvest as a result of weather issues elsewhere. •