Soybean market recap
A YEAR IN REVIEW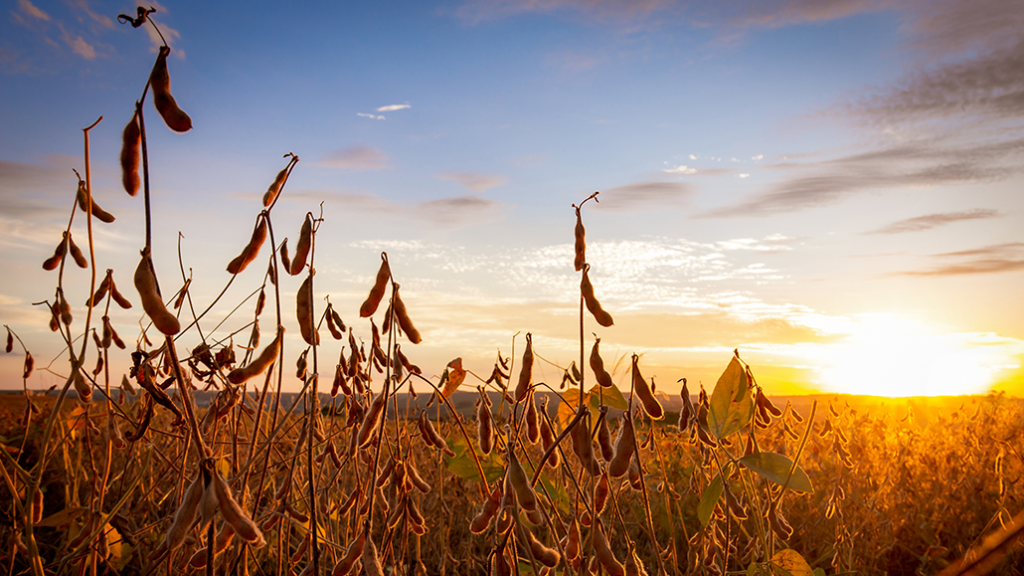 SOYBEANS WERE MAKING headlines one year ago, and not just in the farm papers. Prices surged in late fall and continued to rally after the calendar turned to 2021. Now, the market has seen a reversal, but prices remain strong in comparison to historic levels.
Hannah Simpson, grain originator at Snobelen Farms, describes the market factors at play in late 2020 as a perfect storm.
"There were yield decreases in the U.S. crop and Chinese demand picked up significantly, which skyrocketed soybean prices," she says.
BULLISH TRENDS
2020 was a year of unique events around the world and the soybean market followed suit by bucking most seasonal trends. Grain Farmers of Ontario's market trends report, written by Philip Shaw, on December 14, 2020, read: "As combines rolled into October and November, we saw some of the highest grain prices since 2013. Essentially, grain prices were high when they should have been low."
Bullish demand carried on into early 2021. When the United States Department of Agriculture (USDA) estimated soybean acres at 87.6 million in the prospective plantings report in March, prices continued to rise.
"We anticipated big acres because of the high prices so when less acres were forecasted, it acted as a surprise to the market and pushed prices farther along," says Simpson.
SHIFTS IN 2021
Jeff Stonehouse, soybean division manager at The Andersons, says the picture began to change in the springtime. "South America's crop was seemingly getting bigger and at the same time we saw Chinese demand getting weaker, so prices started to decrease from the highs," he says.
Price drops were also due to the fact that soybean planting and growing conditions were good and there were no major weather scares. When the USDA released greater stock numbers than expected in September, another drop-off occurred.
"All year we've been talking about how tight the soybean crop was and how we didn't have the extra stocks," says Simpson. "The confirmation that it's not as tight as we thought gave prices a kick down."
Hurricane Ida, the Category 4 Atlantic hurricane that made landfall in Louisiana in August 2021, impacted fall exports as it damaged some of the ports where North American soybeans typically flow through.
"The hurricane has taken some of the ability to ship offline and that switched over to South America," says Stonehouse. "It is unlikely that the U.S. is going to make up the shipments that were missed so I think we are seeing stocks rebound, which is bearish to Chicago prices."
As 2021 comes to a close, he predicts a continuing downward trend but reminds farmers that prices are still strong. "I wouldn't say prices are poor or negative; they're just not where they were six months and one year ago."
FUTURE OUTLOOK
Looking ahead to 2022, Simpson says the Brazilian soybean crop will likely dominate headlines through March. December and January are key growing periods in Brazil and soybean harvest begins in February.
"Since Brazil is the largest soybean producing country in the world, we pay close attention to their crop," says Simpson. "In general, we do see some ups and downs in the market during their critical growing period."
Simpson and Stonehouse agree that Chinese demand will remain a key factor in price direction. They will continue to monitor China's appetite for grain as well as any shifts in the country's overall economy.
The USDA is expected to release the prospective plantings report again in March, which can set the tone for the spring.
"Corn inputs are getting much more expensive as fertilizer prices have come up," says Simpson. "Oftentimes this would cause soybean acres to increase but the U.S. can't afford to lose too many corn acres so it will be interesting to see how that affects both markets."
Given the drought impact on Canadian canola yields this past year, Stonehouse adds that canola may be another crop that influences soybean prices.
Bigger picture, renewable diesel is likely to continue to be a hot topic. While U.S. production capacity is expected to increase significantly, the timing of new plant construction is unknown.
"The faster some of these new plants come on, the more demand there will be for soybeans and soybean oil," says Stonehouse. "It's definitely a story to pay attention to because it will have a big impact on prices."
The opinions expressed in this article are those of the commentators. •