Cover Crops in Ontario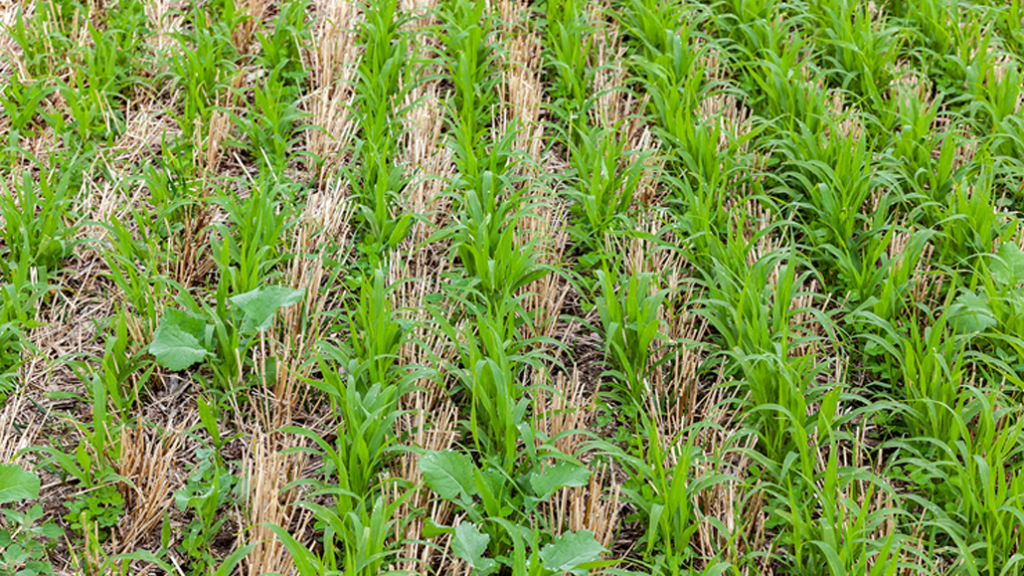 THE ONTARIO COVER Crop Steering Committee recently set out to learn more about how and why Ontario farmers are using cover crops in their fields.
The 2020 Ontario Cover Crop Feedback Report was developed with assistance from Callum Morrison and Dr. Yvonne Lawley of the University of Manitoba. Farmers were asked to answer questions relating to the benefits and challenges they have experienced and their needs for research and knowledge transfer. Farmers were also asked to provide input on best management practices (BMPs) to inform policy makers wanting information to design conservation programs to meet environmental targets.
For this project, it was important to hear from farmers that currently grow cover crops along with those who do not. More than 700 farmers participated in the request for feedback from across Ontario. Of those who grew cover crops (520 farmers), it was reported that 107,900 acres of cover crops were grown across almost every county in Ontario. 211 farmers did not grow a cover crop in 2020.
BENEFITS AND CHALLENGES
Morrison says the feedback report indicates farmers who grow cover crops see a positive impact on their fields — 91 per cent have observed at least one benefit:
improved soil health (68%)
less erosion (59%)
increased soil organic matter (57%)
"More than three quarters of farms that responded observed benefits within three years of adopting cover crops," notes Morrison.
Common challenges to adopting cover crops included:
poor establishment (30%)
late grain harvest preventing cover crop planting (27%)
additional cost (25%)
"Despite these challenges, only four per cent of respondents who grew cover crops reported that cover crops resulted in a drop in their farm net profit. Another 31 per cent of farms identified that they saw an increase in farm profit, and 37 per cent identified that cover crops resulted in no change to their profit. A substantial proportion (28 per cent) of respondents were not able to identify the affect of cover crops on farm net profit."
BARRIERS
What would it take to increase the usage of cover crops on farms that do not currently grow them? Of the farmer respondents that did not grow cover crops in 2020, Morrison highlights that, "farmers identified financial incentives as a potential method for enabling continued use of cover crops on their farm."
Incentives recommended by farmers included:
tax credits for planting cover crops (53%)
payments for storing carbon (43%)
payments from conservation programs (36%)
"Technical assistance (40 per cent), greater access to information on cover crop agronomy (29 per cent), more research specific to local areas (26 per cent) and to soil types (20 per cent), as well as local farm tours (16 per cent) and the creation of local networks of cover croppers (11 per cent) were identified as common methods to enable cover crop adoption among farmers that did not grow a cover crop in 2020," says Morrison.
When looking at farmers who did not grow cover crops in 2020, the report indicates that 52 per cent had not grown a cover crop before but wanted to try in the future, nine per cent had never grown and did not want to try, and 39 per cent had grown a cover crop in a previous year but not in 2020.
These farms identified additional costs (41 per cent), lack of equipment (36 percent), late grain harvest preventing cover crop planting (29 per cent), not knowing where to start (24 per cent), and the shortness of the growing season (23 per cent) as being the most common challenges limiting cover crop adoption in Ontario.
The members of the Ontario Cover Crop Steering Committee will share the information compiled in the 2020 Ontario Cover Crop Feedback Report to farmers, agronomists, researchers, policy makers, and government organizations that will play an important role in the future of cover crop usage in Ontario.
For more information on the Ontario Cover Crop Action Plan and to read the full 2020 Ontario Cover Crop Feedback Report, go to https://gfo.ca/agronomy/soil-leadership/. A recorded webinar with Morrison and his advisor Dr. Yvonne Lawley is also available.
Ontario Cover Crop Steering Committee Members: Certified Crop Advisor Association, Conservation Ontario, Ecological Farmers Association of Ontario, Grain Farmers of Ontario (committee chair), Innovative Farmers Association of Ontario, Ontario Agri-Business Association, Ontario Federation of Agriculture, Ontario Fruit and Vegetable Growers Association, Ontario Soil and Crop Improvement Association, Soils @ Guelph Committee Resource; Ontario Ministry of Agriculture, Food and Rural Affairs.
COVER CROP RESOURCES
Midwest Cover Crop Tool: Ontario specific information from regional research that allows users to search out ideal cover crops for their area https://mccc.msu.edu/covercroptool/.
Ontario Soil Network: Farmer to farmer networking across the province through virtual and in-person events https://ontariosoil.net/ .
Certified Crop Advisors and agronomists: These professionals can provide suggestions on where to start and what to consider when adding cover crops to your fields.