Farming in a war zone
UKRAINIAN FARMERS FACE CHALLENGES HEAD-ON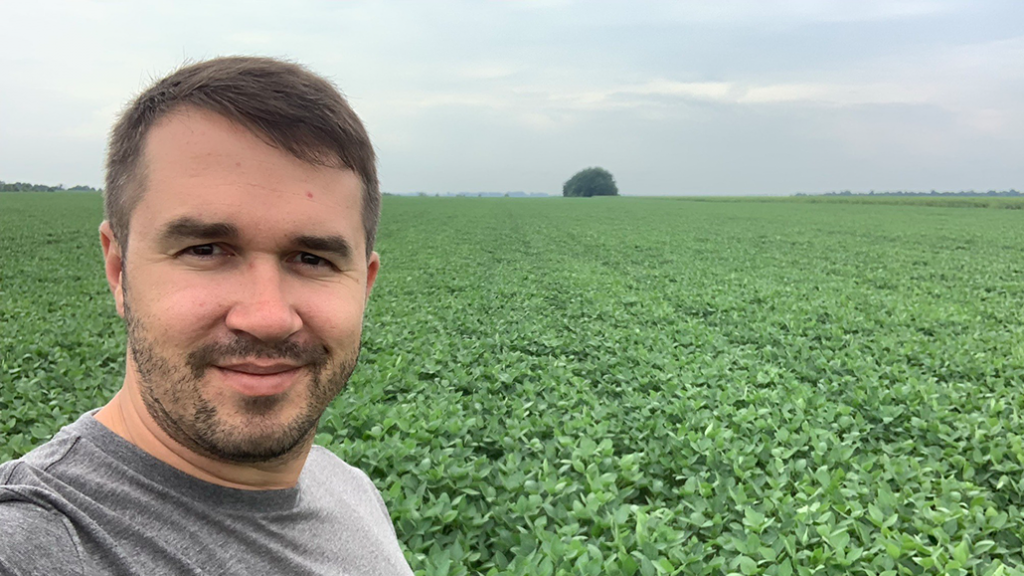 WHEN THE UKRAINE-RUSSIA crisis began at the end of February, Russia's actions took the world by surprise. Reactions came swift and hard as countries around the world imposed economic sanctions against Russia. Ripples of those actions have been felt by farmers across the globe. Grain exports have slowed, and commodity prices have climbed, causing the cost of feeding livestock in some countries to rise to unsustainable highs. The cost of energy, fertilizer and food has also skyrocketed, and economies worldwide grapple with record inflation. War has been particularly tough on Ukraine farmers, who struggle to plant crops and care for their animals.
Roman Gorobets manages nearly 5,500 acres in the Poltava region in Ukraine near Kremenchuk city, growing sunflowers, corn, winter wheat, soybeans, spring barley, and chickpeas. While there have been no battles on his farmland, fighting is just 15 km away. In early April, Gorobets walked his fields, and using a drone, he collected debris from missiles. The debris is large enough to seriously damage a tractor. It acts as a reminder that farming in the region is still risky business, as do the daily airstrike warnings, which force him and his workers underground.
Gorobets is one of the luckier farmers in the region — he had secured seed and inputs before the war. The biggest challenge Gorobets faces is not being able to sell grain. Crushing plants are closed, and soy oil refineries are blocked. All major seaports are blocked by Russian troops, he says. Even if the ports were open, moving grain would still be challenging. There's a shortage of drivers — most men went to fight the war — and the shipping costs have skyrocketed as drivers have to transport through high-risk zones.
While grain prices are high on the global market, they are very low domestically. Gorobets has grain storage facilities, but he's concerned about his sunflower crop, which can only be stored until June. After that, quality will diminish rapidly, he says.
Liquidity is another major issue Ukrainian farmers face. Inability to sell crops means income is low at best. He says the banks will not issue loans while the country is at war.
Gorobets says he's grateful he can plant. "If we didn't get all the inputs before the war, we would have a way worse situation."
AIRSTRIKES DELAY PLANTING
Oleh Zahorodnii is in a similar situation. Zahorodnii is the chief agronomist of a large agricultural company, Agro Expert, a supplier of seeds, fertilizers, plant protection products, and machinery. The company also cultivates nearly 2,500 acres in the region of Vinnytsia in the heart of Ukraine. While there is no fighting in the region, his days are also disrupted by airstrike sirens, forcing workers underground.
Zahorodnii owns a small farm in the Chernihiv region where he grows corn, soybeans, wheat, and medicinal plants. The farm is in a war zone, which means planting season was slow to start, especially since the region is heavily laid with mines.
"There are already many cases when people and equipment are blown up," he says.
While Zahorodnii had no problems stocking up on seed and inputs — working for a major distributor has its benefits — fertilizer, particularly nitrogen, and fuel are hard to come by. This could impact yields, he says.
On the company farm, planting began in April. "We had to slightly reduce the area under spring barley and corn, increasing the area under sunflower precisely because of problems with corn exports," he says.
"Ukraine currently has huge stocks of products that were to be exported, but due to blocked ports, it is impossible," he adds. "Traders buy almost nothing."
Some grain can be transported into Europe via rail, but the infrastructure isn't designed for shipping significant volumes. He says that Ukrainian farmers will not have access to working capital without the ability to sell grain.
Zahorodnii believes as much as 40 per cent of farmland will not be sown.
"Much of it needs demining," he says. "Farmers are also trying to sow in the occupied territories, but in most cases, this is not possible."
FUNDING IS AN ISSUE
Yan Ostrovskyy farms 270 acres in the Mykolaiv region in southern Ukraine. He grows corn, sunflowers, wheat, and organic vegetables and berries. Although he did not flee the region when the war started, Ostrovskyy could not work on the farm for over a month. Airstrike alarms forced workers underground, disrupting work.
"Although there are no life losses in our town, we are close to combat operations as well as to air and rocket attack locations where we can also observe civilian damages and deaths," he says.
Ostrovskyy managed to purchase seed, fertilizer, and fuel for his grain crops before the war started. Vegetable production will be difficult, though, as supply chains are blocked, and many supply warehouses were destroyed in attacks. Irrigation and mulching materials are difficult to secure, he says.
Like his fellow farmers, Ostrovskyy is also short on funds.
"Some of our buyers' warehouses and stores in Kyiv region were destroyed, so they cannot pay their debts to us," he says. "Banks also closed overdraft limits because we are in red zone with a high risk of occupation and combatant actions."
"Still, despite all these challenges, we are optimistic," he concludes. "We will work and find all necessary solutions, we will have a successful season, and we will win the war." l
GLOBAL IMPACTS
Ukrainian farmers aren't the only ones impacted by the war. In Nigeria, poultry producer and founder of Dynamic Farms Akosile Oluwaseun Ayomide is worried about food security. Nigeria is a mass importer of foods, spending $600 million on food items from the U.S. alone. The country has tried to ramp up domestic production, but supply is still well below demand. Before the war, poultry producers faced many challenges, including inefficient management, disease and parasite infections, poor quality day-old chicks, and insufficient extension and training facilities. However, the cost of feed has been the biggest obstacle to success, says Ayomide.
"Feeding accounts for 70 per cent of the cost of raising poultry birds, and one of the biggest challenges Nigerian farmers encounter is the scarcity of feed raw materials," he says. "The price of maize and soybeans, which are the critical components of chicken feed, has skyrocketed, posing a significant challenge to the sector."
According to the United Nations Food and Agricultural Organization (FAO), six West African countries, including Nigeria, import 30¬–50 per cent of their wheat from Russia and Ukraine. Rising fertilizer and energy costs make growing grain challenging as well.
"The federal government of Nigeria's ban on the importation of maize and its continuing insecurity, makes it impossible for farmers to access their fields, has resulted in a scarcity of maize and soya beans, which are the critical components of chicken feed," says Ayomide. "Due to this limitation, farmers find it difficult to obtain the feed required for efficient chicken production."
In Europe, Katrien D'hooghe, Belgian Feed Association managing director, says livestock farmers are also greatly concerned about feed shortages and the rising feed cost. Corn and sunflower byproducts are particularly difficult to source. While looking for alternative suppliers, European legislation, particularly around GM crops and pesticides, makes sourcing grain more challenging. In the meantime, rising feed and fuel costs are pricing many of Belgium's livestock producers out of the market.
"It makes you very well aware that food security is not certain," says D'hooghe. "We operate in a world market. Self-sufficiency, in reality, at the moment, is not possible. It's a vulnerability." •