Growing leaders
ASA CORTEVA AGRISCIENCE YOUNG LEADERS PROGRAM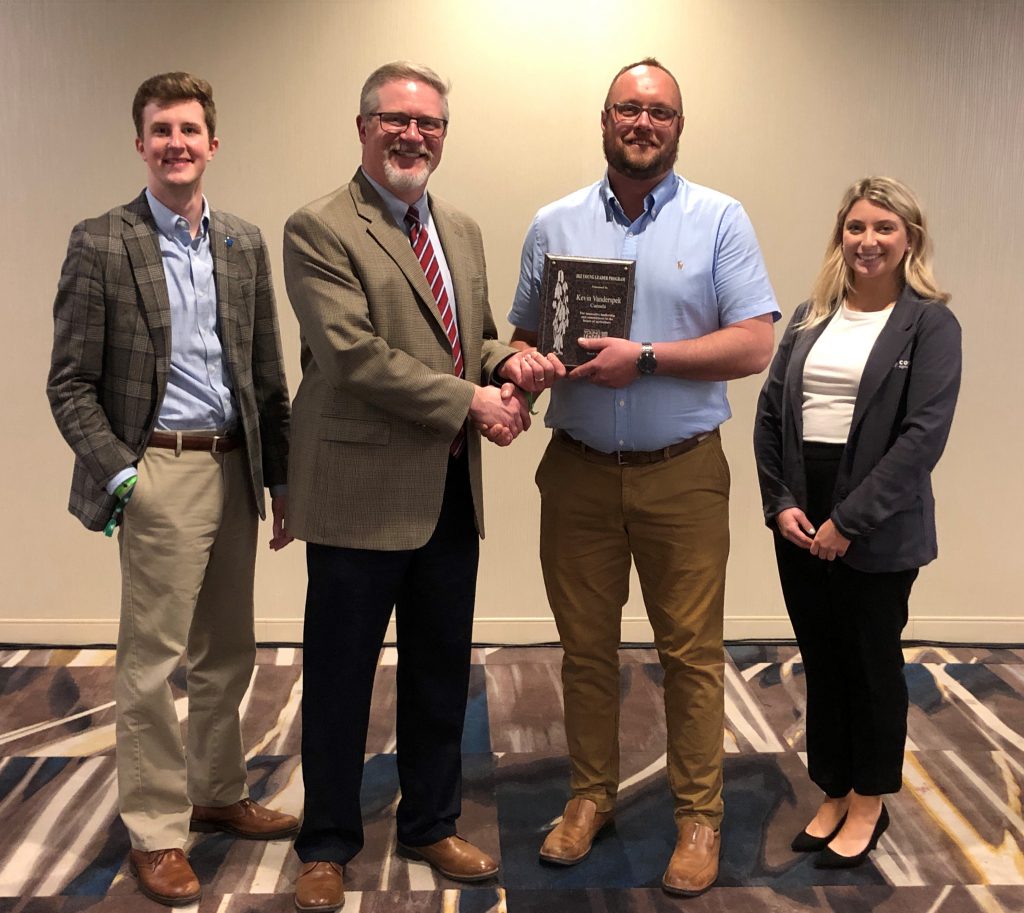 "There is a point in your farming career when you might have to take your coveralls off and put a suit on, whether you feel comfortable or not."

That is one of the main thoughts Kevin Vander Spek was left with after completing the American Soybean Association Corteva Agriscience Young Leader Program. The Cayuga farmer is a delegate for Grain Farmers of Ontario District 6 (Haldimand, Brant, Hamilton, Niagara) and the Ontario participant in the 2022 Class of Young Leaders.

The program provides training for actively farming couples or individuals who are passionate about the future of agriculture.

"Leaders need to be forward-thinking, visionary, and focus on the team behind you. They really focused on some of those qualities," says Vander Spek.
GETTING STARTED
The 2022 class of Young Leaders first met in November 2021 at Corteva headquarters in Johnston, Iowa. There, Vander Spek learned more about the work of the ASA, participated in media and public speaking training, and toured Corteva's plant breeding program.

"It is visionary work. They are dealing with genetics they hope to roll out 30 years from now. It just really grounded you and put in perspective that they are not just thinking about next year. It is a long-term commitment," says Vander Spek.

The program's first phase was also an opportunity to begin forming lasting relationships with the other participants. Vander Spek was the only Canadian, but he found common ground with the farmers from the Mid-West and Eastern U.S.

"The networking and the friendships that were built out of this, I don't think anyone can prepare you for that. It's a bit tougher for me, being in Ontario, I won't see the other participants at other meetings and events as much as they will. But they were a good group – I still converse daily with them," says Vander Spek. "The program facilitator does a great job of making sure you build these relationships and go forward with them."
COMMODITY CLASSIC EXPERIENCE
The program's second phase was held in conjunction with the Commodity Classic in New Orleans in March 2022. It featured conversations with ASA leaders who shared their own experiences as participants of the program. Vander Spek was struck by the commitment these farmers put into leading their organization – spending more days away from the farm than on it in some years. And it gave him an appreciation for the important role farmers need to play in directing the groups that represent them. It solidified his interest in becoming more engaged with organizations such as Grain Farmers of Ontario, the Ontario Federation of Agriculture, and the Christian Farmers Federation of Ontario.

While at the Commodity Classic, Vander Spek was also able to join members of Grain Farmers of Ontario's Board of Directors and senior staff for their meetings with U.S. counterparts at the National Corn Growers Association and the ASA.

"The ASA Corteva Agriscience Young Leader Program has been invaluable in terms of identifying new leaders for the soybean industry," says Brad Doyle, ASA president and Young Leader Class of '09. "The program provides growers with skills and experience that enhance their leadership skills and a strong peer network. The program isn't specific for young people but is designed for those who are new or "young" leaders, and I can tell you firsthand that is an impactful learning experience."
APPLICATIONS ARE NOW OPEN
Grain Farmers of Ontario is seeking new applicants for the ASA Corteva Agriscience Young Leader program. One soybean farming couple or individual will be selected as the Ontario representative for the Class of 2023. Training takes place in Iowa in November 2022 and in conjunction with the Commodity Classic in March 2023.

"I would encourage anyone thinking about it to reach out," says Vander Spek. "It's a great opportunity."

Applications will open in early June at www.soygrowers.com. For more information on the application process, contact Rachel Telford, manager of Member Relations for Grain Farmers of Ontario, at rtelford@gfo.ca. •