We find a way
FROM THE CEO'S DESK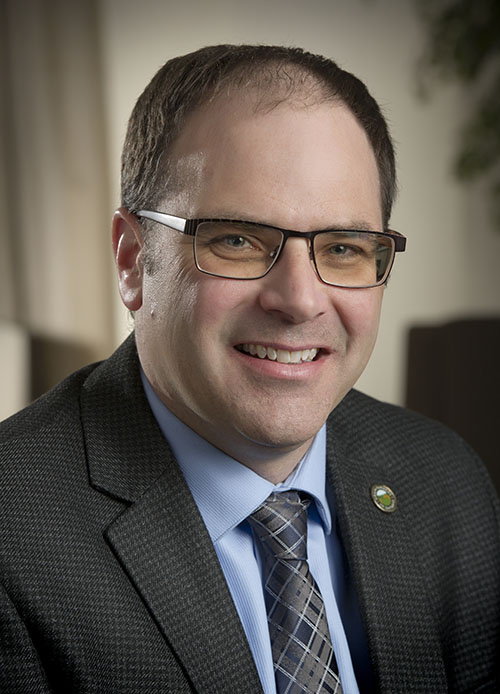 THE GLOBAL AGRI-FOOD sector is interconnected throughout the supply chain — and this has become even more apparent in the past two years as the COVID-19 crisis has impacted every facet of agricultural and food production worldwide. The global pandemic has affected primary production, trade, labour supply, and international travel, negatively impacting farmers, processors, retailers, and consumers.
As public health restrictions started to ease in Ontario in early 2022, Grain Farmers of Ontario was optimistic about Canada's gradual return to what only could be described as a post-pandemic "new normal." With a great deal of planning, including many different contingency scenarios, we set out to host the first March Classic since 2019 after having to cancel the event just days after the global pandemic was declared in March 2020 and hosting a virtual March Classic in 2021.
The annual event returned as the premier agricultural event in Ontario — drawing more than 500 people from across the province. There was a heightened sense of excitement in the air as farmer-members, industry, and government officials met, many for the first time in two years, to celebrate Ontario agriculture and the work of Grain Farmers of Ontario. The event featured guest speakers, including the Honourable Jody Wilson-Raybould, Orlondo "Coach O" Steinauer of the Hamilton Tiger-Cats, international guests Secretary Sonny Perdue, former U.S. secretary of agriculture, and Tyne Morgan, host of U.S. Farm Report. In a live taping of the program, Tyne hosted a panel session featuring Canadian and American experts, including Perdue, Al Mussel of the Canadian Agri-Food Policy Institute, and Bailey Elchinger of the StoneX Group.
While there was much to celebrate at the March Classic — including Grain Farmers of Ontario's tenth milestone anniversary, delayed since 2020 — the recent Russian invasion of Ukraine was on everyone's mind. With millions of refugees fleeing the conflict and reports of death and destruction on the news, the war has exacerbated an already fragile international agri-food supply chain and threatened global food security.
The impacts of the war in Ukraine are being felt all across the globe. Ontario farmers are faced with shortages of much-needed fertilizer and rocketing input prices, increased fuel costs, and uncertain markets. But we know that now, more than ever, our efforts to produce grains used for food and fuel domestically and globally are vitally important. Ontario's farmers are showing resiliency in the face of uncertainty and great risk.
As Brendan Byrne, chair of the Grain Farmers of Ontario Board of Directors, said at the 2022 March Classic, even in times of great difficulty, like a global pandemic or an international crisis caused by war, "we find a way." Grain Farmers of Ontario, and our farmer-members, will "find a way" to mitigate the impacts of the global challenges we face. •