Field observations
SUMMER 2022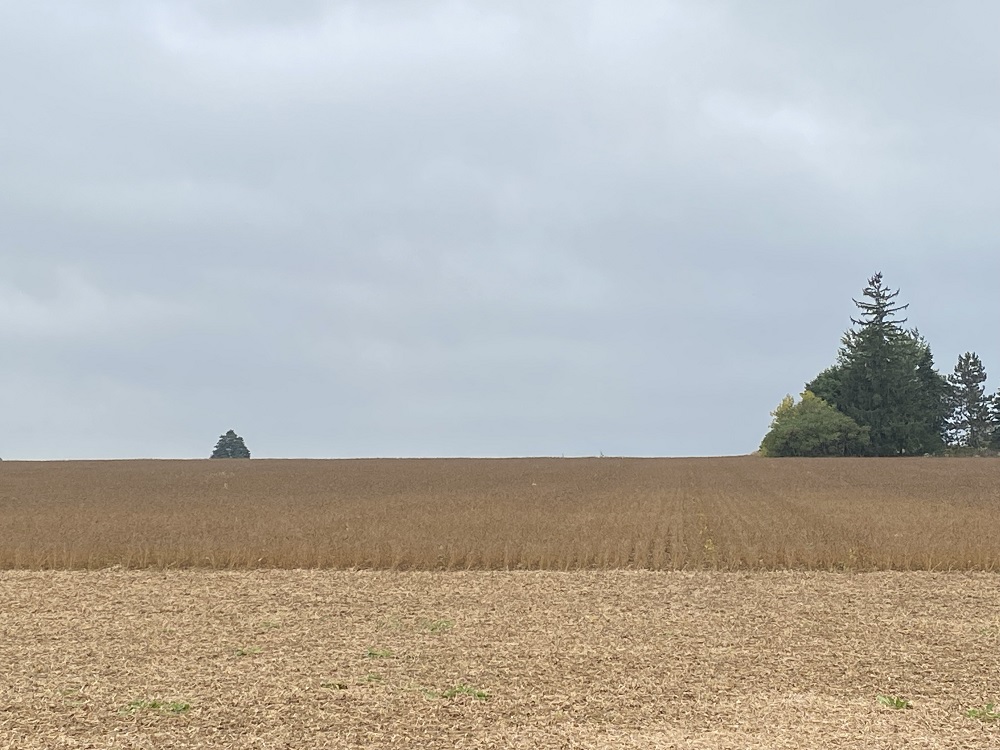 September 20, 2022
A busy week is ahead for soybean harvesting, as weather allows across the province. Winter wheat planting will follow. Roughly 5 to 10 per cent of the soybean harvest has been completed province-wide.
Corn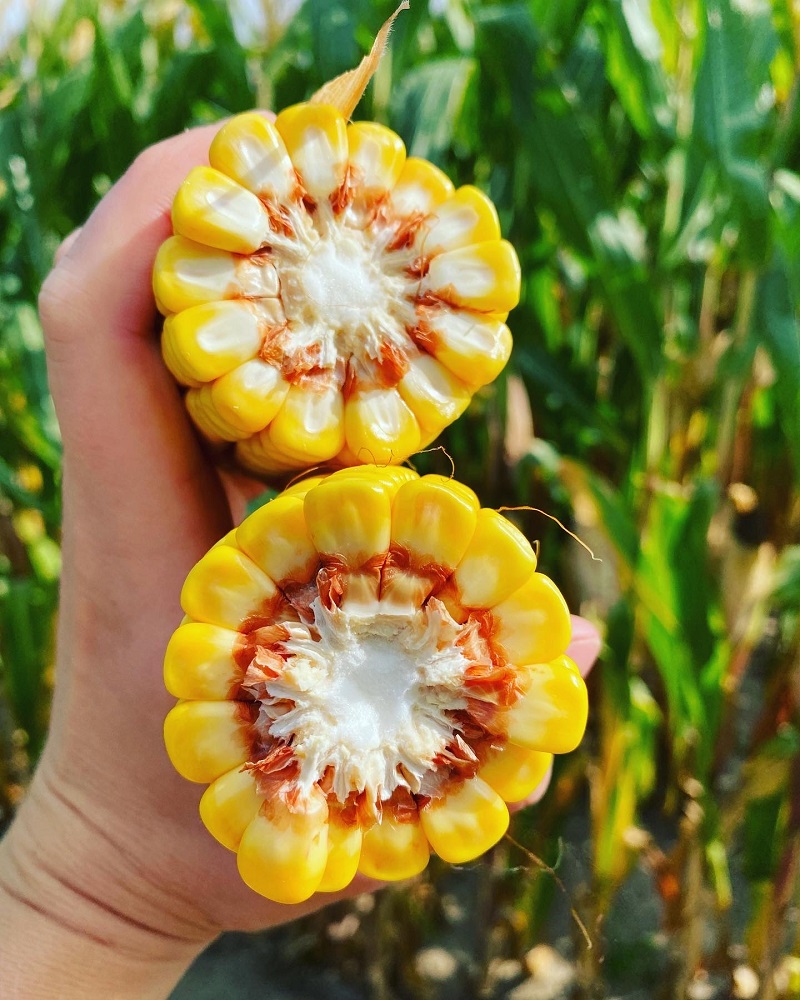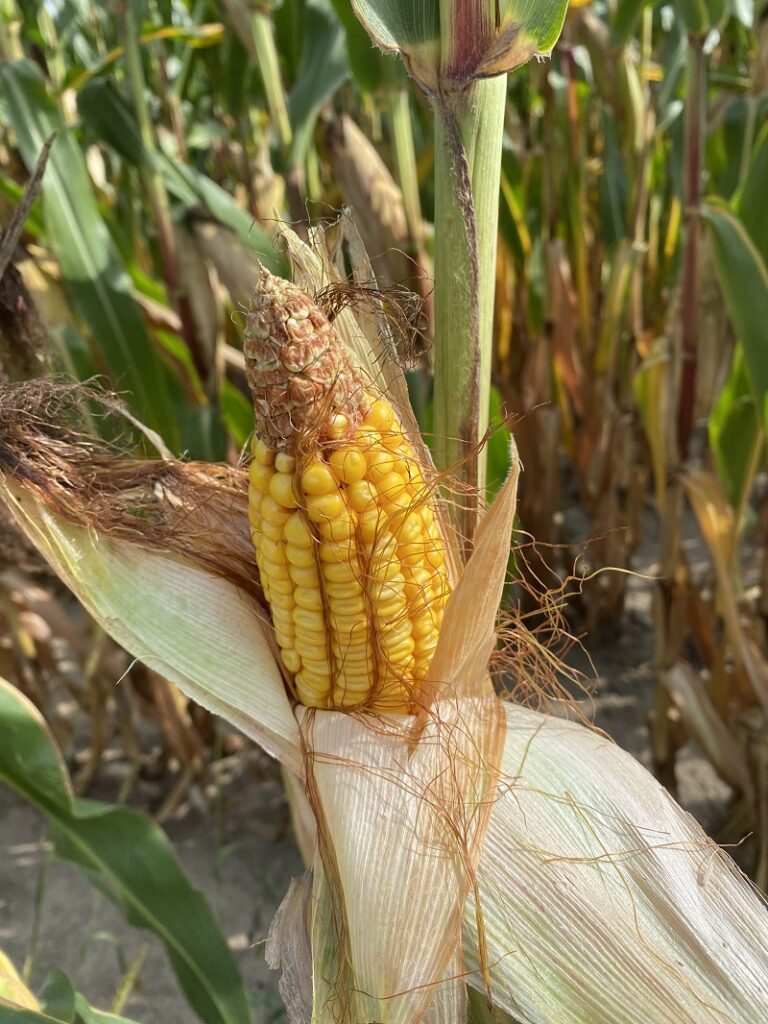 Some corn has hit black layer, which is physiological maturity. Black layer seals the kernel from further development or an increase in kernel weight. The kernel moisture content at black layer formation usually ranges from 30 per cent to 35 per cent. Other corn is still about ½ to ¾ milk line as it moves towards black layer.
Overall, a dry year has created less disease pressure in the field. Tar spot has been detected but not at levels previously seen, and the later appearance will have less impact on yield.
Corn silage harvesting is occurring.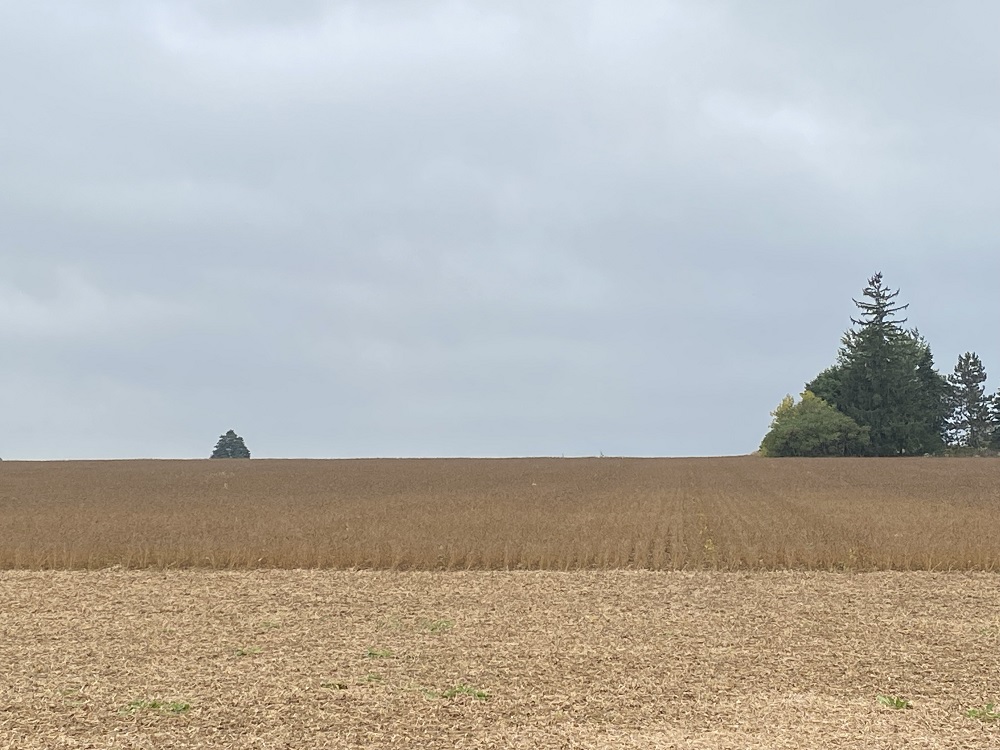 Soybeans
Soybean harvest has begun and will continue as weather allows for the next few weeks across the province. So far, yields are average, and moistures are dry or close to dry in areas with adequate rainfall throughout the year. Below average yields are being seen on ground with late spring replants, low moisture and/or insect pressure.
Cereals
With soybean harvest occurring, winter wheat planting is following right behind at an ideal time to help the early establishment of the wheat crop. Conditions look good, and with the few showers that passed through recently, the wheat crop should be off to a great start this fall. A reminder that the Ontario Cereal Crops Committee trial results are now available.
Much of the crop's yield is determined at planting. Planting early, at the right population and planting depth is the start to optimum yields. A consistent seed depth into moisture allows for even emergence. Planting depth is important to ensure root development in the ground for nutrient uptake and to help anchor the plant, preventing heaving during the spring thaw. Usually, a planting depth of 1.5 inches is ideal in heavy soil. Deeper seed placement can help emergence if the soil is dry or loose to be placed in moisture for rapid germination.
Seeding rates of 1.2 to 2 million seeds per acre are the norm based on planting date, soil type, and variety. Lower populations are seen for earlier planting, loamy soils and tall varieties. Later planting times for individual areas, heavy soil, and shorter varieties benefit from higher seeding rates to keep plant densities higher. As the planting season gets later, seeding rates should be increased to raise the plant density and potential stem numbers next spring, as tillering may be reduced due to late planting.
---
September 13, 2022
Soybean harvest has begun in some regions of the province; in the coming weeks, it will ramp up as weather allows. Corn is black layering in some areas where drought has hit, while many fields are in the milk line stage and moving towards black layer over the next two weeks.
Corn
Corn in some areas has reached black layer. However, many areas of the province are still moving towards maturity (black layer). The area of the province where the field is located will determine how advanced it is. Variation in maturity could be caused by many different factors like the maturity of the hybrid, planting date, and disease pressure, but this year's rainfall, or rather the lack of it, combined with heat stress, has caused many areas to move quickly to maturity. Regions with low rainfall amounts have a more progressive milk line in the kernel than those that have received ample rain. If the warm weather keeps up, black layer will be reached in no time across the province, and it will help with grain dry down as fall progresses. Healthy corn plants will help finish plants showing 50 to 80 per cent milk line kernels. Really good kernel depth and hard, dense starch packed into the kernel will add kernel weight to maintain maximum yield potential in this field.
If corn plants die prematurely due to frost, drought, or disease, yield loss could be possible (depending on the time of plant death), and test weights may be affected. Corn plants that die prematurely before true black layer (milk line at 100 per cent) can have concerns with grain dry down as grain does not have the abscissions layer to block migration of moisture in the kernel. Rubber cobs and rewetting of grain in wet weather could lead to harvest headaches. Droughted corn will also have concerns about the aborted kernels, and many chaffy kernels will be blown out of the combines if combines are set up properly.
Soybeans
Harvest has just started this past week for some early season varieties of soybeans. Later season varieties will follow in the coming weeks as yellowing and leaf drop is occurring quickly, with the September heat moving the crop to maturity quickly.
If aiming for a preharvest burndown, spray at the correct timing for the plant stage. Remember all pre-harvest intervals, use the right desiccant, and keep water volumes up. Proper water volumes assist with efficacy.
As harvest begins, remember that now is the time to establish a suitable seedbed for winter wheat planting- spreading chaff evenly, not rutting up fields, and a weed-free field are some of the keys to successful wheat growing.
Cereals
Spring cereal harvest is wrapping up in the province's northern regions, as weather allows.
As we approach winter wheat planting, be sure to look at the recently updated Ontario Cereal Crops Committee (OCCC) trial data.
In preparation for planting, there are a few things to keep in mind as you evaluate the data. Evaluating yield data for test plot locations close to where you will plant is important. Luckily, the OCCC has several locations across the province to assist with this. Ideally, it is best to plant more than one variety. Selecting early and late maturities can spread the risk of weather and disease-related issues.
Some things to consider when looking at potential varieties.
Yield – the number-one trait to consider when selecting varieties.
Fusarium head blight (FHB) resistance- FHB is a profit-robbing disease. Available varieties have a wide range of susceptibility to FHB. If not using fungicides, select the most FHB-resistant varieties available. A valuable tool is to look at the managed vs. unmanaged trials. Be sure to know how to manage wheat for the best possible yields.
Standability – As harvest nears, the talk turns to standability. Lodging can reduce yield, quality, and cause headaches at harvest when picking wheat off the ground. If applying high N rates/manure, consider a shorter variety or the use of a plant growth regulator.
Seed size – Make sure to know your seed size and adjust the drill or planter to plant to the correct target population.
Seed Quality – Do a germination test to make sure you know what quality of the seed you are planting and make adjustments if the germination rate is low to ensure you hit your target plant population
Disease resistance- Resistance to other diseases is important to consider because infections lower yield potential. While most diseases can be managed with seed treatments and fungicides, the initial treatment and management cost may be higher.
Spread out risk with early and later flowering varieties – This allows the risk for disease to lower along with spreading out harvest so that efficient harvest can be completed.
Management – Do current crop management plans coincide well with potential varieties?
Remember, cleaning and treating it before planting is highly recommended if using bin-run seed. Planting certified seed for next year's bin run is a good management strategy.
And finally, wheat that is planted in a timely manner gives the crop a solid chance for high yields. Get wheat in the ground as soon as possible.
Weed control
The fall is a valuable time to control winter annual and biennial/perennial weeds. Mike Cowbrough, weed management specialist from the Ontario Ministry of Agriculture, Food and Rural Affairs, shared some weed control tips with Grain Farmers of Ontario last fall.
---
September 6, 2022
As the calendar turns to September, crops are moving quickly towards maturity. Early planted beans are ripening fast and stressed corn is well on the way to milk line disappearance with brown husks and cobs hanging. Harvest is right around the corner for many farmers.
Corn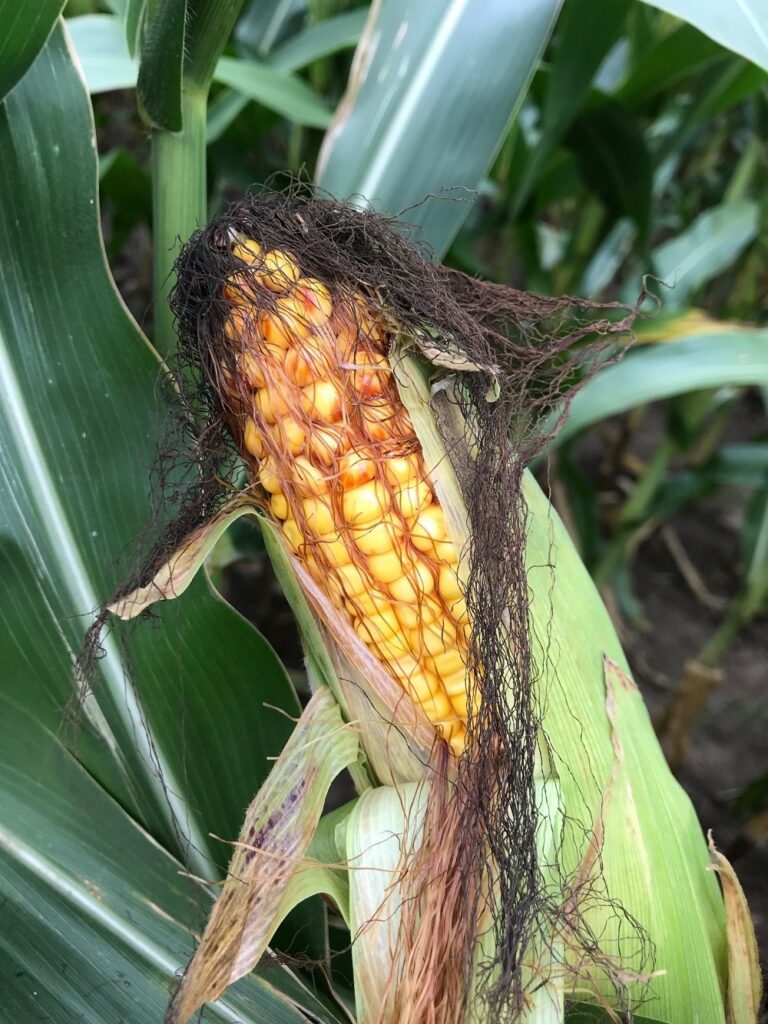 The corn crop is filling grain this week as it is in the dent (R5) stage, with a visible milk line starting to move across the face of the kernel. Some fields are starting to show brown husks, which is a sign that the milk line is getting around the halfway mark before reaching the black layer. Timely rains will help fill the kernels over the next few weeks. Depending on plant health, if the plants are still very healthy, full kernels with good tip fill and good test weight can be expected this fall.
An interesting fun fact this week – the very nice long ear has fewer kernels than the other ears but has larger kernels. Yield estimates are conducted using ear count and kernels per ear, but kernel size and depth will play a role this fall in the real yield. There are still a few weeks to go before the growing season finishes.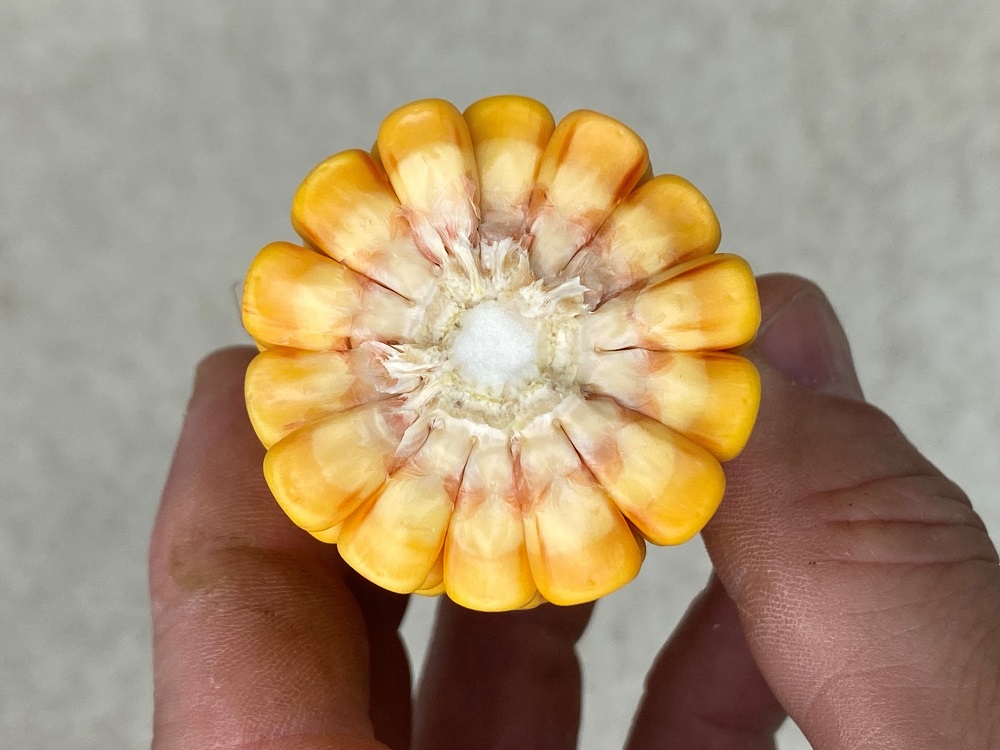 Now is a great time to look for insects and their damage – did certain treatments work better than others? Also, looking at how varieties are finishing the year off – are there some with less disease, do some have better stalk strength, did timing of rainfall and pollination impact grain development, etc.?
Soybeans
Soybeans are starting to turn colour across the province. Earlier planting dates and earlier varieties are turning yellow and are at the beginning maturity (R7) stage. Currently, uneven field maturity indicates to farmers that not everything is uniform in the field. Low spots could be greener due to less stress due to more moisture, or it could be delayed spring emergence due to waterlogged conditions. Areas of fields that are turning yellow quicker than others need to be investigated, as it may indicate disease or insect pressure. It might be soybean cyst nematode (SCN) populations in the soil or late-season root rots. It could also be moisture deficits, but you really don't know until you look. Scouting the crop never stops, and finding the cause of the field problem as soon as you see it is important. Diagnosing leaf, stem, or root issues will be difficult at harvest, and proper identification of problems will lead to better management of the field in future years.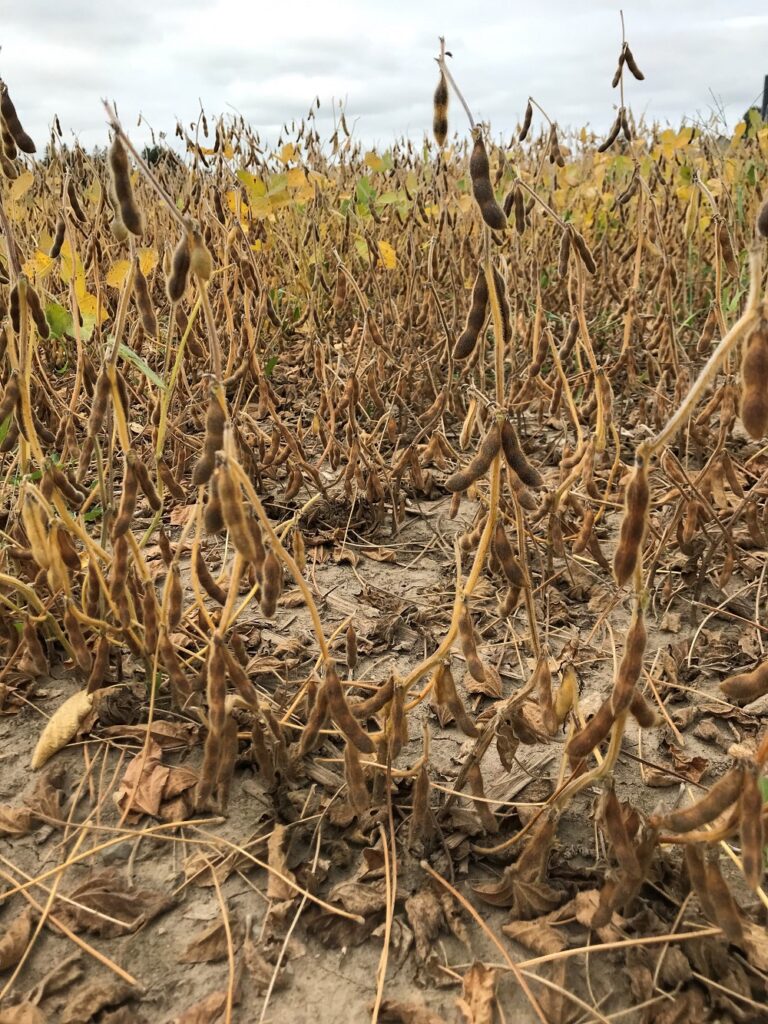 Soybeans in the fuller maturity area of the province, mostly above 3,000 CHU, still have many green fields and the soybeans are still at the full seed (R6) stage. Even though most of the southern half of the province received rain last week, timely rains will still be imperative to help finish off the crop before full maturity.
In the province's northern regions, there was a light frost over the weekend. The impact of fall frost on soybean yield and quality is influenced by the crop's development stage or maturity and the harshness of frost. Later-seeded soybeans and longer-season varieties are at greater risk of damage.
A friendly reminder that school buses are now on the roads. Be on the lookout and stop for all buses. And just because school buses are running doesn't mean that kids will all be at school due to sicknesses, etc., so be on the lookout for kids when visiting farms and travelling around the countryside.
Separate Call Out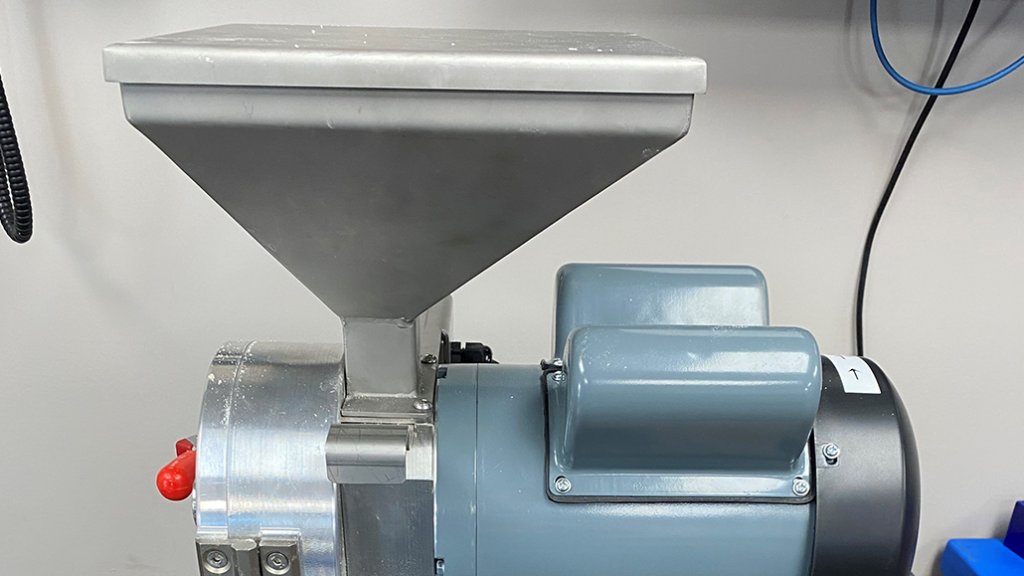 Grain Farmers of Ontario, along with the DON working group, will showcase new grinder technology being developed in Ontario. The larger bench grinder has utility in grinding wet corn samples for the DON test with more consistent grind size and producing a larger volume of ground corn quicker. Stop by the Grain Farmers of Ontario booth at Canada's Outdoor Farm Show next week to see the grinder in action. Demos of the grinder will be held every day at 10 a.m. and 2 p.m. Read more about the grinder in the Ontario Grain Farmer magazine.


---
August 30, 2022
Many Ontarians are soaking up the last days of summer before school buses hit the roads next week. And it is no different for Ontario's crops. Well-received rains moved across much of the province last week, with still a few dry patches that missed them. Moderate summer temperatures and scattered rains have bought some acres a bit of breathing room. Rains will still be needed regularly to keep grain filling in western Ontario. Beans are turning early this year in areas of drought stress.
Corn
The earliest corn in southwestern Ontario is starting to form a visible milk line as it hits the dent stage (R5), while many other later pollinated hybrids are in the early dent stage this week. September will see rapid movement of the milk line as the corn plant closes in on physiological maturity (black layer). This is the critical grain fill period for the corn crop when the plant focuses all its energy on filling the kernel. The depth and weight of kernel will be determined over the next three weeks. Maximum sunlight (solar radiation) and adequate rainfall (moisture) will provide the crop with the best opportunity to fill the kernels with starch.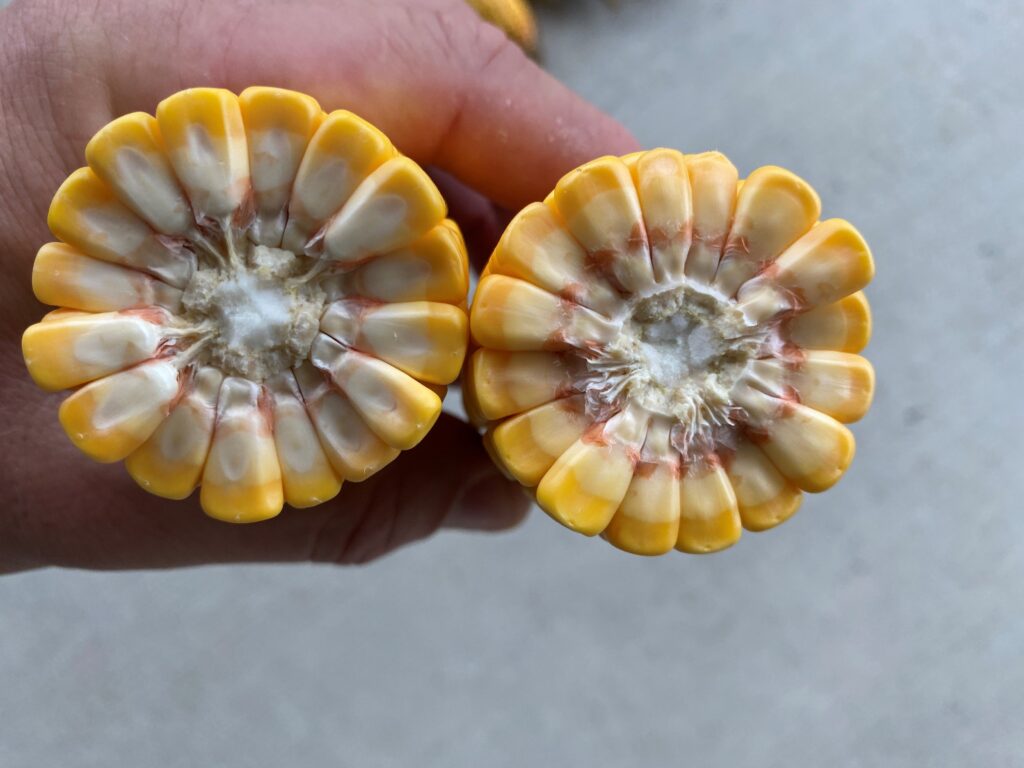 The milk line of the corn kernel is the line on the kernel where the hard starch meets the milky wet part of the immature kernel. This milk line will continue to progress to the tip of the kernel as the corn produces more starch and packs it into the kernel. Once the milk line has reached the tip (sugars converted to starch), the kernel is full, and the black layer (abscission layer) is formed, which restricts the transfer of sugars in or out of the kernel.
Corn silage producers will be preparing their harvest equipment as silage will start in the next few weeks, depending on the maturity of the crop and the desired moisture of the silage. The milk line is a good rough guess, but the seasoned silage producer will chop some plants to find overall plant moisture to get the moisture right. Depending on what is used to store the silage (bunker vs upright silo), many producers will be targeting between 1/3 and ½ milk line when the plants are in the 65 to 62 per cent moisture range. As the milk line progress to the tip of the kernel, the ear becomes drier and makes the entire silage sample drier. Correct moisture of silage is required to ensure correct fermentation and storage of the feed.
Looking at the two-week forecast, for much of Ontario, it will be dry. This will really put stress on plants and cause them to shut down earlier and limit grain fill. In some cases, plants will brown and look dry, but maturity or milk line will not reach full maturity. In these cases, grain may still be moist, and moisture migration will depend on the weather. These may be harder to harvest and will need some fine-tuning of the combines to reduce grain loss or damage.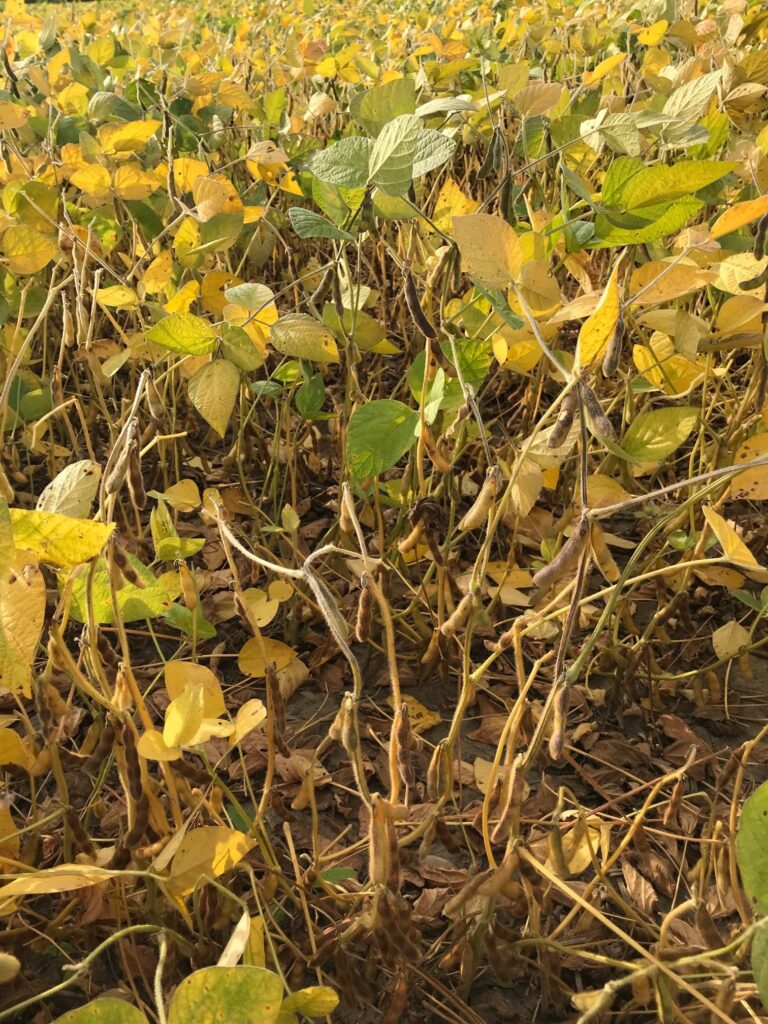 Soybeans
Soybean pods continue to fill this week, with many fields reaching the R6 (Full Seed) stage of development. Any stress at this point of the season will prompt the smaller pods to be dropped from the plant as the plant's main goal is to fill the current pods so that excess pods will be lost during periods of stress rather than continue seed formation. Not all is lost, as having limited pods and seed will mean that if rain does come in a timely, the plant will continue to fill the remaining seeds, and the seed size will be larger.
Soon, especially in shorter-day soybeans, R7 (beginning maturity – when one pod on the stem has reached mature pod colour) will be reached. The change from R6 to R7 can span roughly 9 to 30 days, depending on the weather and other factors affecting the plant.
With a full moon having passed a couple of weeks ago, it allows some in higher elevations and more northern locations to breathe a small sigh of relief, as heavy frosts should still be a few weeks away, as September 10 is the next full moon which will be seen.
Cereals
The Ontario Cereal Crop Committee has finalized the winter wheat trials for the 2022 harvest. Information can be found at www.gocereals.ca for areas one through five in the performance tables.
Cover Crops
If you are still considering cover crops for this fall, check out the Cover Crop Decision Tool, which is supported by Grain Farmers of Ontario and is a great resource to help devise a plan for cover crops in many farm settings across the province. •
August 22, 2022
Areas of the province that have seen plants wither away this summer have recently experienced a few rain showers, and the plants continue to make grain, but at a very reduced level. That is the story of this year across a large region of southern Ontario, as variable as it is. Those in the garden pockets this year will be blessed with ample crops. Yes, areas of eastern Ontario have faired well but have had to manage their share of insects as well, but it is amazing what the right rainfall does for the crop throughout the season.
Corn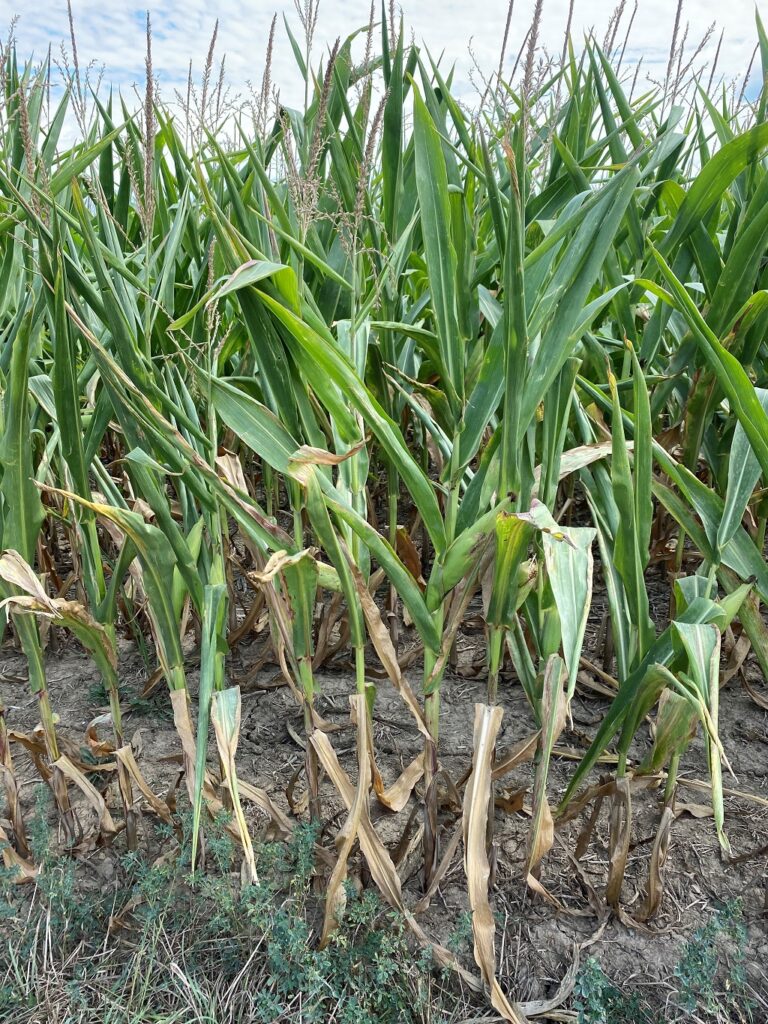 The corn stage is roughly R4 (dough), with early planted fields or early hybrids at R5 (dent). Once kernels dent, average grain moisture at this time is 55 per cent. The whole plant moisture is currently around 75 per cent. If planning to use the corn for silage, check for whole plant moisture as looks are deceiving, and the plant colour does not relate to whole plant moisture. Also, nitrate levels will be elevated. Manage by chopping at higher moisture or waiting longer than 21 days to feed. Watch out for silo gas and test nutrient level of feed before feeding to livestock.
It is that time of year again when we are all geared up to do yield estimates. A quick method for determining potential yield is kernels per cob multiplied by cobs per acre and dividing the kernels by bushel.
Detailed Yield Calculation
Step 1. Ears per Acre – At each sample site, measure 1/1000th of an acre along the row (30″ row = 17.4 feet in row length). Try not to sample abnormal ears or those that are in lodged corn. Count kernels where there are complete rings of kernels around the cob, and avoid counting kernels on the extreme ends of the ear (butt and tip).
Step 2. Kernel rows per ear – Count the number of kernel rows per ear on every fifth ear and determine the average.
Step 3. Kernels per row – On the same fifth ear, count the number of kernels per row and determine the average.
Step 4. Calculate – Kernels per ear by multiplying row number (step 2) by kernel length (step 3). Take the average number of kernels per ear and calculate by the average number of average cobs per 1/1000 acre, then divide by the factor representing the number of kernels per bushel, usually 90.
Yield (bu/acre) = (average # kernels per cob) x (# cobs per 1/1000 acre) / factor
14-row cob with 30 kernels in a row = 420 kernels per cob
(420 kernel cob) x (32 cobs in 1/1000 an acre) / (90 factor) = 149.3 bushels/acre estimate
Step 5. Repeat this procedure at a representative number of sample sites in the field. Calculate the average yield potential of all the sites to get an estimate of the yield potential of the entire field.
*It is important to use the right factor when estimating yield to get a realistic estimate. Kernel weight and kernel size will have a large impact on the calculation.
| | | |
| --- | --- | --- |
| Growing conditions | Factor | Range in kernel number/bushel |
| Excellent – large and heavier kernel | 75-80 | 75000-80000 |
| Average – average kernel size and weight | 85-90 | 85000-90000 |
| Poor – smaller kernel, lighter kernels | 95-105 | 95000-105000 |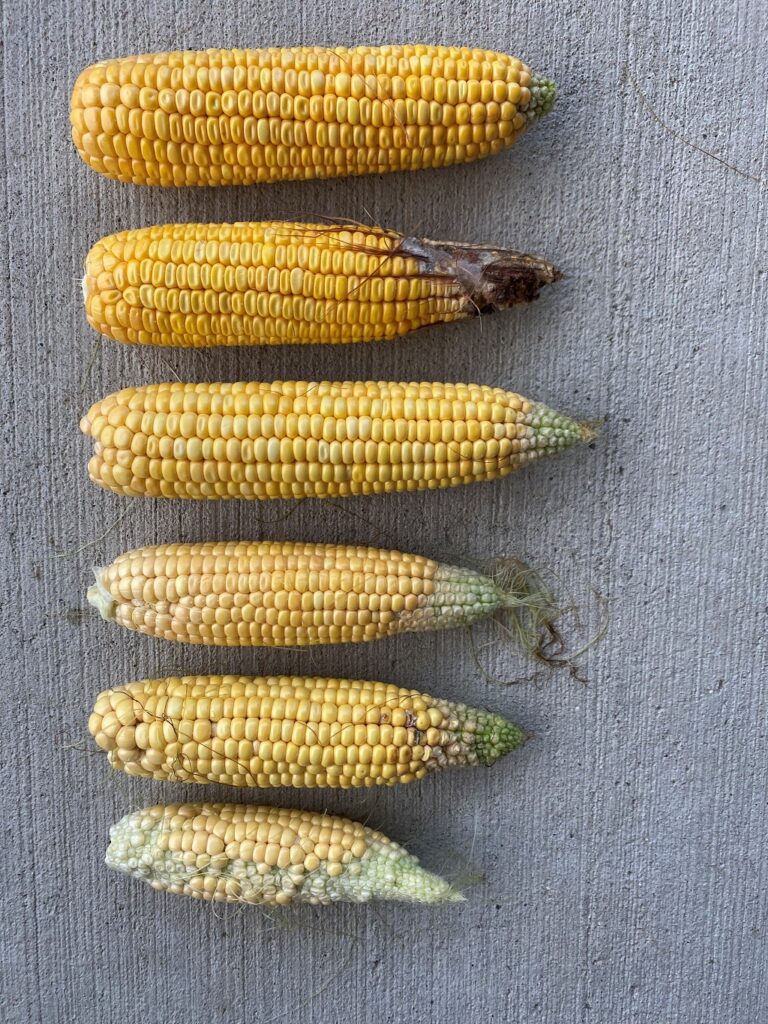 In areas with recent rainfall, current conditions are creating longer periods of leaf wetness, allowing for disease spore survival and regeneration. Diseases will attack the weak corn plants and will quickly move in and cause plants to shut down this fall, resulting in incomplete grain fill, lighter grain, and lower yields.
For corn growers growing corn on corn, it is necessary to scout fields, especially for corn rootworm beetle populations and rootworm damage. Ideal weather has increased rootworm populations over the past years, and damage to corn roots has been showing up. It is imperative to manage this pest, as yield and plant standability can be drastically reduced. If rotated corn fields are beside corn-on-corn fields, the rotated fields can still be at risk for damage. More details on scouting and how to manage this pest can be found in our Grain Farmers of Ontario Agronomy Alert and the GrainTALK Farmer Forum: Corn Rootworm Resistance.
Soybeans
Soybeans are in the R5 to early R6 stage, as the pods near the top of the plant are green and filling the pod. Soybeans stay in the R5 stage for roughly 11 to 20 days. As bean sizes increase on the top pods, the growth stage progresses towards R6. During R5, plant nitrogen fixation peaks, while plants also attain maximum height, node number and leaf area at this stage. Flowers are hard to find as the plant reaches this maturity point and is focused on filling the pods. Sunlight and good moisture conditions over the next few weeks will help size up the soybeans. Without moisture, yields will be limited due to a reduction in pod numbers, the number of seeds per pod and seed size. Pod clusters might be showing limited beans pods and beans due to moisture stress in some areas.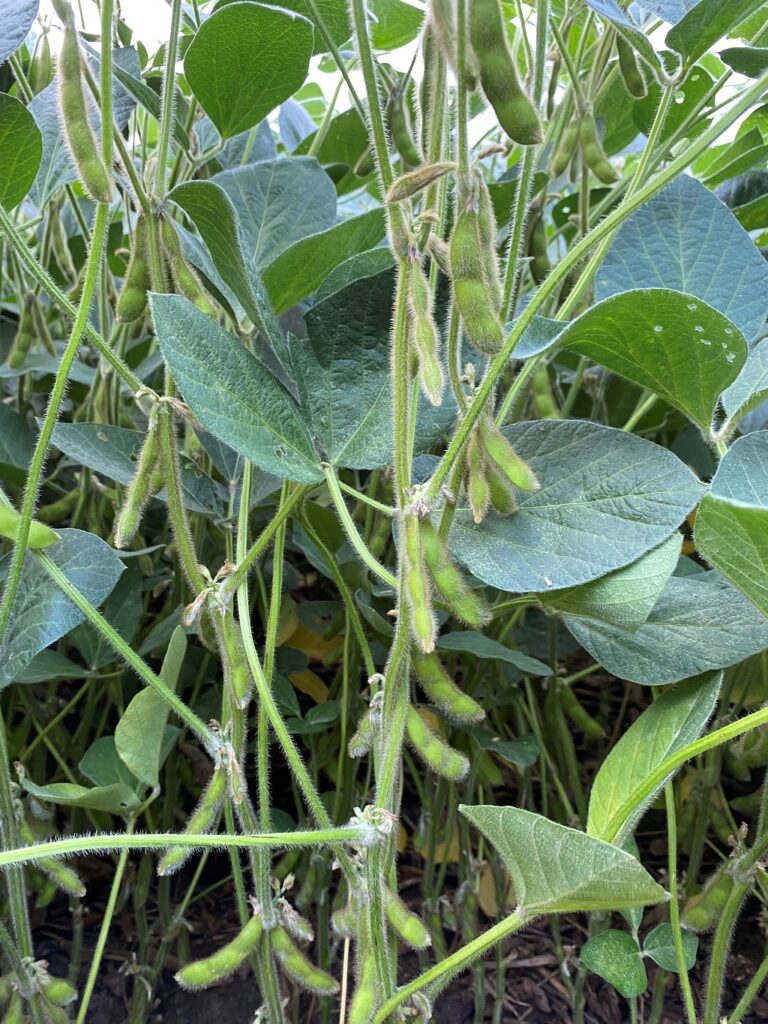 With some recent rains in the drought areas, watch for weeds that might have come out of dormancy and gotten a boost of growth. Depending on crop size and canopy cover, harvest may be a bit of a challenge with the weed regrowth. Desiccation closer to soybean maturity at 80% leaf drop may be a choice in some of the troubled fields. If growing IP beans, volunteer corn in the sample is a big NO along with staining from nightshade. Be sure to plan for corrective actions or plan for loss in premiums. If there may be some resistant weeds, take note, and make plans to control resistant weeds in next year's crop as it will become a bigger problem.
Cereals
Spring cereal harvest has begun in Ontario as weather and plant maturity allows. Cover crops are being planted after harvest, as moisture allows.
In northwestern Ontario, where there were severe delays to planting due to lots of rain in the spring, the crops are delayed. Delayed frosts in the coming weeks will be needed to ensure plant maturity in all crops grown.
---
August 16, 2022
We see variable crop conditions across the province. Spotty rains have helped many of the crops as they begin grain fill this month. Some areas look to have great potential, while many other fields are hanging on until the next rain. However, some areas continue to slip further behind as plant stress is taking its toll and continue to lose some kernels and seeds as plants reduce seed load to prevent plant death. At this point of the season, continual weekly rains will be required to make the corn and soybean crop. According to the Canadian Drought Monitor, as of July 31, 2022, much of southwestern and central Ontario ranged from abnormally dry to severe drought.
We see variable crop conditions across the province. Spotty rains have helped many of the crops as they begin grain fill this month. Some areas look to have great potential, while many other fields are hanging on until the next rain. However, some areas continue to slip further behind as plant stress is taking its toll and continue to lose some kernels and seeds as plants reduce seed load to prevent plant death. At this point of the season, continual weekly rains will be required to make the corn and soybean crop. According to the Canadian Drought Monitor, as of July 31, 2022, much of southwestern and central Ontario ranged from abnormally dry to severe drought.
Corn
If you had an opportunity to get out and do a pollination check (the "how to" was highlighted last week), you might have noticed extreme variability in some areas of the field in the number of kernels, either kernel rows or kernel length varied. As continual checks of the crop this week occur, for development, in areas of stress, it will be observed that the cob will shrink in size and kernels will be aborted as the plant will sacrifice the tip kernels to make sure the bottom/butt kernels have adequate starch to reach maturity. This is due to drought stress after pollination. Of course, this will be seen at combining, where yield monitors might jump up and down drastically. In the dry areas, corn has been firing up due to a lack of moisture, and there is a risk of continual plant cannibalization as the plant will ensure some grain will make maturity. Unfortunately, lower grain weight will occur from this forced maturity in these areas. Harvest will be sooner, faster and less grain to dry. Pockets of rain have given some corn fields adequate moisture all year to give excellent cob and grain fill potential.
Corn development in many fields is in the milk (R3) stage to the early dough stage (R4), with the kernels turning yellow.
Tar spot and common rust are beginning to show up in corn. For more information on tar spot, see our Agronomy Alert, and more information on common rust from the Crop Protection Network.
Soybeans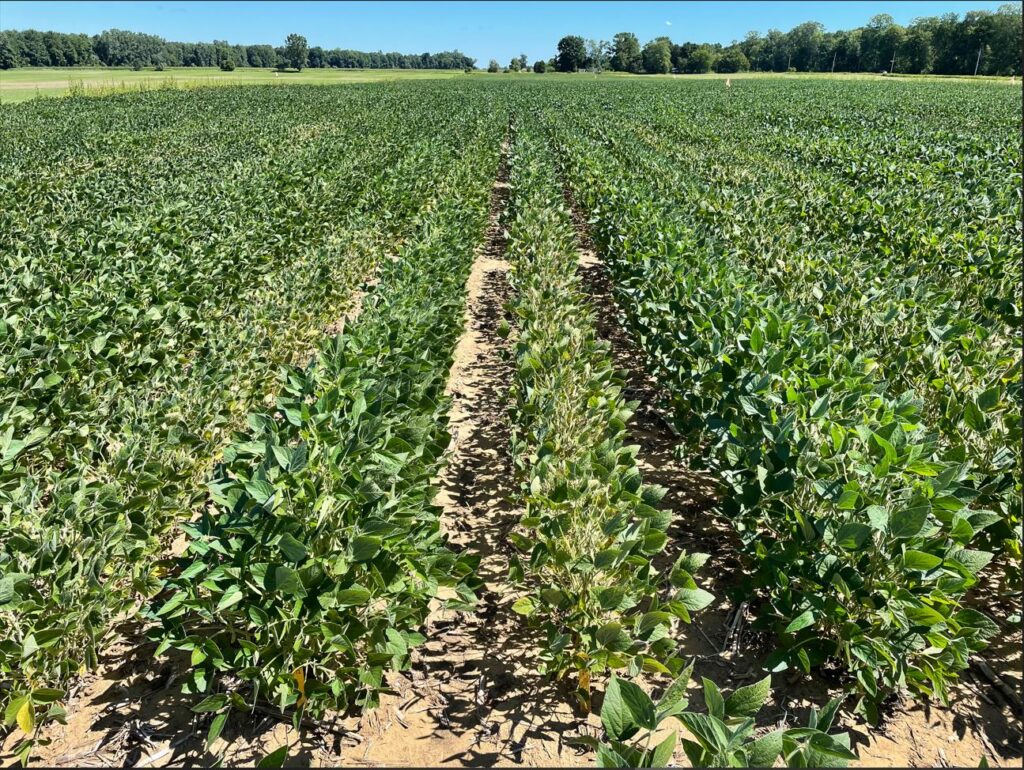 Soybeans are in the R4 (full pod) to R5 (beginning seed). Take note of smaller pods and less seeds per pod on the plant caused by stress. In theory, fields should have shorter internodes at the bottom of the plant due to the drought stress earlier this growing season in many areas, and this creates a strong base for standing. If you are fortunate to have frequent moisture events, the fields that are a bit behind in growth stage will have the opportunity to have new growth that might result in some tops of the plants leaning if they fill with pods in later August. Soils that had earlier moisture may see lodging, as earlier development may have seen longer internodes lower on the stem. The good news for soybean farmers is as more flowers are being developed on the plant, full yield potential has not been realized yet.
Some areas of the province are experiencing a continual dry period that has ushered in many spider mite attacks. Soybean plants turning brown in areas along field edges are caused by the spider mite migration as populations have exploded in many fields, with areas increasing in size this month. The insect life cycle is 10-12 days under the warm conditions we have had, growth cycle will slow with cooler weather, but we have seen damage expand within 10 to 12 days as population growth is exponential. Spraying for aphids in eastern Ontario continues as well as border spraying for spider mites in southwestern Ontario.
If you receive adequate rainfall this month, seed sizing should be good, as plants with limited pods and seeds will be filled. Unfortunately, continued drought and heat will hasten maturity and limit seed fill, and some areas will experience poorer seed fill and smaller seed resulting in lower yields. Yes, we need MORE rain!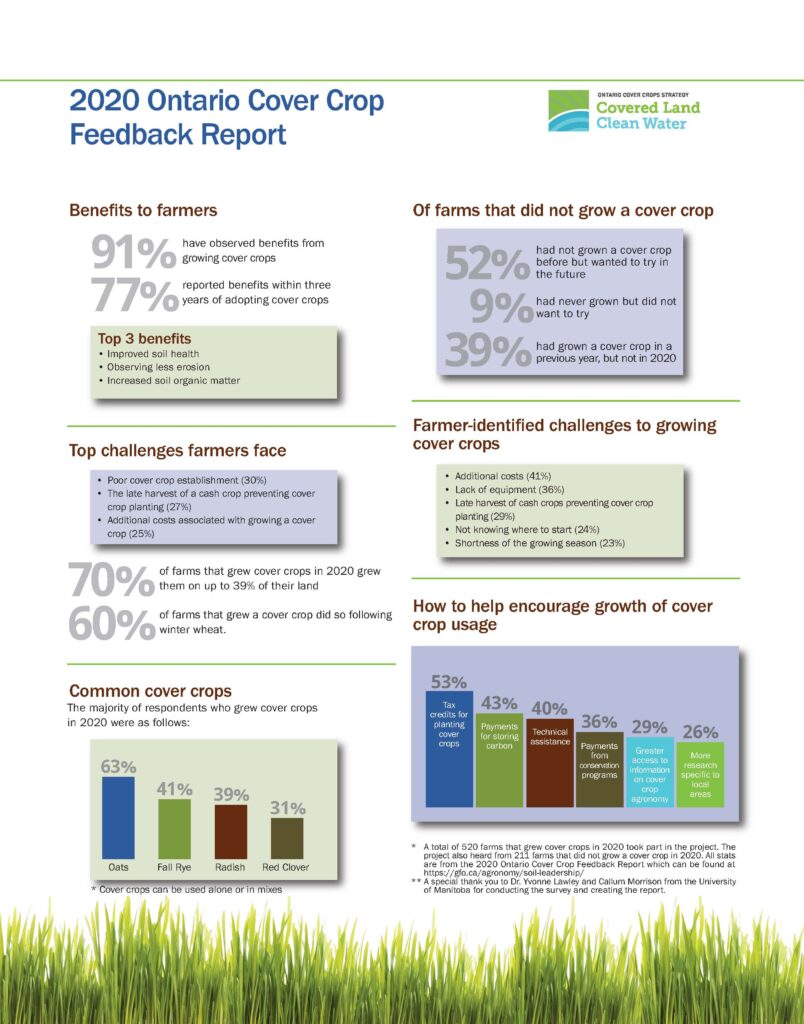 Still be on the lookout for insects; bean leaf beetles, aphids, and spider mites (heavy rains might have washed them off, but best to still be scouting for them).
Soybean Cyst Nematode (SCN) and Sudden Death Syndrome (SDS) are appearing in fields. The presence of SCN can increase the severity of SDS. It is well worth taking an SCN test to ascertain if this is one of the contributing factors of SDS. SDS can also appear predominately in fields that are compacted, have poor nutrient levels, low pH and poor drainage. To help manage SDS, it is important to rotate crops, decrease compaction, improve drainage, maintain pH and fertility, and choose suitable varieties. Albert Tenuta shares that "no soybean varieties are completely resistant to SDS but going forward, it is important to reference the provincial variety performance trials to help make choices for next year." Variety performance trials are supported by Grain Farmers of Ontario and will be available later in the fall.
Cereals
With wheat harvest wrapping up for most of the province, it is time to consider cover crops, especially now that some areas have a bit more moisture in the ground, which might allow for the germination of cover crops. The Cover Crop Decision Tool is a spectacular resource for finding out what cover crops will work best on each farm. This valuable tool is supported by Grain Farmers of Ontario – much of the research that the organization funds is included in the tool. Cover crops generate several benefits for future grain crops.
Overall, quality reports have shown excellent quality for the Ontario wheat harvest this year. Find out more on the Ontario Wheat Quality page on the Grain Farmers of Ontario website.
---
August 9, 2022
The weather has not been favourable for many Ontario farmers this summer. Winter wheat to the north and east of southern Ontario has fared very well, but many corn, soybean, and spring grains are struggling with the lack of moisture and, combined with some hot temperatures, have created moisture deficits in the crop. Many fields need continual rains weekly to bring an average crop to the bin this fall. According to local weather forecasts, there is not much rain in store after this past Monday, but then again, it is a forecast that will most likely change over the week, we can hope.
Corn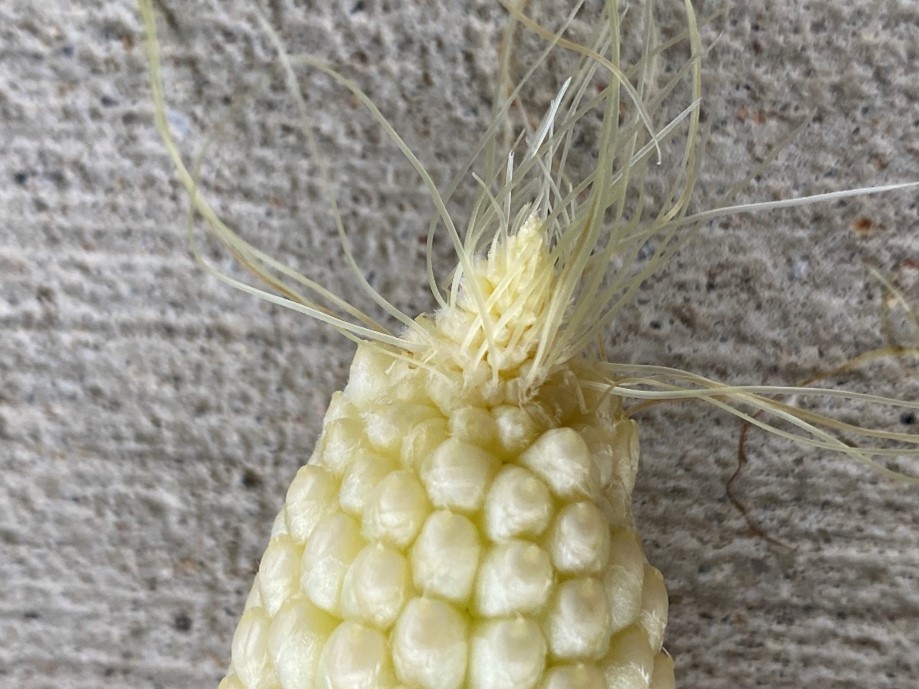 Much of Ontario's corn has pollinated through a very hot, dry period. Pollination has been generally successful, but if the shake test was completed earlier on ears, you might have seen little tip nubs. Unfortunately, the lack of adequate moisture in the final days before and during pollination has caused the ear tips to already tip back (shrink) from even pollinating. Some of the affected fields have already lost that extra ten kernels per row of pollinated kernels due to heat and drought. We will see continued abortion of kernels as the plant does not have enough moisture to sustain all the kernels as fields already have bottom leaves firing up and moving nutrients to the ear earlier than normal.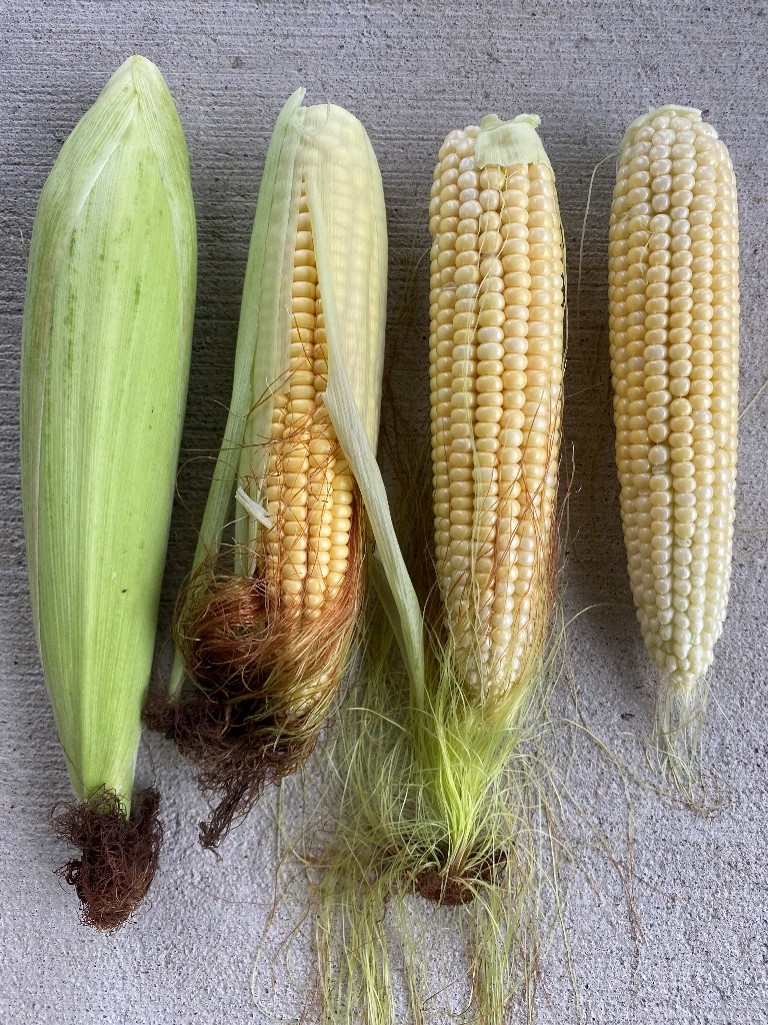 To do a shake test, husk back the ear after pollination and shake the cob tip down as far as the silks to fall off the cob. Silks remaining attached will be the fresh green live silks that have not pollinated. Kernels will not form if there is no more pollen or the live silks are not outside the husk.
Earlier stressed fields are seeing reduced rows per ear, and in some fields, the base of the cob is at 16 to 18 rows as the ear was first forming, as stress occurred, maybe a few very hot dry days during ear formation (growth stage V6 to V8 approximately) the plant under stress started to conserve itself and reduced row count while in mid ear formation (picture 2).
Tar spot concern has lessened in the dryer areas due to the lack of leaf wetness needed for disease development. But areas with excellent growth conditions (moisture) and previous history should continue to scout. Read an article from the Ontario Grain Farmer to learn more about tar spot, how to scout for it, and how to manage it.
Over the past few years, western bean cutworm (WBC) has shown peak flight in the last week of July and the first week of August. Keep vigilant with monitoring for the pest.
Corn rootworm is also a concern. To learn more about his pest and CRW resistance, watch this #GrainTalk webinar featuring Tracey Baute, OMAFRA entomologist and Erin Hodgson, extension entomologist specialist with Iowa State University
Given areas experiencing very little moisture, it will be important to classify and manage fields properly until harvest. Good fields may still have a few challenges with leaf disease, and insects still will need to be watched and managed to maximize potential. The poor fields will be uneven and delayed in development. If dry weather and heat continue, gibberella moulds will not be an issue, but if the plant starts moving nutrients around and robbing from the stalk and bottom leaves (if not already), the issue of stalk logging and plant early death could be imminent this fall. Those with very poor fields should be cautious not to spend any more money on applications, as the chance of getting any payback will be limited. If crop conditions are poor alternative markets for the crop may be necessary. Consider feed options early to make the best feed from what is still available in the field.
Soybeans
Soybeans are in a very critical stage right now and need moisture to help determine a productive yield. Soybeans are currently in R4 (full pod) to R5 (seed formation). R4 to R6 growth stages are when the plant starts really accumulating dry matter in pods and seeds. Stress during this time can cause major yield reductions more than any other period of the soybean's growth.
Aphid populations have exploded in some areas in the central and eastern regions of the province, warranting spray due to the number of pests, lack of beneficial insects, and crop stage.
Spider mites are creeping into fields. Be on the lookout for areas close to field edges and where grass has been cut or not growing from lack of rain. Mites are looking to feed, and soybeans may be the only lush plants around.
Cereals
Winter wheat harvest is 80 per cent wrapped up across the province. Many are reporting very good yields, with good quality. With good yields, there has also been a high straw yield. Many remove the straw from the field to use for animal bedding. However, straw has great benefits when left on the field, including increased organic matter, increased residue to reduce soil erosion, and a valuable source of nutrients that can be broken down back in the field.
The below table provides an overview of phosphorus and potassium levels removed from one ton of straw and the corresponding estimates of fertilizer costs to replace those nutrients.
Nutrient
Avg. to Max. Removal
(lbs actual/ton)
Fertilizer
Fertilizer Replacement (lbs/ac)
Fertilizer Cost
($/lbs)
Value
($/ac)
Phosphorus
3.2 – 6.0
MAP
(11-52-0)
6.5 – 11.5
0.60
$3.90 – 6.90
Potassium
16.8 – 42.5
Potash
(0-0-60)
28 – 70.8
0.50
$14.00 – 35.40
Total value ($/acre):
$17.90 – 42.30
Total value (¢/lb of straw):
¢ 0.8 – 1.92
*A MAP value of $1320/metric tonne and a potash value of $1080/metric tonne were used in these calculations.
Source https://fieldcropnews.com/2022/07/ontario-field-crop-report-july-27-2022/
Spring cereals are in the final stages of grain fill and will be harvested in the next 2 to 4 weeks.
---
July 26, 2022
Rains continue to be spotty across the province, with some crops holding on to their potential while many other fields require rain for resuscitation. There is a moisture deficit across much of the province for July. Corn is at VT, soybeans at R1 to R3 and winter wheat harvest rolls on as weather allows.
Corn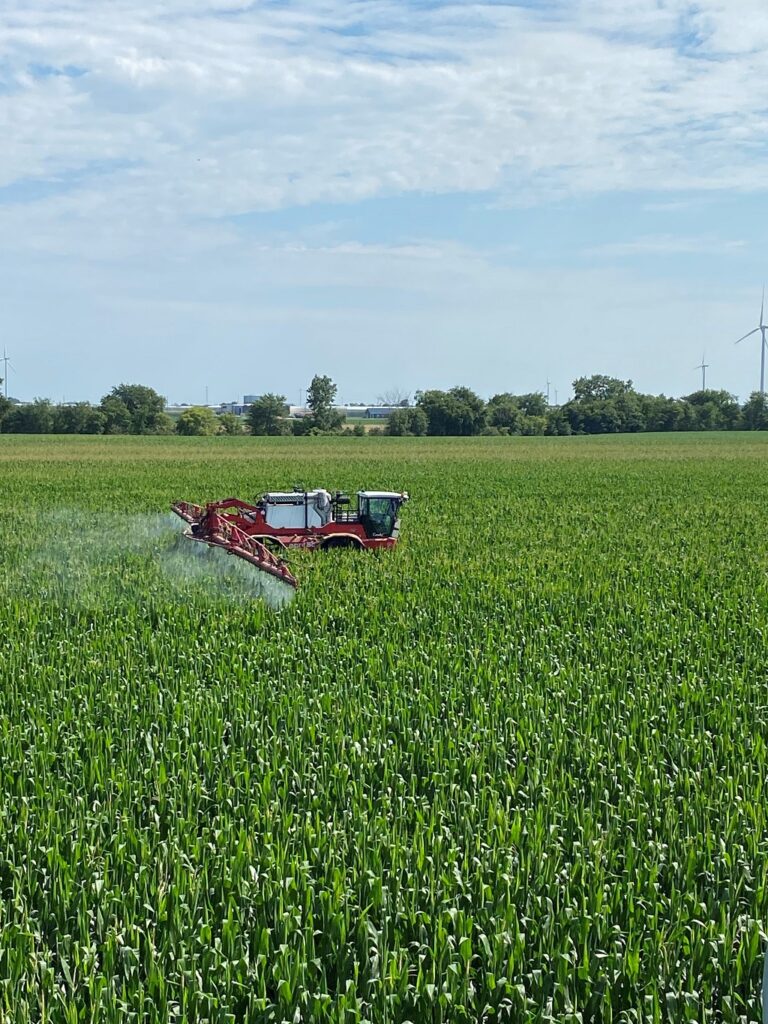 Many tassels have emerged across the province in the past week or will be doing so shortly, bringing most of the crop to VT timing. Pollination is variable across individual fields, as the stress from heat and drought has delayed plant development were ever the slightest difference occurs in soil conditions
Fungicides are being applied on corn for DON and tar spot when warranted.
Western bean cutworm (WBC) eggs have been observed in corn fields. Currently, WBC flights are increasing but not yet peaking. More information on past results and current numbers can be found in this Field Crop News report. For more information on WBC scouting, management and risk factors, visit the Canadian Corn Pest Coalition (CCPC) website. Grain Farmers of Ontario is a member of the CCPC.
Corn rootworm traps are also seeing some attention this time of the year as counts for this pest begin. Corn rootworm larva affects the standability of corn, while high beetle counts may end up in clipped silks resulting in poor pollination.
Soybeans
Soybeans are showing some struggles with this heat and low moisture, bringing insect pressure.
Many are still around the R1 (beginning bloom) to R3 (pod at least 3/16 inch long (but less than 3/4 inch long) at one of the four uppermost nodes on the main stem with a fully developed leaf stage), heat, and low moisture has all but stalled out the crop.
Be on the lookout for two-spotted spider mites. Warm, dry conditions are ideal for their arrival.
Cereals
The Winter wheat harvest continues. Most acres in the southwest of Ontario are harvested, with harvest currently ramping up across the remainder of the southern stretch of the province.
There are always higher-than-average and lower-than-average fields due to the variable conditions that occurred during the season. Like many other years, the biggest impacts to yield differences this year are planting date, starter fertilizer, the timing of nitrogen application, and rainfall (timing and amount).
Spring cereals are in the grain fill period and will be harvested in the coming month.
---
July 19, 2022
Rain at the start of this week has given crops relief from the drought stress that many have been experiencing the past month. Most of the rain travelled along Lake Erie and Lake Ontario's growing corridor, leaving areas just north of that track needing more moisture. Continual rain showers are needed this summer as soil reserves have been exhausted.
Corn
Corn development is still variable, with fields anywhere from vegetative stages to tassel emergence (VT) across the province.
Tassel emergence is occurring on the early planted crop, with the majority of acres tasseling over the next couple of weeks. In drought years, such as this one for many, silks emerge just after tasseling as the plant is conserving moisture under stress.
Pollen shed from tassels can occur over several days. Pollen shedding is dependent on the environment and the genetics of the corn hybrid. Some plants will shed a little each day for three to five days. Other plants (late plants) with smaller tassels may shed quickly in fewer days as they may be under more environmental stress (hotter temperatures, limited water availability, competition).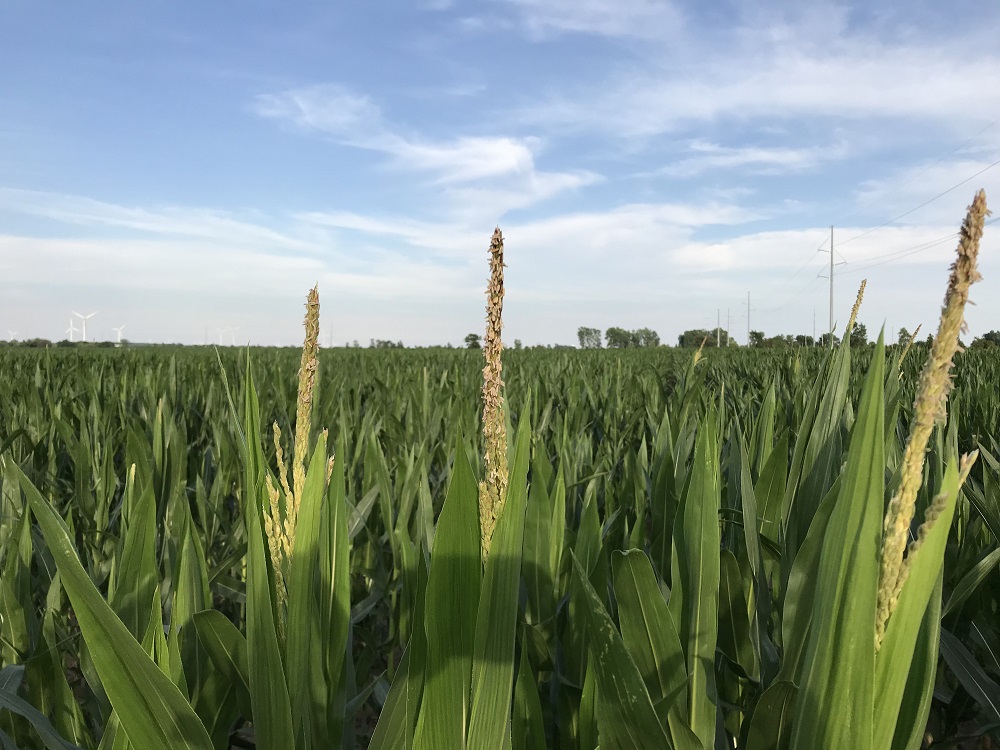 While some might wish for cool, moist conditions for pollination and grain fill, those conditions prolong silk and pollen viability and are also ideal conditions for Gibberella ear rot (aka pink mould) and lead to DON mycotoxin production.
Many different ear disease infections can occur at silking time, as silking is the time when the ear is exposed to pathogens such as Fusarium and Gibberella. Depending on weather conditions and the spores in each field, ear disease development begins at the pollination stage. Infections can also occur from other ear damage from insects, animals, or hail. Which ear disease takes hold will depend on what spores are in the field and what weather conditions are ideal for those spores during and after infection. It is all about timing.
Northern corn leaf blight is beginning to show, with an increase in severity and incidence across the province. This increase is due to several factors such as more corn on corn production, more corn residues (due to an increase in no-till or reduced tillage), intensive corn management strategies, favourable environmental conditions, and the development of new northern corn leaf blight races that resistance genes are not controlling. This Field Crop New article has more information on Northern corn leaf blight.
Be on the lookout for tar spot. Leaf wetness for more than 7 hours can be a key indicator of its development. Read more in our tar spot agronomy alert.
Soybeans
Due to the lack of moisture, many have seen that soybeans have not been progressing how they might have in prior years. Soybeans are anywhere from the V3 to R3 stage. The R3 stage is classified as when a pod is formed at least 3/16 inches long (but less than 3/4 inches long) at one of the four uppermost nodes on the main stem with a fully developed leaf. R3 can last anywhere from five to 15 days.
With a lack of moisture comes insect concerns. Soybean aphids should be at the top of the list for scouting. Read this Field Crop News article on scouting for soybean aphids for more information on what to look for and when to take action.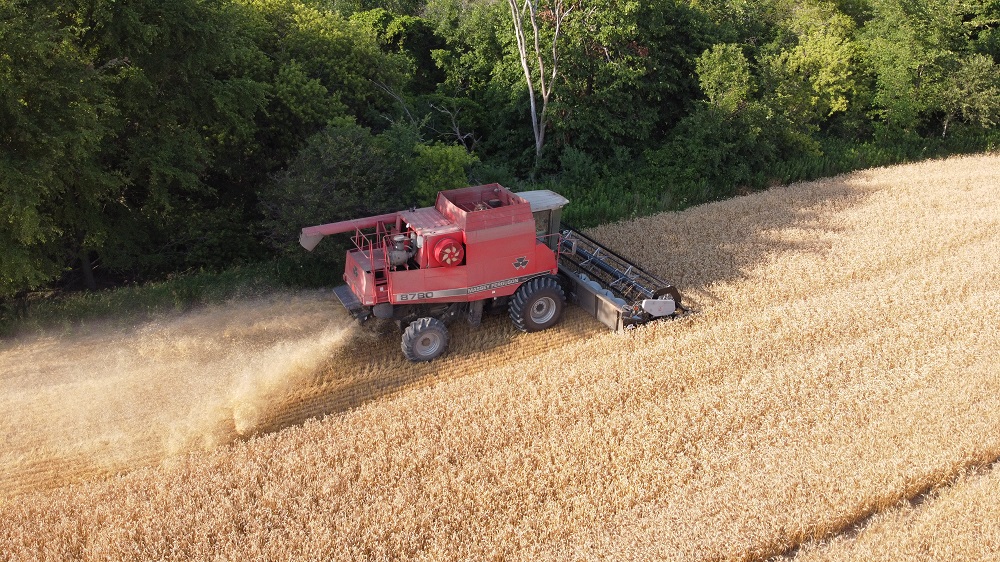 Cereals
Wheat harvest is progressing as weather, and crop maturity allows. Thinner stands of wheat are taking longer to mature, with a range of moistures being seen within fields.
With rains occurring, be sure to keep a look out for sprouted grain, particularly in lodged areas of the field.
---
July 14, 2022
Wheat harvest is wrapping up in the deep southwest as harvest rolls across the province to the north and east. Rain at this point would be welcome, even in the midst of wheat harvest. Scattered showers did appear early to mid-week, but only enough to cut the stress for a day or two. Larger, soaking rains are needed in the dry areas to help the corn crop before pollination and help improve soybean conditions. According to the Canadian Drought Monitor, as of July 7, 2022, much of southwestern Ontario is classified as abnormally dry, with the driest being Chatham/London/Sarnia regions.
Corn
Early season rains have really shown their hand at determining how corn is currently looking. Those fields that were able to get timely rains, roots established, with no compaction are doing well. Other fields are extremely variable, showing problems beneath the soil surface.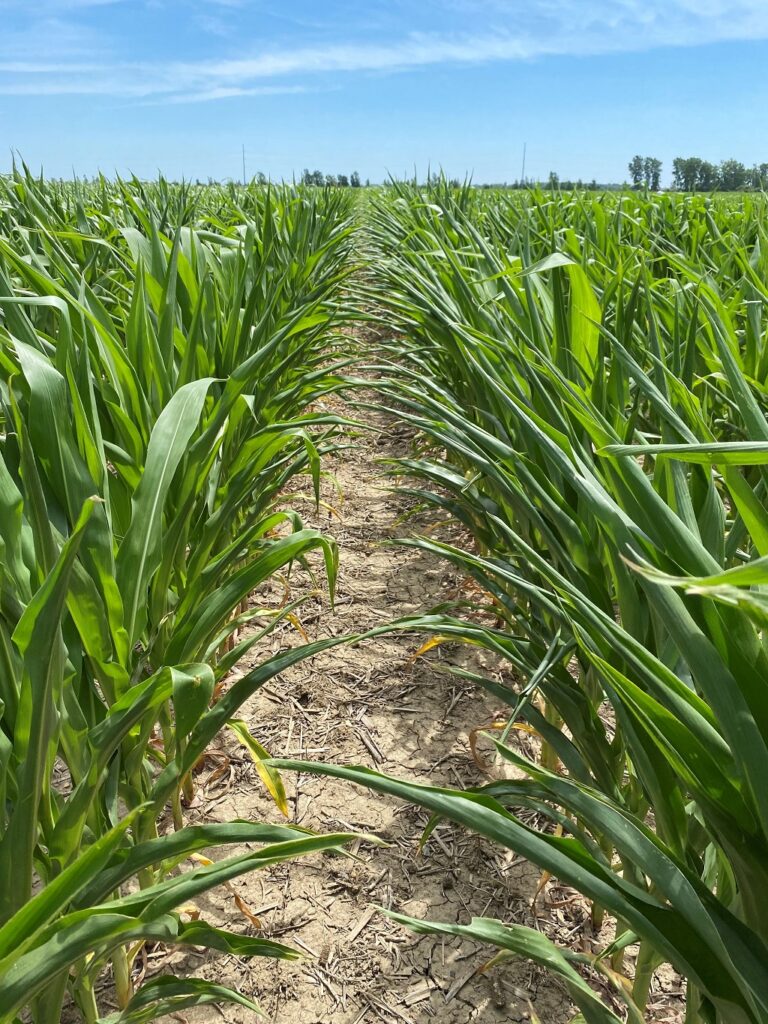 Corn is nearing the end of the vegetative stage and is finalizing the number of potential kernels. Under severe stress, kernel numbers will be reduced. In the next week, we will start to see some tassel emergence in the earlier planted fields. Lack of moisture at pollination timing can reduce the pollination potential and lack of kernel development. Since the silks of the corn are 99 per cent water, they will be delayed and limited in growth, while heat will drive the anthers to shed pollen earlier and for a short period resulting in missed pollination timing. This is called missing the pollination nick. Fields with multiple hybrids with different pollination dates will benefit from better pollination on the one hybrid since there will be more pollen over a wider period.
Be on the lookout for Tar spot. It has been confirmed on plants in Ontario at a low level so far this year. Tar spot was discovered in the province in 2020 and has moved as far east as the Simcoe/Durham regions in 2021. Ideal conditions for development is when plants have over seven hours of leaf wetness. Read the Grain Farmers of Ontario Agronomy Alert to learn more about this concerning disease.
Soybeans
Soybean stages range from still in vegetative growth to R3 (early pod development- when there is a pod at least 3/16 inch long (but less than 3/4 inch long) at one of the four uppermost nodes on the main stem with a fully developed leaf).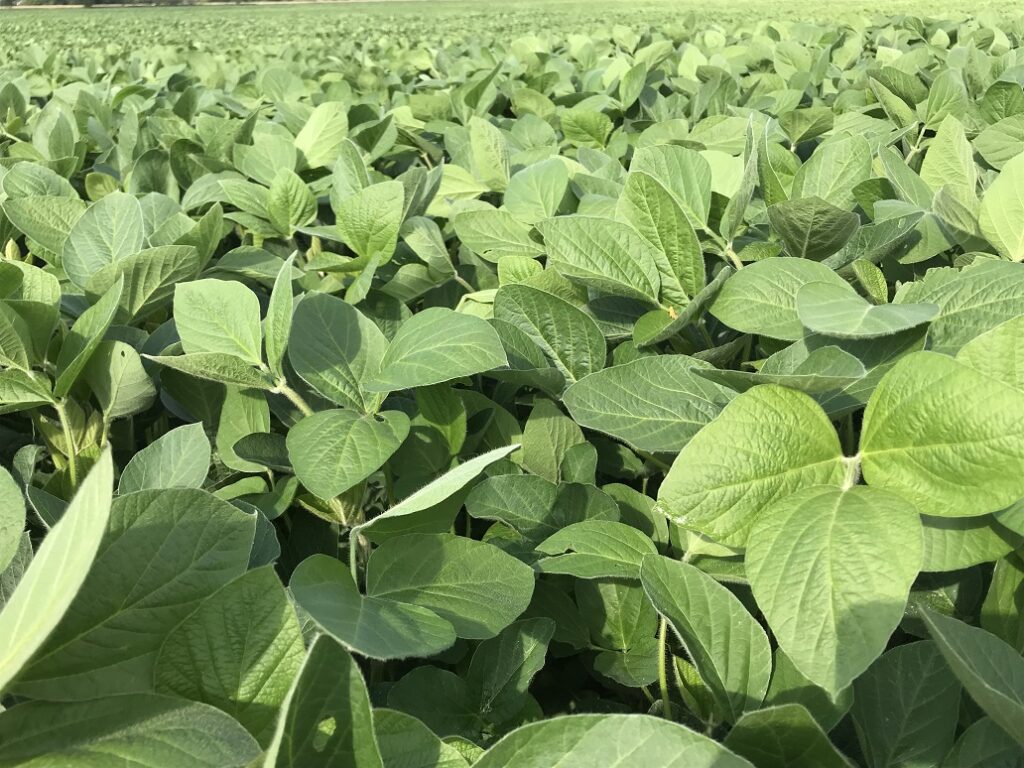 This dry weather isn't very conducive to disease. In dry weather, insect pressure usually begins to creep in. Be on the lookout for soybean aphids and spider mites, to name a couple. The action threshold for aphids is 250 aphids per plant, increasing, with plants being R1 (beginning bloom) to R5 (beginning seed). The threshold for spider mites is four mites per leaflet or one severely infested plant. Note that heavy rain can help lower populations, so be sure to scout, after a rain event, before spraying.
If moisture does arrive during flowering in the upcoming weeks, be on the lookout for white mould. The ideal timing for fungicide applications is between the R1 and R3 stages when the infection is occurring.
Cereals
Wheat harvest has taken off in the southwest as the weather has allowed. Some limitations to harvest have been due to overcast skies, heavy dews, and showers not allowing the plant to dry. When combines are rolling, moistures are anywhere from 12 to 18 percent, with reports of test weights at the upper end of the scale.
Oats and barley are in the midst of grain fill, and some timely rains could certainly help with final yields.
---
July 7, 2022
Wheat harvest has begun in the southwest of the province. While light rain showers and up to half an inch of rain was received, the delay in wheat harvest by a day will help many wheat fields ripen up more evenly, with limited grain quality effects. After a few weeks of dry and hot weather in western Ontario, the spring-planted crops have been showing stress, and the light rain has helped sustain the crop a little longer. Regions in the eastern portion of the province have received more timely rains, and crops are growing very well. To the far northwest, crops that made it into the ground have emerged and are growing, although at a later stage of development than in previous years.
Corn
Corn is currently staging around the V4 to V11 stages (12 leaves). Variability in the growth stage between fields is due to planting dates across the province, with later planted fields delayed and under more stress as root development can't catch the soil moisture front. Corn is really showing some stress this year from past compaction issues, too early spring tillage, wet planting, and shallow planting (less than 2" deep) are proving to be common problems.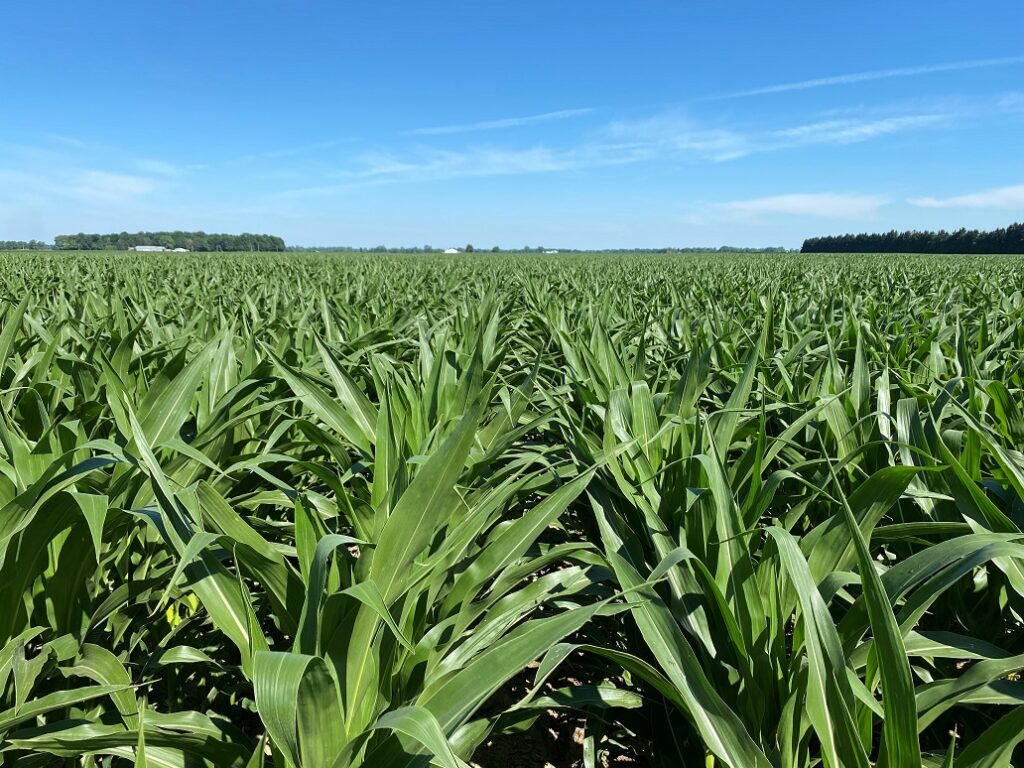 Given these circumstances, it is necessary to classify fields and manage them properly until harvest. Good fields may still have a few challenges and if rains do begin to arrive, be sure to protect them during pollination to prevent DON production in the grain. The "poor" fields with uneven growth will start to lose yield potential as ear set occurs. If dry conditions continue, moulds will not be prevalent, but if the plant starts moving nutrients around and robbing from the stalk and bottom leaves, the issue of stalk logging could be imminent this fall. Those with the "really poor" fields should be cautious not to spend any more money, as the chance of getting any payback is limited.
Moisture conditions during pollination will affect silking and pollen shed. Drought stress at pollination (over the next two to four weeks) will limit the ability of the crop to initiate kernel development. Fewer kernels mean less bushels per acre. Corn will try to make as much grain as possible, so some kernel pollination and development will occur, but it will be limited based on the resources the plants can acquire.
Insects can pose a challenge as well. In the coming weeks, eyes should be looking for western bean cutworm. Stay tuned for information on peak flights. Traps in the southwest have already shown that this pest is present in fields.
Watch our recent #GrainTalk Webinar on pests to know what pests to be on the lookout for.
Soybeans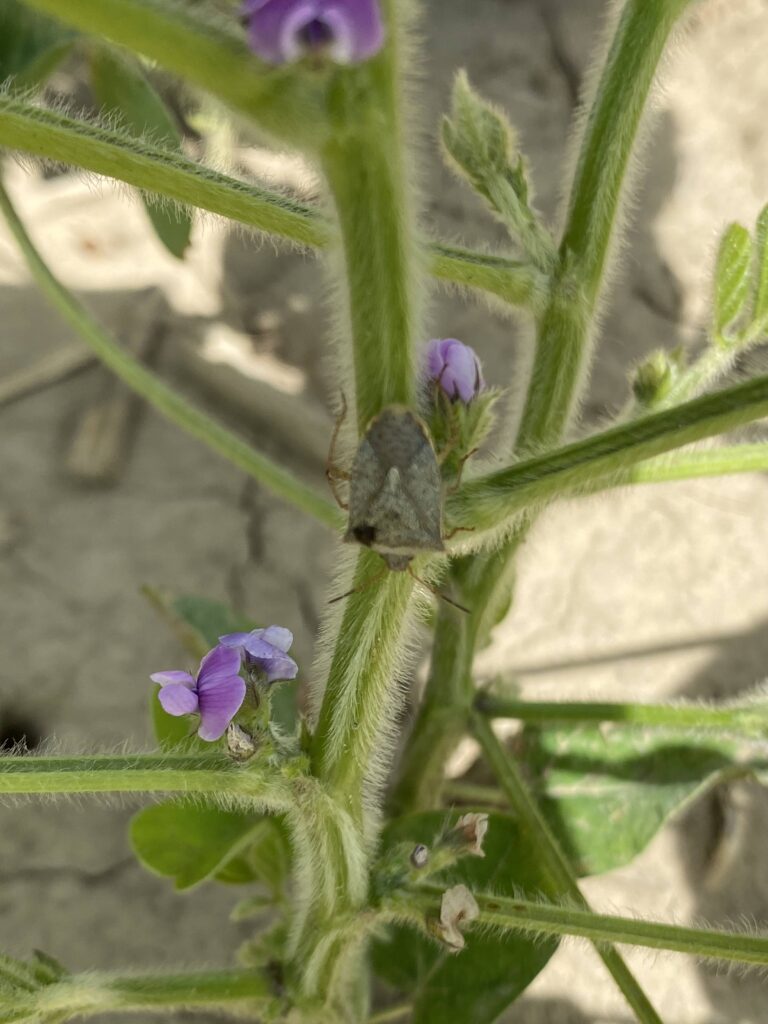 Soybeans are growing quickly. Now that we are past the third trifoliate, the branching and additional trifoliates develop quickly. Flowers are now forming, and most fields are at the R1 stage (first flowers on any node). In early planted fields, there may be plants at V2 (full flower – when there are flowers at the upper one or second node). Soybeans grown in Ontario are indeterminate, so they will continue to put out more flowers as the plant continues to grow developing pods on the lower part of the canopy and continue to produce flowers as the plant continues to grow. Dry weather for the beans now at flowering is okay as any loss in flowers can be made up in the next month. Dry weather during flowering limits white mould infection of the open flower. Wet weather in the Ottawa Valley with high soybean populations may need to pay attention to white mold and consider actions to prevent mold development during pollination. Rain over pod fill in August will be needed to make the crop.
Be on the lookout for two-spotted spider mites. During periods of dry weather, spider mites will move into the edges of soybean fields. Do not mow the grass along soybean fields at this time, as this will cause the spider mites to move into the area faster. Read more about spider mite identification and control recommendations.
Wheat
Wheat harvest has begun in the deep southwest and will continue if rains do not hamper it. So far, quality reports have been good, with low fusarium in samples.
A reminder to clean chaff away from engines and bearings, grease bearings regularly, and have a fire extinguisher on hand. Also, remember to carry a cell phone with you and know your field location in case a call to the fire department is required (hopefully, it isn't). Happy harvesting!
The Ontario Cereal Crop Committee held part of their western Ontario inspection tour this week. Trial locations inspected were Palmerston and Elora, both having winter wheat, spring wheat, oats and barley. Overall, trials look good this year, and it looks like there will be good data to be shared on gocereals.com later in the year. Harvest for these trials is a few weeks away for the winter wheat and not until next month for the spring cereals.
---
June 30, 2022
Much of the province could use a good rain, as soil conditions are drying out with the warmth received over the past week. For the next five to seven days, there appears to be limited moisture on the way for much of the region. Crops continue to progress well with limited disease or insect pressure, yet.
Corn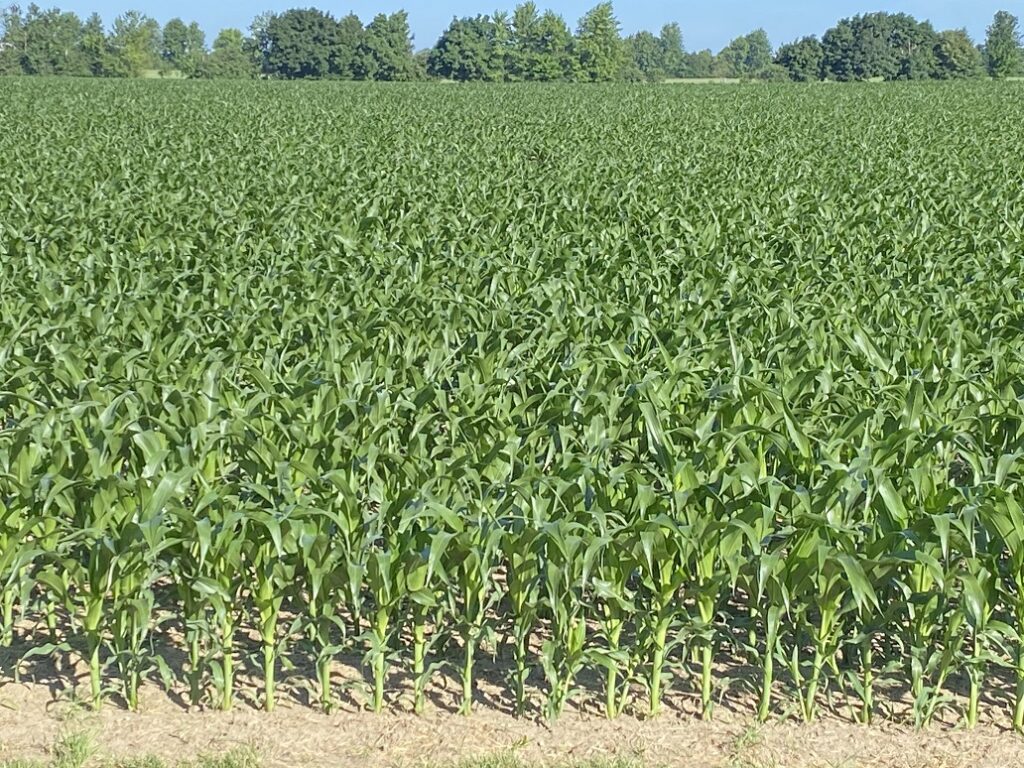 Much of the corn crop has canopied over the last week, with some areas well-surpassing knee-high and heading to waist-high. Corn stages range from V5- V11. At V9, the tassel is rapidly developing but is not yet visible at the top of the plant. New leaves appear every 2 to 3 days, and ear shoots are also developing.
Some Nitrogen is still being side dressed on the more advanced corn fields.
Grain Farmers of Ontario and Tracey Baute, OMAFRA entomologist, recorded a recent #GrainTalk webinar highlighting various pests to be on the lookout for across Ontario fields this season. Find out more about scouting, trapping, monitoring, and resistance of pests such as corn rootworm, spider mites, and more.
Soybeans
Soybean staging for much of the province's crop is anywhere from V3 (3 trifoliates) to R1 (beginning bloom – at least one flower appears on the plant on any node on the main stem). Staging is important as the season progresses to be able to apply herbicides, fungicides, and insecticides safely and effectively as required.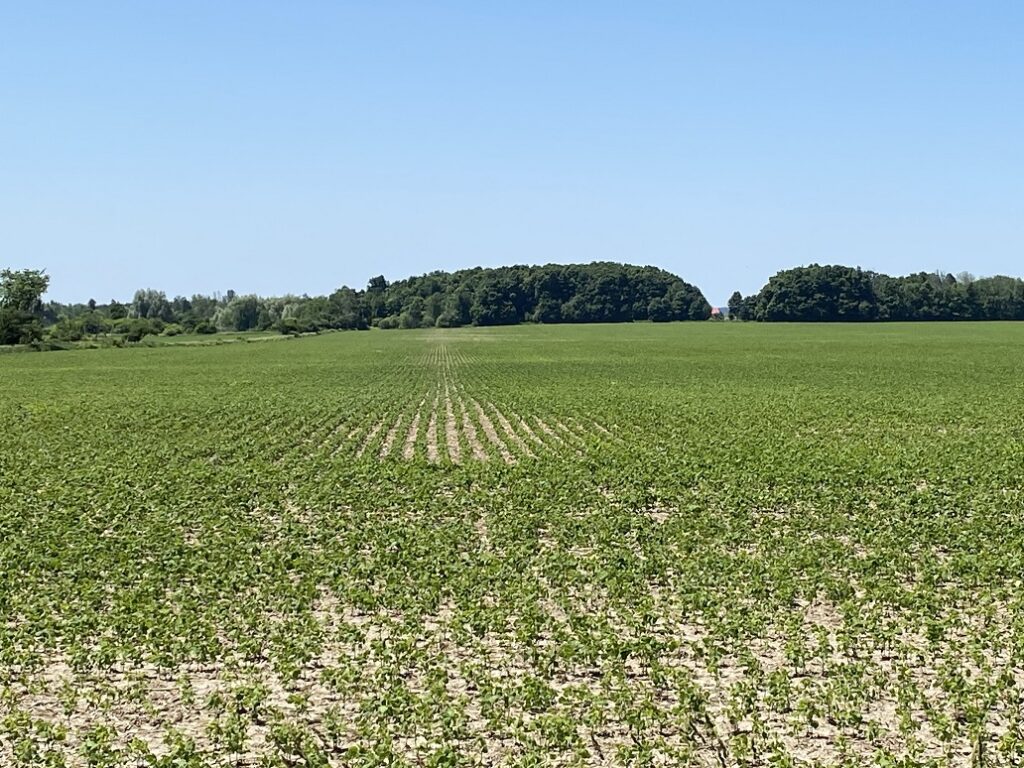 Fungicide timing is approaching for white mould control (find out more about white mould). The key to getting the most benefit out of fungicide applications is timing. Risks for white mould include the field history. If there is a known history of white mould, then the chance of it reoccurring is high. Variety, row spacing, plant density, and how quickly the field will canopy all factor into the likelihood of infection. Weather patterns will also help determine the risk. When it is foggy/humid and moisture is on the plant most of the day, there will be a higher risk of white mould. The Sporecaster App can help you determine your field's risk level. Fungicides can lower the severity of infection; however, timing is critical. The application timing ranges from R1 (single flower on the main stem) to R3 (pod on the main stem). Be sure to speak with your agronomist for optimum timing and product selection, and always follow label recommendations.
A reminder as the season progresses that Grain Farmers has supported the development with OMAFRA of the Pest Manager app, which allows you to identify, map, and find integrated management options for common weeds, insects, and diseases in corn, soybeans, and cereal crops. The pesticide use information in the app is specific to Ontario, and users should always read the product label before use.
Wheat
Wheat across the province is showing variability on maturity depending on how much rainfall was received in June. Some areas are drying up and maturing quickly due to the little moisture during grain fill. Harvest will be starting within the next week in some southern regions. Wheat harvest occurs quickly after maturity is reached once grain is dry enough for harvest. The longer wheat is left in the field, the greater the risk of reduced grain quality. Rain showers occurring after the grain has matured cause kernels to rewet and can result in kernels sprouting. The development of sprouts, even before they can be seen with the eye, results in lower falling numbers (falling numbers is a test that helps identify the structural integrity of the starch chains and determines how well suited the flour is for baking).
Maturity on wheat can be determined by the peduncle changing from green to yellow. At this point, the crop is fully mature, grain fill and the translocation of plant sugars have been completed (this stage can be compared to the black layer on corn). It takes roughly 660 growing degree days (GDD) to fill a wheat head. This period of GDD gains spans approximately 25 to 30 days for grain fill (less if it is extremely warm) – not a very long time.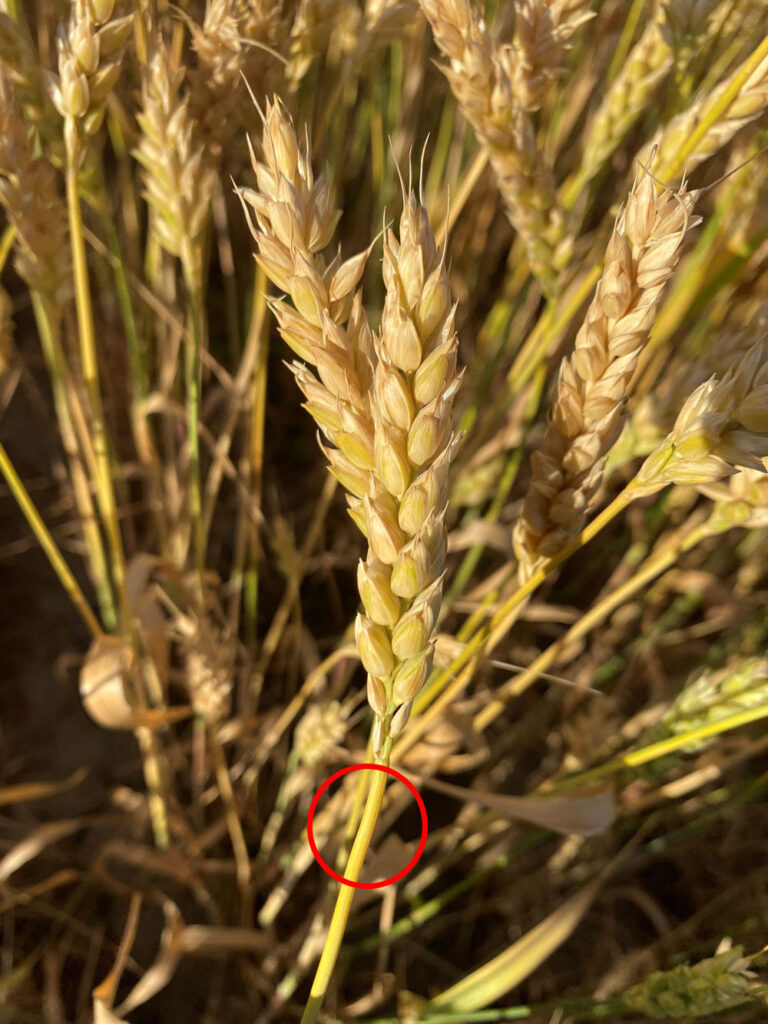 With the early wheat harvest, double-crop soybeans are a common conversation in some areas. If aiming for double-crop soybeans, seed supply on early-season beans will be needed. The date of wheat harvest and the field location will determine a lot. Aim for seed maturity that is at least one full maturity group shorter but check with your seed dealer on what they suggest and what is available. The seeding rate should be increased to at least a population of 250,000 seeds per acre. The planting date should be considered, looking at frost dates, as the yield potential will drop considerably if soybeans are planted too late. Early to mid-July planting dates are ideal, be sure that the soybeans are going into good conditions. The ideal planting dates for double-crop soybeans would be before July 10 for southwestern Ontario and before July 20 in the deep southwest, but it is a large risk at any date; the soybeans might yield, or they might not. Managing straw is critical, be sure to spread straw and chaff evenly. If you are considering baling, realize that the time spent baling might keep you out of the field planting for a couple of days. If you plan to double-crop soybeans, plant to moisture – up to 3" in July as they will push through. If there is no moisture at that level, aim for 1" planting depth and hope for rain.
The need for weed control in double-crop soybeans will be less – in theory, one pass would still be needed to control weeds. Most annual weeds emerge during May and June, and if double-crop soybeans are planted in July, weed pressure should be considerably less. Limit the investment in weed control as the chance for good soybeans is less likely with much relying on the weather cooperating for a good yield and harvest so late in the season.
---
June 23, 2022
The first day of summer came in hot for much of the province. Heat has been drying out some of the wetter areas of the province, but it is also reducing soil moisture where rainfall has been short over the past few weeks. Variability in fields is evident this year, showcasing last fall's wet harvest.
Corn, soybeans, and cereals are progressing quickly as high heat is being received. The Elora area is currently at 735 growing degree days (GDD) as of Monday, June 20. 725 GDD were received in the same time frame in 2021. For comparison, Ottawa Agriculture and Agri Food Canada is showing 815 GDD as of June 20, 2022, and the same time frame received 824 GDD in 2021.
Corn
Corn across the region is looking good, and as the old saying goes, much of it will be "knee-high by July 1", if it isn't already. However, as one travels the province, there is still a high degree of variability in how the crop looks. Corn rows are beginning to close, with the most advanced corn staging roughly at the V7 (9 leaf) stage. Growth will progress quickly with the upcoming warm days, and some shoulder-high corn can be expected by July 4.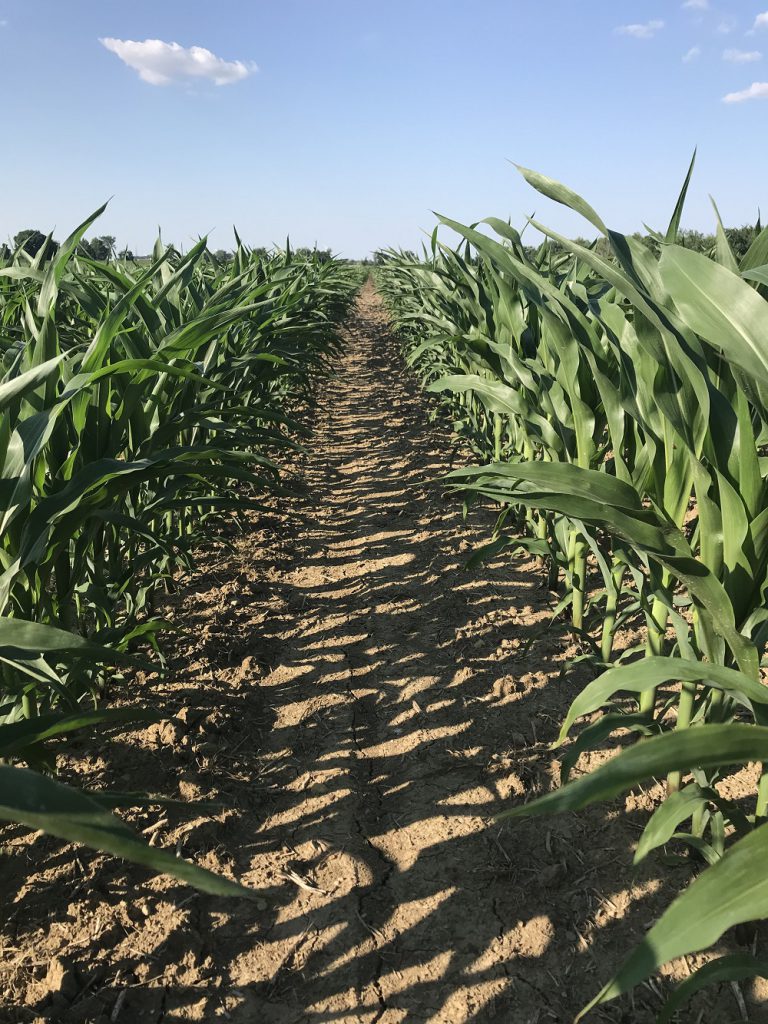 At about the V6 stage (six collars, or 8 leaf stage), the growing point emerges above ground level. The critical stage of ear development is from this stage to about a week before pollination. Ear initiation starts, then the kernel rows per ear are determined. The number of kernels per row is determined as the ear elongates and is determined before pollination. Stress in the upcoming weeks from lack of nutrients or moisture will reduce grain potential through reduced kernel numbers. Stress can be caused by many factors like too high population, weed pressure, root pruning from machines or insects, lack of fertility, lack of rainfall, standing water, hail damage, disease, etc.
Rapid growth syndrome has and can be seen in fields with the change from cool to high heat. This can be seen in the field when corn leaves do not unfurl properly, and the whorl becomes tightly wrapped and twisted.
Soybeans
Soybean stages are across the board. Some regions are finishing replants, while others finish their first planting as frequent rains have delayed planting. The most advanced fields are around the V4 to V5 stage (4th to 5th trifoliate). However, most of the crop is in the early V1 to V3 (1st to 3rd trifoliate) stages.
In the V3 to V5 stages, axillary buds develop into flower clusters near the top of the stem. In the coming days, flowering will begin, starting on the 3rd to 6th nodes and continuing down the stem. At this point, the plant will transition into reproductive stages (R1) while continuing to grow vegetatively.
Overall, preemergent herbicide applications have worked very well for weed control, thanks to the timely rains.
If soybeans were planted into hay ground, be sure to take a walk around and assess insect damage. Seed corn maggot has been found in soybeans fields that were planted after hay, even with an insecticide treatment.
The province's northern region received some very cool temperatures over the weekend, and some frost damage has been seen on muck soils.
Cereals
Winter wheat is quickly approaching maturity in the extreme southwest portion of the province. Ensure that combines are ready to roll when the time comes. As harvest approaches, scout for fusarium damaged heads in the field. Infected fields should be harvested first to limit continual toxin build-up in case of rain events or delayed harvest. Set the combine correctly to help blow out the lighter infected kernels.
Across the province, kernel fill is occurring in the winter wheat crop. Prolonged hot, dry weather will limit kernel fill resulting in smaller kernels as the water availability for the crop becomes limited. Kernel abortion and dead heads can be experienced as the plant dies rather than matures if moisture becomes too limited during this period. Flag leaves are already starting to senesce as the plant moves nutrients and moisture from the leaves to the kernels to help finish kernel development. Cracks in the soil are appearing in some regions of the province where rainfall has been limited. The fibrous root system of the wheat crop extracts all the moisture it can as it finishes grain development.
Farmers should be on the lookout for aphids in oat fields, as there are some reports of higher numbers in this crop. These aphids are a vector for barley yellow dwarf virus. The economic threshold for aphids on cereals is an average of 12 to 15 aphids per stem before the soft dough stage. After the early dough stage, insecticide treatments would not be cost-effective. Check the interior of the field and not just the edges. Consider the crop stage, beneficial insects, plant stress, and threshold before spraying. Plants that become infected with the virus transmitted by the aphids may be severely stunted and not head out.