New UK trade negotiations
A CONVERSATION WITH RALPH GOODALE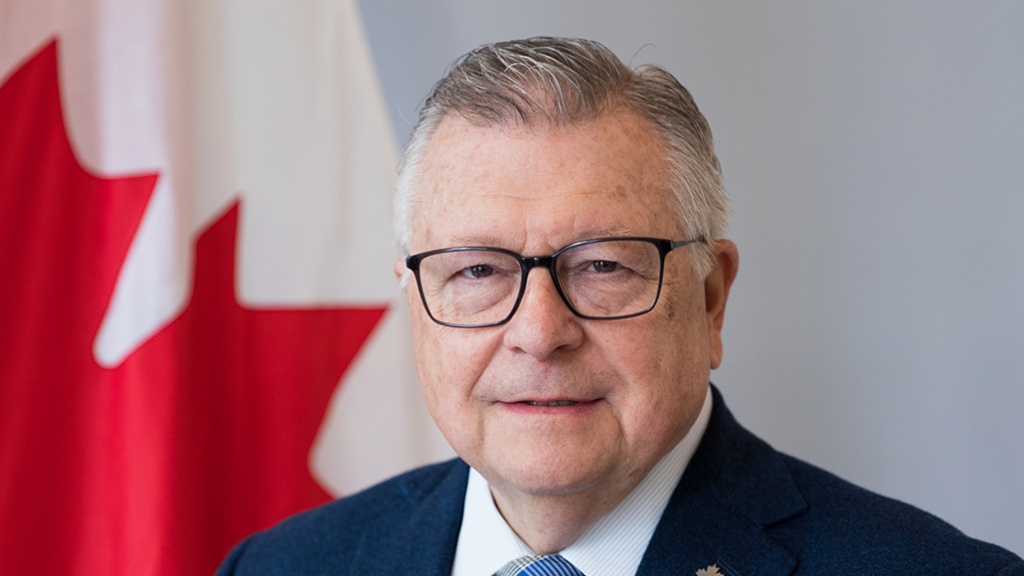 THE UK IS Canada's largest and longest-standing agricultural trading partner in Europe, and it is currently Canada's third-largest export market and an important investment partner. Ontario Grain Farmer sat down with the Honourable Ralph E. Goodale PC, high commissioner for Canada in the United Kingdom of Great Britain and Northern Ireland, to learn more about trade opportunities for Ontario corn, soybeans, and grain products.
Canada and the UK are currently negotiating a bilateral free trade agreement to replace the interim Canada UK Trade and Continuity Agreement (TCA) that came into effect in 2021 when the UK ended its membership in the EU (Brexit).
Goodale shares his insights and outlooks on the new trade negotiations and what Ontario growers should watch for regarding market and exporting opportunities.
Tell us about your role as the Canadian High Commissioner to the UK.
I feel very privileged to have this opportunity to represent Canada in the United Kingdom. Historically, London was Canada's very first diplomatic post abroad, and today, the UK is one of our country's best international friends, partners, and allies.
The role of the High Commissioner includes ceremonial and diplomatic representation to ensure Canada's voice is heard in London-based organizations like the Commonwealth, the International Maritime Organization, and the International Grains Council. The role also involves listening to global conversations and relaying reliable information to our own government and engaging with the British government on issues that matter to Canada — like the negotiation of a new free trade agreement between Canada and the UK, the urgent fight against climate change (both mitigation and adaptation), the free world's response to Russia's invasion of Ukraine, and emerging issues like food insecurity, and global shortages of grains, oilseeds, pulse crops, fertilizers and energy.
You were raised on a farm in Saskatchewan. How has that experience shaped your perspective?
I think practicality and inclusion are the major impacts of that farming background — keeping my perspective down to earth, measuring success by what all this diplomatic work actually accomplishes for real people (like farmers) back home, and remembering that those farmers are the best in the world and have a huge role to play in feeding the world, especially in the crisis circumstances that exist today. Farming in Canada always matters, now more than ever.
How do Canadian Trade Commissioners support the interests of Canadian farmers?
The Canadian Trade Commissioner Service helps Canadian businesses of all sizes succeed in international markets and make better, timelier, and more cost-effective decisions. Agri-food is a priority sector, and we help local UK businesses to identify and source Canadian food and drink products.
We actively seek to raise awareness of the high quality of Canada's agricultural and food products. Our Trade Commissioners also have an extensive network of local contacts across the whole sector, from buyers to distributors to government officials with whom we regularly engage on behalf of Canada.
What are some of your priorities for the Canada-UK relationship?
Through the negotiations towards a new bilateral free trade agreement, we have agreed to pursue an ambitious, inclusive, and sustainable agreement that will advance our climate goals, strengthen supply chains, and help our businesses thrive from digital trade.
Agriculture trade is a significant part of this key bilateral relationship for Canada. The UK food supply chain employs 4.1 million people and generates over $200 billion of added value for the economy each year. The UK imports around 40 per cent of the food it consumes and relies on imports and its own agricultural sector to feed itself and drive economic growth.
In 2020, the UK was Canada's fourth-largest export destination within Europe for agri-food products. Trade opportunities exist for established commodities such as Canadian wheat, dried legumes, corn and soy, and value-added products like wine, craft beer, and spirits. A key trend in the UK is the growing demand for plant-based foods, making Canada's protein supercluster more significant and relevant.
We have given ourselves two years to complete negotiations. Canada, however, will always emphasize concluding a high-standard agreement over speed.
How will the new trade agreement differ from the Trade and Continuity Agreement (TCA)?
The UK is a mature market with close to 70 million consumers with lots of choice. UK consumers are highly sophisticated and view Canadian products favourably — a trend we expect to continue.
The Trade Continuity Agreement gave us a good starting point to work from, but we are looking to secure an even deeper and stronger relationship through the new agreement.
Agriculture is always a key issue in any trade negotiation, and many Canadian commodity exports are very important to the UK's domestic food production. High-grade Canadian wheat is widely used and blended with UK wheat in the baking process and is an example of a win-win situation for farmers in both countries.
We will be spending considerable time over the coming months looking at how Canada can help support the UK, Europe, and the rest of the world as they deal with the fallout from the Russian invasion of Ukraine and its expected impacts on food supplies across Europe, Africa, and elsewhere. Canada's ability to help fill gaps in supply chains will be crucial over the months ahead. l
How will the new UK agricultural legislation differ from the EU policy?
It is still early for significant legislative changes, as these take time. However, we have recently seen new legislation passed to aid trials of gene-edited crops in England. Another example is the Animal Welfare Act, which the UK government says will position the UK as a world leader in animal welfare standards. We will continue to monitor legislative and regulatory developments, particularly where proposals depart from previous practice under EU legislation and may impact Canadian exporters.
The UK makes a theoretical argument that now "liberated" from EU bureaucracy, it will be able to be more flexible and nimble in its own stand-alone trade deals. Canada will be watching closely to see if that proves to be the case — for example, Canadian beef and canola exports. Canadian rules are rooted in sound science, and we believe the UK should also place science at the root of its policymaking. We will monitor the development of the new UK legislation closely and seek to secure and expand Canadian exporters' access to the UK market through our free trade agreement.
What agri-food trends in the UK are shaping the demand for Ontario-grown grain?
Broadly speaking, the UK's strong engagement in the worldwide battle against climate change helps to drive their interest in cleaner, innovative energy sources like renewable biofuels, for example. That represents an opportunity for Canadian sales into the UK and UK investments in Canada. But, the devastating war in Ukraine will immediately have repercussions on energy and commodity markets worldwide. We are very concerned that the war could cause global food shortages. Canada is devoting considerable effort now to assessing how we can help fill gaps in supply chains, provide alternate products where possible and, in extreme cases, provide emergency food aid where it
is needed.
What other trade opportunities with the UK do you foresee?
The plant-based food market continues to grow in the UK and offers good opportunities for Canadian exporters, either raw materials or processed products. We must stay closely attuned to UK consumers' tastes and position Canadian exporters to respond quickly as marketing opportunities emerge and evolve.
What will a new bilateral free trade agreement with the UK mean for Ontario farmers?
The UK is one of the largest high-value markets for Canadian agriculture and agri-food product. The outcome of a new bilateral free trade agreement will be important for continued trade and export opportunities for Canadian farmers, processors, food and beverage companies and exporters.
Dana Dickerson, Grain Farmers of Ontario manager, market development, says negotiations are being closely watched. "Though most of the grains we export to the UK are tariff-free already, a new agreement could help ease non-tariff barriers for Ontario grains and other products like Canadian grain-fed meats. A key priority for grain farmers will be removing barriers inherited from the EU regulatory regime, such as lengthy and complicated approvals of crop protection and biotechnology products," she says. •