Improving Ontario oats
STRATEGIES FOR BETTER YIELD AND STANDABILITY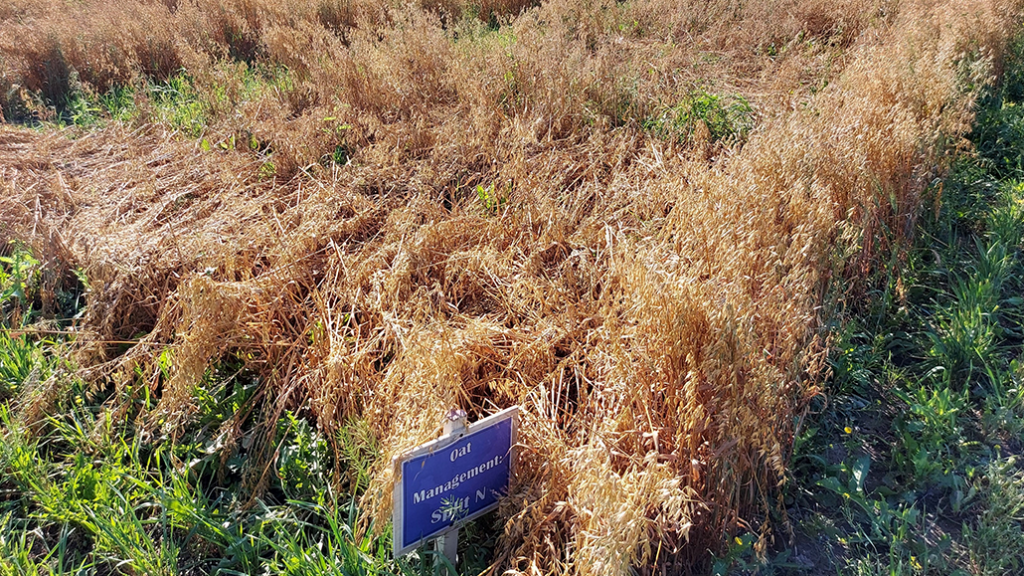 LODGING IS A major issue in the production of milled oats, and the entire value chain agrees it's an area that needs attention. A University of Guelph study offers insight into how agronomic management practices can improve yield and standability.
Joshua Nasielski, assistant professor in the department of plant agriculture, led five experiments at the Ontario Crop Research Centres in New Liskeard and Winchester in 2020 and 2021.
"We have four site-years of data, and we ran the statistics in a rigorous way, so I'm really confident about the conclusions we can draw," he says.
The study evaluated changes in row spacing, seeding depth, seeding rate, nitrogen applications and the use of a plant growth regulator against a standard management protocol. Three oat varieties with different lodging susceptibility were grown — Camden, Nicolas and Nice.
NARROW ROWS BOOST YIELD
Researchers decreased typical row spacing from seven inches in New Liskeard and seven and a half inches in Winchester to five-inch spacings in both locations.
By maintaining the same seed rate but narrowing the rows, the theory is that each plant has more room to grow a wider root structure, making it likely to have better standability.
In every variety, site, and year, narrower row spacing increased yield by an average of 11 bushels per acre without increasing lodging. The yield increases varied from five to 17 bushels per acre, depending on the site and year.
"When you consider that average oat yields in Ontario are about 80 bushels per acre, an 11-bushel increase is a huge benefit," says Nasielski.
He was surprised by how significantly row spacing impacted yield and how consistent the results were.
While most cereals in Ontario are planted in 7.5-inch rows to accommodate planting soybeans in 15-inch rows with the same seed drill, the research suggests that taking the time to reset the drill to narrow rows will increase net returns.
NO SHALLOW SEEDS
The study also compared seeding depths of one, two, and three inches. While depth did not impact yield in either year, lodging increased in oats planted shallower than one inch.
"To have a lodging resistant oat, you want crown roots that are deep and wide," Nasielski says, meaning lodging increases when crown roots are shallow.
He recommends setting the drill slightly deeper than one inch so that even the seeds that are shallower than average are planted one inch deep.
Nasielski knows some farmers are concerned about deeper seeding delaying emergence, but the research shows that the delay does not translate into a yield loss. There was no yield penalty to seeding as deep as 2.5 inches.
MAINTAIN SEED RATES
The standard seeding rate for the study was 300 seeds per square metre. The seeding rate experiment compared 150, 300, and 400 seeds per square metre.
While Nasielski knows of agronomists in the United Kingdom who recommend higher seeding rates to reduce lodging, he found the opposite true. The half-rate reduced lodging in some cases but had variable yield results.
Since the findings were inconsistent, he encourages growers to stick with the standard seeding rate or the rate they find works for their location.
LIMITED N BENEFIT
While the recommended nitrogen rate for oats in Ontario is 32 to 68 pounds per acre, researchers wanted to determine what happens when the rate is increased, and applications are split.
The standard nitrogen rate in the study was 90 kilograms per hectare (80 pounds per acre), split between 60 kilograms pre-plant and 30 kilograms at growth stage (GS) 39 or once the flag leaf is fully unrolled.
The experiment tested full application pre-plant, full application in-season, 60 kilograms pre-plant and 30 kilograms in-season, and 30 kilograms pre-plant and 60 kilograms in-season. The trials tested two in-season timings, GS 32 when the second node is detectable and GS 60 just after head emergence. Application at GS 60 is not recommended.
No significant differences were observed in yield or lodging among the different trials.
Although the ideal nitrogen rate depends on location, Nasielski saw no real benefit to higher rates. "The typical rates seem to be good enough, especially since yields are limited by temperature more than any other factor," he says.
SOMETIMES A PGR PAYS
The last experiment involved growing oats at five different nitrogen rates up to 160 pounds per acre, with and without Syngenta's plant growth regulator (PGR) Moddus applied at GS 30 to 32.
Lodging increased with more nitrogen, but the increase in lodging was lower with Moddus. The PGR reduced plant height by an average of eight centimetres but had little effect on yield.
"If you're going to push nitrogen rates on an oat crop, it pays to have a PGR," says Nasielski. While most growers will find this conclusion intuitive, he appreciates confirming the evidence.
NEXT STEPS
This year Nasielski has partnered with three farmers in northern Ontario to test key findings on a field scale.
An eight-acre field is being used to compare yield and lodging when oats are planted at five and seven-inch row spacings and soybeans at 10 and 14-inch row spacings.
Farmers are also testing the timing of PGR application and its impact on oat straw.
"We want to know if you are better off targeting the early or late part of the recommended application window," Nasielski says. "We're also looking at the effect of temperature at application timing, and we want to understand the whole data set to find out how we can get a more consistent effect."
This research is funded by Grain Farmers of Ontario, the Ontario Ministry of Agriculture, Food and Rural Affairs through the Ontario Agri-Food Innovation Alliance, PepsiCo (which owns Quaker Oats), and Syngenta. PepsiCo funding was not used for this project's plant growth regulator portion. •