Accurate DON testing
NEW GRINDER NETS BETTER RESULTS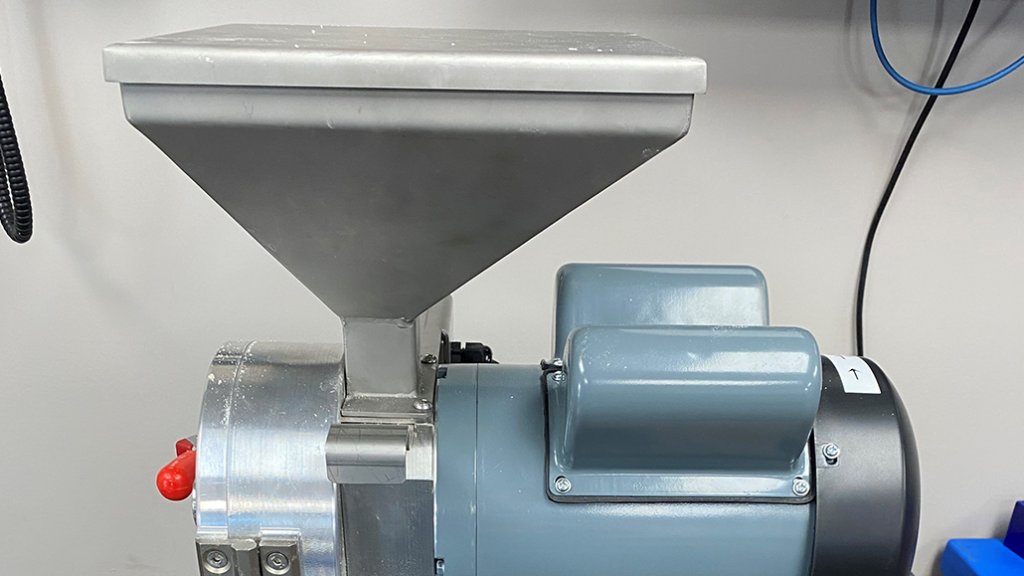 A PARTNERSHIP BETWEEN Grain Farmers of Ontario, the Ontario Ministry of Agriculture, Food and Rural Affairs (OMAFRA), and the University of Guelph has successfully produced a grain grinder that more reliably and accurately measures grain quality.
MORE REPRESENTATIVE SAMPLING
The standard small grind sample used for DON dip sampling taken at the time of delivery proved to be an insufficient quality measure given the inconsistent — though at times significant — DON pressure in 2018, says Marty Vermey, Grain Farmers of Ontario's senior agronomist.
The method relies on data provided by very few corn kernels used for the DON test. Results are entirely dependent on just a few kernels that may or may not be infected. This is why many growers at the time found themselves hauling rejected loads of grain only to have the same load accepted a short time later.
The new grain grinder is designed to quickly handle a higher volume of grain and meet the uniform grind size required on wet corn. The grinding of the larger sample size and homogenizing of the ground sample means the representation of the grain for DON testing is more consistent when repeated from the same truckload.
Chatham-based Sasso Mill was engaged to produce the system, while the manufacturing and analysis company Neogen was responsible for development and analysis. John Nelson, director of corporate accounts for Neogen, says the new device is designed to process one kilogram of corn per minute. It produces a granulation size of over 95 per cent (meaning the resulting flour can sift through a fine mesh screen) and takes up the same amount of space as the standard kitchen mixer. The net benefit to farmers — results will be much closer to what is actually in the grain load.
Developing something capable of quickly processing higher moisture grain was the most challenging aspect of the design process.
"Until now, there was no way to grind corn that comes to the elevator right off the field. There's also not a good way to grind it to a fine consistency, which gives a much better result. We've now addressed the biggest source of variability in DON testing," says Nelson.
"When it grinds, it grinds clean. There are no spots where sample residue can adhere, and you can clean it out with a vacuum…It's also food safe and can grind other staple grain crops."
AWARENESS EFFORTS
The grinder now on offer is the second generation of an initial prototype developed through an OMAFRA and Grain Farmers of Ontario-funded project. Initially led by Art Schaafsma at the University of Guelph's Ridgetown Campus, the prototype and subsequently altered design was field tested at partnering elevators.
The new grinder is now available and can be ordered by contacting Neogen. Vermey says the production schedule is approximately four weeks, and early orders should be filled in time for the bulk of the harvest season.
"Elevators need to be aware of how they can improve their consistency and accuracy of DON testing. We're working with the Ontario Agri-Business Association to communicate this improved testing practice to its members." says Vermey.
"Farmers need to be aware of it too. They need to ask the elevators if they use two kilograms of ground corn in the DON test." •