Field observations
FALL 2022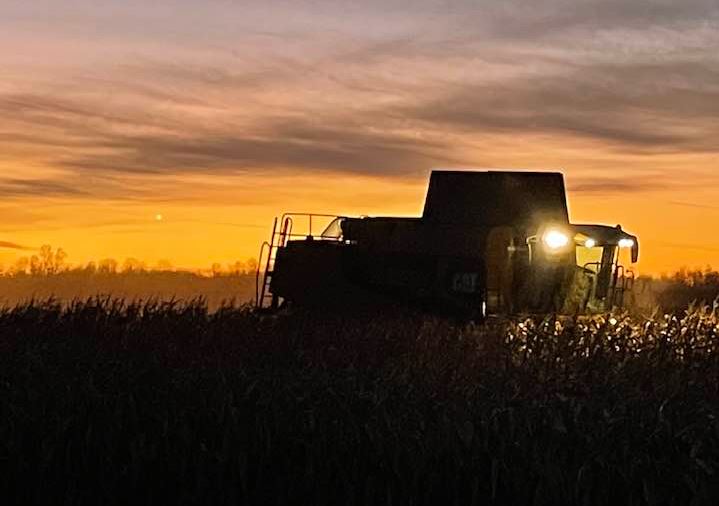 November 17, 2022
Many regions in Ontario have received their first snowfall as winter creeps closer, which has hampered any remaining corn and soybean harvest. However, spectacular fall weather has allowed many acres to be harvested in a very timely manner.
Corn
Corn harvest is roughly 75 to 100 percent complete in some areas, and the remaining acres will be harvested as weather conditions and storage allows. It appears that there are a few "corn piles" at various elevators across the province due to harvested corn coming in so quickly because of ideal weather that has allowed for a continuous harvest without many pauses. And, more recently, backlogs of shipping corn out of grain terminals.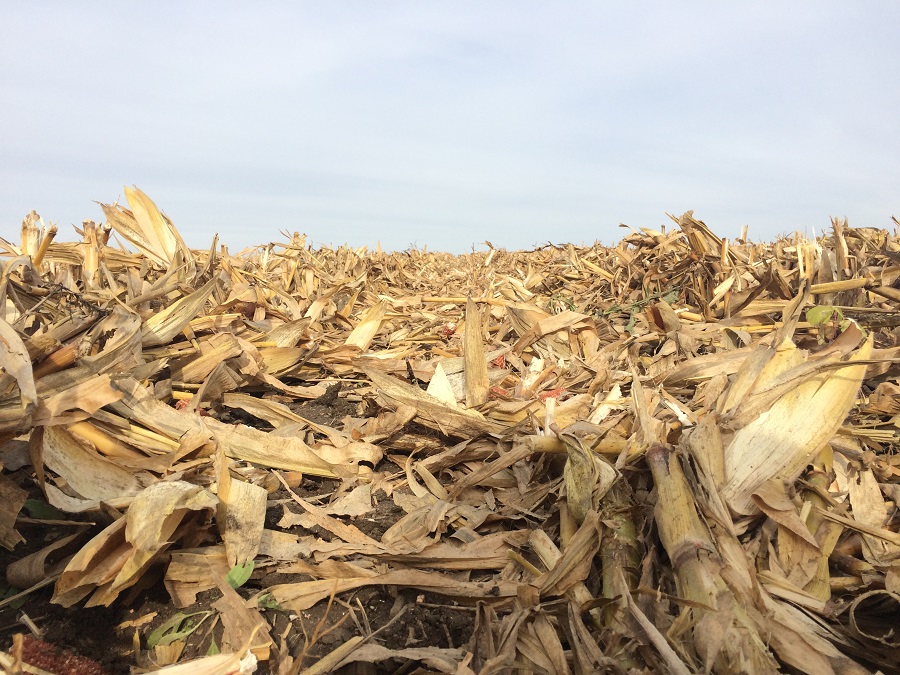 Seed sales season is in full swing. The best discounts and selection of the best hybrids are now. It is important to get some seed on the books so the right hybrids will be at your dealer's location or in your shed for spring. As your needs may be different than last year, you should ensure you work on your seed selection plan and take in the three key factors of your seed selection to make sure you plan what you need to plant next spring.
Seed Selection Criteria
Agronomic package – consider maturity, disease tolerance, and matching genetics to your management and needs. Consider test weight, dry down, husk cover, plant height, and pollination timing.
Right insect traits – use the traits for your needs and field conditions. Don't use the wrong traits if you have insect resistance issues like corn rootworm. Create an insect resistance plan on your farm. See Field Crop News for more detail.
Consider the end in mind – who you sell your grain to is your customer; make sure you find out what your customer's needs are, and ask what kind of product they are looking for or do not allow. It may be traits that are not approved, or they may need specific quality parameters such as low DON levels or a specific test weight. Knowing your market today helps you plan your crop for next year
Remember, don't pick hybrids based on any season or location when choosing hybrids. Look at multi-year evaluations across different environments and compare them to products you know. The Ontario Corn Committee (OCC) trial results will be published starting this weekend at www.gocorn.net. The trial data includes head-to-head comparisons of hybrids which can be viewed using the Hybrid Comparison Selector on the OCC website.
Remember to select a package of hybrids that you are comfortable with, have experience with, and know how to manage. Growing a package of hybrids spreads your risk by spreading the pollination period and diversifying your investment. Grain Farmers of Ontario has created a short fact sheet on seed selection.
Soybeans
Soybean harvest is 90 to 100 per cent complete in some areas. The remaining acres will be harvested as weather and field conditions allow.
When choosing soybean varieties for the next year, be aware of what varieties have done well on your farm and in the area, and remember to look at multi-year trials, not just one season. The Ontario Soybean and Canola Council (OSACC) will post multi-year trial data next week at www.gosoy.ca. Remember that early order and early pay discounts from seed suppliers are approaching quickly; take advantage of these if you can.
---
November 3, 2022
November is here and has brought some unseasonably warm and dry weather! Corn and soybean harvest continue as the weather allows.
Corn
Corn harvest is anywhere from 40 to 60 per cent complete. Moistures have dropped quite a bit from the start of harvest with all the beautiful warm weather, with some reports of a four to six per cent drop over roughly seven days, which will certainly help with drying costs and ease of harvest.
Soybeans
There are still a few fields of soybeans standing across the province – most in the more northern and eastern regions.
Wet field conditions have been the main factor for a delay in harvest. Harvesting soybeans when the ground is saturated can cause conditions where soybeans can be mud tagged. According to the Canadian Grain Commission, a soybean completely covered with caked-on mud is considered damaged. Grading factors will apply, and samples with over 2 per cent damage will be downgraded, and over 15 per cent is considered sample grade.
Favourable weather this week has led to some good harvest conditions for soybeans, and many of the remaining fields have been able to be combined or will be soon.
Cereals
Winter wheat continues to grow. As temperatures begin to drop, winter wheat begins to acclimate to the cold. Certain genes within the wheat produce a substance that protects the cell membranes. In a wheat plant that has developed a minimum of four to five leaves and one to two tillers, cold acclimation begins when soil temperatures at the crown go below 10° C. If the plant is not at this stage, the lack of tillers heading into winter can result in an inadequate number of heads the following year, affecting yield. Tillers can still develop in the spring, but the yield potential may differ between tillers formed in the fall and tillers formed in the spring. It takes approximately four to six weeks with soil temperatures below 10° C at the crown depth for the wheat plant to fully harden. The colder the soil, the more quickly the plants develop winter hardiness. The fluctuating air temperatures we see also influence soil temperature to a point. Once the cold acclimation begins in the fall, wheat plants can unharden when soil temperatures at the crown go above 10° C and will re-harden when the soil at the crown goes below 10° C.
---
October 27, 2022
It was a busy weekend and start to the week as harvest continued across the province. Yields are variable based on moisture received throughout the growing season. Another span of clear weather in the later part of the week will keep combines rolling through to November.
Corn
Corn harvest is approaching 25 to 40 per cent complete in some areas of the province. Moisture levels range from the mid-teens to the high twenties, with yields ranging from 40 to 200 bushels per acre. Rain and/or snow is causing harvest to pause in some areas. The past weekend of warm weather and low humidity really helped with lowering moistures, with some hybrids seeing a 2 to 3 per cent drop in moisture, which will certainly help reduce drying charges.
The 2022 Ontario Grain Corn Ear Mould and Deoxynivalenol (DON) Mycotoxin Survey is now available. Although this survey doesn't cover every cornfield in the province, it does cover a broad area and gives an overall perspective of the trends of potential DON in regions that might have elevated levels that may need attention. Even if the area is relatively uninfected, field scouting is still important to understand if the presence of ear moulds is in your field before you harvest.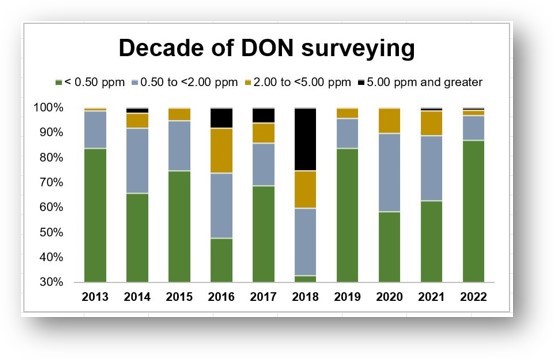 The importance of correct sampling cannot be stressed enough. Ensure that there are several probe samples (minimum four pneumatic probes per truckload) in whatever is being sampled (bins, wagons, trucks), or using tailgate dip samples several times (more the better, 200 is the gold standard) through the unloading stream. For DON testing, there should be at least two kg of grain and ensure that the grain is ground finely enough that 95 per cent of the material goes through a 20-mesh screen. Once all the grain is ground and uniformly mixed, a subsample can be used to do the DON dip test. This will ensure a more reliable and repeatable DON level can be measured.
Soybeans
Soybean harvest is 80 to 100 per cent complete across the province; some areas are still struggling to complete harvest due to on and off rain showers and snowfall, making for saturated ground conditions. Areas in Northern Ontario received some heavy snow in the past week, but with unseasonably warm temperatures this past week, harvest will progress quickly and hopefully get wrapped up. Space to store soybeans has slowed harvest in one northern region. The weather delay should have allowed the backlog to be cleared for harvest to continue and be completed.
If you're feeling stressed because harvest has not gone as you had planned, Grain Farmers of Ontario and several other organizations have resources for managing stress.
Cereals
Oat harvest is still occurring in the northwestern region of the province- rain and snow have hampered progress.
Winter wheat is still being planted in areas of Southern Ontario where crop insurance planting deadlines have not passed. Agricorp planting deadlines for fall-seeded grains are available online.
Fields that have been planted and emerged are looking quite spectacular in many areas, with early planted wheat beginning to tiller. Cool, damp weather has been ideal for wheat growth in most areas.
Research
Grain Farmers of Ontario has more than 200 funded research projects listed online. One of the current projects is Adaption mechanisms associated with survival under low-temperature flooding and ice encasement in Ontario winter wheat (Triticum aestivum L.) by Eric Lyons at the University of Guelph. This project looks into the mechanisms that allow greater wheat survival, screening for populations with desirable traits, and working towards an Ontario area-based map that will highlight areas that might see common components of winterkill and how to manage them. A model will also be developed to monitor cumulative winterkill days to better manage risk and make informed decisions earlier in the year on spring management.
To learn more about this project, or to view other project summaries on topics ranging from cover crops, precision ag, management, genetics and many more, visit the Grain Farmers of Ontario research summary page.
A special thanks to Terry Phillips and Timo Brielmann for the northern Ontario updates.
---
October 20, 2022
The weather has cooperated over this past week, allowing many acres, province-wide, to be harvested. More recently, snow and ice pellets have been falling in areas of the province, but harvest continues.
Corn
Corn harvest is in full swing across much of the province. Reports indicate 16 to 28 percent moisture with yields anywhere from 100 to 230 bushels/acre. Variability is very evident this year.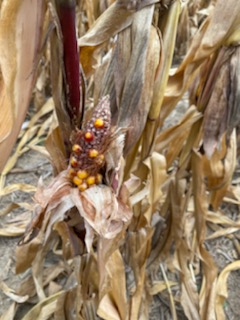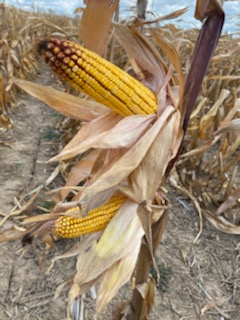 Dry-down seems to be slower in some areas. Weather conditions and plant characteristics greatly influence in-field grain dry-down. Over the past couple of weeks, it has been cooler in some areas than normal. Any decrease in temperatures will slow grain dry down, along with cloudy, rainy weather as the crop approaches maturity also slows progress. Also, the dry weather pattern over the past months has impacted dry-down. How? Well, with the lack of moisture, in some areas, a lack of kernels on the cob (see the October 13 field observations report for info on tip back and drought impacts), and plant health might be the culprits. Dry weather has lowered the severity of leaf diseases, which has kept the plant greener for longer. Once moisture arrived in late August, the corn took up nitrogen and water, allowing the plant to have a greater capacity to fill kernels. In some cases, the number of kernels just wasn't there, or at least not at the same level as in prior years when there was no drought.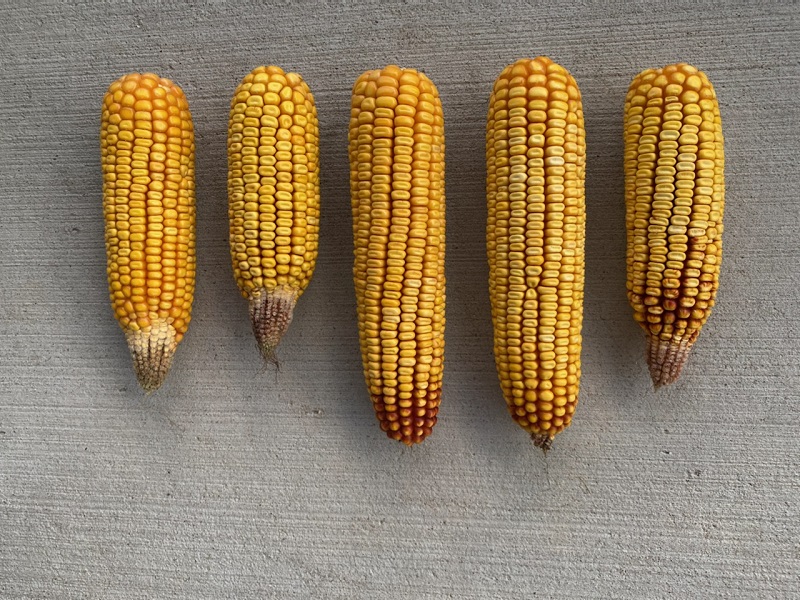 So where does it leave the crop? In some areas, there very well may be very high test weights. The plant had the capacity to fill the kernels, and with a lack of kernels on some cobs, there was the potential to really fill the present kernels.
In some other cases where the drought was present, and there might only be half of a cob of kernels available to fill, the plant can't sink in nutrients into the kernels, so the sugars accumulate in the plant, and the plant turns purple—something to be on the watch for in some areas.
Dry-down on corn is all due to relative humidity. We have experienced low humidity that has really helped take points off corn in the field (and in the bin for those using air dryers on lower moisture corn to avoid carbon tax).
Although yield is typically at the top of every farmer's mind, test weights also come into play. Test weight is used as a quality measurement and is identified as the weight of grain (how many lbs per bushel). Test weight depends on grain moisture, so it is important to base the final test weight off dry grain. Test weight can wreak havoc as low-test weight grain lowers the grade level, which means discounted corn when selling a lower-graded product. High test weight corn will weigh more per volume. Some might anticipate that good yields will coincide with high test weights and visa versa- but not always. Overall, there is high variability and an overall lack of relationship between yield and test weight. Many factors influence test weight; hybrid, the physical characteristics of kernels, kernel moisture, and stress during the grain fill period all affect test weight. Disease, insect damage, deficiencies and events such as frost, drought, and hail can all also affect test weights due to premature plant death and premature plant maturation, which means less starch in the kernel and low test weight.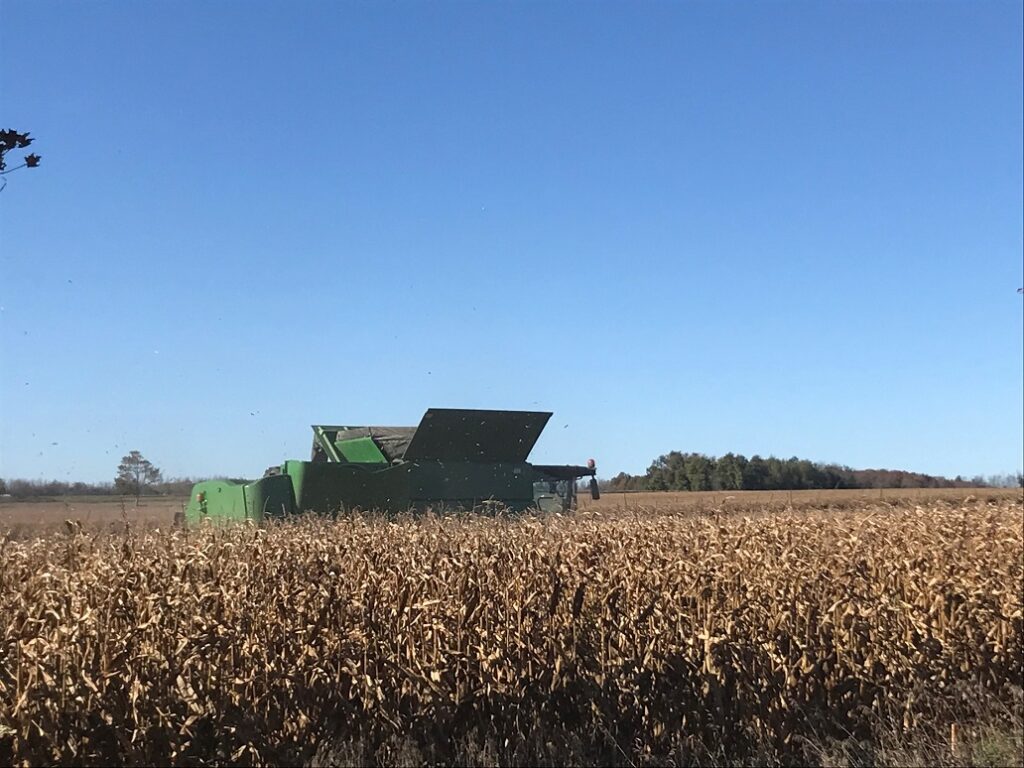 Although DON isn't on everyone's radar this year due to dry weather, the Ontario Grain Corn Ear Mould and DON Survey has been conducted. The report for 2022 should be available within the next couple of weeks.
Soybeans
Soybean harvest is getting closer to the end, with an estimated 75 to 100 per cent complete across the province.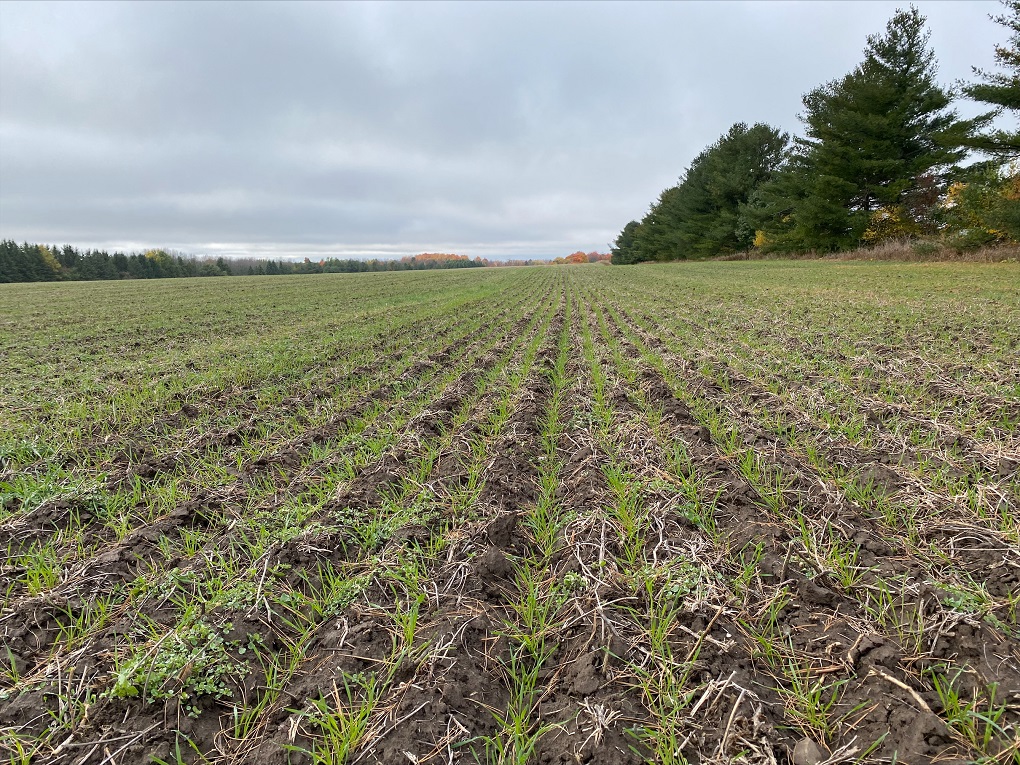 Now is a great time to do some post-harvest scouting and weed management. What weeds were hard to control, and how can they be better managed? As cooler temperatures approach, perennial plants are actively putting energy into the roots and crown of the plant. When spraying a herbicide this time of the year, don't expect immediate results, it takes time for the herbicide to translocate within the plant, which is driven by temperature, but by leaving the plant for a few days before any fall tillage, it can really assist with the management of tough to control perennials. Much of the province has had its first (or more) hard frost, but some areas might still be able to take advantage of a great window for weed control.
And in some cases, weed control can be better after a hard frost as the plant moves nutrients and herbicide into the roots. The key is to choose the proper herbicides for this time of year. Use multiple modes of action and a herbicide that is preferably not a "contact herbicide." Adjust spray timing for the warmest part of the day for better plant uptake, and be prepared to wait a bit for control to occur. Learn more in this article, Weed Control Tips, on www.OntarioGrainFarmer.ca.
---
October 13, 2022
Driving down a country road this week, you might see a combine or two working in the fields. Corn harvest has begun, while soybean harvest continues across the province. Beautiful weather across many areas has allowed for harvest to progress quickly. Rain showers in the later part of the week will slow harvest down, and showers and high winds may test the strength of some corn stalks.
Corn
Corn harvest has started across much of the province. Moisture levels in the high teens to high twenties are what is being reported so far. However, there is a lot of variability in the field due to moisture stress across soil types and topography. Corn can lose 1 per cent moisture per day when the weather is favourable. Generally, 0.4 percent to 0.6 percent per day is more common in Ontario. Temperature and hybrid traits will determine the speed of dry down, with warmer temperatures contributing to faster drying.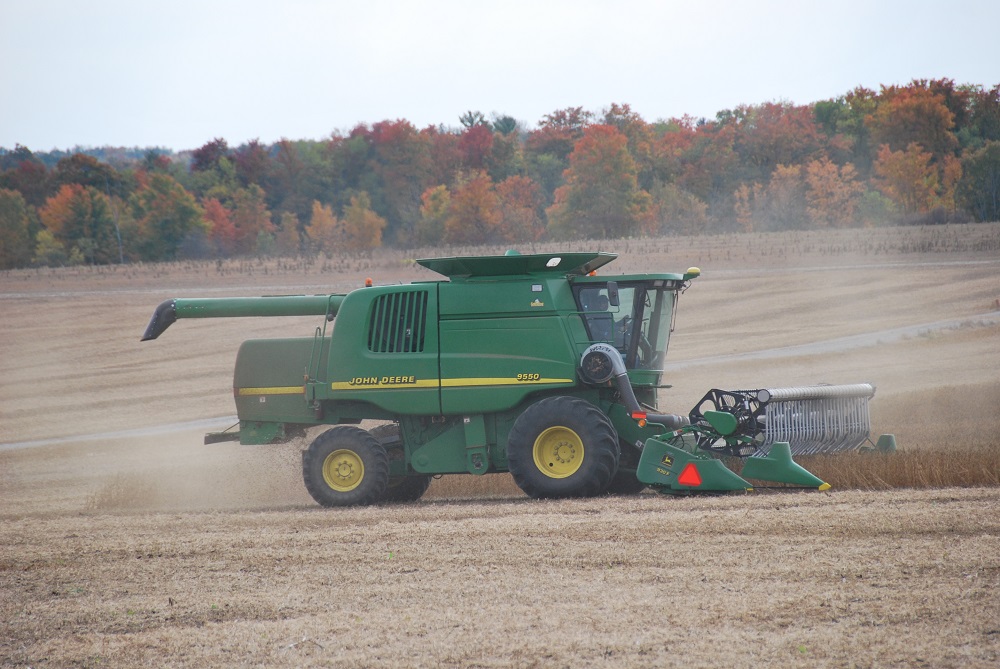 Some corn is not black layered at this point of the year, causing high moistures. Overall, corn heat unit (CHU) accumulation for the year is similar to past averages of +/- 50 CHU (May 1 to Oct 4, 2022 – Elora, Current: 2948.26, 52 Year Average: 2988.2 whereas Guelph, Current: 2907.48, 52 Year Average: 2853.31).
Droughted corn has its issues; small, thin ear shanks (a piece of the corn plant that holds the ear to the stalk) are proving to be very weak. As the plants dry down even more, those cobs will drop much easier if rattled than plants that might have had normal development with larger shanks. Be aware of this as harvest approaches and target droughted fields to be first harvested.
Many corn fields are seeing ear tip back in the fields this year. Tip back is when the ear of corn does not extend all the way to the tip of the corn cob and has missing or incomplete kernels. Typically, there are two main reasons for tip back: poor pollination (causing the absence of kernel formation, tip kernels are full, just all the way to the cob) and kernel abortion (smaller kernels that have been shut down early). If tip back is being seen in the field, take some time now to assess what was the main contributor.
Silks that emerge from the tip of the cob are the last to emerge through the husk, and these kernels are also the last to fill during the grain fill period. Any significant stresses before, during and right after pollination will impact these kernels. Delayed or late silking is when silks emerge when there is little to no pollen left. Corn rootworm beetles can also clip silks, resulting in poor pollination as well.
Kernel abortion is mainly caused by stresses that reduce plant photosynthetic output (in 2022, drought was the main cause) during the first several weeks following pollination and through the R3 (milk) growth stage. Also, many days of cloudy weather can reduce plant photosynthesis and cause kernel abortion.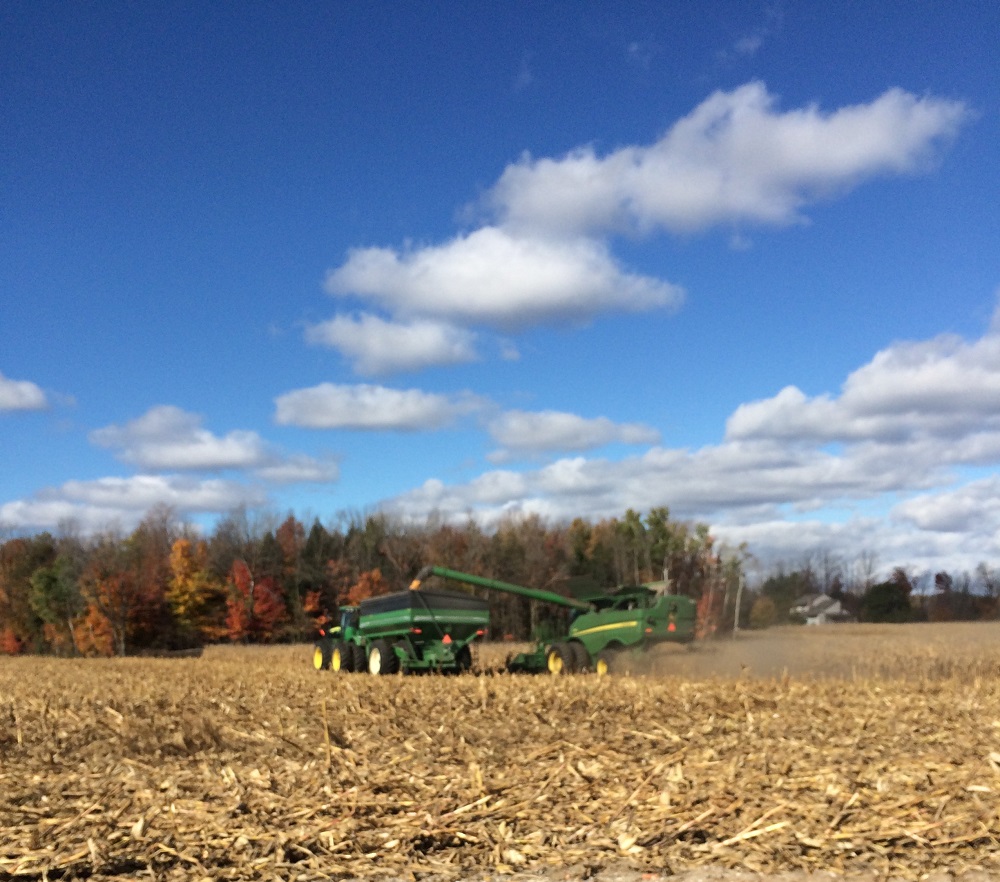 Soybeans
Soybean harvest has progressed rapidly over the last week, with roughly 60 to 80 per cent complete, with most soybeans coming off the field dry. Early planted, in some cases, are showing lower yields compared to later maturity/later planted, which are in many cases showing higher yields, due mostly to when the plant was in reproductive stages, and rains arrived. Timing of moisture matters, and unfortunately, we can't control the weather!
Cereals
Winter wheat planting is still occurring when conditions allow. A few fields of oats were planted as a cover crop, are now being cut and baled for animal feed.
---
October 5, 2022
Thanksgiving weekend is approaching, and it looks favourable for fieldwork in Ontario. Thanks to all the farmers who will eat their turkey dinner in the fields with their family's support. Stay safe, be positive and be thankful.
Corn
Heavy frosts have again occurred in some areas, fully shutting down the plant and helping with dry down.
As corn comes off, remember to pay attention to standability, yield, test weight, and quality at the time of harvest. When selecting future hybrids, be sure to choose hybrids that match farm management styles, be aware of the downsides and benefits of each hybrid, and on what ground they "shine."
There are typically two types of hybrids, a racehorse and a workhorse hybrid. Typically, a racehorse does well in optimum conditions when everything is going perfectly without stress. A workhorse hybrid is the steady Eddie, who will perform, albeit not as high as the other, but consistently perform year in and year out and can handle a bit of stress. The racehorse hybrids often have a more upright leaf structure, while the workhorses have leaves that dip down more towards the ground. It is important to understand how each hybrid interacts in the environment and place the hybrids under the conditions that will obtain the full potential for the farm.
Seed selection season is coming up. Check out our Choosing the Right Seed Factsheet for more information on how to make your seed selections.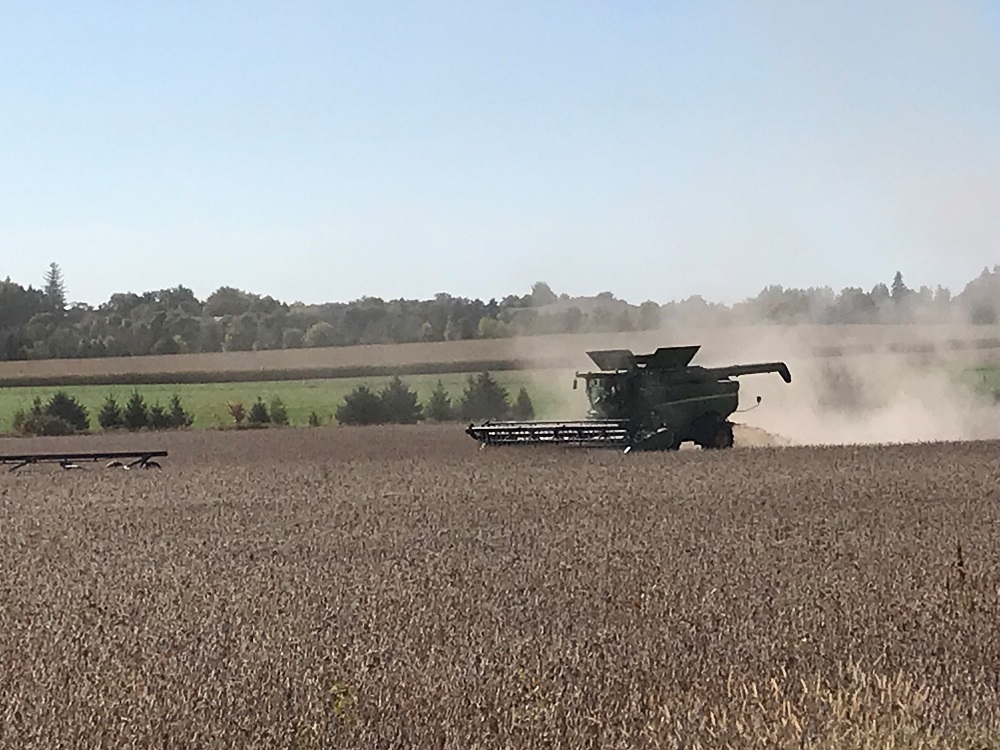 Soybeans
Soybean harvest is roughly 50 to 80 per cent complete, depending on the region. Rains last week slowed progress, and with a chance of light showers coming at the end of this week, harvest progress will slow again. Overall, progress is similar to previous years. There have been reports of very low yields in areas with low rainfall and shallow soils with poor water holding capacity. In comparison, average yields have been reported where rains and soil moisture carried the crop through the year.
Cereals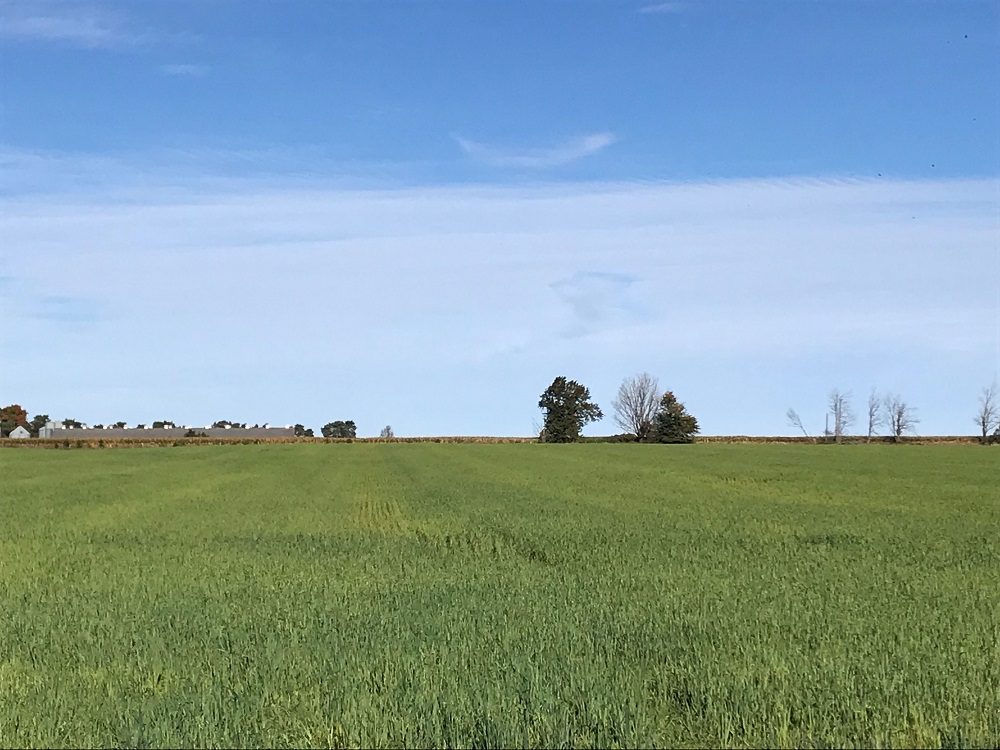 Winter wheat planting is still going strong, as ground conditions allow. Some areas are still seeing some high saturation of moisture after heavy rains – heavier ground and untiled. Wheat that has been in the ground for a couple of weeks is emerging. As a reminder, the Ontario Cereal Crops Committee publishes a guide to the the optimum winter wheat planting dates in Ontario.
Spring cereal harvest is wrapping up in the northern area of the province.
For areas that have passed the optimum wheat planting window, there may still be time before the Agricorp 2022 Planting Deadlines for fall-seeded crops.
Cover crops planted after wheat are looking really great as fall arrives.
---
September 27, 2022
Soybean harvest has stalled due to periodic rains across the province. As fields dry up, combines will begin rolling again, and winter wheat planting won't be too far behind. Grain corn harvest is also just on the horizon for some.
Corn
Corn is anywhere from black layer to ¾ milk line in most areas. Some corn has reached physiological maturity in the drought-affected areas of the province. Moistures are testing at 22 to 28 percent, and harvest is just around the corner for some of the crop. Warm days in the past couple of weeks have really helped advance corn. With exceptional warm, dry weather, we could see a one point of moisture per day decrease in grain moisture. As we reach October, with cooler weather and few showers, it will be common to need approximately three days to remove one point of moisture.
A light frost was seen in some areas of the province late last week, but so far, nothing detrimental to crops in most areas. Some leaves have been killed off near the top of the plant, but it didn't get down into the canopy. It might assist with crop dry down as harvest nears.
Tar spot has been "spotted" in regions of the province, not at levels like was seen last year, but is still present. With financial support from Grain Farmers of Ontario, Albert Tenuta, OMAFRA field crop pathologist, conducts tar spot trials. In the Rodney, Ontario location, there was very good infection this year, which is a positive outcome for the ongoing fungicide trials and hybrid evaluations at this site. Overall, this year tar spot infection has been low across North America. The environment has not been conducive to heavy infections. It has limited the development and spread of the disease, but it is still there, waiting for a better environment next year. As there are many differences between hybrid tolerances and disease, be sure to look at your disease risk and select the best tolerant hybrid with your seed company representative for next year's crop.
Are there lodged corn plants in your fields? Was corn grown in the same field last year? Are the roots small and look pruned? Now is the time to diagnose why things might not look as good as they should. Corn rootworm, poor root development from compaction, and poor hybrid selection can cause standability concerns. Be sure to take the time to determine which factor is affecting corn stands and make better choices for next year! Find out more in the managing corn rootworm resistance factsheet.
Soybeans
Soybean harvest has been occurring across much of the province. Where rains occurred, harvest, of course, has been impacted and slowed. Yields range from lower than average to average.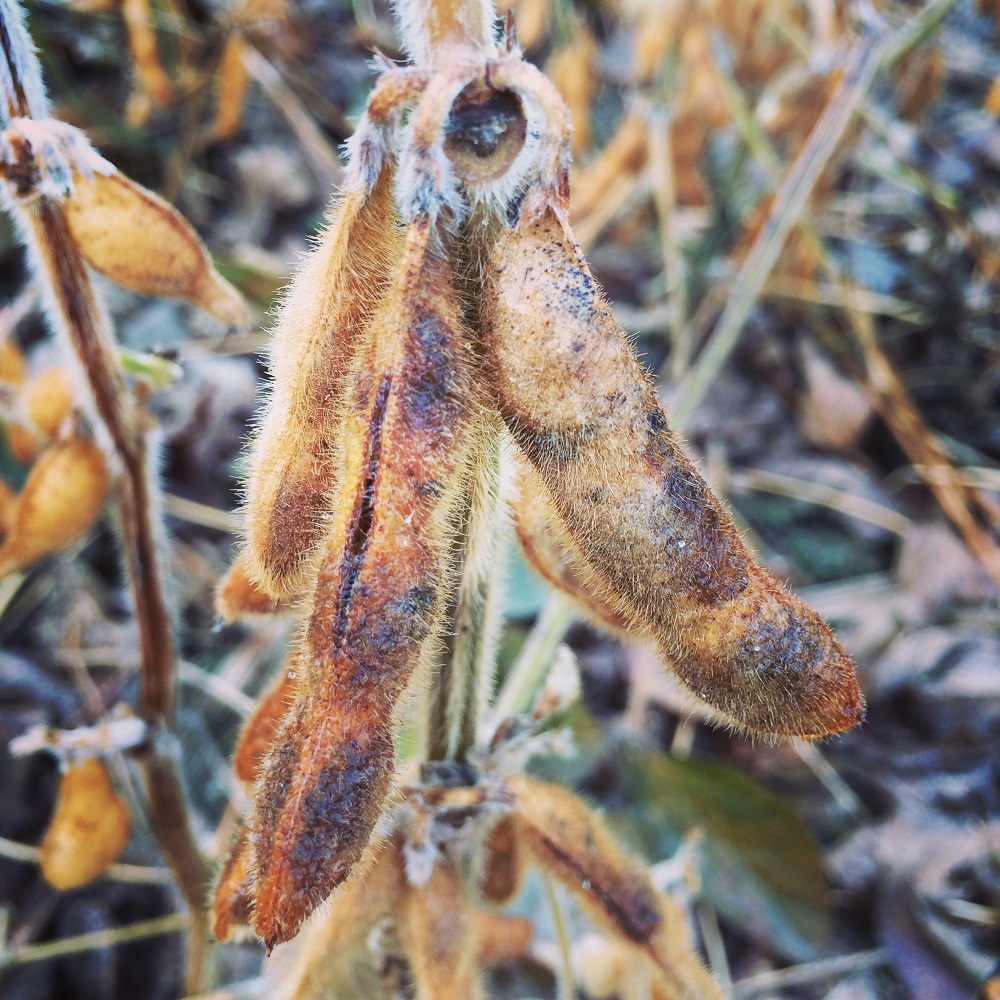 The light frost in some areas should not affect most soybean stands once plants have reached R7 (beginning maturity and when more than 50 per cent of the plants in the field have matured, turning brown). Another way to double-check seed maturity is to open the pod. When the pod is opened, the seed will not be attached to the pod, with the pod wall interior membrane remaining attached to the pod and not the seed. The soybean seed, at this point, is physiologically mature, and frost will not injure them.
It seems that on travels through the province, there are still green plants in fields, where the rest is ready to harvest. In most cases, these plants have fewer pods or no seeds for the plant to transfer the energy and sugars into the seed and therefore stays green longer. Seedless plants can be caused by environmental stresses such as drought (which could be a large reason for seeing it this year) along with drift from herbicides and, in some cases, genetic mutation or bud blight caused by a virus.
If the whole plant is green and has pods with no seeds (parthenocarpic pods) and is very select plants throughout the field with no pattern/reason, the plant will have a genetic mutation that does not allow for normal pollen development. If there are areas within the field that seem to show more green plants, then it can more likely be attributed to an environmental condition.
Due to past rains and more forecasted rain, the soybean harvest has not yet begun in northern Ontario.
Cereals
Winter wheat planting is occurring, and record early plantings are being seen. A nice rain across most of the province will ensure some moisture for wheat to germinate, especially in areas lacking moisture.
In some regions, the optimum date for planting has passed, while in other areas, it is approaching. As optimum dates approach seeding rate should increase.
Spring cereal harvest, oats, in particular, is still occurring in the northern portion of the province, and heavy rains have held up the final push to get these crops harvested.
*Thanks to Terry Phillips for sharing information from the New Liskeard portion of the province.