GrainTALK for June/July 2023
AN UPDATE ON GRAIN FARMERS OF ONTARIO NEWS AND EVENTS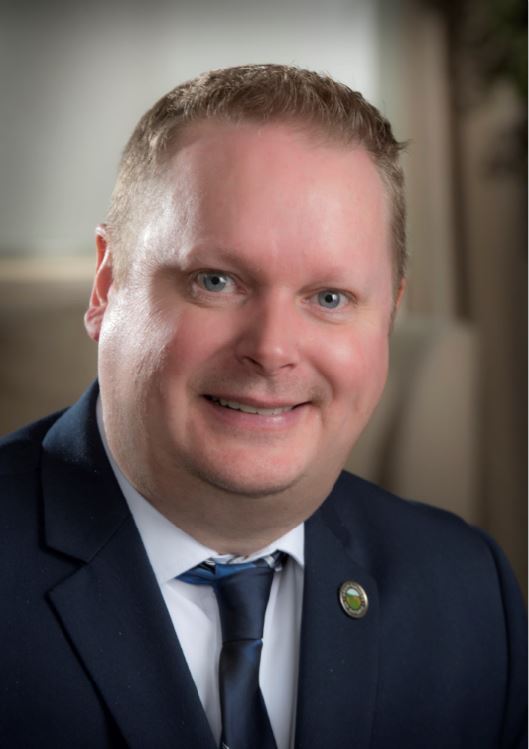 With summer approaching and planting well underway, it is a high-stress time for farmer-members. What would you say to someone struggling this season?

This spring has been difficult for me and my District (District 1, Essex). One of our farmer-members lost their life to suicide in the early spring. I am so very sorry for his family's loss, and I am humbled to be reminded of all the work we still have to do to ensure people know that there is help available and to support them so that they know they can reach out. Our farmer wellness committee and Sarah Plater Findlay, Grain Farmers of Ontario's human resources manager, have created great mental health awareness resources in partnership with the Canadian Mental Health Association and Do More Ag, which can be found at www.gfo.ca/farmerwellness. Mental health is health; we need to understand the signs and treat it like any disease or illness.
I'd also like to say Happy Pride to our 2SLGBTQ+ readers, family, friends, and supporters. Just know that you belong in agriculture and are accepted and valued in our membership. Looking back on the history of Pride, it's amazing to see how this celebration — borne from honouring the 1969 Stonewall Uprising — has grown and helped so many. We will continue to do our part to break down barriers and make our organization more inclusive. •
---
YOUNG LEADERS WANTED
Grain Farmers of Ontario seeks applicants for the American Soybean Association Corteva Young Leader program. This program provides a two-phase training program that engages in leadership training that will enhance your farming operation and your service in other organizations, gives you tools to tell your story better, and provides an opportunity to meet and learn from agriculture industry leaders and other farmers.
One soybean farming couple or individual will be selected as the Ontario representative for the Class of 2024. Training takes place in Iowa in November and in conjunction with the Commodity Classic in March 2024.
Applications will open in early June at www.soygrowers.com. For more information, read about the experience of Daniel Chiappetta, the 2023 Ontario Young Leader, at www.ontariograinfarmer.ca; or contact Rachel Telford, manager of member relations, at rtelford@gfo.ca. •
GRAIN FARMERS OF ONTARIO LEGACY SCHOLARSHIP
Grain Farmers of Ontario has launched the 2023 Legacy Scholarship program. Ten scholarships, valued at $5,000, are available to students enrolled in full-time post-secondary studies. Up to five scholarships are available for students studying in non-agriculture-specific programs.
More information, including application instructions, is available at www.gfo.ca/legacyscholarship or by contacting Rachel Telford, manager of member relations, at rtelford@gfo.ca. Applications close July 31, 2023. •
FIELD OBSERVATIONS
The Grain Farmers of Ontario agronomy team, Marty Vermey and Laura Ferrier, publish a weekly field observations report on the Ontario Grain Farmer website and in the weekly GrainTALK e-newsletter. Find out more at www.OntarioGrainFarmer.ca. •
CONNECTING WITH CONSUMERS
The Grain Discovery Zone and Grains on the Go trailers will be travelling across the province this summer, visiting festivals, fairs, and events to help connect consumers with information about grain and oilseed production. A highlight of the summer is always the Canada Day celebrations in Ottawa — we hope to see you there!
Visit www.GoodinEveryGrain.ca/events for a schedule of events we will be attending and more information. •
AALP GRADUATION
Grain Farmers of Ontario extends congratulations to Jeff Harrison, vice-chair of the Board of Directors and director for District 12 (Durham, Northumberland, Kawartha, Peterborough, Hastings), on his recent graduation from the Advanced Agriculture Leadership Program (AALP) as a member of Class 19.
You can read more about Harrison's experience as a member of AALP Class 19 on page 20. •
2023 NUFFIELD SCHOLARSHIP PROGRAM
The 2023 Nuffield Scholarship program is now accepting applications. The program, which has been operating for more than 70 years, offers mid-career professionals and farmers the opportunity to study an agricultural issue in a global context, including a minimum of 10 weeks of international travel. Scholarships are valued at $20,000. More information is available at www.nuffield.ca. Applications close June 30.
Grain Farmers of Ontario supports a scholarship for an individual to study a topic that will advance the grain and oilseed sector in Ontario. You can read more about Nuffield Scholar Amy Cronin's experience on page 12. •
MARCH CLASSIC GIVEAWAY PASSPORT WINNERS
At the 2023 March Classic, attendees were encouraged to visit the trade show exhibitors to fill their "March Classic Passport" with stamps. Completed passports were entered into a prize draw. Congratulations to Dennis Kuepfer, who won a Hamilton Tigercats ticket package, Matt Howe, winner of a John Deere tool chest and tools, and the grand prize winner, Jeff Cook, who took home a "summer grillin' and chillin' prize pack." •
SIGN UP TODAY FOR GRAINTALK E-NEWS
Get the latest farm news and important Grain Farmers of Ontario updates delivered to your inbox each week!
GrainTALK is Grain Farmers of Ontario's weekly e-newsletter that highlights the organization's latest activities, breakthroughs in research, and timely production information. Sign up today and get your weekly dose of Grain Farmers of Ontario in a concise email.
Go online to www.gfo.ca and click on the button to subscribe. •
PRIVACY POLICY
Grain Farmers of Ontario is committed to responsibly collecting, using, and disclosing information in compliance with the provincial Freedom of Information and Protection of Privacy Act and the federal Personal Information Protection and Electronic Documents Act. When you voluntarily provide us with any information, we will NOT rent, sell, or otherwise disseminate your information to ANY third party. Please contact Grain Farmers of Ontario's privacy officer at info@gfo.ca if you require additional information on privacy issues. •
MARKET COMMENTARY
by Philip Shaw
Grain prices have weakened into May as corn, soybean, and wheat futures have been below their 100-day moving average. The selling has been enhanced by fund selling and good planting progress in the United States. On April 10, United States Department of Agriculture (USDA) kept corn ending stocks at 1.342 billion bushels as well as corn export demand at 1.85 billion bushels. On the soybean side, there was little change with the USDA keeping 2022 – 2023 soybean ending stocks at 210 million bushels. In South America, the USDA raised Brazilian soybean production to 154 million metric tonnes. Argentinian soybean production was slashed to 27 million metric tonnes.
The Canadian dollar fluttering in the 74 cent U.S. level has mitigated the weakness in grain futures. It continues to serve as a stimulus for Ontario grain prices. •