U.K. Yield Enhancement Network
CELEBRATING 10 YEARS OF SUCCESS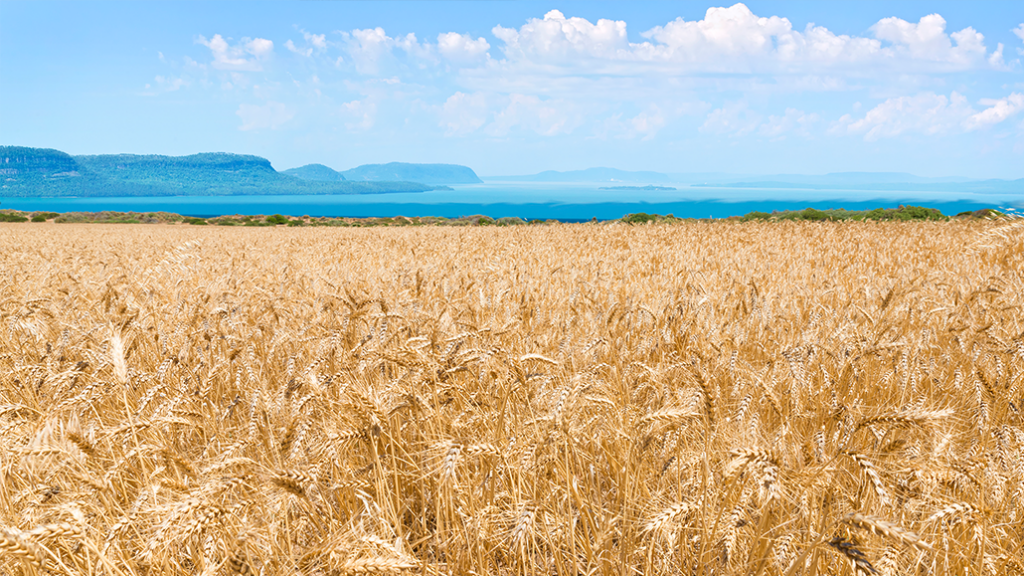 IT HAS BEEN just over 10 years since U.K.-based independent agricultural and environmental consultancy, the Agricultural Development and Advisory Service (ADAS), launched its Yield Enhancement Network (YEN) project, and what a success it's been. The network has helped British farmers improve management practices and boost crop yields through tracking, reporting, and benchmarking. Participants have made significant gains over the past 10 years; some have even gone on to achieve world-record yields. Their success served as inspiration in North America, where industry stakeholders established the Great Lakes YEN.
INSPIRED BY THE OLYMPIC GAMES
Roger Sylvester-Bradley, head of crop performance at ADAS, said the inspiration to develop the Yield Enhancement Network came from the 2012 Summer Olympics, which were held in London the same year YEN was established. Not only are the games recognized as the standard of excellence for the world's greatest athletes but as Sylvester-Bradley noted, spectators and athletes alike trust that the system by which the athletes are judged is both honest and fair. ADAS consultants believed they could create a similar competition with clear performance indicators — but for crop production.
"We wanted to understand why the winners win and why the losers — well, don't win," Sylvester-Bradley said.
YEN is much more than a yield competition, though. Participating in the contest has driven change in how growers understand yield determination and helped them make objective management decisions that improve production. Being a member of the extended network offers perks, but it also comes with responsibility.
Upon joining, new members receive a soil health check. Throughout the growing season, they are expected to keep comprehensive records of crop inputs and are asked to track crop growth stages. They are also expected to submit grain and tissue samples for analysis. Once analysis is complete, participants receive a detailed personal report on crop growth and possible yield constraints.
What growers perhaps find most exciting about the 24-page report is that it shows yield potential within the selected field. Yield potential is determined by the crop's ability to utilize available resources — moisture, sunlight and nutrients — and convert them into biomass and grain. The formula calculates for soil-available moisture as well as precipitation. Once finalized, the comprehensive report tells growers what per cent of their potential yield they actually achieved. It also points to factors that could be seen as possible yield constraints.
The final report includes some 60+ factors, including the number of grains per head, 1,000-grain weight and nutrient content. While the data is submitted anonymously, sharing the results within the network allows growers to see how they measure up to their peers. YEN offers participating members educational opportunities too. Growers receive regular newsletters, as well as technical sessions with leading crop experts. They are also invited to participate in networking sessions and an annual conference where competition winners are recognized.
Since its inception, the ADAS YEN has studied the yields of barley, oats, wheat, oilseed rape (canola), peas, and faba beans. The network recently added two new components, one to enhance nutritional efficiency (YEN Nutrition) and one to reduce carbon intensities of cropping (YEN Zero). According to Sylvester-Bradley, to date, the U.K.-based YEN has accumulated over 5,000 crop yields with over one million explanatory data points.
All of this has led to some pretty outstanding results. This past year, Tim Lamyman, a grower from Lincolnshire, set two new world records when he produced 267.7 bu/ac (18 mt/ha) of wheat and 240.9 bu/ac (16.2 mt/ha) of barley. Obviously, Lamyman's yields are not the norm, but Sylvester-Bradley believes yield potentials are high.
"We think 14 mt/ha [208.2 bu/ac] is achievable almost anywhere," he said.
YEN COMES TO CANADA
In 2020, Sylvester-Bradley and his colleague, Ruth Wade, spoke at the Southwest Ag Conference (SWAC), bringing the research and learning from the ADAS YEN to Canada.
"Instead of researchers doing small plot research and trying to extrapolate that to growers' fields, researchers tracked what growers did and what the outcome was," said Peter Johnson, SWAC program committee member and resident agronomist with Real Agriculture. "[This is] a very different and cool way to try to move the bar forward."
Johnson also found the concept of evaluating crops and fields based on their yield potential particularly intriguing.
"This isn't just a yield contest that the farmers on the best dirt always win," he said. "Instead, growers could look at how good they were at maximizing output from the sun and water they received."
Finally, he liked how the competition did not pit growers against one another; rather, it helped create a network of motivated individuals who were learning from one another.
"All of these factors were very cool to me," he said.
Sylvester-Bradley and Wade's talk at SWAC served as a catalyst in the development of the Great Lakes YEN. Following the talk, members of the Great Lakes Wheat Workers, a group of industry experts, including breeders, agronomists, and extension specialists from the Great Lakes region of Canada and the U.S., got together to discuss launching their own version of YEN. The pilot project, launched in Michigan and Ontario in 2021, focussed on winter wheat production, and was led by a collaborative group including Grain Farmers of Ontario, Michigan Wheat Program, Michigan State University, Certified Crop Advisors, OMAFRA, and the University of Guelph.
In the 2021 pilot project, Grain Farmers of Ontario senior agronomist Marty Vermey said the YEN project collected over 250 data points from 43 locations across Ontario, Michigan and Ohio. The network has widened considerably this year and now includes over 180 field locations within the Great Lakes region. Provincially, data points stretch from Essex county to the Ottawa Valley, which means percent of potential is being calculated in various growing environments and in different soil types. Like their U.K. peers, participating Great Lakes YEN growers receive a detailed report at the end of the year. The report allows wheat growers to discover how their field measures compared to others and can pinpoint to where there may be some deficiencies and areas for improvement.
"'Per cent of potential' has been a mental game changer for some farmers, though," said Vermey. "Instead of worrying about not being able to compete against those who consistently achieve high yields under favourable conditions, they're excited to compete against achieved per cent of yield potential with others, and improve their own potential each year," he said.
At last year's wrap-up meeting, Vermey said farmers ended the season with a greater understanding of wheat production and how their management decisions contribute to overall quality and yield.
"The end goal of the project is for farmers and agronomists to learn how to improve their percentage of yield and to get improvements in their production," Vermey concluded. "And I think farmers who have been in the project for a couple of years are already making production improvements on their farms."
To learn more about Great Lakes YEN and how you can get involved, visit: www.GreatLakesYEN.com. •