March Classic 2023
CULTIVATING NEW TOMORROWS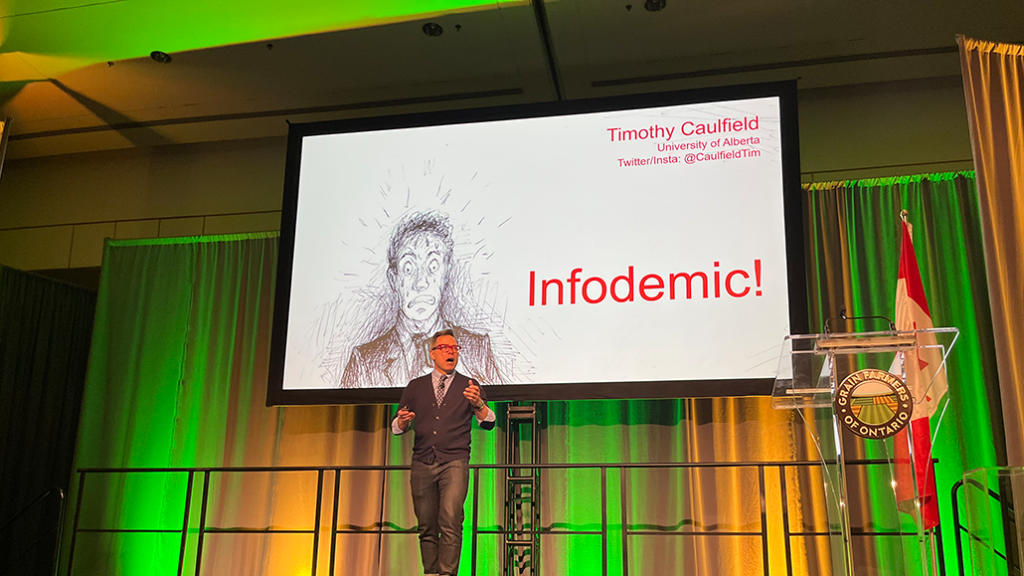 IT WAS A full house at RBC Place in London, Ontario, on March 21 for Grain Farmers of Ontario's annual March Classic. With more than 700 attendees, including farmer-members, industry representatives, and government officials, a fantastic line-up of world-class speakers, and a sold out trade show, the event solidified its reputation as Ontario's premiere agricultural event.
U.S. FARM REPORT
Kicking off the event was a live taping of the U.S. Farm Report hosted by Tyne Morgan, which, due to its popularity with attendees in 2022, returned to the March Classic stage for a second year. The U.S. Farm Report is the longest-running syndicated program focusing on agriculture news and business and reaches more than half a million people coast-to-coast each week.
Joining Morgan on a panel discussion were Steve Kell, a farmer, economist, and delegate from District 11 (Dufferin, Simcoe, Halton, Peel, York), Jim McCormick, co-founder of AgMarket.net, and Floyd Howard from Wanstead Farmers Co-Operative. The trio brought a wealth of expertise to a discussion on cross-border issues of markets, prices, and hot-button issues for U.S. and Canadian farmers.
The episode of the U.S. Farm Report also featured a visit to the farm of Julie Maw of Oil Springs, Ontario. Maw is the director of District 3 (Lambton), who farms with her husband, Kyle, and their three sons. Morgan and Maw discussed the risks impacting Ontario farmers, including weather, rising input costs, and fertilizer disruptions.
"If we look into the 2023 season, into the spring, farmers probably have more invested to grow their crop than they've ever had in their entire career of farming," Crosby Devitt, CEO, Grain Farmers of Ontario, told Morgan in an on-air interview.
The episode aired on March 25 and is available to view on www.AgWeb.com.
WORLD-CLASS SPEAKERS
One of the hallmarks of the March Classic is featuring nationally and internationally well-known speakers from diverse industries and points of view, and 2023 was no exception.
"We invite speakers that attendees may not otherwise get to hear from," says Victoria Berry, manager of communications. "We hope that attendees come away from the March Classic with some new ideas, are challenged by hearing different perspectives, and can take what they learn and implement it in their farm businesses."
Timothy Caufield, a professor of health law and science policy and best-selling author, brought his fight against science and health misinformation to the March Classic stage. The agricultural industry is no stranger to misinformation. Caufield shared his expertise as a researcher and myth-buster to give attendees some tips and tools to help consumers and the public understand the realities of farming and food production.
"People want to hear your stories," said Caufield. He offered nine tips for debunking farming and food myths:
Use a science-first approach.
Package information to easily share on Facebook, Twitter, or Instagram.
Use trustworthy and independent sources of science.
Provide scientific consensus on the topic, but note that science is a process and that consensus continues to evolve.
Be authentic, empathetic, and humble. This will increase your credibility.
Use stories, narratives, and anecdotes to support the science.
Highlight gaps in logic and rhetorical tricks.
Focus on the facts — that is what you want people to remember, not the misinformation.
And speak to the general public, not the hard-core deniers — you are unlikely to change the latter's minds.
A FEW TRICKS UP OUR SLEEVE
Another highlight of March Classic is the annual banquet, featuring an all-Ontario menu, the opportunity to network and socialize, and some entertainment to cap off the evening. This year the March Classic banquet featured illusionist Aaron Patterson, who put on an interactive and entertaining show — including teaching attendees a sleight-of-hand card trick. •