Rural Pride
FOSTERING A WELCOMING AND INCLUSIVE COMMUNITY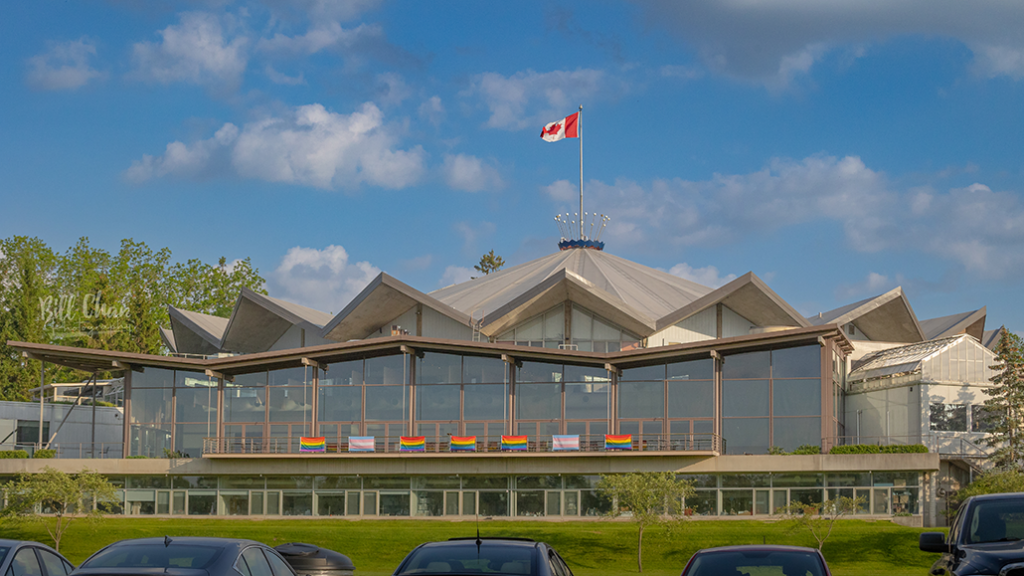 IN LATE APRIL, the municipal council for the Township of Norwich passed a new bylaw that restricts the types of flags that can be flown on township property and lampposts. The original version included language that specifically excluded Progress or Pride flags; however, this language was removed in a last-minute amendment with worries it could trigger a complaint to the Ontario Human Rights Commission.
Pride Month celebrations and the organization of 2SLGBTQ+-specific events, resources, and support groups have historically belonged in Ontario's cities. But these recent events in Norwich amplify the growing debates in rural, predominantly agricultural municipalities about what Pride should — or in some cases like Norwich — should not look like.
This begs the question: Why bother celebrating Pride and hosting 2SLGBTQ+ events in rural agricultural communities?
THE RESEARCH SAYS
AJ Adams, a rural 2SLGBTQ+ advocate, researcher, and event organizer, set out to answer this question himself.
Adams is currently the president of Stratford Perth Pride and communications manager for Egale Canada, an 2SLGBTQ+ research and advocacy organization.
He conducted a study that consisted of a series of survey questions focused on determining Pride's impact in rural Ontario communities.
Adams grew up as a closeted gay kid in Kincardine, Ontario, and pulled from his childhood experiences to inspire this study.
"Reflecting back, there were no Pride flags, there was no Pride organization, there were no queer people that I could look up to," says Adams. "I tried to think of what Pride would have meant for me growing up. And seeing lots of rural Pride [events] popping up, including in Kincardine, I was thinking has that made a difference? Is it actually needed, or is Pride really just something for the big cities?"
The study consisted of 3,000 survey responses from people across 95 rural communities.
One in three respondents said that 2SLGBTQ+ hate speech had decreased in their community after the introduction of Pride into their rural community, whether that be a Pride parade, Pride flag raising, or the painting of a rainbow crosswalk.
Moreover, 65 per cent of all respondents believe that Pride programming has increased the acceptance of 2SLGBTQ+ people, and 60 per cent of 2SLGBTQ+ respondents said that they personally felt more supported, safe, or welcomed in their communities after the introduction of Pride.
Adams says these results highlight how important Pride and 2SLGBTQ+ events are in promoting equity, diversity, and inclusion.
"Especially in smaller agricultural communities, Pride exists to be conversation starters because there's not this big, diverse community," says Adams. "So just seeing a Pride flag, seeing a crosswalk, seeing a queer couple starts conversations that a lot of rural people have never had to have before because it's always been a city thing."
REPRESENTATION MATTERS
Mabe Kyle, the co-founder of the Rural Ontario Community of Queer Youth (ROCQY), has seen first-hand how a rural 2SLGBTQ+ organization can help encourage a sense of inclusion.
Kyle participated in a research project that looked at the barriers to mental health care access for 2SLGBTQ+ youth during the pandemic. One of the key barriers identified was a lack of support in rural communities. The solution? An online peer support group. So, Kyle became one of the co-founders of ROCQY.
Created by and for rural 2SLGBTQ+ youth, ROCQY has run a series of care and wellness workshops on sexual health, harm reduction, self-care, community care, transgender healthcare, and spiritual care. It also created a zine (an online magazine) to showcase art and writing from rural 2SLGBTQ+ youth.
"It's important to create 2SLGBTQ+ visibility and representation in agricultural communities because if people don't see themselves represented, then they often don't feel a sense of belonging in those communities," says Kyle.
But that is not the only benefit of introducing Pride to rural communities. Pride and 2SLGBTQ+ representation in rural communities also help with population retention.
"Young people don't stay in rural communities… we often go away to the big city for post-secondary school, and we often don't come back. Part of that for queer people is that they feel more welcome and supported in the city."
This was Kyle's experience. Growing up on their family farm, Kyle did not feel safe coming out to people in the agricultural community, and they didn't come out until they moved to Toronto for university.
These population struggles extend to the agricultural community. For many farmers, the hope is that their children will someday take over the farm. But if their child is 2SLGBTQ+ and does not feel safe being themselves in the agricultural community, their child may choose to live and work in the city even if they are interested in farming. Rural Pride has the potential to combat that.
"Rural Prides are trying to have this conversation with farmers to come out to our parades and bring your John Deere tractor. Seeing a tractor with a Pride flag on the back of it would make a world of difference for a lot of farm kids," says Adams.
ECONOMIC IMPACTS
Pride is also a big economic development driver, according to Adams.
"I call it the Schitt's Creek effect," says Adams. "Having Pride events is bringing more and more people into our rural communities, stopping into the local pub, buying gas, getting a hotel. They're spending money in our communities because they are now saying, 'I don't have to stay in the Gay Village in Toronto.'"
Jennifer Christie-Shaw and her husband, Chris Shaw, have been experimenting with including Pride events in their business plan, and it is paying off.
As owners of Bonfire on Queen, a restaurant located in Bruce County, the couple has been hosting drag shows for the last year in their restaurant.
"We were not sure what the reception would be, being a small town. So we thought we'd try one. We hosted our first event, a Mother's Day drag brunch, and it sold out. Ever since, they have just been a huge hit," says Christie-Shaw.
Christie-Shaw said that people have been coming from all over Grey-Bruce to see the drag shows. She says it has been heartwarming to see how it brings together people who do not normally go to drag shows and makes people feel more welcome in the community.
"We've also had folks in the community who have said to us, 'I would have never gone to an event like this. I'm so happy you've brought it to our community, and now I understand this better,'" says Christie-Shaw. •