International farm risk management
A NUFFIELD SCHOLAR UPDATE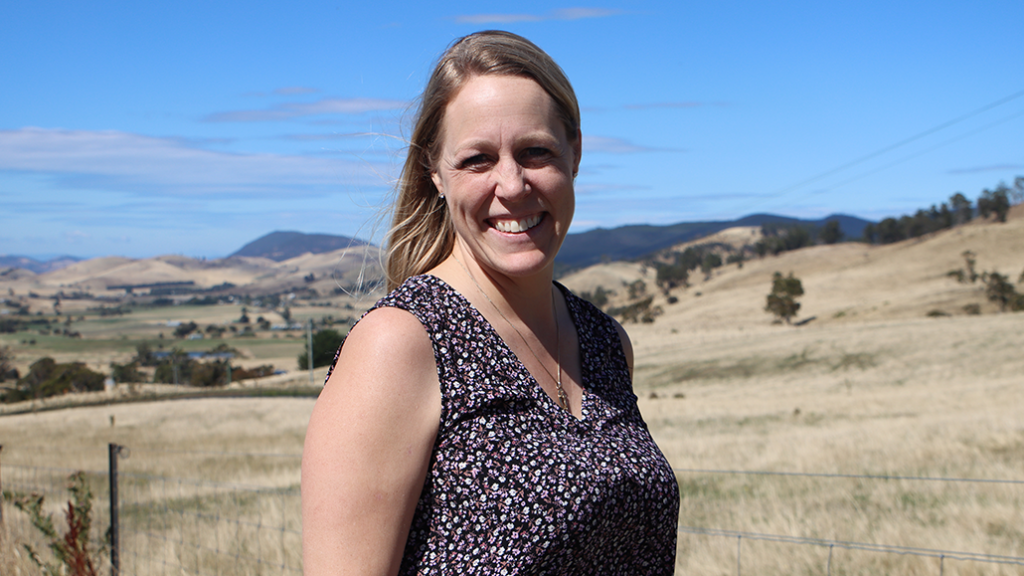 WHILE AMY CRONIN'S travel plans were delayed due to the Covid-19 pandemic, the Nuffield scholar improvised by starting her studies in Canada. She was able to kick off her global tour last spring and has since learned a lot about how farmers around the world manage risk.
Cronin, who farms hogs, chickens, and crops with her husband Mike in Ontario, Iowa, and Missouri, was awarded a $15,000 Nuffield Canada scholarship in 2020, sponsored by Grain Farmers of Ontario. She chose to study farm business risk management strategies, a topic inspired by her own experience in farming.
A year after she initially planned to start her travels, Cronin was eager to begin her project, but international travel was still challenging. Instead, she hit the road with her family and visited Manitoba, Saskatchewan, and Alberta.
"The entire trip was spent meeting farmers and touring farms," she says. "It really allowed me to think about my approach as I started to plan global travel."
INTERNATIONAL TRAVEL RESUMES
Cronin was finally able to start travelling internationally in the spring of 2022. She first visited Scandinavia to participate in the 23rd International Farm Management Conference in Copenhagen, Denmark. The pre-conference tour involved a week in Norway, Sweden, and Denmark.
She then continued on to explore Spain, France, and the Netherlands to meet with farmers and others involved in the agriculture industry.
"It really kicked off this whole idea of getting on farms, talking to farmers and trying to understand how they define and approach risk," Cronin says of the six-week tour. "I was able to meet with farmers, government officials, and people involved in agri-business in each country and really get into some in-depth conversations on risk management."
While Africa was not on Cronin's initial itinerary, she couldn't let the opportunity to visit Zimbabwe with 18 other Nuffield scholars pass her by. Not only was it on her bucket list of places to visit, but she also loved the idea of meeting farmers and visiting farms in a third-world country.
"I learned so much about the way in which a third-world country works and how the first world and the third world have a lot in common, especially when it comes to agriculture," she says. "It was a way for me to look at my topic of risk management in a completely different light and to hear answers to questions that I would never hear in the first world."
Cronin also visited Australia and New Zealand for five weeks in March and April 2023. Thanks to the existing Nuffield network of alumni and supporters, she was able to visit a large number of farms and learn about many different commodities.
RESEARCHING RISK
She selected jurisdictions to visit based on the diversity of government policies and programs related to farm risk management. In each country, Cronin talked to farmers about what risk management means to them, how they approach risk, and what challenges they face. She was also interested in how government programs influence (or do not influence) on-farm decision-making.
"The interesting thing is that every country approaches agriculture differently, and every country creates policies and programs differently, which absolutely impacts the decisions that farmers make," she says. "When talking to farmers, I was really looking for things that were original or different than I would have heard in other places."
Reflecting on her learnings thus far, Cronin says farmers share a lot of commonalities no matter where they are in the world.
"All farmers face a lot of challenges, and while they differ from one area to another, there are certainly challenges that I experience on my farm in Ontario that are exactly the same as they experience in Denmark, Zimbabwe, and Australia and all of the other countries that I went to."
But she took note of the different ways farmers perceive and manage risk and what the agricultural sectors in some countries could learn from others.
WHAT'S NEXT
Cronin is planning one final trip to the United Kingdom late this summer and will then be finalizing her Nuffield report.
"By the time I'm done, I will have spent 18 to 19 weeks travelling, so I have a lot of thoughts from a lot of farmers," she explains. "Now the big challenge is going to be to pull it all together and determine what rises to the top for this project."
In addition to the formal presentation of her Nuffield report, Cronin wants to find ways to share her learnings with groups across Canada and around the globe.
"When it comes to risk management, there are all kinds of work done on this by professionals, but when it comes from one of your peers, I think the information is sometimes interpreted and accepted differently," she says. "I have seen a lot of really interesting ideas and approaches, and I'm hoping to get out and talk about it."
Cronin's final report will also outline risk management recommendations for farmers, industry, and government.
She sincerely thanks Grain Farmers of Ontario and the other sponsors who supported her travel. Without the industry's financial support, her study would not have been possible. •